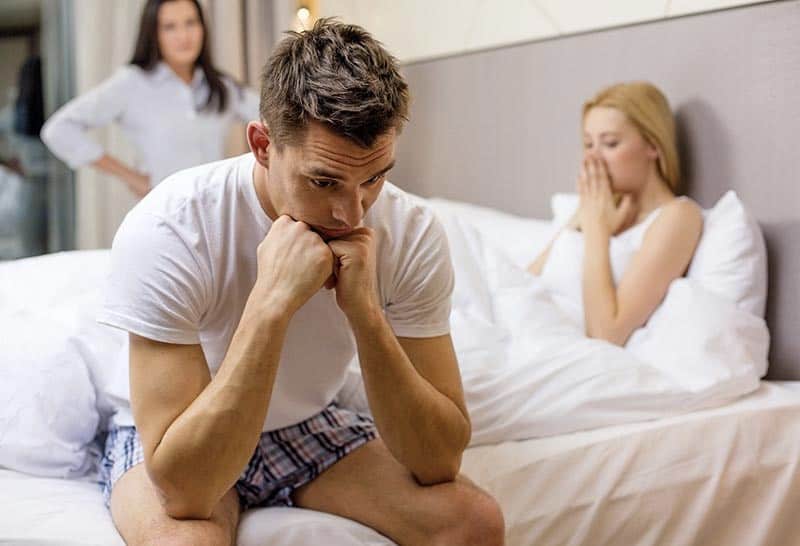 By Sarah P.
The things that people say and do during affairs are so predictable that it is almost funny. Unfortunately, broken trust, destroyed lives, and broken families are no laughing matter.
Still, there are patterns that all affairs follow; there are universal actions on the part of the wayward spouse; and there are the same unthinkable words spoken. These words and actions don't vary according to geography, religious background, profession, or socioeconomic status.  The ironic part is that an adulterous pastor is just as likely as a plumber to follow the universal affair script.
You see, adultery is not original, even though the two affair partners will tell you that their affair story is one of a kind—an epic tale of love and devotion. No, adultery follows a universal script so closely that others can easily identify stages such as the affair fog and the moping that comes with break-up grief.
Others have noticed this pattern too. Several years ago, two divorced wives wrote a book called The Script: The 100% Absolutely Predictable Things Men Do When They Cheat.  
These two authors, Elizabeth and Vicky, were both left by their cheating husbands for the affair partner. After they compared their stories as well as the stories of other wives, they noticed that all of their stories were virtually identical.
The Saga Continues
This particular post was triggered by the continued antics of my husband's coworkers. Now that everyone in the workplace has heard the story about how both were married and how both had an affair under their spouses' noses, these two have begun to double down and paint a thoroughly different story than what had actually occurred.
A couple of weeks ago, these two were telling everyone that they were victims of bad marriages. But, that was soon corrected by another coworker who happened to see it all go down since she lived in the same community. The truth was that these two both victimized their betrayed spouses and did everything to break their spirits. 
Now that the victimization tale has been corrected, they have chosen a new tactic. The new tactic is claiming that they are soulmates and were made for each other. Sure, maybe they happened to meet when they were both married, but they are soulmates, you know, and well it would just be cruel to keep soulmates apart in this crazy, big world.
I know that all of you see through that one too—because using the soulmate card is the ultimate get out of jail free card. It is the utterance that cheaters use when they realize the gig is up and everyone else is catching on. It is also used to justify horrible behavior. But, most of all, it is used to alleviate feelings of guilt that a wayward spouse might otherwise have.
When affair partners utter the magic words, "we are soulmates," it seems they expect this utterance to change the minds of everyone around them. It is as if they expect the betrayed partner to say, "Well, pardon me! If you have found your soulmate, I could not possibly keep you from your soulmate!" Yes, this is the delusion of the wayward spouse when he or she talks in terms of their affair partner being their true soulmate. They expect the rest of the world to burst into applause and throw a large party in their honor.
This is laughable, but it is quite real.

The Soulmate Excuse
I believe that affair partners use the soulmate excuse because of the way the concept of soulmates has been romanticized. Before most singles get married, you can often hear them say, "I am looking for my soulmate." 
A soulmate has come to represent an idealized (and non-existent) person who always makes the other feel ecstatic, aroused, and safe. A soulmate is the mysterious stranger you see across a crowded room and then "just know" they are the one (without knowing anything at all about them.)
The concept of soulmate is no more than a construction of popular culture and romanticized thinking. Even if people happen to meet and marry their soulmate when they are both single, a soulmate cannot stand up to the drudgery of marriage. Even soulmates have bad breath, dirty socks, and issues with body odor.
The pull of the soulmate myth seems to correlate to a person's brokenness. The more broken a person is, the more powerful the idea of finding a soulmate. Healthy relationships are about each person being well and grounded within themselves. Healthy relationships are about two people with healthy self-esteem who understand their completeness, regardless of their spouse.
But, broken people (for whatever reason) do not have access to this type of groundedness and cannot feel complete without another person. To a broken person, a soulmate is basically the ultimate balm that will heal everything that is broken inside of them.
Unfortunately, other people cannot heal our brokenness. It is work that we must do within ourselves. Other people can walk alongside us, point the way to wholeness, and help us feel less lonely.
For the person looking for a soulmate, they want to mesh with someone outside of themselves in an unhealthy way. They expect these people to magically make all the pain go away and they gauge love based on whether or not that person makes the pain go away. If you put a broken person with a person who feels complete within himself or herself, the stable person will likely have the ability to make a broken person feel okay for quite a while; sometimes even years.
At some time or another, something will happen to the broken person. The pain caused by the event is such that the level-headed person can no longer meet the broken person's need's. Since the broken person believes that love is based on meeting the other person's profound emotional needs and healing huge hurts, the broken person believes they have fallen out of love.
When another broken person comes along and mirrors back to the broken person what he or she needs, the broken (married) person believes they have found their 'real soulmate' and they often begin an affair because they convince themselves their spouse was never their 'real soulmate.'
Do Soulmates Even Exist?
But here is the worst part: soulmates do not actually exist. At least they do not exist in the way I am describing them.  When someone believes he or she has met that perfect person who will make their life seem as if it will be one never-ending bundle of fun, they are merely locked in a very powerful form of infatuation.
They have never known what real love felt like and so they have always believed powerful infatuation is actually love. The infatuation distracts them from themselves and all of the pain inside of them seems to evaporate. They believe the person they are infatuated with is their soulmate, not understanding that this person merely brought on a very powerful form of infatuation that has a time-limit.
After the infatuation wears off, they believe that they were mistaken and go on the quest to find their real soulmate. Sometimes these people do not get married and when this happens, they are basically the serial monogamists of this world. Sometimes they get married and when a crisis hits, usually around mid-life, then they go looking for their 'real soulmate' again because their spouse can no longer mask the pain.
The same thing would happen if a person were in physical pain from a broken leg and then took morphine, expecting it to heal their broken leg. While the morphine was active in their body, they would believed they were healed. But, once the morphine wore off, the pain would return and they would falsely believe that it was just the wrong thing to take. Instead of getting a cast on their leg and allowing their injury to heal, they would be walking around looking for a miracle drug to make the pain go away.
This is the same infatuation and emotional healing balm that drives the affair fog.
The infatuation with the affair partner feels like the most profound type of love and yet it is not based on anything real. Infatuation and the feelings of "love" created by an affair is no more real than a heroin high. Infatuation with the other person is a powerful, altered state of consciousness that is fleeting. 
Yet, to the wayward spouse experiencing infatuation it often feels like true love. Infatuation is tricky because it takes much longer to wear off than an actual drug high. It can sustain itself for months on end and make a person believe it is true love. But, it is not true love and never will be. When this infatuation runs in tandem with infidelity, it is called the affair fog. Finally, infatuation within affairs has a longer shelf-life – sometimes years—because it is constantly triggering the dopamine reward system in new and unexpected ways. This particularly long shelf life is what makes it so hard to break through the affair fog. 
…And then things got worse….
But, there is another element here, that when combined with the affair fog, can cause a wayward spouse to leave the marriage. This phenomenon is often overlooked, even though it makes the affair fog all the more powerful. This phenomenon is low-level depression.
In fact, infidelity is often a way to medicate low-level depression.
Many people who commit adultery are actually depressed. But, if the depression is mild to moderate, it may go unnoticed both by the individual and the people around them. A depressed person may mistake depression with dissatisfaction with one's partner. A depressed person may look outward and believe that his or her life is the problem, his or her spouse is the problem, or his or her job is the problem.
Or, if an individual is experiencing anhedonia, this same individual might believe that not being able to take joy in life has to do with his or her spouse. Anhedonia refers to a type of depression where someone is functional, but where he or she is no longer able to find satisfaction or joy in things that person used to enjoy.
Anhedonia is tricky to diagnose because even though it is a serious type of depression, it feels like boredom. A person experiencing anhedonia might not have feelings of worthlessness, suicidal ideation, sadness, or the lack of functioning that is a hallmark of typical depression.
Such a person may not recognize this as depression and instead might believe their spouse is the cause. They might feel restlessness and long to feel alive again. Such a person is ripe for an affair. The neurochemical changes that happen during an affair act as a band-aid for anhedonia. Suddenly the (now) wayward spouse feels alive again because his or her brain is on dopamine overload.
Any depressed person is ripe for an affair unless they seek help. The mistaking of low-level depression for something else is the first step on the way to an affair. Seeming dissatisfaction with life or wife (or house and husband) works its way into the sub-conscious mind of the would-be wayward spouse.
If infatuation is sparked, that person can find himself in affair and now believe that in order to feel good for the rest of their lives, they must remain with the affair partner.
If you are scoffing at this concept, please realize that depression is a biological disease. Depression is so much of a biological disease that it can be seen and measured via PET scans.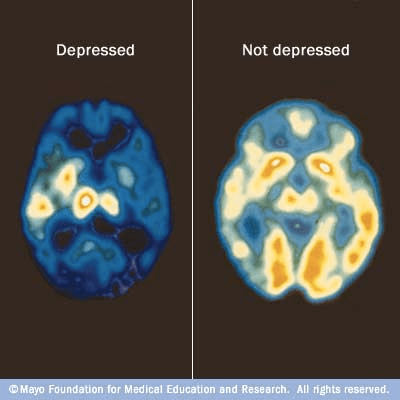 Source: Mayo Clinic
Let's now compare how Alzheimer's scans to a normal brain: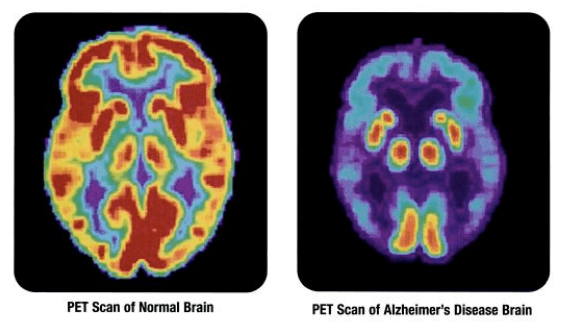 No one would argue that a patient with Alzheimer's disease could just "snap out of it" and they would not tell the person "it was all in their mind," unless of course they were being literal.
How are Alzheimer's and depression similar? Well, they are both very real and biologically-based diseases. Depression is much more than sadness just as Alzheimer's is much more than being forgetful.
Both depression and Alzheimer's cause marked personality differences and cause impaired decision-making. Still, depression is not Alzheimer's disease.
Also, depression and/or Alzheimer's disease DO NOT cause someone to have an affair. 
My only point here is that low-level depression as well as anhedonia can cause a person to falsely believe that his or her spouse is the issue. A person may or may not have an affair when they believe their spouse is the issue.
To reiterate:  if a depressed person has an affair, the infatuation that comes with an affair can temporarily cause feelings of wellbeing that were lacking due to depression. In turn, this causes the depressed person to falsely believe that the other person is their source of happiness.
So, let's imagine that a depressed person makes a bad decision and has an affair. That depressed person will begin to feel euphoric due to the neurochemistry changes caused by infatuation (affair fog). When the depression is replaced by (temporary) euphoria due to infatuation, it is easy for the depressed person to draw the incorrect conclusion that his or her happiness has been caused by the affair partner. This false belief is deadly to longterm happiness because it can cause a person to leave his or her wife and family. He (or she) does not realize he is making decisions based on an impaired and temporary mindset.
The affair fog is heady stuff for people who were never depressed. But, it can seem like a lifeline to the depressed person. One can only hope that a depressed person in the affair fog can see that the lifeline was nothing more than smoke and mirrors all along. But most of the time, it is up to the betrayed spouse to understand what is going on and make the choice to wait around (or not). 
Universal Affair Behaviors
People who have affairs also follow a script. That is, there are universal behaviors that all adulterers follow. It does not matter if the wayward spouse is religious or not, if he is wealthy or poor, if she is attractive or not, has a good job or not, or has a loving spouse or not. Everyone who has an affair ends up saying and doing the same things.
Unfortunately, I recently read a book by a pastor who was preaching sermons against infidelity, counseling couples through infidelity, and all the while having an affair with the church organist. This pastor was happy to shout 'hypocrisy' from the rooftops as long as he wasn't directing it toward himself.
This is the essence of infidelity: it seems to steal away the person that was there and then replaces that person with someone the betrayed spouse does not recognize. Here are some of the universal behaviors:
Wayward spouse gaslights the betrayed spouse
Wayward spouse paints himself or herself as the victim
Wayward spouse believes using the word 'soulmate' nullifies his or her terrible actions
Wayward spouse acts very much out of character, which makes the betrayed spouse wonder if someone else is inhabiting their wayward spouse's body
Wayward spouse is often 'the last person who would have had an affair'

Why Do Happy People Cheat?
We have been talking about depressed and broken people. That is more easily understood than scenarios where happy people cheat. It is the thing that I personally have trouble wrapping my head around. Specifically, it was the case with my ex. We seemingly had an awesome relationship on all fronts. Everyone else thought so too.  The quality of our relationship did not change when he was having an affair. This is one of the reasons that I did not notice something was amiss.
Besides me having to work 16 hour days for an entire summer, nothing else was different. Plus, he and I worked in the same company. People say that the wife/husband or fiancée always knew something was amiss. I hate that because I look back and I could not really point to anything that was amiss. So what gives?
Theorists have used the investment model to explain why some people who have happy marriages cheat and why some with very unhappy marriages never cheat. It has to do with investment and opportunity.
For example, let's imagine a person is very happy in their marriage and has nothing to complain about. Let's imagine that this person is then placed in an environment where there is a lot of opportunity for new partners. Then, let's imagine that the would-be cheater has very little to lose if he or she cheated. This scenario can actually predict that many people in such a situation will eventually cheat. (Not all, but many.)
How would this scenario look in real life?
Here is a fictional example:
Courtney is married to Jake, and Courtney is incredible happy with Jake. Jake is a well-known heart surgeon who makes a lot of money per year. Courtney is in the US Navy Reserve and ends up getting deployed for 9 months. During this time, Courtney is placed on a ship with many different men and Courtney is the only woman. Even though she is happily married, Courtney notices that many of the men around her are very handsome. But one man, Stephen, stands out above the rest. He is a ruggedly handsome and newly single commander. Several lonely nights later, Stephen checks on Courtney in her cabin and the rest is history.
If she were to divorce Jake, she knows that she would get a large cash settlement and so she is not worried about the affair being found out. On the other hand, if it is not found out, she plans to stop the affair and resume life after her deployment ends. Here there would be no financial penalty for Courtney if found out and here she is surrounded by seemingly endless opportunity. She has nothing to lose financially, she does not have children, and she has a lot of potential affair partners. So, this environment ensures that someone like Courtney will probably be unfaithful.
On the other hand…
Let's consider someone in an extremely unhappy marriage who does not cheat using this same model of investment and opportunity. 
Alan is a software developer who works long hours on a team filled with men. Alan's wife, Megan, is a stay-at-home wife who stopped caring for Alan a longtime ago. She spends evenings out with the girls and never says more than two daily words to Alan: hello and goodbye. Alan has felt lonely for years and his marriage to Megan keeps getting worse. Friends have told Alan they would not blame him if he found someone else. But, Alan is not in an environment that lends itself to finding someone else. Plus, since Megan is a stay-at-home wife and has never worked, Alan knows that Megan could claim a significant amount in alimony and from Alan's retirement. In this scenario, Alan has a lot to lose if he had an affair. In addition to that, there is little to no opportunity to meet an affair partner. Thus, even though Alan is incredibly unhappy, there is little chance he will ever be unfaithful.
Again, I am gleaning this information from studies on infidelity and I am summarizing the findings. This information is not merely my opinion.
Then, there are the situations where an allegedly happy wayward spouse has everything to lose and is also surrounded by many potential partners. This is the case when a family man becomes a corporate executive or has any other high profile job. If he were to divorce, he could lose a significant amount of money and the love of his family. Yet, if one too many desirable women try to seduce him, he will find himself in a position where he must constantly say "no."
And he should say 'no.'
In the end, cheating is always a choice, whether or not temptation exists. Even if strong temptation exists, infidelity is always wrong. It is never excusable.
So, the investment/opportunity model simply illustrates a psychological principle that could make cheating an easier or more difficult choice. This model is used to describe measurable behavior that is determined by a condition or conditions.
It is meant to describe what people actually do and under what circumstances they do it.  It is always wrong to have an affair and affairs are always a choice. But, the investment/opportunity model is not meant to describe morality, just conditions and behaviors. Still, we know that the choice to have an affair is always wrong, even if conditions are likely and/or favorable.

Inherent Hypocrisy
In the past 70 years or so, there has been a disconnect between what people in our society say and do. Over 90% of people in our country agree that cheating is always wrong. Yet, depending on whose statistics you are reading, cheating happens in half of marriages. This brings into sharp focus the hypocrisy inherent in many people. Or perhaps it is a double standard—maybe cheating is only wrong if it happens to them. The old saying "do as I say, but do not do as I do" certainly applies to this mentality.
A couple that I knew in my mid-20's comes to mind. I had befriended the wife, Carolina, while frequenting a local yogurt shop. She worked behind the counter since she could not use her nursing degree in the United States. She and her husband, Dmitry, were from Bulgaria. He was a molecular biologist who had received a full ride to the local university. Carolina followed him and left behind a rewarding career.
One of the striking things about this couple was how poorly Dmitri treated the very beautiful Carolina. Dmitri was a very average looking person and Carolina looked like a model with her aqua-colored eyes, long legs, and an enormous head of curly hair. She was also smart, extremely bighearted, and accomplished.
Sometimes she invited me home for dinner and she made everything homemade—even the bread and the cheese.  For as beautiful as Carolina was, she was also shy, generous, kind, unassuming, and humble. She was a great friend when I lived in that particular town. If I were preparing for a date, she would pull out her sable coat and designer clothing and give me a makeover. She was such a beautiful person, both inside and out, and I just adored her like a sister.
Then there was Dmitri and Dmitri's favorite topic was women. He often mused about how he checked out and fantasized about almost every woman he met. Each time he got rolling on the topic of women, Carolina blushed and stayed quiet. Dmitri's favorite thing to say was: "It's easy to see Carolina could be a model. But yah know what? It does not matter. You see, us men, we like variety. Carolina is a stunning, slender brunette, but I could just as well cheat on her with a plump redhead. It's all about finding someone different even if you are married to the most beautiful woman."
He said a variation of this comment each time I was there for dinner. And each time I would tell him that he was lucky to be married to an amazing woman and that he needed to appreciate her. He usually laughed and said he would probably have an affair one day just to have something "different." But, if Carolina had an affair? Well, he said, of course he would leave her for that. He believed that wives needed to stay loyal while ignoring her husband's encounters.
I moved away about a year after befriending Carolina and have emailed her from time to time. They are still in the United States and still married. They now have a small family. I am still absolutely puzzled why Carolina has stayed, but it is not my place to ask.
This example was not given to ignite a battle of the sexes. It is an example of double standard that seems to exist in some people. But this is an example that has stayed with me because of the utter confidence and lack of shame in Dmitry. He spoke as if these things made him a better man.
On the other hand, I have met women who have admitted to cheating on their boyfriends, but these same women dump their boyfriends when he so as much as looks at another woman for too long. There are unfaithful women and men and both devastate the lives around them. But, it is the utter hypocrisy of some people that gets my blood boiling.
Hypocrisy is Universally Unacceptable
There are fourteen different religions/philosophies that address hypocrisy. For example:
Brahamism:  Hurt not others in ways that you yourself would find hurtful." Udana-Varga 5:18
Christianity: And as ye would that men should do to you, do ye also to them likewise." Luke 6:31, King James Version. 
Buddhism: Hurt not others in ways that you yourself would find hurtful." Udana-Varga 5:18 
Judaism: What is hateful to you, do not to your fellow man. This is the law: all the rest is commentary. Talmud, Shabbat 31a.
Jainism: A man should wander about treating all creatures as he himself would be treated. "Sutrakritanga 1.11.33 
Taoism: Regard your neighbor's gain as your gain, and your neighbor's loss as your own loss. Tai Shang Kan Yin P'ien 
Confucianism: Tse-kung asked, 'Is there one word that can serve as a principle of conduct for life?' Confucius replied, 'It is the word 'shu' — reciprocity. Do not impose on others what you yourself do not desire.' Doctrine of the Mean 13.3 
Shinto: Be charitable to all beings, love is the representative of God." Ko-ji-ki Hachiman Kasuga 
Ancient Egyptian parable: Do for one who may do for you, that you may cause him thus to do." The Tale of the Eloquent Peasant, 109 – 110 Translated by R.B. Parkinson. 
Native American spirituality: All things are our relatives; what we do to everything, we do to ourselves. All is really One. Black Elk .  Do not wrong or hate your neighbor. For it is not he who you wrong, but yourself. Pima proverb.
There are other religions and philosophies other than mentioned here that have concepts similar to these. Aristotle, Socrates, Seneca, and more contemporary philosophers have also urged others to do no harm. As seen in this way, traditional moral values are not religious. While all religions subscribe to the concept of do no harm, so do all other social philosophies, irregardless of a belief in a higher power.
Some have said that because they do not believe in God, they are not required to adhere to such outdated and restrictive systems. In saying this, they believe that they author their own rules and that they are bound to however they wish to live.
But, they are mistaken when they say doing no harm or traditional morality are part of religious tenets. The concept of treating others as we wish to be treated is a universal tenet found in all cultures. All societies have come to realize that harming others does not and cannot work. Therefore, it is up to each person to live the same behavior he or she wishes to see in others.
Committing adultery is one of the worst offences against another. Whether the adulterer believes in religion is not at issue. The adulterer is breaking a universal law that is outside of the scope of creed or conviction. The adulterer cannot write his own rules. In fact, the adulterer can be an atheist while still being bound to the same universal cultural rule. There is no excuse and no amount of denial in which to hide. Infidelity is wrong and (as my grandma liked to say) there are no ifs, ands or buts about it.
Summary
In summary, there is a script that the unfaithful follow and it is uncanny to what extent all adulterers follow the script. Therefore, don't be surprised when a spouse brings up the soulmate argument and his or her get out of jail free card. This is the affair fog talking and it is never an excuse. Plus, whether or not someone is an alleged "soulmate" is not the issue. The issue is that a wayward spouse broke a promise; lied; broke a contract under the law; often broke a contract formed under the eyes of God, and harmed a betrayed spouse greatly. The next time your spouse tells you that he or she met their soulmate, you can stifle a guffaw and make your spouse wonder.
Next, low-level depression can create seeming feelings of boredom in an individual. Some individuals believe their spouse is causing their boredom and some even (falsely) believe they have fallen out of love. Untreated and unrecognized depression can leave an individual vulnerable to an affair. If he or she engages in an affair, the dopamine rush that is experienced will provide a temporary Band-Aid for depression. This will cause a wayward spouse to falsely believe that the other person holds the key to their happiness. This belief is absolutely false.
Therefore, it does not matter who the other person is. The other person is often someone that leaves everyone shaking their heads in disbelief. That person is not special; that person was just available to lead a spouse astray. This person was there and had no problem committing an immoral act with a married person—but the other person certainly was not special.
Finally, moral rules such as the Golden Rule are not solely the domain of the religious since there is a version of this concept to be found in every culture, philosophy, and religion. A wayward spouse cannot claim that he or she is not bound to these rules since he or she is not religious. These rules are so much bigger than religion. Therefore, there is never an excuse for hypocrisy or double standards.  Some like to fool themselves and believe that they are "special" and need not to obey the standards that they expect others to obey. When a person always feels this way, they are likely narcissists. But, it is also common to find as a situational phenomenon during affairs. Call it what you like, but it is always wrong.
Affairs are not special and the tales that cheaters tell themselves are not special either. There is nothing unique about the other person, or how they got into their particular situation, or any other aspect of their affair. All cheaters feel the same way and follow the same scripts. Having an affair is likely the most UN-original experience on the planet.