The stats are overwhelmingly high that married men and women who have affairs typically don't leave their spouse for the affair partner. So why don't cheaters leave their spouses?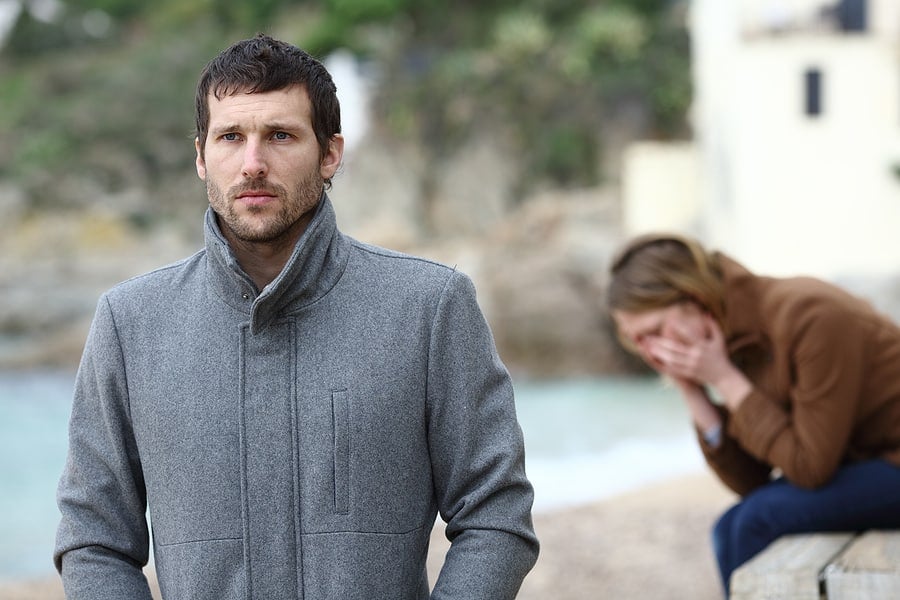 By Linda & Doug
Most betrayed spouses want to believe that their unfaithful partner stayed because they realized that they had made a terrible mistake and remained in the marriage out of love.  Sadly, this isn't usually the case it seems.
Over the course of the last seven years we've heard (and read) a variety of reasons for this from readers, mentoring clients, articles and other blogs.  This post will include a summary of many of these reasons – in no particular order.  (We'll use 'WS' throughout the post to refer to the Wayward Spouse)
Why Don't Cheaters Leave Their Spouses?
The WS Emerges from the Fog. At some point – especially if the affair has lasted a while – the WS often gets to a point where the 'feel-good' chemicals start to wear off and the luster and excitement of the affair starts to fade.  They realize they were not thinking rationally and based their poor behavior and actions on a fantasy.  They eventually realize that the affair partner isn't their 'soul mate' or that he/she was this magical being that took care of all of their needs.  In fact, the affair partner often starts to show their true self at some point – which often ain't too pretty – and it's a wake-up call for the WS.
The WS is Feeling the Pressure.  This is normally a situation with male WS.  The affair partner eventually starts to put pressure on the WS to commit to her – even if there was an understanding that the WS was never going to leave his wife and family.  However, the affair partner soon gets emotionally attached and wants him to spend more time with her and/or even asks him to leave his wife.  The resulting stress can get to too much to handle for some WS, so they end the affair (or not).
The WS's Affair Partner Decides to Stay in Their Marriage. Yes, this is basically the result of the reason stated above, and from our experiences is usually a motivating factor for the female cheater.  Here the male affair partner decides to stay with his wife and the female WS decides to go back to the marriage – though usually quite reluctantly.
Fear of the Unknown. Here we will lump together things such as familial, social, financial, life-style, and even professional complications, that could arise when a WS abandons their spouse and family.
Linda's brother comes to mind here.  He ignored the fact that his family was devastated and could suffer long-lasting scars from a divorce.  Yet for many WS this is the main reason they don't leave their marriage for the affair partner.
We've also mentored folks who if their affair with a co-worker was ever discovered, they would lose their jobs.  So rather than risk it, they end it.
Divorce is very costly in a variety of ways.  In fact, it is one of the major causes of bankruptcies in the United States.  Many WS (again, mostly men it seems) don't want to lose their ass financially. With possible child support, alimony, the splitting of assets and pensions, etc., it can be a major reason for some.
Cake Eating. Often a WS has no motivation to leave their marriage since they can carry on an affair at the same time and get all that ego stroking, frequent sex, admiration, validation, etc., from both the affair partner and their spouse.  This is especially true if they haven't been caught yet, but is still a major problem even if they were busted.  A WS can get what they want from their affair partner and still come home at night to the comfort of their loving spouse and family.  There probably was never any intention of leaving the marriage and the affair serves as the 'frosting' to the marital 'cake.'  They compartmentalize their relationships and happily go on.
The Jig is Up.  Here it is in a nutshell:  WS in affair.  WS gets caught.  WS ends affair (It was fun while it lasted).  WS wants to move on. Get over it.
Guilt, Shame and Pain.  For some, the mental torment of seeing their betrayed spouse in immense pain and anguish is enough for them to decide to stay.  Usually a WS doesn't enter an affair with the intent of hurting his/her spouse.  But when that D-day occurs and the WS witnesses the agony and suffering of his/her spouse, it can shock them back to reality and an understanding of the gravity of their actions.
For the Kids.  We can't tell you how many times a WS has said that they and their spouse agreed not to get a divorce for the sake of their children and their emotional wellbeing.  Instead, they decide to live together (often continuing the affair) with the intentions of sparing their kids the pain of them splitting up, while maintaining a charade of being a traditional family.
The WS Was Caught Off-Guard.  Many times, the WS gets involved in an affair and is unpredictably steamrolled by the emotions and the infatuation-related chemicals.  They are in over their head and don't have a clue what to do.  So they do nothing.  They stay in the marriage and they stay in the affair.  Biding their time until they feel they have to make up their mind.  The WS may even have been caught (though they didn't think they would) and they don't know what to do, where to go, or how to do it.  They have no plan or strategy.  So they wait.
They Still Love Their Spouse.  The WS comes to a point where they realize that the one person for them was right in front of them all along.  They understand that they were chasing a fantasy and that the problems they were running from, or rationalizations that they created in their mind, were derived from their own issues – not their spouse. Often the WS claims that they never stopped loving their husband or wife.  (Though many betrayed spouses find this impossible to comprehend.)  And that this was always the case. They hate themselves for what they did and now they want to fix things.
We thought this was a great comment that a reader left a few years back:
I could not and would not stay with my wife if she couldn't love me on my terms–the terms under which we entered our marriage. Her EA made me seriously question what I mean to her and "how" she loved/loves me.

I told her that I don't want to be the secure and comfortable choice. I don't want to be the easy option. I don't even want to be the guy she has a "mature" love for. I want it all. I want the romantic love, the friendship, the companionship, and the feeling that no one could be as special to her as I am and vice versa. Is that unrealistic? Maybe. Is it unfair to her? I don't think so. I deserve to have someone in my life for the RIGHT reasons; that is, the reasons that are right for ME. Life is too short to just settle into what you know if it isn't what you really want."
Finally, in the comment section below, we'd love to hear the reasons why your partner said he/she stayed in the marriage.  Likewise, if you're the unfaithful person, please chime in here as to why you decided to stay.