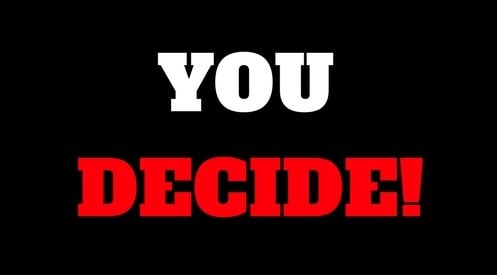 This is the latest installment of our 'You Decide' series where you will provide your opinion on a fictional affair scenario.  In this case, we need you to decide if John's occasional porn viewing is indeed cheating – as his wife, Janine asserts.
John had an emotional affair with a woman some 6 years ago. Since then he has been the model of a good husband and father. He has done everything he needed to do to help his wife heal and to rebuild the marriage.
In fact, his wife Janine feels that he has done an amazing turnaround and that the work he did on himself and within the relationship has helped to create a marriage that is better than ever.
There is one thing though…
John likes to watch porn. Internet porn, to be exact.
Now, it's not an every day thing. The frequency of his porn viewing varies and he may go a couple of weeks or so without viewing it all. It's not like he feels it's an addiction or anything like that. It's an easy way to take care of business, so to speak, when he's in the mood.
A week ago, Janine was paying some bills online and as she was typing in the first few letters of her credit card company's site, her browser auto-filled with a porn site address instead.
Janine was shocked and offended. She had no idea that John watched porn as he has never brought it up – and there were never any signs whatsoever. But now that she thinks about it, she has noticed a decline in the frequency that she and John were having sex, and that John isn't initiating sex as often as he used to.  He also has never been very good at talking about their sex life.
Now, Janine is feeling betrayed. She is having flashbacks to when John had his emotional affair. To her, John's watching porn – and obviously hiding it from her – amounts to cheating. She feels she can never live up to the images John looks at and feels very inadequate.
When she confronted John about what she discovered, he immediately confessed to his porn viewing and was open to talking about it.  He was very remorseful and apologetic. He promised to never view porn again since Janine was so hurt by his actions.
That said, he also feels that he really didn't betray Janine and that it certainly doesn't come anywhere close to being cheating.  He feels it's a normal thing  for most men to do and really has nothing to do with their marriage at all.  It was just a 'release' for him.
Is Janine right in her stance that Johns' porn viewing is the same as cheating? Is she overreacting?   Is John minimizing his actions? What should they do now?
You decide!