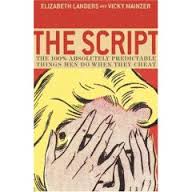 Yesterday I went to the library to look for some poolside reading material.  I came across "The Script".  The book is written by authors Elizabeth Landers and Vicky Mainzer.  
The authors who were both divorced from long marriages, discovered the script by listening to hundreds of real-life stories of unfaithful husbands.  They conclude that the cheating spouse will follow a similar pattern prior to, during and after the affair.
The book is written like a play, with an overture, two acts and a finale.  I found the book interesting because I did see many similarities or behaviors that were prevalent prior to and during Doug's emotional affair.  Fortunately our ending was different.
I am sure many cheaters who read this book would completely disagree with its content due to the fact that they believe that their affair "just happened" and there was no premeditation involved. However, the book outlines behaviors or patterns that put the cheater's mindset into place.  Similar to the behaviors Dave Carder outlines in his book "Close Calls."
The Overture: This part of the "play" starts unconsciously.  Before your spouse ever starts an affair, he tells you that he would never cheat – possibly even after some friend or neighbor falls prey to an affair. He continues to build your trust.
Also during this time your interactions and conflicts change.  Suddenly, somehow all the problems and issues always seem to be your fault. You now think like you're losing your mind.
One example of this could be the spouse is unhappy with the domestic contribution of the cheater, so the spouse voices her dismay (nicely of course) and the cheater turns it around as being the spouse's problem.  In the end the spouse is the one who winds up apologizing, feeling totally confused and blindsided at what just happened. In essence he (the cheater to be) is trying to gaslight her.
Act 1: Before he leaves. During this time the cheating spouse (to be) is beginning to feel like a victim in the relationship.  He believes he is putting all of this work into the marriage and no one appreciates, listens or acknowledges him.
At that time he enters the scene the authors call, "Wow, that felt good!"  The authors explain this by stating, "In his head vague and unidentified feelings of unhappiness and discontent are swirling when he comes upon the Momentary Encounter.  In a few brief moments he feels something quite different, something good, he feels happy."
It could be as simple as an attractive coworker complimenting him or laughing at his jokes.  It really doesn't take much to arouse the feeling of euphoria.
During this time the cheater will begin making comparisons between the feelings he is receiving at home and when he is with this "special" person.  He also will begin to pick fights, act unappreciated and distance himself to make the polarization even larger. 
He will tell the special person how appreciated he feels when he is with her compared to how he feels at home, therefore giving the special person an opportunity to validate his feelings.
The authors described many other behaviors or patterns present during this time and the two that really caught my interest were, "I found My Soul Mate, and "This Could Work". The cheater feels that he is one lucky man at this point. He has a mistress who makes him very happy, as well as a wife, kids and job that make him feel very comfortable.  He believes that he can have it all and that everybody is happy and that this feeling could last forever.
"He is in a delusional state living in a fantasy. The world full of possibilities has produced one wonderful woman, his soul mate.  He feels happy, alive, appreciated, on top of the world.  The thought of hurt, angry, scared, disapproving, or suddenly distant family and friends is nowhere in his mind."
Practical problems of money, living arrangements and affects of his wife and children are nowhere in his vision. His fantasies will play out like everyone will be happy about this.
He says things like, "My wife and kids will get along fine." "She will find someone else to marry." "My kids will love my 'special person' and she will be great with them."  "They will love going over to my house every other weekend, it will be like a mini vacation."  "It will be just like Demi, Bruce and Ashton – one big happy family."  Obviously it is very difficult to understand how one could be so delusional, but it is all part of the Script.
Act 2:  After he leaves. I'm not going to get into this act too much other to say that it involves the part where he tells you about the affair and that he is leaving.  Then come all of the justifications for doing so- both to himself and to others.
The Finale. Of course, the play concludes with "This is Not the Way I Planned It."  The cheater's fantasies obviously do not play out and everyone does not end up happy and content.
I think we've seen this play before!
The end of the book has this cute little story about a man going to a lingerie shop with his mistress.  It plays out like this:
At the beginning when he walks into the store he relishes buying her the whole set – a low-cut French bra, thong, garter belt and lace stockings.  She talks about wanting to get married because she adores him.
During that year he comes in several times and always buys the sexiest lingerie for her.
Then the couple's dreams come true, he divorces his wife and marries her.
The next time he goes into the store, he tells the clerk that he cannot buy the bra anymore because his wife has to now come in to try it on first. Of course, she never had to try it on before.
A few months later he goes in to buy the whole set but not the bra or the thong, as his wife told him they were too uncomfortable.  So he just bought the garter belt and the stockings.
Things are going well for the newly married couple but the next time the man goes into the lingerie store, he tells the clerk that his wife requested that he just buy some nice cotton underpants.  That will do the job.