It seems that most betrayed spouses are desperately trying to figure out the affair fog and what the hell is going on in the minds of their spouses.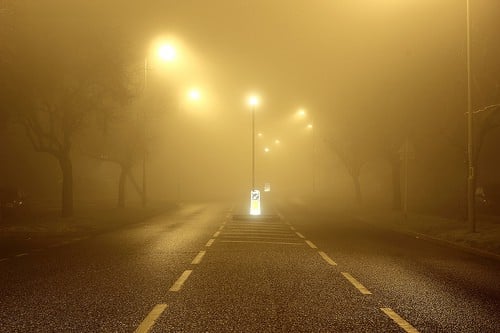 By Doug
A good portion of my time for this website is devoted to mentoring people who are struggling with infidelity in some way.  And 99% of that mentoring time is spent with betrayed spouses (usually female). 
The vast majority of those betrayed spouses are desperately trying to figure out what the hell is running through the minds of their cheating spouses.
Their spouses are acting strangely to say the least.  The typical phrases I hear are "Where has the man I married gone to?"  "This is not the man I married"  "What could she possibly be thinking?"  "It's like she's a completely different person" 
And those are just the G-rated phrases!
Quite often the reasons explored for this unusual and often moody, hurtful behavior run the gamut from depression to midlife crisis to temporary insanity.  Perhaps all those are possible, but I like to attribute it in most cases to the "affair fog".
Ah yes, the affair fog.  A curious and frustrating (for the BS) frame of mind the cheater goes through while in the midst of their affair.
Clueless Alien Syndrome – When Your Spouse Becomes a Person You No Longer Recognize
What is the Affair Fog?
A few years back I found this definition of the affair fog somewhere online.  For the life of me I cannot remember where, so I can't give proper credit, but here it is anyways…
"The term 'the fog' can be described as being similar to being brain washed. The thrill of the affair envelopes the wayward partner in good feelings, and the excitement can be overwhelming. They feel a new high, a feeling of being in love. The wayward partner begins to rationalize with themselves in order to cover up their feelings of guilt.
They may have convinced themselves that their marriage was already bad, that their partner really didn't love them, and that the affair partner must truly be their soulmate because he or she is the only one who understands them.
Next begins a repeated internal dialog of the rationalizations over and over again in their minds. It's as if they become addicted to the affair, needing the constant high it brings, many times with total disregard for the betrayed spouse.
Over time, they really begin to believe all the lies they've told themselves. Their beliefs are reflected in their actions; loving to the affair partner, and angry and hostile towards the betrayed. Wash, rinse, and repeat, and soon, they are deeply entrenched in the fog."
What Linda said when asked how she got me out of the affair fog…
Also a few years back, Linda and I recorded a session for the Affair Recovery Group where we addressed the affair fog.  Here is a transcribed excerpt from that session…
Doug:  In our situation, in your opinion, what do you think really worked as far as getting me out of the fog? Maybe give your opinion on some of the ones that I mentioned. Obviously, we know begging and pleading didn't work.
Linda:  Honestly, this is why it's so difficult to pinpoint because most of the time, when you start doing the things like checking the phone records or talking to the [affair partner's] husband, what happens is they end up getting more secretive.
Doug:  Or they get mad, and they get defensive. Then they go back to their affair partner and talk about it.
Linda:  In all honesty, I think most of the time, you're not sure if the person has left the affair yet, so you're acting a certain way but you don't even know if it's effective because they just become more secretive and they're lying more.
It's hard for me to pinpoint what I did that caused you to get out of the fog because I don't really know when you got out of the fog.  I would say, six months later, yes, but was it my behaviors? I don't know.
Doug:  I'm sure that it was. It was a combination of things. Everybody's got to realize that no matter what you try, more than likely it's not going to happen right away. It's going to take time.
Linda:  No, and the consistency. I realized that because I was acting in a predictable way and giving you the safety net, that if I would have started behaviors that were unpredictable of me, I think that would have woke you up.
If would have started preparing my own life, with or without you, and just started doing some things on my own…like getting finances in order… I did start going out with friends a lot more, and I started taking exercise classes. I think that woke you up a little bit.
Doug:  Doing what they would call a 180.
Linda:  Yes. But looking back, the thing that I did that I shouldn't have done was I never stopped telling you that I loved you, and that I wanted to be with you. Even when I saw the phone logs in January, the next night, we went out with friends and had a great time. Most of the time, because of the kids, I acted like nothing was happening. I continued the pattern of our life like everything was okay.
Doug:  You're saying that's something you shouldn't have done?
Linda:  I should not have done that. As I said, I stayed predictable. Our life stayed secure. Everything was okay. The only thing that was happening was I was a total wreck.  But that didn't affect you like it should have.
But everything else…you'd come home, and I'd be there. It was just the same life over and over again. Honestly, I tried to even make it a better life than what we had. We'd go out more. We would be more intimate.
You never had an opportunity to think, "Gosh. What would it be like if this was over?" You didn't have to ask yourself, "Why is Linda pulling away?"
I wish I would have early on, just really worked on myself a lot more and said to myself, "Okay. If this works, then great.  But I'm going to prepare myself if I am not going to be in this marriage."
I also wish I would have just said, "You are in this affair. I'm not going to accept it. I'm not sure what I'm going to do about this."
I never told you I would leave you because you were in an affair. And I think I needed to be more honest with you, but I was afraid that if I was, you would leave. I was afraid to upset you.  And I was afraid to do anything that would look negatively on me, and I regret all that.
Doug:  What you were saying about being intimate and going out and having fun and doing all that stuff, I do think cumulatively, that had an effect. It helped to re-establish a bond that we had and intimacy and kick-started our relationship again – and our friendship. I think that's helpful. I think that's all part of it.
But in a lot of cases – and again, you can't generalize – I think you're right. If you would have said, "This has got to end or I'm leaving," or "I'm taking the kids with me," "You have got to get out," or whatever, I think that would have expedited the fog disappearing a lot faster.
That said, some people – quite frankly – don't give a damn. They're in the affair, and they think they're in love, and they're going to have the other person no matter what, and they don't care. There are people like that.
But I think that even if it would have transpired and you would have left, or I would have left, or whatever, I think probably in two days' time, I would have been crawling back with my tail between my legs because reality would have hit big time.
There are a lot of things that people have to consider about reality. There's loss of your kids. There's loss of your family life. There are all kinds of repercussions for these things, and none of them are really good.
Linda:   I also think those things are important, but I would hope that removal would actually maybe allow the person to see what their spouse meant to them.
Doug:  Yes. I certainly included that in there, as well. It would have made me think long and hard and say, "Geez. What have I done here?"
It may not be in every case. We've seen on our blog where people take a couple of weeks, a month, or whatever, but it seems inevitably, the majority of them do come back for that reason. I guess it depends on how thick of a fog you're in.
Linda:  A lot of the experts caution that even though you do come back, does the betrayed spouse want you back? After going through months and months of the fog, a lot of times, it's just too much pain. The damage has been done.  The fog is the hardest thing to forgive and to get over.
If I would have confronted you and you ended it, it would have been so much easier to forgive. But when it continues while you're aware of it and you're dealing with your behaviors and the way you're acting, that is so much for a betrayed spouse to handle. It's so much pain.
What was happening behind my back, I think I could have handled a lot more because you weren't walking in and lying to me. You were hurting me, but I wasn't aware of it. But when I'm aware of being hurt every day, that is a really difficult pain to get over.
As I said, that is the risk. Not only that the cheater may not come back, but if the cheater does come back, trying to resolve all of that is difficult. The longer the fog goes on, the more damage that is done to the marriage. After a couple of months, if they're still continuing the affair and in the fog, you have to start changing your behavior somehow.

A Therapist's View of the Affair Fog
The Affair Recovery Group sessions were conducted with Marriage and Family Therapist, Jeff Murrah a few years ago. It was at a time that was actually quite crucial to our own recovery and healing.   
In one session, Jeff shares his view of the affair fog and how both the betrayed spouse and the unfaithful spouse can deal with it.  We asked questions and shared some of our experiences. 
More stories of BS and Their Foggy Headed Spouses
We also had a discussion a while back on how to get the cheating spouse out of the affair fog.  Quite a few BS chimed in as to what worked – or didn't work – in their own situations.  You can read the comments from that discussion here:  https://www.emotionalaffair.org/discussion-how-do-you-get-the-cheating-spouse-out-of-the-affair-fog/
Finally, we would really like to hear from you about what you think has to happen to get the cheating spouse out of the affair fog.  The goal is for them to begin to behave more rationally and realistically.
If possible, we'd also like to hear from those of you whose spouse has emerged from the fog, and how you feel that was accomplished.  And if you're an ex-cheater, please chime in on how you were finally able to emerge from the fog.
Leave your comments, experiences, advice, etc. in the comment section below.
Thanks!