Use these tips to first mobilize yourself then stop the gaslight effect in your relationship.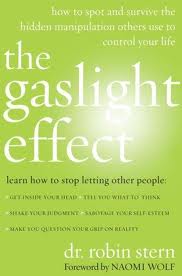 By Linda
After Doug wrote his post on gaslighting the other day, I had to run out and get the book that he referenced: "The Gaslight Effect" by Dr. Robin Stern. It seems that Dr. Stern is the authority when it comes to the subject and I wanted to learn more, as well as share some ways to make it stop. Or as the author refers to it…"turning off the gas."
For those of you who have not had the chance to read that post, the author gives us the following definition of gaslighting:
"Gaslighting is the systematic attempt by one person to erode another's reality. This is done by telling them that what they are experiencing isn't so – and, the gradual giving up on the part of the other person."
As with most things we discuss, putting an end to the gaslight effect is also a process.  Dr. Stern begins the process by providing six ways to mobilize yourself first, followed by five ways to actually "turn off the gas."
Six Ways to Mobilize Yourself to Stop the Gaslight Effect
Identify the Problem.  The author suggests that you first identify what your spouse does and what you do.  For instance, your husband might purchase gifts for you that don't really fit who you are and then he expects you to be grateful.  As the one being gaslighted, you feel as though there is something wrong with you for not liking the gifts and you end up feeling lonely and misunderstood.  Identifying situations such as this can help you to understand the situation and why you might feel disconnected and dissatisfied in your relationship.
Have compassion for yourself.  Dr. Stern says that one of the most soul-destroying aspects of being gaslighted is the message that you send yourself that somehow you deserve it.  You blame yourself.  This is the wrong way to approach it.  Instead you need to set a single goal to change your situation for the better.  In order to do that, you need to determine how you are contributing to the problem and what you might do to change things.  This is very different than deciding that you are to blame for the problem.  Be kind to yourself and know that you deserve  love and appreciation regardless of the situation and how you may feel.
Give yourself permission to make a sacrifice.  Looking at the possibility of leaving a gaslighting relationship may very well cost you something.  There's a real possibility that you may indeed lose something that you will never have again.  But maybe that's not the case.  You don't know for sure.  The only hope for change is if you act differently, and there is the chance that you might be risking something of great value if you do. You need to decide if it's worth the risk.
Get in touch with your feelings.  Dr. Stern says that those who are experiencing the gaslight effect often disconnect from their feelings so that they can remain in the gaslighting relationship.  She suggests that you recall an event that made an emotional impact on you and journal your thoughts as to how it made you feel.  Take note of the many different feelings and thoughts you had from that one event.
Empower yourself.  To quote the author directly…"Often, a gaslighting relationship leaves us feeling helpless and incompetent, as though we can't do anything right.  Beginning to see and own your strengths can be a critical part of making changes."  Take note of your core competencies, abilities and strengths.  Knowing that you have visible strengths will give you the courage to accept your shortcomings.
Take just one step to improve your life.  Then take another. Taking action – any action – can be very powerful.  Do something pleasurable that you wouldn't ordinarily do.  Take a class.  Get involved with a charity.  Part of living the life with a gaslighter involves losing one's self over time.  By taking action you can start to reclaim your self.
Five Ways to Turn Off the Gas
Sort out truth from distortion.  Often a gaslighter will tell you their version of events and it can throw you off.  There can be just a small nugget of truth in what they say that can make you think that what they say in its entirety is true.  Sorting out the truth can be a very helpful first step. Clarify your thinking by looking honestly at the truth of what your spouse is telling you and comparing it to what it really means.
Decide whether the conversation is really a power struggle.  And if it is, opt out.  It can be tough to understand what a gaslighting conversation is really about.  Often the gaslighter is attempting to get the upper hand by proving he/she was right.  Likewise, the person being gaslighted is also in a power struggle to win approval from the gaslighter.  A real conversation differs from a power struggle in that a genuine conversation entails both parties really listening and addressing each other's concerns, even if the conversation gets emotional.  (Scroll down to find out how to identify a power struggle.)  The key is to be able to tell the difference and if there is a power struggle going on, you must disengage.  Otherwise you will experience the gaslight effect some more.  Opt out by saying things such as "We'll have to agree to disagree."  I think we've gone as far as we can go here."  "I'm feeling browbeaten, and I don't want to continue."
Identify your gaslight triggers, and his/hers.  Both of you will have situations that start the gaslighting process.  If you can identify them, you can avoid them.  These triggers might include certain topics, words, actions, stresses or situations that make either of you feel threatened. These could include, money, sex, family, children, etc.
Focus on feelings instead of "right" and "wrong."  A gaslighter will often make an accusation that has a ring of truth to it.  For example, you might have been flirting a bit too much with someone at a party and you owe your partner an apology.  The gaslighter will take this and stretch it to seem as though you were out to humiliate him/her.  And you would eventually wonder if perhaps he/she was right.  Instead of worrying who is right or wrong, focus on your feelings.  If you feel genuine remorse, then apologize. If you feel attacked and bewildered, then you are experiencing the gaslight effect again and you must disengage right away.
Remember that you can't control anyone's opinion – even if you're right!  The author mentions her own situation where she couldn't stand that her ex-husband thought that it was okay to come home three hours late and that the problem was her oversensitivity.  This created endless arguments with her trying to get him to change his mind.  What kept her in the gaslight effect was her inability to accept that her husband was going to see things his own way regardless of what she said or did.  As soon as she was able to understand that he alone had power over his thoughts and that he wasn't going to change, no matter what she did, she took a significant step towards freedom.
You know it's a power struggle if…
It includes a lot of insults
You keep covering the same ground
One or both of you bring in points that are way off topic
You've had the same argument many times before a never really got anywhere
No matter what you say, the other person keeps having the same response
You feel as though the other person is simply in charge
Hopefully this summary has given you some good information on how to "turn off the gas" if you are experiencing  a gaslight effect relationship.  If you are successful at it, you probably will get a wide range of responses from the gaslighter.  The hope is that you and the gaslighter can use this information to figure out new ways to carry on your relationship in order to stay together.  If not, then you may feel that it's necessary for you to make some hard decisions about the future of your relationship.
For more information about "The Gaslight Effect," click the link.