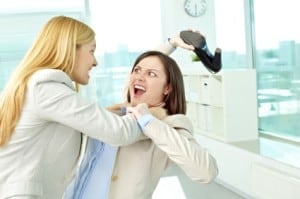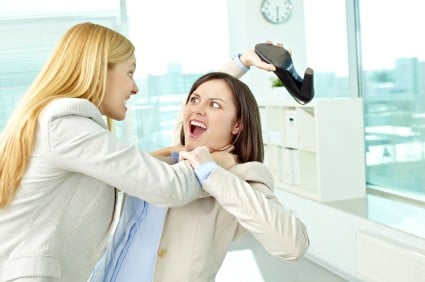 How would you handle it if you someday run into your spouses affair partner?  Linda and I had to address this very issue last week.
Linda has a friend who recently got divorced primarily because her husband had an affair.  Last week she talked with her friend who was quite despondent because one of her kids discovered that her ex-husband is now engaged to the other woman.  How did her kid find out? Facebook.  It seems the other woman changed her status to "Engaged."
This not only devastated Linda's friend, but also infuriated their child.  More than anything, the kid was mad that her father didn't have the balls to tell her and her siblings about the engagement himself.  They had to find out on Facebook instead.
Linda's curiosity got the best of her and she searched for this woman's Facebook page and found it and saw for herself just how blatant this person was with her announcing of their engagement.  There were pictures of the ring and the happy couple plastered all over the place.
For some reason, Linda then decided to check out Tanya's Facebook page.  She was mortified to find that Tanya had "liked" the very same dance studio that our daughters attend.  She asked why she would do such a thing.  I had no idea, but Linda eventually deduced that it must be because her granddaughter attends the studio as well.
This sent a shockwave of panic and emotion through Linda that I haven't seen in quite a while.  One of the things she has feared the most is running into Tanya and now it seems that there could be the possibility that it might happen at a place where Linda always considered safe.
As we talked about the situation, it became clear that the thought of running into Tanya is terrifying to her and she doesn't have a clue how she might handle it if it happens.  Does she get angry and lash out in some way?    Does she duck her head, turn and walk the other way so as to avoid her?  Does she faint?
I tried to calm her fears and while doing so I felt just horrible.  Guilt rushed to the surface as I questioned how I could have been so stupid to have done this to Linda.  My emotional affair continues to impact her in such a way that she has to be upset at the possibility of running into another human being.  It's not fair.
I really wish we were in the situation where we could just move to another city or state so that I could take her away from all of this and ease her pain.  Since that is not an option at present, we have to consider how to handle the possibility of running into her.  Though the last thing we want is to have to think about it on a daily basis, it does need to be addressed.
Linda is not a very confrontational type of person so probably the best choice is to just try to avoid her if possible.  But what if she's in the grocery store, turns around and there stands Tanya?   What then?
I know that many of you have had the unfortunate (or fortunate as the case may be) circumstance of running into your spouse's affair partner.  I also know that there is another group of you who have not, but have the same fears as Linda does.
We would be very interested in hearing the stories from those of you who have run into your spouse's affair partner on accident.  How did it happen?  What did you do?  How did you react?  Even if you haven't experienced this, we'd like to hear your thoughts on how you think you would handle it if you did and how you handle your fears of such a chance meeting.