By Sarah P.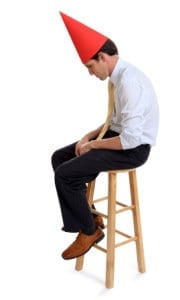 Senator Weiner, Bill Clinton, John F. Kennedy, Sergey Brin…
They all have one thing in common. All of these otherwise "smart" men have done really stupid things when it comes to fidelity.
When I started to date, my dad would tell me jokingly, "Be careful! Men are just like dinosaurs you know. They both have two brains—one in their head and one in their tail!!"
I guess that would explain why Senator Weiner was thinking with his, er, wiener. Somehow he thought that using the pseudonym Carlos Danger would spare him the public humiliation the second time he sexted younger women on Twitter. But, when he had made his wiener so famous the year before when he texted photographs, how could he expect his wiener to remain anonymous the second time around? (Especially to his wife…)
This is a classic example of men thinking with the wrong tail.
Well, why do men do this stupid stuff in the first place? Some would say it is biological wiring, but that is a cop out. They do it because they want to do it. It really can be as simple as that.
In late August, I was absolutely shocked when news of Google mogul Sergey Brin's extramarital affair broke the news. After all, this is the very same man who came up with the company slogan "Don't be evil".  As I read the details of his affair, my heart genuinely broke for his wife, Anne Wojcicki, and for the hope of people ever having marriages that are faithful.  Since I had worked in the information technology sector for years, I had followed news of this famously successful couple because they seemed to have a role-model marriage and to be a role-model couple.
Anne (Sergey's wife) is a beautiful, well-spoken Yale graduate.  She and her sister helped Sergey Brin build Google and make it the tech empire it is today. In addition to that, Anne is a globally known philanthropist who has a heart for changing the world. She founded her own company with the goal of harnessing current genetic technology to find ways to end all disease (including dementia and cancer).
But, apparently, this made no difference to Sergey. Nor did the fact that Sergey and Anne have two beautiful and very young children together. In fact, even recently it appeared that the couple had a very happy marriage—or at least his wife thought so. Before the news of the affair hit the news, she said, "I spend a lot of my spare time with my family. My sisters, parents and in-laws all live nearby. My perfect weekend is going for a walk with my family in the park. I don't think there's anything better. It's funny; everyone talks about a bucket list, but I don't really have one" (The Guardian, 8/31/13).
 The Wife
So why is it that Sergey Brin and his wife Anne Wojchicki seem to have vastly different views of their marriage? Why was it that Anne allegedly never knew her husband was having an affair right under her nose?
Well, it is no secret that men can compartmentalize sex. Whereas women literally put their body and their soul on the line during this most intimate of acts, many men experience sex as something no more meaningful than brushing their teeth.
Whereas women tightly mingle sex and love, men separate sex and love and can easily have sex without having any feelings of love. More than that, men can have sex and not fall in love at all.
In fact, on man recently said to his wife after she found out about his affair: "I love you. In my mind, you both were two different people. My love for you remained constant even as my love for her grew". Thus, compartmentalization could be one explanation for why many smart men do stupid things.
The Homewrecker
Sergey Brin's mistress and employee who is 16 years younger than him. According to many reports, she was alleged to be sleeping with another Google Exec, Hugo Barra, while she was also involved with a married Sergey Brin. If she marries Sergey Brin, she will have the opportunity to dip into his net worth, which has been reported at to be 28 billion dollars.
The "Mistress is Better" Myth
Many men have confided in me that when it comes to sex, they have a wide range of appearances that they find attractive. Some have joked that if the woman has a pulse, she is fair game.
Whether a women is beautiful or not does not seem to factor in to whether or not men will have extramarital affairs. Indeed, I have known of many cases where the mistress is absolutely inferior in all areas to a man's wife. Most of the time, a mistress is in no way better than the man's wife. Further, if he perceives that his mistress is better, he is actually perceiving a tightly crafted illusion (or shall I say delusion) of his own making. The myth that the mistress is better needs to be thrown out once and for all.
If He Won't Give Her Up, Then What?
So, what is a wife to do when her husband has an affair and he does not want to let go of his mistress?
Well, first of all, a man in this situation is not in a rational state of mind. Even if the man is a genius with an IQ of 150, rationality will not be his strong suit. After all, the brain in the tail has a very low IQ indeed. You cannot reason with the lower brain.
The other issue is, women who choose to have affairs with married men are generally extremely manipulative and they lack integrity. These types of women are willing to use all manner of manipulation to keep their married lovers close.
I don't buy the usual story that some mistresses tell. Many of them claim to be innocents who just fell into it, all the while claiming they are good people, full of integrity. However, actions speak louder than words. Good people walk away; they don't just innocently fall into an affair with a married man.
So what is a wife to do?
Well, if you want to get through to your husband, you must play hardball.
The most effective thing to do in this case is to ask your husband to leave and to immediately hire an attorney. Stand your ground, stay in your house, and force him to move out. After that, ask the attorney to communicate with him about the terms of the divorce.
In the meantime, let all of your family and friends know what happened. Let the friends and family of his mistress know what happened. But, when you do so, you must present yourself in a very rational and calm manner. You must show that you are clear-headed even if he isn't.
Now, even if a man thinks he "loves" his mistress and thinks that she is his long, lost soulmate, this will help snap him back into reality. When he is kicked out of his house, served with divorce papers, and starts to look at both social and financial implications of his affair, he will become more grounded. This will be the emotional equivalent of the man taking a cold shower.
When you must deal with your husband, do not cry, do not become emotional, and always discuss the affair in terms of the choice that he made. Always let him know that he is the direct cause of the events that are now happening.
Put the burden on him to figure it out. Do not offer help and do not offer to listen to him about his mistress. Let him know you are moving on with your life.
Then, you must make a genuine effort to move on. You must hold your head high and not accept a shred of blame for his affair.
You did nothing to cause his affair and you did nothing to create his affair.
Most of the time, this process will be an incredible shock to a man. Soon he will realize what he has done and what the terrible repercussions are going to be. Soon he will be filled with panic and fear.
As he goes through this process, his mistress will fall off a very high pedestal and he will start to see her for what she is. He will start to question why he would have left a woman with integrity (his wife) and traded her in for a woman who lacks integrity and who is willing to destroy the lives of others through her participation.
The bottom line is that when a man has an affair, he is essentially having an affair with a fantasy. When he is with his mistress, he is not even recognizing her as a person. He is projecting a fantasy onto her that he has built up in his mind. What she does or doesn't do has nothing to do with the fantasy that he is created.

Soon he will see that his mistress is not going to provide him with a future full of fun and fantasy. At that moment, the fantasy that he has been projecting on to his mistress will dispel. That's when he might realize that the grass was never greener on the other side of the fence. When this happens, he will likely return to his wife, begging and pleading.
What next?
Plan of Action:
There are several things that I would highly recommend, if the wife believes that she would like to rebuild the marriage after an extramarital affair.
The couple must see a marriage counselor together.
He must cut all contact with his mistress.
He must see a separate counselor to work through his own issues. (After all, it is the husband's own unresolved issues or lack of integrity that caused the affair in the first place).
The husband must also work through any large peripheral problems such as substance abuse (if these issues are present).
But most of all, the husband must take full and active accountability for his actions.
But even more than this, when a wife finds herself in this situation, she must not lose confidence in herself.  She must know that she is the innocent party and has done nothing wrong. Wives must know that it was never about the mistress being prettier, better in bed, younger, or more fun.
Cold Comfort

Statistically speaking, very few men leave their wives for their mistresses. One figure that I found cited that only around 10% of men who are unfaithful divorce their wives and begin a long-term relationship with their mistress. So, if you are a wife, the odds of a man leaving you for his mistress are low.
On the other hand, through all of it, you would do well to do some soul-searching and get to the bottom of why you would want to stay in such a marriage.
While it is true that many intelligent men do stupid things, there is still hope. Many marriages have been brought back from the brink. But, even more hopeful, many couples report that their marriages become stronger after they work through a crisis caused by infidelity. Never give up hope and don't forget that it was never about you.
---
We'd like to thank Sarah for contributing to our blog.  She recently finished her Master's work in clinical psychology and is currently working on her PsyD (Doctor of Psychology ) degree.

LINESPACE