Here is a guest post from "Mary C." where she delves into situations when the affair partner should be confronted after there was cheating in a relationship.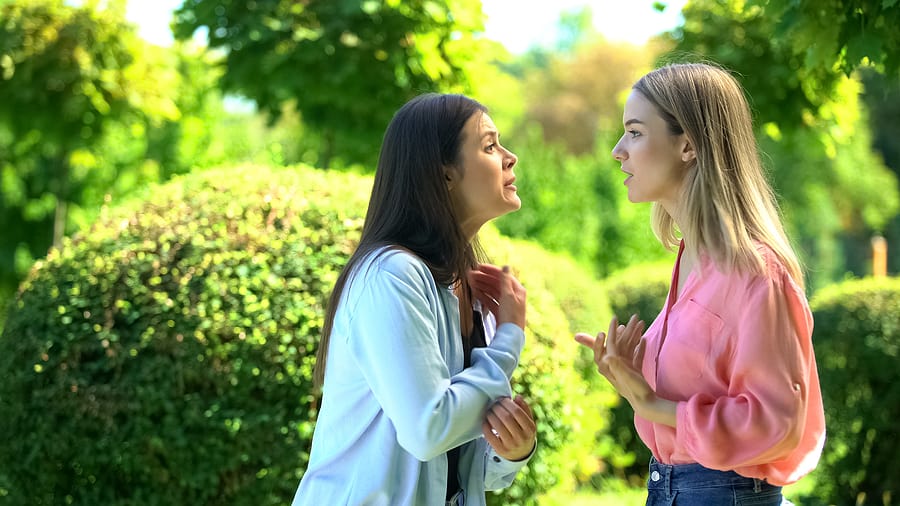 By Mary C.
Once again, I will refer to the other person as a woman. It's only because I am a woman and other women are what I had to deal with. Please know that I'm referring to male or female, whatever your case may be.
When my husband cheated on me, I was unable to resist the compulsion to see what she looked like. I remember how strange it was to see the other woman for the first time. I expected to see an evil vixen with long raven hair and an hourglass figure (there might have been some fangs involved in my image of her, as well).  Instead, I saw a normal woman.
My first perception was to question how this woman could lure my husband away from me. There was nothing remarkable about her, how dare he cheat on me with her. I guess I wanted to deem her as someone who put my husband under a spell. I wanted to think he was powerless to resist her advances. Now I was definitely angry.
I think that's what a lot of us do. We come up with this notion of the other person, which is usually nothing like they actually are in real life.
In my case, I was insulted that he would cheat on me with a normal woman. I wanted to justify his actions by thinking an exquisite beauty reached out and snatched my husband away from me. How was he so weak that this woman could tempt him into deceiving me.

After the Affair is Discovered
There are several things that could happen after you discover the affair:
Your spouse immediately tells the other person that the affair has to end now and the other person agrees.
Your spouse does the same thing, but the other person does not agree and won't let it go.
Your spouse drags his feet about ending the affair.
Your spouse tells you he has ended the affair when he really hasn't.
First thing is to find out which one has happened. The only way you can accomplish that is if your spouse is entirely candid with you.
You'll need to know everywhere he goes and everything he does, including phone calls and texts. Of course, you'll probably question if he is being honest with you about that as well.
Here's a short video from Carol Erb, Ph.D. on this topic:
When Should it Be You Who Confronts the Other Person?
If you find that the affair has unquestionably ended, that's the easiest scenario. You can then start to make the decision whether to end or rebuild the marriage. There is most likely nothing to be gained by confronting her.
Any of the other scenarios will not be so straightforward. If the other person refuses to let it go, someone will have to deal with her. I presume it would be best if your spouse does that, but he tried once without success. With any luck, if your spouse ignores the other person's calls and advances, she will finally give up and go away.
If your spouse is dragging his feet or is dishonest about ending the affair, you have to decide if it's a waste of your time to even fight for the marriage.
I've always heard you should never give a man an ultimatum. I'm pretty sure it must have been a man who said that. I say hogwash. If he is wimping out about getting the job done, I say it's either time for an ultimatum or for reminding him where the door is located.
Confronting the Other Person
The other alternative is to confront her yourself. If you are anything like me, you would like nothing more than to get medieval on her, particularly if she is refusing to leave him alone. However, it's best to resist that urge and maintain your dignity.
I'm not even sure what should be said to her. You could tell her that she is only causing herself more grief by hanging on because you have no intention of giving up on your marriage.  If you have children, you can tell her that not only is she hurting you and your husband, but also there are children involved that will be hurt.
If she has any sense of decency, that might work, but don't bet on it. She has justified having an affair with a married man. If all that fails and she is married as well, inform her you will be discussing it with her husband. If she's not married, maybe her parents would be interested in the situation.
Talking to her could even give you some insight to what caused this affair in the first place. Maybe she knows something that you don't about what's going on in your husband's mind. I don't know. It just depends on the situation. If anyone has had a similar experience, what did you do?
What is Her Justification?
How is she justifying having an affair with a married man? There could be a million answers to that question. I'd be willing to bet she could have a low self-esteem. Being able to take someone's husband is a boast to her ego. Maybe she has been cheated on and it gives her a feeling of revenge. It could be that taking someone's husband gives her a sense of power. Who knows? Who really cares? Nothing justifies it if she is aware he is in a committed relationship.
That's another scenario. You confront her and find out she didn't know he was married. Then it would be in your husband's best interest to make some long-term travel arrangements.
In any event, you shouldn't have to be the one to confront her and resolve the situation. This is not your problem…it's his. You can choose to help or not.
Please share with us how your situation played out. Did you confront the other person or did your spouse take care of it? Did the other person go away peacefully or not?

*Originally posted on 2/11/2013 and updated on 6/15/2021.