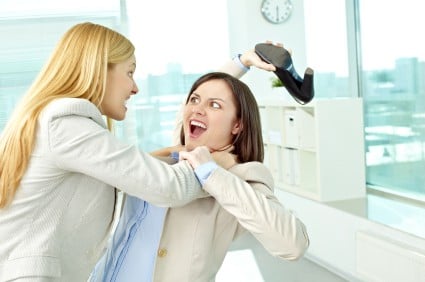 We wanted to share with you the results of our discussion from last week on whether or not you confronted the other person that your spouse or partner was having an affair with.  We had a ton of people who commented or emailed us with their experiences with this issue. 
Just about 60% of you had indeed confronted the other person after an affair in a variety of ways.  The preferred method of contact was by phone, with texting being the second most popular method.  In many instances, the affair victim knew their spouse's affair partner personally, which we can only construe to mean that it made it a little easier for them to confront.
It was a mixed bag as to whether or not the confrontation did any real good in the overall scheme of things. 
While most of the victim's spouses were upset that they confronted their affair partner, and actually did more harm than good to their relationship, many of the victims  indicated that the confrontation was a positive factor when it came to their own sense of empowerment and self-esteem.  It was a great form of release for them and made them feel better, albeit perhaps only temporarily.
On the other side of the coin, many victims commented that they saw no need to confront the other person as they felt it would do them no good both personally and in their relationships.
Dr. Robert Huizenga has done some research on confronting the other person, and he concludes that yes, sometimes it can be good to confront, and other times, not so good.  It depends on the type of affair, and the personality traits of the people involved.
He also offers a short video summarizing his research on confrontation that you can view below:
Everyone has their own style of conflict, which they tend to rely on when faced when an unexpected confrontation. Some people respond by backing down, some people respond by attacking, and some people will try to avoid the confrontation altogether.
Linda and I have always had somewhat non-confrontational personalities, but Linda has told me that at times she had thought about confronting Tanya, though she never did because she felt it would not do any good in the long run. It might have felt good to her and she might have had an advantage initially. But would confronting Tanya have actually helped the situation over the course of time?
Could confronting Tanya only further her resolve? Or would such a confrontation likely scare her away? Conflicts are much easier to start than they are to stop. So, Linda felt that it was best to avoid a confrontation altogether with her.
So what is the right advice?
OK, so here you are, you may feel the need to put everything behind you, but there is still the urge to contact the person who shattered your life. If you were really that desperate to move on, you would. You wouldn't indulge yourself with thoughts about confrontations. You would somehow distract yourself and force yourself to let it go.
You are not concerned about this other person (nor should you be), but what you really want is for your spouse to feel pain. To have someone treat him/her the way he/she has treated you.
More than likely you won't get any answers from the other person since you already know the important part.  You know where you are today, and whatever happened, it's done now. It's time to move on, and moving on means letting it all go.
On the other hand, if it will get you that much closer and faster to closure, then… go for it. Confront the person.  What do you have to lose? Who cares what that person thinks of you?
Confronting the other person after an affair is a choice.  It is a choice you make based on a variety of factors, feelings and possible outcomes. Many experts will tell you not to, which might very well  be the best thing to do.  Contacting the other person means giving that person importance and you do not want that. Besides, you never know what kind of person you might be dealing with.  Does "Fatal Attraction" ring a bell?  Then again, sometimes you have to throw caution to the wind and say "What the f**k"  and just do it!
Dr. Huizenga is the author of "Break Free From the Affair" and several other books and guides.  You can access his site by clicking here.