A real life account demonstrating how the children of divorce are often the real victims.
by Mary C.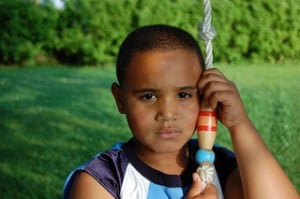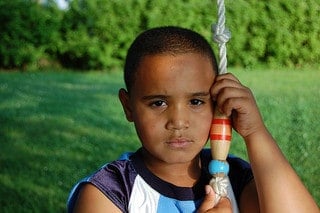 My daughter and I were sitting on my bed talking. My divorce to her father had become final a few days prior. As we were talking, she looked down and noticed a ladybug on her hand. I told her that some people believe ladybugs are good luck.
We went back to what we were doing and forgot about the ladybug for a while. Later, I heard my daughter excitedly calling to me. She came running and told me the attic was full of ladybugs.
There was a storage area in the attic through a door behind my closet. She liked to go in there to play at times. I went with her and sure enough, there were hundreds of ladybugs. I had never witnessed anything like it. It was incredible. I later went out to check the mail and I was amazed to see our mailbox covered with ladybugs. We decreed it was a sign that we were going to be just fine.
My third and last husband was a verbal and mental abuser. I had already endured two very abusive marriages. However, in this case, I wasn't worried about myself. I knew a divorce would be hard on my two children, but I never imagined how much it would devastate them.  
They rarely witnessed us fighting, so the divorce caught them totally off guard. Oh, they had seen their father become enraged plenty of times. They had heard him scream and call me names. However, most of the time I just kept my mouth shut so it was a one-sided fight. When he was finished ranting, it would be peaceful again. Consequently, when their dad and I abruptly separated, it traumatized them. At the time we separated, my son was 13 and my daughter 10.
During the 16-year marriage, I wasn't the only one that felt my spouse's wrath. Unfortunately, my son was included. For some reason, my daughter didn't have to endure direct exposure to his anger; however, seeing her brother and me going through it was very difficult for her. My son told me numerous times during the marriage that he wished I would divorce daddy. It broke my heart.
Children of divorce are often faced with tough decisions
My ex made some crucial mistakes while we were going through the divorce. He continuously asked the children to choose between us. He told them outrageous lies about me. Unfortunately, my son believed the lies.
All his life he had just wanted approval from his dad and now his dad was treating him like a buddy. My son forgot all about the damaging words his dad had said to him over the years. He was suddenly unable to remember asking me to divorce his dad.
It hurt, but I understood it was due to his need for his dad's acceptance. He would believe anything his dad told him at that time. On the other hand, my daughter stuck with me. I don't know if she believed the lies. If she did, she didn't seem to care.
When we went to court, the judge more or less repeated what my ex had done. He spoke to them alone and questioned them about who they preferred to live with. Again, someone was asking them to choose between mommy and daddy, this time a stranger.
My daughter chose me and my son chose his dad. The judge abided by their wishes. He split the domiciliary custody between us and they spent every weekend together. I knew my son would change his mind eventually. I had faith in my ex to make sure of it.
Fortunately, my ex acted so belligerent in court that he angered the judge. He awarded me everything else other than domiciliary custody of my son. I could finally get matters in order and begin to rebuild my life. I was ready. Due to the expense of the divorce, I had to file for bankruptcy, but I didn't care. I just wanted to be past it all and start my life over.
In the last part of November, my daughter and I bought a tree with tons of Christmas decorations. We spent all day trimming the tree and decorating the house. It was stunning and we were so proud of it. I was happy that day and I saw smiles on her face as well. She needed to start the healing process more than I did. At that time, my son was still with his dad.
The living situation was short lived. As I predicted, it wasn't long before his dad started revealing his ugly side again. My son's memory returned about his dad's behavior in the past. He returned to us shortly after Christmas. I kept them busy and got them involved in activities they enjoyed. I healed quickly, which I believe aided the children in their healing process.
Going back and forth for visitation was challenging for them; however, I imagine observing me continue with life helped them through their struggle. I am certain that if I had been sad, depressed, and crying constantly, it would have detained their adjustment to our new life. I told them we were on a grand adventure.
If you ever find yourself in this situation, please don't ask your children to choose which parent they prefer. My children are now grown and they remember being asked to choose more than anything else. It was traumatic for them.
Heal yourself or at least ensure the children observe you attempting to resume your life as soon as possible. Your children will have an easier time when they see that you are okay. Just remember their happiness and well-being is more important than anyone or anything. By setting the example for them, you will find yourself healing as well.