As the unfaithful spouse, if you want to repair the foundation of your marriage, you have to know how to become trustworthy after the affair.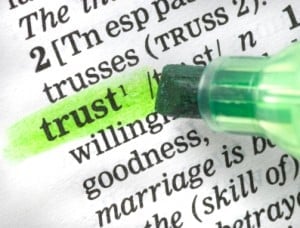 By Sarah P.
Betrayed spouses report that one of the most harmful things about infidelity, if not the most harmful thing in some cases, is the loss of Trust.
The reason I capitalize the word Trust is because you haven't just become semi-untrustworthy, but rather completely untrustworthy after you have been unfaithful.  Trust is one of the very foundations of marriage and you have completely destroyed the foundation.
It's always amazing to me how some cheating spouses simply cannot empathize with the betrayed spouse and wrap their minds around the utter harm, indeed absolute destruction, they have caused.
From the CS's perspective it may have been just a physical thing – just a diversion – kind of like skydiving, just to feel something different. They cannot understand the big deal about cheating.
Well even if it does not feel like a big deal to the cheating spouse, it feels like the end of the world to the betrayed spouse. And once again, it all goes back to Trust being lost. Because this is not the type of situation where your spouse cannot trust you to pick up the dry cleaning on time. That is an easily forgivable minor irritation.
No, it's not that type of thing at all. Because your spouse no longer knows if she/he can trust anything about you, in addition to the uncertainty of not being able to trust the past with you, the present with you, or even the future with you. She or he wonders if the whole marriage with you has been one large lie. She/he doesn't see how she/he will ever be able to trust you again or to feel emotionally safe with you again. And if she/he cannot do those things, then there is no marriage.
If you want to repair your marriage, you have to become trustworthy. In order to become trustworthy, you have to be absolutely honest – and this includes not withholding information because withholding information  is a type of lying. But, most of all, you must behave in ways that are now trustworthy.
The first thing you'll want to do is to engage in full disclosure. I talk about the importance of this in a prior blog post. The second thing is, you must not lie about your feelings for the other person or what drove you to do it. Don't make up some kind of sugarcoated story just to please your spouse because it's going to backfire. You must get to the bottom of what caused your actions and to look at all of your insecurities and your drives as a person.
You must also change your actions. This might include becoming a completely different person than you were before. You must determine your triggers and the things that cause you to be weakened and therefore susceptible to an affair. Having friends of the opposite sex is one of the things you will have to stop and likely never return to. Because, no matter what people say, I truly believe that men and women cannot be good friends.
Things a Cheating Spouse Can do To Rebuild Trust After an Affair
Another thing you will want to do is to stop having any hidden email accounts or Facebook pages and allow your spouse to access them. If you are ashamed to let your spouse see it, you should not be doing it. No more lunch with coworkers of the opposite sex without other coworkers. No more exchanging text messages and getting too friendly with someone of the opposite sex.
You must behave in ways that are full of integrity whether your spouse is looking or not. Because only when you act with a motive based in integrity will you start to become a trustworthy person again.
Being trustworthy is a behavior that you constantly need to engage in and it's not about merely saying the right thing or appearing to be a good person on the surface when you're not one on the inside.
There is nothing worse than opening a beautifully wrapped package, only to find that, on the inside, it contains rotting food. This is like the proverbial wolf in sheep's clothing. Stop being the wolf.
Clueless Alien Syndrome – When Your Spouse Becomes a Person You No Longer Recognize
If you don't like my rules about cutting off contact with the opposite sex, it's time for you to do some soul-searching. You see, marriage involves obligations. It involves giving up whoever we were when we were single and it involves selflessly dedicating our lives to another person. When we get married, everyone else is off the table, even in a friendship. You have to switch from being "you focused" to doing everything for the sake of your spouse and your family.
If you're somebody who wants to have one foot in the marriage and the other foot playing footsie with a stranger under the table, then it could be that marriage is not right for you. In this case, it's best to let your spouse go if you cannot be the person that she/he deserves. And it's best to be honest with your spouse about your true nature so that she/he doesn't believe it's because of her/him.
I don't care if you have been married for ages and have children. If you cannot be an honorable person and will spend your life having affairs, you prevent your spouse from finding someone who will be an honorable person.
If you feel that all of this is unfair, it's time to see a therapist and to figure out why you're so needy of attention from the opposite sex. Because if you can't give it up after you're married and won't give it up while kicking and screaming, you definitely have a problem that needs to be addressed. Otherwise, you will go along hurting people.
Now, after the tongue lashing, I want to talk about some exceptions to the rule. Occasionally, a cheating spouse finds himself or herself in a marriage where the other spouse is not holding up their end of the bargain. For example, I was reading a popular advice column this week. A woman wrote in because she was in extreme emotional pain. She was in pain because her husband of 20 years had refused to make love to her for over five years.
The Pain of Betrayal – Do We Have Adequate Words to Describe What it Feels Like?
She had done everything in her power to address it. She had lost weight, kept up her appearance, tried to seduce him, asked him to get his testosterone levels checked, and even offered to get a better paying job to pay for a Viagra prescription. She let him know constantly that she was desirous of him and made herself available. But, for five years he had ignored her and refused to engage in even basic kindness, such as holding her. She had not cheated on him and was asking for advice on what else she could do since her husband was physically able to make love but simply refused to do so.
The person answering the advice recommended that she openly speak with her husband and ask if she would discreetly be able to take a lover on the side. Or, the person giving advice mentioned that, as another alternative, she might want to pursue an amicable divorce. Sometimes it's possible for some people to live in a sexless marriage. But, unless both parties are completely with peace about the arrangement, I would NOT recommend it.
So, this is the one occasion where I do have a small amount of sympathy for cheating spouses. That is if a situation is as cut and dry as this woman's situation, then I can slightly understand why someone might cheat. (As for me, I think I would be someone who would likely get a divorce before I cheated.)
These situations are the exception and they also seem to be uncommon. Because there is a big difference between someone who wants sexual variety when they have a willing spouse, and someone who wants physical attention and she does everything to try to make love to her spouse, yet the spouse refuses. Because I believe every healthy marriage has some sort of sexual interaction. This could mean simply holding hands and cuddling and telling the other person how much they are valued. But, it's a big deal when someone who is a sexual person is blatantly refused for years by a spouse who is physically able but unwilling. For these people, I feel very badly. Each of us is wired for human touch. Human touch has been shown to be healing and to have so many benefits, both emotional and physical. To withhold human touch is an atrocity.
If you have cheated because you have a spouse who does not want to make love, I can understand where you're coming from. However, in most cases, cheating spouses claim this is the case, but it usually is not. It's usually just something they say to themselves to alleviate guilt and therefore extend an affair.
The 8 Pillars of Trust  – Ways the Unfaithful Spouse Can Help Rebuild Trust
Coming back to trust…
It's time to do some soul-searching and to figure out why you had an affair and to figure out what your triggers are and if you were one of these people who simply needs sexual variety and is not naturally monogamous (even though you have a good sexual relationship with your spouse).
If you want to stay with your spouse, you're going to have to give up the opposite sex, even as a casual friend or a lunch partner. This is the only way that you are going to be able to behave in a way that is trustworthy.
M. Gary Neuman has written some excellent books about how to improve one's marriage. He is of the exact same opinion as myself in terms of casual relationships with the opposite sex. As a husband and therapist, Neuman has very strict boundaries in place from which he never deviates. It is the thing that keeps him focused on his wife and keeps their marriage absolutely special.
The bottom line is, in order to repair your marriage there must be trust. But, before there can be trust, there must be a change of heart and a large change in behavior. You must cast off that part of yourself that needs to have attention from the opposite sex (outside of your marriage partner). Or, if you're in a marriage that has been sexless for many years, it might be time to get out of the marriage.
If you do want to rebuild, doing the work necessary to be trusted again will bless not only your spouse, but I believe the world around you. Becoming trustworthy means living a life of integrity and that has wonderful far-reaching effects that bless everyone around you and will make your marriage flourish.
Finally, here is a video by therapist, author and speaker, Esther Perel, with some additional tips for both the unfaithful and the betrayed:
Originally posted on 5/1/2015 and updated on 6/1/2021