For real healing from relationship betrayal to begin, a couple needs these 3 A's…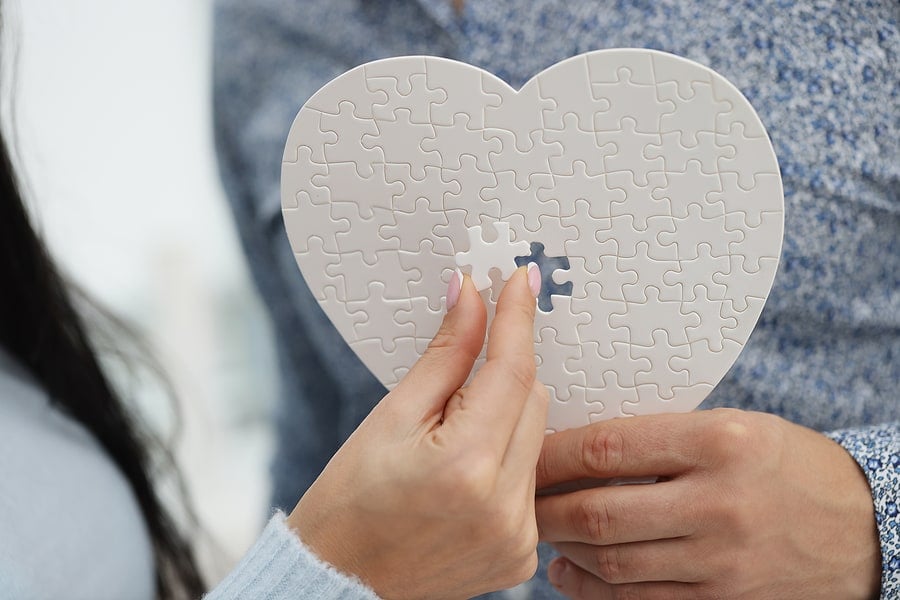 By Sarah P.
For real healing to begin after an affair, both the unfaithful person and the betrayed need to understand how the trauma of the affair has affected the betrayed, and how they may be triggered in often unpredictable ways until trust is firmly re-established. This requires time, patience and a delicate balance of openness and safety. 
The key to healing from an affair and experiencing Post-Traumatic Growth is to use a method that Drs. John and Julie Gottman developed called Atone, Attune, Attach.
This method would be ideal for couples where both appear equally committed to repairing their marriage.

Healing from Relationship Betrayal: Atone, Attune & Attach
Atonement
The first step, atonement, requires a wayward spouse to show genuine remorse and to atone for the breaches of trust. It begins with a commitment that the unfaithful person has cut off all contact with the affair partner, and includes a negotiated agreement as to how the couple wants to handle any attempts at contact by the affair partner.
Additionally, the couple shares what they perceive is needed to heal the betrayal wound. This includes things such as transparency, honesty and otherwise full, yet safe, disclosure. 
How much or how little disclosure/details is up to each couple, but it's certainly best for the unfaithful person to come 100% clean. Unfortunately, that rarely happens as the details/truth tend to be trickled out over time.  According to research by Dr. John Gottman, when the unfaithful person agreed to answer questions and opened up to disclosure, the couple stayed together 86% of the time.
Attunement
The second step in the healing process is Attunement. In this phase, the couple addresses whether and how they can "be there" for each other. They begin to rebuild trust, piece by piece.  The attunement includes the following the actions:
Attending to partner's feelings
Turning toward a partner
Tolerating both good and bad feelings
Understanding a partner's perception
Non-defensive listening
Empathizing
These actions may not come naturally to everyone, so a couple must be very intentional in their efforts to adopt these behaviors. It will be especially important for a wayward spouse to engage in attunement, as they are encouraged to maintain a steady stream of honest disclosure while maintaining no-contact with their affair partner.
To foster attunement, a couple can refer to Gottman's Sound Relationship House Model, where "renovations" are in order to rebuild friendship, fondness and admiration, connection (turning towards each other), positivity, conflict management, dream-making and shared meaning in life.
When wayward spouses actively display these behaviors as presented in the acronym above – and do so for an extended period of time, a betrayed spouse can trust and forgive more quickly.
The Sound Relationship House and How it Relates to Infidelity
Attach
The third step in healing — Attach– shows a couple how to rebuild their connection with one another. It should come as no surprise that many betrayed spouses have a very difficult time becoming vulnerable enough to rebuild genuine sexual intimacy. However, reestablishing physical intimacy is key. Thus, the main goal of the attachment phase is to rekindle a profound sexual connection.
Sometimes couples will have a sexual connection due to hysterical bonding, but the attachment step is less about hysterical bonding and more about creating a profound connection.
Prior to affairs, many couples fall into patterns where they have disconnected sex. They know what the other needs to get ready—they go through the motions—and there is nothing new or inspiring.
This last step works best if couples build a sexual connection based on true vulnerability, unconditional acceptance of the body of the betrayed spouse, and the wayward spouse taking the lead in creating an environment of emotional safety.
Here's a brief video by the Gottmans describing Atone, Attune & Attach
Happily Ever After (Again)
With the help of a therapist or marriage mentor and the process of Atone, Attune, Attach, healing from relationship betrayal and recovering one's marriage is probable. However, it requires that both people be very intentional about rebuilding a Sound Relationship House and co-creating a marriage that is more fulfilling than the marriage they had before.
It is possible to take the proverbial lemons that life hands you and make lemonade. It's not easy, but it is possible. Most of all, the trauma that is so utterly destructive to a marriage can be transformed into a powerful tool for Post-traumatic Growth.
Please share your thoughts in the comment section below.