Here's a few of the stupid things unfaithful people say while in an affair.
By Linda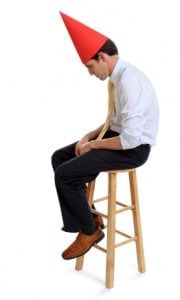 This post may not be appropriate for everyone, however sometimes it's nice to add a little humor when the content is so serious.
I did not intend to make fun of Doug or make him look stupid, even though he was!  I just think some of the things he said were humorous.
It's true that when you are married to someone for a while you believe that you know that person pretty well. You know their likes and dislikes and their behavior is fairly predictable.  But when your spouse is involved in a marital affair all of that goes out the window.
I would constantly wonder if someone kidnapped my husband and returned someone who had lost his mind. He would say and do things that were not representative of his behavior and history.
At times I thought I was losing my mind because maybe I really didn't know him as well as I thought I did. This is why I compiled a short list of stupid things Doug said why he was involved in his emotional affair. 
If your spouse is having an affair I am sure you may have heard some of these. If not, just give it time.
I just wanted to let you know that you are not crazy.
The Stupid Things Unfaithful People Say While in an Affair
1. "She is helping me with our marriage." I feel so fortunate that Doug was able to find someone who was in an unhappy and deteriorating marriage to help us with our marriage. I know that last year we were reaping the benefits of her advice! (Heavy sarcasm)
2. "You would like her." You know that if your spouse is involved in an affair you will understand why I choose not to comment on this one. This site is rated PG!
3. "We (Tanya and Doug) don't believe or agree with marriage counseling." When I found out about Doug's affair, I was desperate and didn't know what to do. So I found a marriage counselor and scheduled an appointment. On the day of our appointment Doug and Tanya had a lot of activity on the phone texting, and talking back and forth. I am sure they were discussing how marriage counseling would not help save our marriage.
4. "We see things the same way; we agree on almost everything." I guess that is true when you are living in an affair bubble. You may be discussing problems, however you are not living together, facing financial problems, dealing with the demands of children, coping with times your spouse is not being very loving, etc.
5. "Ending the affair was a process." When I found out about Doug's affair I wanted him to stop all contact with her. He was unable to do that immediately, even though I was deteriorating both physical and mentally before his eyes. He said it took time, I guess they had to wean themselves from each other, almost like being addicted to a drug. Did I just say addiction? Hmmm.
6. "We have nothing in common anymore." Of course we don't.  You are so busy living a second life that you really don't have time to ask me out to lunch, go to a concert or play tennis. And of course it is so easy to talk about what you and your affair partner have in common, though you really don't have to do any of them.
7. "I love you, but I'm not in love with you." What does that even mean? That after thirty years together you don't have that exciting, fresh feeling that we used to have??  That instead you have deep, committed feelings that come with commitment, history, acceptance and honesty?? That it may not produce that tingling feeling you had when you were a teenager (which eventually ends, but with time and effort you experience a much more meaningful kind of love)?
8.  "Kids are resilient." While Doug was involved in the affair, he believed that if our marriage ended our kids would be OK.  I knew that if this happened our children would never be the same.  Not only would their future be affected, they would have looked at their past as a lie.  All the good memories would have been viewed differently and they would have also carried enormous guilt believing that this may have been their fault.
9.   "We are just friends." If you were just friends  then why is it that I never met her, and why did you never tell me  when you were with her? If you were just friends why was your relationship based on lies and secrets?
There you have it.  My list of the stupid things unfaithful people say while in an affair.
I'm sure eventually I can come up with many more!  When I do, you can be sure I'll post them here. For now, please add  a comment with all the stupid things your spouse (or you) said while in the affair.