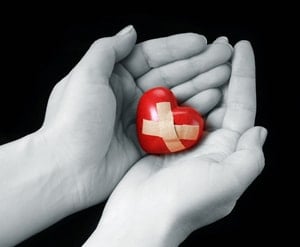 "It's time to move on." "I know I screwed up and I know I won't do it again." "Digging up all these past wounds doesn't do either of us any good."
Have you heard (or said) any – or all – of these phrases in the past?
Of course you as the betrayed also want nothing more than to move on, but you can't.
To the cheater, moving on means no longer discussing the affair. Usually this is because every time it is talked about there are emotions, crying, anger and pain. Things that they typically want to avoid.
The problem is though, that the betrayed spouse continues to think about the affair no matter how hard he/she tries not to. There are still so many unanswered questions…
"How could he have done this?" "What was missing in our marriage?" "Was she seduced by this other man in some way?" " How can I compete with the other person?" "Why should I stay?"
Until the betrayed spouse is certain that both partners understand how and why the affair occurred, they can't feel secure that another affair wouldn't eventually happen again. Thus, they can't move on.
If you' have been able to somewhat move through the initial recovery stages following D-day and your life has been somewhat restored to normal, there aren't quite so many angry outbursts, you've been able to take care of yourself and there isn't quite the emotional distance in the marriage, why on earth would you want to stir things up now and talk about the affair?
It's really quite simple…
As a betrayed spouse, you need to learn as much as you can about why the affair happened to restore the emotional security that is essential to rebuild trust and intimacy.
As the wayward spouse, you need to explore why the affair happened because it is what your spouse needs. For now, your spouse's concerns take priority.
The affair shattered their security and threw them completely off balance. Figuring out why it happened is the only way to help them back on solid ground so that they can even consider whether trust and intimacy can be rebuilt in the relationship.
Now, certainly there are benefits for the cheater as well, such as understanding yourself better and making sure that you will not allow an affair to happen again.
It may be uncomfortable for both parties to stir things up, but a little discomfort now will pay dividends in the future.
One thing is for sure though and that is that coming to a better, more complete understanding of why the affair occurred is the most important stage of recovery – and probably the most difficult.
It's called finding meaning in the affair.
It's trying to make sense of a senseless act.
When trying to find the meaning of the affair, it's important to be able to distinguish between reasons and excuses – and between understanding and agreement.
As the betrayed, there are no possible reasons that will excuse the affair (and if you're the cheater, you probably shouldn't expect to be excused for it either). You must understand why the affair happened but not agree with the decision to have the affair.
Understanding the affair requires looking at the big picture and examining all the factors that contributed to an increased vulnerability for the affair to occur. Now, to be sure, none of these factors caused the affair, as the ultimate responsibility rests with the cheater who chose to have the affair in response to whatever created that vulnerability.
Certainly there could have been many factors that may have made the relationship vulnerable to an affair, and whatever they are it is important to realize that they didn't cause the affair.   Rather, they increased your relationship's vulnerability to it.
Once you identify these factors, you'll be in a much better position to decide whether, and how, to change things. Then you can choose to move forward – or not.
Questions for finding meaning in the affair
Now, not every one of you will be ready or willing to accept the challenge of finding meaning in the affair, but if you are, here are some questions offered by therapist Tara Mills that may help you find that meaning.
Finding Meaning in the Affair
What did the affair mean to you?
Did the affair provide something that you felt you needed?
What did you get out of it that you weren't getting in our relationship?
Where you getting some need met from this other person that you were afraid to ask me to provide?
Did you feel guilty?
Did you find anything new out about yourself?
Why do you think it happened when it did? Was there anything else going on in your life that influenced your decision?
I hear you blame the other person for the affair, is it difficult for you to take full responsibility?
What does it mean to you if you were to take full responsibility for the affair?
What made it difficult to stop?
Did the affair have anything to do with something you felt was missing from our sex life?
Did you ever want me to find out?
Why did you tell me about the affair?  -OR-  Why didn't you tell me about the affair?
What drew you to this person?
Were you ever worried about losing me?
What do you want me to know about the affair?
How did you feel when I found out about the affair?
Did you want me to find out about your affair?
Did you think I would never find out?
What was it like to keep the affair a secret?
What was if like for you to have the two relationships?
What was it like to come home to me?
Did you see a future with this other person?
Did you ever think of leaving me?
Did you ever want to leave me?
Are you staying for me or are you staying for the children and our life together?
Do you think it will happen again?
Were you trying to get my attention?
Questions for Both Partners to ask
Do you think we can repair our relationship?
Do you think the affair has brought with it any good attributes?
Do you think you can move past this?
Do you still want me in your life?
If we were to walk away from our relationship what would you consider the biggest loss?
Are you staying for me or our family?
What do you see as the most challenging thing about rebuilding our relationship?
What do you consider our relationship's areas of growth and strength?
What do you value most in our relationship?
Do you think you could ever trust me again?
What do you need to see for us to move past this?
What part do you think you played in contributing to the beginning of the affair?
Questions for the hurt partner to ask partner who had the affair
Do you understand how I feel?
Are you willing to be patient as I learn how to forgive you?
What would it be like if I had an affair?
Questions for the partner who had the affair to ask the hurt partner
Do you want me to stay?
Why do you choose to stay with me?
How can I begin to rebuild trust?
Do you believe me when I say I am sorry?
**For questions that the unfaithful spouse can ask of themselves, you might want to check out the Cheater's Affair Inventory.
---
After working through the questions, you may still suffer lingering effects of the affair for a long time to come, or you may be able to use the crisis to identify certain changes that could be made to help restore the emotional security and happiness in your relationship.
Many marriages do wind up stronger after an affair because the couple responded to it by working through the process of finding meaning in the affair.