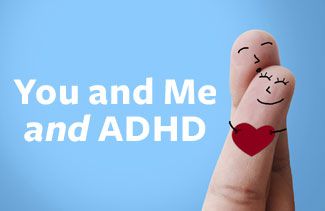 As a teacher, Linda utilizes the local library quite a bit. She checks out numerous books each week to use in her third grade classroom. She typically reserves the books online and when they become available, the library alerts her by email – our joint email, btw.
So each day, I'm used to seeing various book titles flash into our inbox. Titles such as, "There's a frog in my throat!: 440 animal sayings a little bird told me," "Mr. Peabody's Apples," or "On beyond a million : an amazing math journey." You know, books you'd expect a third grade teacher to check out.
So imagine my surprise when the other day I see this title: "The ADHD effect on Marriage: Understand and Rebuild Your Relationship in Six Steps" I knew right away who that one was geared for!
Now, I shouldn't have been that surprised. Linda has the innate ability to remember almost everything I've ever said, but sometimes she has the annoying habit of taking what I say a little too literally.
So what I'm saying is that I know why she got this book. A week or so ago I was complaining about how I was having trouble focusing on work and getting things done lately. I jokingly said that I thought I have ADHD or something.
Anyways, when she brought the book home, she almost immediately started skimming its pages and tossed out a few ADHD symptoms (out of about 30) toward my direction as if to convince me that I am a raging ADHD'er. Phrases like, "Fails to pay close attention to details" and "Impatience, low tolerance or frustration" and "Chronic procrastination" were tossed about as if she was trying to explain away some of her frustrations with me over the last 34 years.
Granted, those are a few of my less desirable attributes, but they certainly have never been at a level that would be cause for alarm or would make one think that there was a problem.
So, the whole conversation caused me to become impatient and frustrated to the point where I couldn't tolerate it anymore, so I stopped paying attention to her and said we could discuss it another day! (Anybody get that joke there? I do amuse myself sometimes.  BTW, I  never got impatient or frustrated, etc. In fact we were laughing while she was reading off the symptoms.)
Anyways, I began to think and remembered having a discussion once with Jeff Murrah prior to one of our Affair Recovery Group calls where he mentioned how prevalent ADHD was in marriages where there has been infidelity. And indeed, we've had several people in phone mentoring sessions mention that either they or their spouses had ADHD. So I figured that maybe this book was a blessing in disguise and could be a resource for a post on ADHD and infidelity. We've never written about it before, so why not?
Special Featured Guide: We've put together an ADHD Help Guide that covers tips for managing ADHD symptoms, how ADHD can affect relationships, advice for developing a solid partnership and finding treatments that work. Click to Download

So here we go…
What is ADHD?
To start things off I felt it important to establish a definition for ADHD, and since we are all adults here, I decided to focus just on adult ADHD.
The Mayo Clinic  describes adult attention-deficit/hyperactivity disorder (ADHD) as…
A mental health condition exhibited by difficulty maintaining attention, as well as hyperactivity and impulsive behavior. Adult ADHD symptoms can lead to a number of problems, including unstable relationships, poor work or school performance, and low self-esteem.

ADHD always starts in early childhood, but in some cases it's not diagnosed until later in life. It was once thought that ADHD was limited to childhood. But symptoms frequently persist into adulthood. For some people, adult ADHD causes significant problems that improve with treatment.

Treatment for adult ADHD is similar to treatment for childhood ADHD, and includes stimulant drugs or other medications, psychological counseling (psychotherapy), and treatment for any mental health conditions that occur along with adult ADHD.
What are the symptoms of ADHD?
 The Mayo Clinic says that Adult ADHD symptoms may include:
Trouble focusing or concentrating
Restlessness
Impulsivity
Difficulty completing tasks
Disorganization
Low frustration tolerance
Frequent mood swings
Hot temper
Trouble coping with stress
Unstable relationships
(OK. Who at some point in their life hasn't experienced at least a few of these, right?)
Furthermore, many adults with ADHD aren't aware they have it — they just know that everyday tasks can be a challenge. Adults with ADHD may find it difficult to focus and prioritize, leading to missed deadlines and forgotten meetings or social plans. The inability to control impulses can range from impatience waiting in line or driving in traffic (guilty as charged!) to mood swings and outbursts of anger.
All adults with ADHD had it as children, even if it was never diagnosed. Some people with ADHD have fewer symptoms as they age, while others continue to have significant symptoms as adults.
What's normal and what's ADHD?
Almost everyone has some symptoms similar to ADHD at some point in their lives. If your difficulties are recent or occurred only occasionally in the past, you probably don't have ADHD. ADHD is diagnosed only when symptoms are severe enough to cause ongoing problems in more than one area of your life. These persistent and disruptive symptoms can be traced back to early childhood.
Diagnosis of ADHD in adults can be difficult because certain ADHD symptoms are similar to those caused by other conditions, such as anxiety or mood disorders. And many adults with ADHD also have at least one other mental health condition, such as depression or anxiety.
Now that we have a better understanding of what adult ADHD is and its symptoms, how does all of this relate to ADHD and infidelity? How do these symptoms and resulting behaviors manifest themselves into infidelity? (Read the Mayo clinic's full write up on Adult ADHD)
ADHD and Infidelity – a Real Life Example
Well, I considered providing more in depth research based material to educate you guys, but thought it might be better (and less dull) to provide a real-life example instead.
The following is an excerpt from a forum posting on the ADHDMarriage.com site as I felt it provided a pretty good representation of the typical experience (if there is any such thing as typical).
Like so many others on here, I am perilously close to divorce. I REALLY don't want that to happen, but I just don't know what to do.
I have been with my husband (recently diagnosed with ADD) for 17 years- three of those were long-distance while we were in college. After seventeen years, five cities, building a small business together, and plenty of trials and tribulations, my trust in him was truly monumental. I couldn't understand the scale or value of it until it was gone.
Eight months ago a friend emailed me to tell me that he'd found texts on his girlfriend's phone indicating that our partners were having an affair. I was stunned because our marriage was solid- affectionate and happy and good!
I confronted my husband, he admitted that he did have "feelings" for this younger, prettier woman (also a friend of mine), which absolutely crushed me, but that he had never transgressed beyond some irresponsible texting the night before and a couple of secret lunches.
I believed him- I didn't think he would ever lie to me directly. I actually thought my husband was so ethical that it would make him physically ill to cheat on me or lie to me. (Sigh. I know.) I thought that he'd only managed to deceive me because it had just started days before, and had only been "lies of omission."
After much tears and drama and reconciliation, we were two weeks recovered when I found out that he had in fact told me a bold-faced lie. That there HAD been physical transgressions, that one had happened over a year before, and that he had been keeping it from me and hanging out with the three of us for a year without ever batting an eye. I freaked out in a BIG way. Who was this person?
He swore that he'd so thoroughly put it out of his mind that he never thought about it during that year, that it had just started up again, and he'd only lied when confronted to protect my feelings. Again, I believed him!
Now the ADHD part. The stress of this whole situation made my husband's formerly mild ADHD explode– but neither of us knew what was happening. All I knew was that I needed my husband to be more sensitive and thoughtful, and instead he was way, way less. I couldn't understand why he was acting this way.
I'd learned not to take his ADD (which I thought was just "spacing out when I was talking") personally years ago. I didn't understand why he'd say he was going for a five-minute walk and then come home from the grocery store and hour and a half later. He'd say maddeningly contradictory things in arguments that went in circles and veered off on tangents constantly.
He told EVERYONE about his affair. He told our friends intimate details about our new sexual problems. He wrote a song about how hurt he was that the other woman moved on so fast and debuted it at a party in front of all of our friends. He broke promises, denied having made them, and almost never expressed remorse after doing these things.
He started getting extremely angry and raging, often frightening me, when I would get upset because of something he'd done, no matter which way I tried to talk to him about it. He seemed to have zero empathy or compassion. He'd read the same affair recovery books that I had, but just wouldn't do any of the emotional things they said were essential for rebuilding intimacy and trust. On the contrary, he did such hurtful things with such regularity that I thought he must be doing them deliberately, and I couldn't understand why he would hate me so much to do that to me.
I finally found a marriage counselor who was highly educated, available, and on our insurance- but our visits to her actually seemed to make things worse. She clearly didn't believe me that any of these things were happening, and I got the distinct impression from her that she felt my husband's affair and our subsequent problems were my fault. After a couple of months of this I just couldn't take it anymore and told her it wasn't working out. She wrote us a letter where she urged me to seek individual therapy for my "anger problem". Of course, this was before we knew anything about ADHD.
One day we had a fight because my husband told me he would do something, and after waiting an hour I found him on YouTube. He bought me a book on Adult ADHD, hoping that I'd get off his back about his tendency to be distracted. Instead, it explained SO MUCH MORE than either of us had ever known about ADHD. I was simultaneously ashamed and sad that I hadn't known more about it sooner (in my defense, he was really high-functioning before the affair- no money, employment, anger problems, etc), and so relieved that his behavior wasn't stemming from lovelessness or malice. I had such high hopes that we'd find a doctor, find a therapist, find a good drug regimen, and finally be able to begin rebuilding trust.
All of those things eventually happened- except for the trust. The sense of remorse, compassion, and safety that I'd been desperately craving for months never manifested. Instead my husband started acting like it had been four freakin' months- I needed to "let it go" already! He started complaining that he was angry and unsympathetic because I was smothering him and was too sensitive and/or parental (because I wanted accountability and transparency, and still cried too much).
He literally stormed out of every important conversation- often after becoming violent. Then, after months of truly believing that he would never lie to me again, I caught him lying, and this time there was absolutely no way it was for my benefit- just his. He chose to break an important promise- for hours- and then lied to my face about it over and over for days. I watched him do it and just stopped caring if he left me for another woman.
Eventually I told him that I knew he was lying. He was indignant, and then when he realized I had proof, made an unrepentant apology, said I was wrong to force him to make that promise anyway, and tried to sweep the whole thing under the rug. I felt emotionally paralyzed, but we were planning to move cross-country, and I suppose I still hoped that things would change in a new city.
I told him to go there alone to house hunt, and not hurry back. He went, and was as un-smothered and un-parented as one could be, but the explosive anger and tantrums continued any time I said something he didn't like- including those times I was honest about my lack of trust. He would bellow at me on the phone that one teensy lie shouldn't undo all the other times he DIDN'T lie to me. If I argued he would hang up on me.
I was so tired of the drama that I stopped speaking to him for a couple of weeks. When he came home he was much nicer- for a couple of months. As soon as I started to believe he really had changed, he started raging and abusing again. Two weeks ago he really scared me and I took my pet and a few things and left, driving 14 hours to my parents' house. He called me and told me to come home. When I refused, he said he wants a separation. I said I want a divorce because I don't trust him not to hurt me during a separation. He was furious- he didn't see why I shouldn't trust him- that last big lie was months ago- I'm just as deceitful as he is- there's been plenty of times he didn't lie to me- and- (this one got to me)- I'm the one who's bailing on our marriage, because all he wants is a healing separation so he can "work on himself".
I was dubious. I thought he would spend a lot of time playing video games and drinking with his buddies, but I didn't believe that my discomfort-avoiding H would actually confront his demons. But I decided to try this one last thing- provided we work out a written separation agreement so I would feel somewhat protected. Well- that's a lot easier said than done!
Despite my following all of the non-violent communication rules, he still screams at me and hangs up any time I express a different opinion or refuse to give him his way. He's been dragging things out, indeed- playing video games, and who knows what else. A couple of days ago he lied to me AGAIN, and I realized that the agreement is pointless, because I probably won't know if he breaks it- and I fully expect that he will. I don't believe a word out of his mouth anymore- how can I be married to someone and feel like that?
I must admit that after reading this account I had a question as to whether the husband's horrible behavior was due to ADHD or he was just a cheating asshole. So I read several additional affair related forum posts where typically women described their experiences with their ADHD diagnosed husband, and many times the behaviors were the same or similar to those demonstrated by non-ADHD cheaters. So what does that mean? Anything?
Perhaps there are many cheaters who have ADHD and just haven't been diagnosed as such or the behaviors of those with ADHD and cheaters are simply just very similar. Hmm…Maybe there's a study on this out there somewhere.
Melissa Orlov, the author of "The ADHD effect on Marriage: Understand and Rebuild Your Relationship in Six Steps" also writes for ADHDMarriage.com as well as ADDitude Magazine.  I encourage anyone who suspects that ADHD played a part in the affair or in other marital challenges to check these sites out as they offer a ton of resources, articles, discussion forums, etc.
Special Featured Guide: We've put together an ADHD Help Guide that covers tips for managing ADHD symptoms, how ADHD can affect relationships, advice for developing a solid partnership and finding treatments that work. Click to Download

We'd love to hear some comments from readers who feel that ADHD was a major contributing factor to the infidelity or marital challenges. To do so, just add your thoughts in the comment section below. Thanks!