I like to believe the void caused by infidelity can diminish over time and can be filled with love if you choose to do so.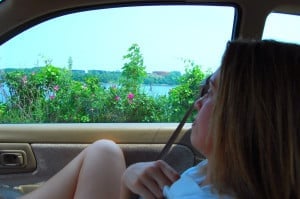 By Doug
I was talking to my father the other day and he mentioned to me that it was the ten year anniversary of my grandpa passing away. I hadn't remembered that at all, but after hearing that I started to travel down memory lane just a bit to think about my grandparents. One thing that always stood out to me was their undeniably strong love for one another.
When I was a young boy, my sister and I would occasionally get to spend the night at their house and it was always such a treat. You know how grandparents like to spoil their grand kids. They didn't have a lot of money, so they never showered us with frivolous gifts or anything, but man they sure would let us eat anything we wanted (potato chips and ice cream just before bedtime- no way!) and allowed us to stay up late watching TV (Hello 11:30!).
In case you were wondering, it was the sixties, so "The Honeymooners" and "Hogan's Heroes" were two of my favorites.  But I digress.   What really stuck out in my mind the other day was that they really were a couple to envy.
They did just about everything together and would always hold hands when they were out. They also used to do the whole "I love you – No, I love you more" thing back and forth which would make me beet red with embarrassment when I was young. I would realize much later that they were pretty dead serious about it. I guess you could say it was adorable. I NEVER use that word – adorable – but it really was.
My grandma smoked quite a bit and came down with emphysema which would eventually be the cause of her death. I'll never forget that my grandpa had to make the decision whether to leave her hooked up to machines for God knows how long, or let her slip away peacefully on her own. He chose the latter.
On the day she died my grandpa was by her bedside and they did that "I love you more" thing for the last time. What a tearjerker that was.
Something is missing…The Void Caused by Infidelity
So by now you're probably wondering where I'm going with all of this…
Well, perhaps some of you who have gone through the affair recovery process or are just now beginning your journey, may look at your marriage and wonder if your spouse is going to be there for you, holding your hand on your deathbed and uttering his/her version of the "I love you more" routine.
After an affair there is tremendous uncertainty for what the future might hold. "Will she leave once the kids are grown?" Will he do this to me again?" "Does he really love me or did he just settle?" "Am I the one she really wants?"
And in addition to those thoughts that run through your head, you may also feel that there's just something missing.
Even if you've been able to survive the whole ordeal and are to the point where your marriage is doing really well, you feel as though there is a void. The affair took a special part of your relationship and your love away from you and has left you feeling like you lost something – something important to your definition of "us".

It's quite ironic when you think about it. Many unfaithful claim that they were drawn into their affairs because something was missing in their marriage and yet the very act of infidelity robs the betrayed spouse of so very much.
You may even question if you really love your spouse, or at the very least, if you can ever love your spouse like you used to. Will it be as strong? Will it be enough?
Perhaps all these feelings stem from some lingering trust issues mixed with a little resentment – or maybe it just is what it is.
I know that Linda experienced these types of feelings a while back and it really did kill me to think my actions had caused that. It was one of the factors that really motivated me to get busy and try to make things up to her. And I know to an extent that she still does feel that that certain specialness and innocence of our relationship was taken away from her.
I really don't know if I can really ever make it up to her so all I can do is my best (with her help) to make our new relationship even better. Yet there may forever be that void.
And what if that is indeed the case? What then? Does one just accept the loss? How?
Perhaps you are feeling something similar.
Fighting for your marriage because of love
Perhaps you indeed love your spouse and are fighting like hell for your marriage because you believe in that love and in the hope that your marriage can be better and stronger in the future. And though the searing pain of the affair is dulled and for the most part in the background, it is still there. It always will be to some extent. You may feel your marriage will forever be defined as pre-affair, affair and post-affair.
And while that may be true, remember that you both chose to stay in the marriage and I think for most of us that is due to the fact that there is a measure of deep love there. You just may not be able to feel it or fully grasp it at the moment. But it's there and it's why the infidelity hurts so deeply.
Yes the marriage has changed and is defined differently and will never be the same. But ask yourself, honestly, "Could that actually be a good thing?" Because even if you thought you were happy and perfect, I'm betting that there were things in your relationship that you can now see needed to be changed.
And though change scares us and makes us all sweaty and nervous at times, it doesn't have to be bad. It is change that allows us to grow and become better versions of ourselves.
If not for change would you have been a good parent? I know I wouldn't have been. Would you have become as successful in your job? Without change, would you have been able to adjust to all of the other hardships and obstacles that you've encountered over the years? Doubtful.
I found the following quote from a reader a year or so ago and tucked it away in a file on my computer. I think it's quite good and sums up where I'm trying to go with all of this rambling…
"What's hard about infidelity is that the change hit us all at once. There was no build up, no preparation. Your spouse changed the rules and expectations of your marriage without your consent. BUT you do have a say now. You are no longer powerless in what happens. And you get to choose how you move forward – and that is the most powerful thing about post-infidelity, I believe. You get a choice. And every day you stay – and he stays – you are choosing each other and the future. You may not realize it, but you're already starting to look forward, and letting go slowly of the past."
And while there may always be some sort of void as a result of the affair, I like to believe it can diminish over time and can be filled with love if you choose to do so. Hopefully it can be a love we all can envy – like my grandparents.