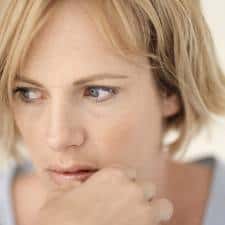 Every week, Doug, Jeff Murrah and I engage in a discussion for our Affair Recovery Group about a particular issue concerning affair recovery.  Each session has been so helpful and informative, and I feel I have gained so much insight to the point that it has helped my recovery tremendously. However, as enlightening as it has been, it has been equally painful at times.
After the hour-long sessions I often feel drained, upset, and at times angry.  Doug sometimes feels that by now I should be somewhat immune to all the discussions, but at times it feels like I am reliving his emotional affair as if it happened yesterday.
I find that when Doug and I are talking about the emotional affair, not only am I emotionally upset but I also display physical signs of my distress.  When we discuss aspects of the affair that are particularly painful for me I will begin shaking.
I have come to realize that this is part of the trauma that was induced from the emotional affair that has been the most difficult for me to let go of.  It is like a reminder of how bad this affected me and how far I have come to conquer it.
Our discussion this past week was about rebuilding trust, and Jeff asked me how I felt when the trust was broken in our marriage.  I guess it was something I had thought a lot about but had never really verbally expressed it before.
To convey the pain and turmoil that I felt due to the broken trust in our marriage was very difficult. It temporarily took me back to a place that I know many of you are in at the moment.
I have felt the same hurt as many of you, and know that the physical and mental pain is so severe that you wonder if you can make it through another day feeling this way.  You wonder how long it will last.  You wonder how much more you can take and if there is light at the end of the tunnel.  When I was going through this I would wake up every day and think I just couldn't do it anymore.
I want you to know that it will not last forever. The intensity of the pain will subside and you will begin to break free from it.  In my situation, I began to focus on things other than the emotional affair.  I learned to trust myself again and make decisions that would be beneficial for my own well-being. Take care of yourself first and foremost and know that you can overcome this.