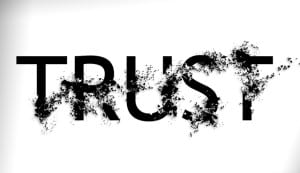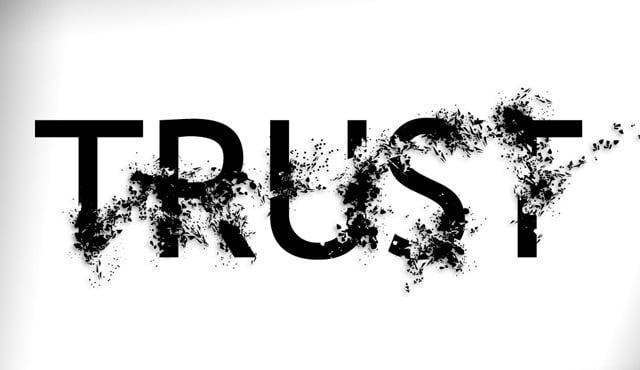 After an affair, rebuilding trust seems like an impossible task.
You no doubt feel lost, helpless, hopeless, and alone. You want help, but you don't know where to turn.  Your closest friends and family members can offer you support but perhaps they haven't been through what you're going through.
You may feel like there's nobody to turn to who truly understands – who has been through the emotional train wreck that you're experiencing.  Who do you turn to when all trust is gone?
After Doug's emotional affair came to light, I had nowhere to turn.  The one person I used to turn to through anything was the one person I couldn't turn to at that time. I lost all trust in him.
Needless to say, I was propelled into a spiral of physical and emotional suffering. I couldn't find the strength to do even the simplest of my daily tasks and I felt like there was no light at the end of the tunnel.
The single worst thing was the lack of trust I was now feeling. The one person I trusted more than all others was now the one person I thought I could never trust again.
My marriage wasn't the only relationship Doug's affair affected. I started to not only second-guess myself, but also my friends and family. I couldn't trust myself, much less other people. I became consumed with wondering if our 25 year marriage was a lie.
My destructive thought process was toxic and was not only slowly eating away at myself, but my loved ones as well. Months later, I came to the realization that I needed to learn to trust again – I didn't regret that decision.
When we said our wedding vows a quarter of a century earlier, I never would have thought this would happen. We'd been through good times and bad times, but this was truly our darkest time. I began to wonder if trusting again would open new doors in our marriage and allow us a chance to start over.
I began doing research on trust and began planning a strategy for myself. Once I gained the strength inside to trust myself and others, I started to open up to friends and family members for emotional support.  It took a while, but I also began looking to Doug again for support as well after making some demands of him.
According to the many surveys we've conducted, rebuilding trust after an affair is consistently the most difficult hurdle our readers face.  Many feel that trust may never come back.  Others feel that they can and will trust again, but it will never be the same kind of trust that they once had.
Rebuilding trust is an issue that cannot be addressed with just a quick article like you find plastered around various sites on the web.  It goes much deeper than that and requires a ton of work on the part of both partners.
That said, this rebuilding trust guide contains a few posts that might help you in learning more about rebuilding trust and how we and others have tackled this tough issue.
Suggested Reading
There are more articles on our blog on this topic and you might want to go there and perform a search using the term "rebuilding trust" in the search box in the right hand sidebar.