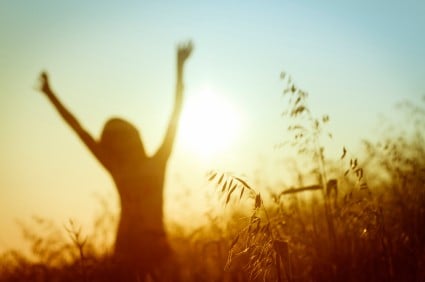 This is the second part of a two-part series on trusting yourself after an affair.  You can read the first part by clicking here.
In part one I gave you five steps that could help you to restore trust in yourself after an affair.  In my own situation I performed the steps, though I certainly had my own way about doing it. In other words, the principles were basically the same, but my method may have been somewhat different.
At first I didn't  think I needed to restore trust in myself because I really didn't  even realize that I had lost trust in myself in the first place.  I just knew I had this feeling of floating up in the air and not knowing what to do or where to go. I didn't put a label on it at the time but I soon began to understand what those feelings were all about.
How I Really Was Able to Restore Trust in Myself
One of the first things I did was to start a journal. In this journal I wrote all of my thoughts, emotions and feelings, amongst other things.  One thing I did in my journal was write down positive reminders about myself. Things like, "I'm a great mother. I'm educated. I have a good job. I'm honest and hard working. I'm loveable." This list served to remind me of my purpose and who I really was. I would encourage you to do the same.
I started doing the things that I used to do. One of the most important things that I did was to just start going back into my routine of my life before I found out about the emotional affair. For a long time I questioned things like…Did I spend too much time on my job? Did I spend too much time cleaning the house or with the kids? What did I do wrong? So I stopped doing so many of the things that were part of our life beforehand and that were part of me.
I think the most important thing I did was I started where I felt the most confidence, and that was going back and focusing on my job.  Basically, that helped me to get back some of my self-confidence.  My self-confidence and just putting in the routine – figuring out that it was okay to do that. I gave myself permission, and then I realized Doug was still here and we're still doing okay. It gave me the security to then move on to other areas that I had questioned beforehand.
I started thinking about our life and thinking about the good memories. So many times we would have a great weekend and afterwards, I would just lose it. I would feel so insecure.  The great weekends were almost like déjà vu to me. Those great weekends were just like the weekends that we had experienced before the affair. We did similar things and we had similar interactions. And that scared me, because I thought if it wasn't okay then, why is it okay now? Is it okay to act that way or feel that way?
I needed to become comfortable knowing that how we were before the affair was okay. We had good times. The majority of our life together was very intimate, and we communicated and we were best friends. I brought that confidence back.  I celebrated the times that we were having at the time, but also celebrating the times that we had in the past and we talked about them. "We used to do this and that was fun."
On D-day, as the cheater rewrites history, they can't remember many good times about their marriage and about their spouse. It helped to remember and celebrate these good times.  When I asked Doug about our past history while he was in his affair fog, he really couldn't remember many things that were great about us. I know I spent a lot of time trying to remind him of those things which really didn't have much of an effect on him.  I hoped as the fog lifted and we started doing things together that he would remember, "Oh yeah, we used to do that." That also helped Doug to remember our history.
In my own mind, I was separating fact from fiction and then justifying to myself that was okay, there was nothing wrong with that. That was good.
I trusted my gut. I had lost trust in my instincts and my gut. Once you start getting a little confidence in yourself and in your relationship with your spouse, then you start listening more to your gut because at times nothing makes sense at all. So you have to start thinking, "It doesn't make sense because it's not right; it's not true." So you have to have the competence to trust what you're thinking is correct.
Honestly, I trusted in my gut from the very beginning. But during that time, Doug was lying to me, which was really a trust issue. I trusted in my gut, but I was trying to believe what he was telling me at the same time, so then I stopped trusting my gut.
This is the bind that a lot of spouses find themselves in, because your gut will tell you one thing, the spouse says something that doesn't line up with it and then you end up believing your spouse rather than believing your gut.
But you're afraid to trust your gut. You want to believe the spouse because if you trust your gut, there are so many implications. You're in a bind that way, too.
In the beginning, my gut was almost like having an angel on my shoulder steering me through everything. I would have a feeling that this is what happened that day and I would be right. For months, my gut was like my sixth sense; almost like I had ESP or something.  I think it was probably scaring Doug how much I was really understanding and knowing as the affair was going on because I was so in tune to what was happening, which made him want to lie even more to cover it up.
This is the reason why some cheaters try to find a way to get their spouse to ignore or silence the gut, because so many times the gut gives them away – or makes the betrayed think they're going crazy!
I started doing things for myself that helped me gain confidence. I took an exercise class. I spent time with friends; someone who could be around people who could put me in my place and say, "You are a good wife. You are a good mother." Things like that helped reassure me of who I was before all this happened.
Spending time with friends was helpful as it gave me a comfortable place and I was confident around them. As I said earlier, a routine and a sense of security is important.
I think anything that gave me a sense of safety helped, because I lost all my security as a result of the affair. I didn't have that at home. Other things on the outside that gave me a sense of being safe really helped.
I educated myself. I also feel that the immense amount of time spent researching affairs and reading about them gave me a sense of control and a sense of power. When I read all of the books, they confirmed in my own mind that I was okay. That my gut was right.  However, I think that I focused too much on all the resources,  research and reading. I should have spent more time doing some things for myself.
I would go through a book a day. I spent every minute that I had reading books on affairs. I would be in the car stopped at a red light reading. I would spend my free time scouring the library and the bookstores. It consumed my life trying to gain as much knowledge as I could.
I highly recommend reading books and websites, but you need to limit how much you do.  Like anything else. Too much of a good thing cannot be good. You've just got to temper it and focus on maybe just a few authors and a few of their techniques and not try to read 40 different books every week.
I was trying to find the answer. I kept thinking, "This book is going to be it. This is going to give me everything… I'm going to understand everything now." I'll clue you in: you will never understand, so stop searching.
We began to really talk. One last very important thing that helped was that when Doug started coming back, we increased our level of communication. We would talk about things that I was insecure about, "I'm worried. Should I clean the house; shouldn't I?"  Doug would reassure me things were okay and that I didn't need to worry about those things. Simply communicating my fears and discussing them with Doug helped to bring my self-confidence back.
That's pretty much how I was able to restore trust in myself after Doug's emotional affair.  Hopefully, you can see that there are elements of each of the previously mentioned 5 steps (from part one) there.  I found the friend who built me up.  I started exercising again.  I surrounded myself with encouraging people as opposed to fearful people. I started telling myself the truth about a lot of things by reading all the material I could on affairs. And I gave myself the time I needed to make it happen.
I hope that this 2-part post can help you determine whether or not you suffer from lost trust in yourself and provides you with some actionable steps to help get that trust back.  Please leave your comments about your experiences with lost trust in yourself and (hopefully) how you have had success in regaining it.