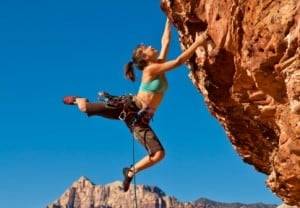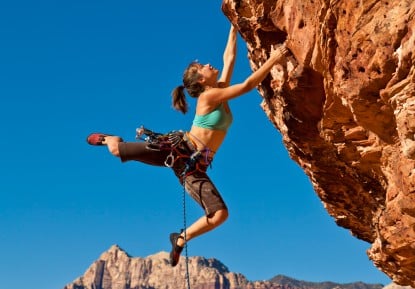 Our college age son is an avid rock climber. He amazes us with his skill, power, knowledge and bravery every time we watch him scale a sheer cliff to hundreds of feet, secured by nothing more than bolts in the rock face and a thin rope.
He's never taken a class in rock climbing and has learned it all himself by reading books, watching videos, practicing at an indoor climbing wall and lots of trial, error and determination.  His success is also due in part to the fact that he has spent thousands of dollars on quality gear in the process.  If he didn't, he would probably be dead by now.
He typically performs "trad" (short for traditional) climbs, which is a form of free climbing wherein the routes are climbed without using artificial tools to help the climbers in their ascent. In other words, the "trad" climber forges their own route up the rock face and only secures their position once they reach certain desired levels.  There are no routes that have been previously set with bolts, anchors and ropes.
The climbers protect themselves by securing their position with various rock climbing tools in the small cracks, holes and crevices that exist on the wall.  Should they fall, the only thing that stops them from free falling potentially hundreds of feet to the ground are tiny pieces of metal and the rope. The climber has to have trust in their gear and trust in the rope.
Our son recently had his spring break and instead of heading to a tropical locale to get wasted and party all night like most of his college buddies, he headed to a world class rock climbing location with a bunch of like-minded friends for a week of climbing and camping out.  Upon his return he told me that he reached heights he has never before reached, but also experienced a fall that was longer than he has ever fallen before – some 40 feet.
I asked him if it didn't scare the shit out of him and he replied that he had faith in his physical strength, faith in his route setting abilities (placing the tools in the cracks and holes to which the rope is attached), faith in his gear and faith in his rope.
Recovery and Trust After an Affair are Like Rock Climbing
I got to thinking that learning how to trust after an affair and – really affair recovery in general -is very much like learning to climb a sheer rock face.   Something that Linda and I have done as well, by the way.
We've both read tons of books (especially Linda), watched videos, listened to audios and went through a lot of trial and error.  And yes, we have spent a bunch of money "learning to climb" along the way as well.   All of this knowledge that we devoured at first was what was invaluable in getting us to the wall.  The only thing left to do was put the knowledge and the tools to good use by expending massive amounts of strength, effort and energy to actually start to make the climb.
So once we started this epic climb up the sheer cliff, we struggled mightily in our attempt.  After reaching various levels we secured ourselves with the use of our tools and put faith and trust in the rope that secured us to the wall.  If by chance we would lose our grip and fall down a ways, we would exert even more effort and use every ounce of strength we could muster to make up that lost ground.
There were many times during our climb that we wondered if perhaps it would have been easier if we would have had more experience, or at least had some instruction.  But since we made the decision to learn to climb on our own, and our climb may indeed have been much harder as a result, the achievement of reaching higher levels each and every day makes our climb that much more rewarding.
By now you're probably thinking I'm being way too corny here, but I hope that you can understand the picture I've tried to paint for you.  Sometimes you just have to throw caution to the wind and have faith in the tools that you have and just go for the summit.  You have to trust the rope.  And yes, at times you have to trust another person with the rope as well.
Know that if you put the time, effort and all of your strength into your own climb that you can indeed make it to the summit.  Read as many of the posts as you can on this site.  Read the thousands of comments from all the readers who are attempting the same climb as you are.  Spend money on quality tools by investing in the programs, courses, books and other resources that are reviewed and/or recommended.  Take the time to research the qualified therapists in your area who can possibly help to make your own climb somewhat easier.    Get strong physically and mentally.  Trust yourself.  Trust the tools but use them intelligently.  Have a good rope and have faith in it.  And then…Just do it!
I think at times too many people spend their time and effort learning how to climb but then never get to the mountain.  They are paralyzed with over analysis and scared to take action.  They search from one website to another looking for the magic pill that will solve all of their problems.  They say, "What if I fall?"   "What if the rope breaks?"  "What if my climbing partner lets go of the rope?"  And then never really make a solid effort to scale the wall.
Sometimes you just have to have an "I don't give a shit attitude" and decide that you're not going to give up and that you deserve to reach the summit.  You deserve to experience the joy of victory of making the hardest climb of your life.  If you fail, at least you can say you gave it your all and will be a better person as a result.
I thought you'd like this cool video of a guy who barely even needs to trust a rope – just himself.  Listen to what he says during this 3-minute video and see if you can't relate his words to what is required to make your own climb up the mountain after an affair.