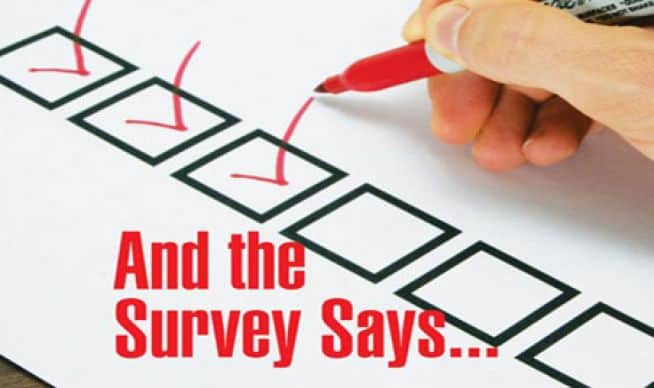 We're sure you're just chomping at the bit to see the results of our most recent annual survey!  OK, well maybe not so much.  But the results had a few surprises when compared to last year's survey.
First of all, we wish to thank everyone who took time out of their busy day to take part in the survey. We scaled the survey back this year a bit from 38 questions to 17.  And even still, it may have seemed a bit daunting, so we do appreciate your time.
Please feel free to add your takeaways and comments in the section below the post.
So here goes!
Site Demographics
Gender
This year we had the highest percentage of males ever – at 24.29%!  This beat last year's record of 21.66%.  In previous years, we rarely were over 10-15%.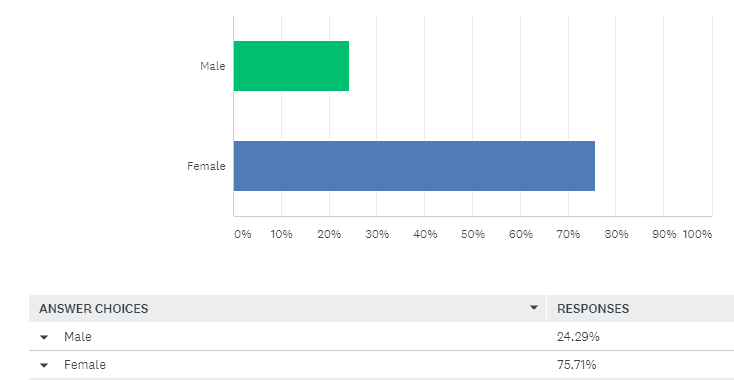 Age
The average age took a slight uptick as well, with the 53-59 age group now being the slight majority over the 46-52 group.  What was noticeable was that the younger age groups took a significant jump from where they were last year.  Is infidelity hitting marriages at an earlier age?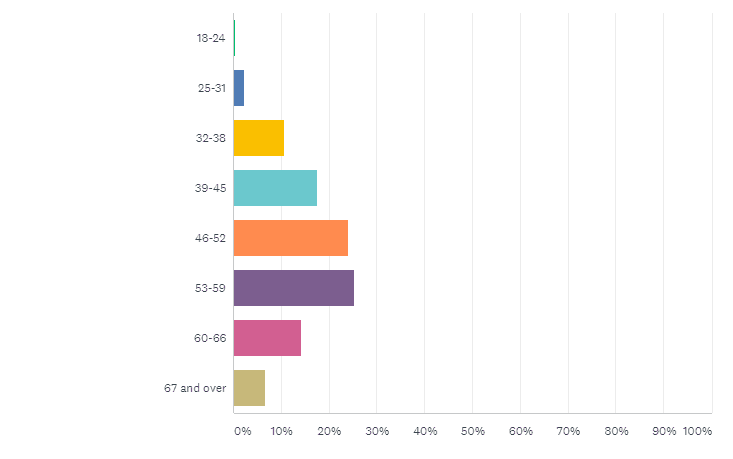 Betrayed or Unfaithful?
This year the percentage of unfaithful took a percentage point drop to just under 5% of respondents.
How long in a marriage or relationship?
One again, the largest percentage of you have been married a long time – over 25 years. And 56.46% of you have been together over 20 years!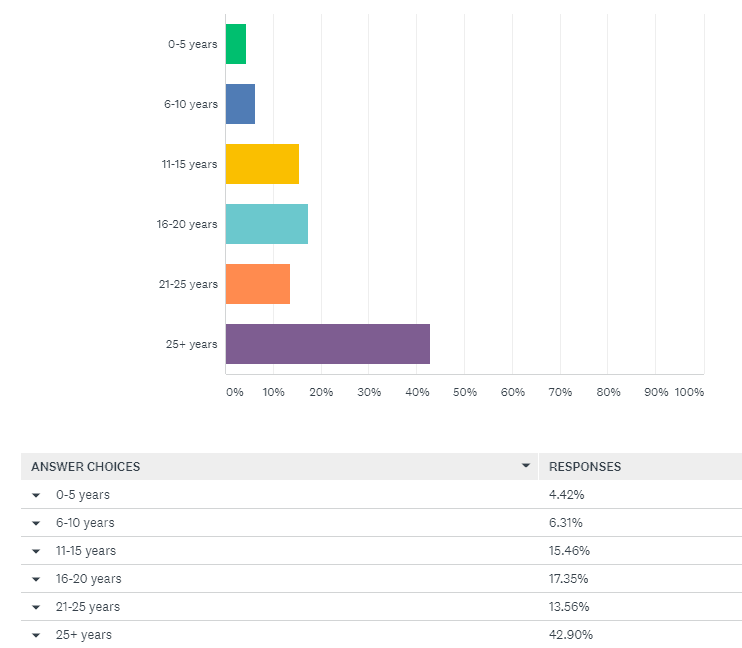 Are you married or not?
Nearly 80% of you are still married.  All the other categories remained just about the same, though the 'Not Married' group went up by 2 percentage points.
Affair Details
What type of affair was it?
The percentage of emotional affairs only dove by about 5% and was transferred to the 'both emotional and physical' affair category.  Physical affair only and 'not really sure' remained about the same.  It's a shame that almost 10% of you don't know!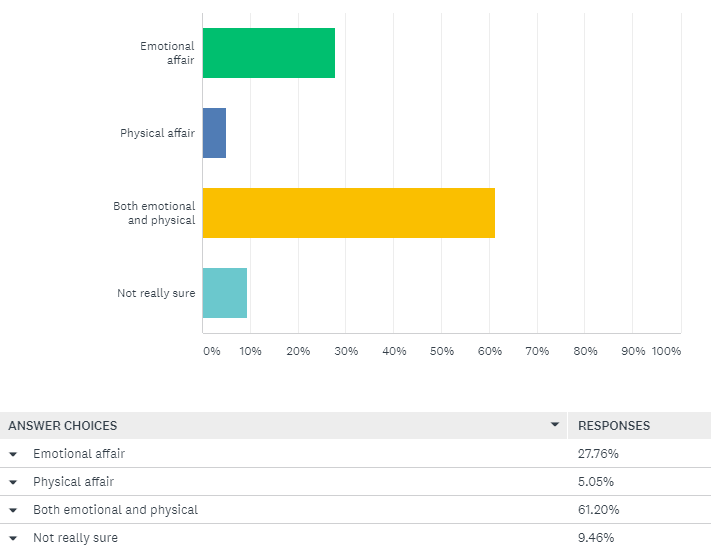 How long ago was the affair discovered?
Over 60% of you are at least a year out from D-day.  The highest percentage being longer than 2 years.  These two categories actually reflect about a 10% decline, as those of you who are less than a year from D-day had about a 10% increase.

Is the affair over?
Seeing some consistency with last year with over 32% of you either not sure that the affair is over, or you know that it is not. 

Reasons for the Affair
This question allowed for multiple answers and it would appear that many of you think there were multiple reasons for the affair – or you just don't know for sure.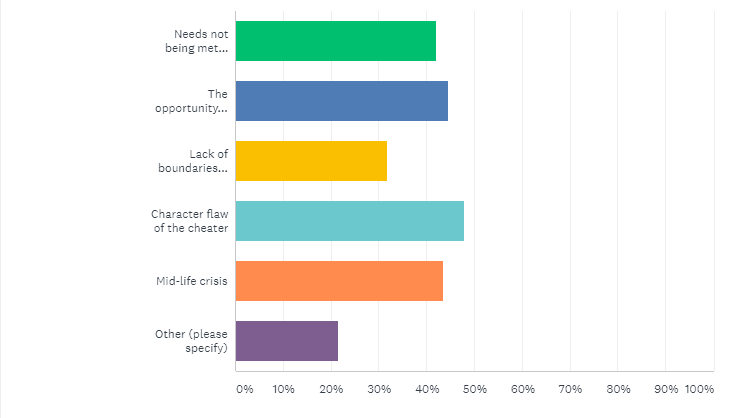 This question also allowed for some "Other" reasons.  Here are some of the possible reasons in general for the affair, taken from your comments in the survey:
What are you currently struggling with?
Leading the way by a large margin is 'Dealing with painful thoughts, triggers and memories of the affair' with 75% of respondents.  A distant second is rebuilding trust, followed by forgiveness.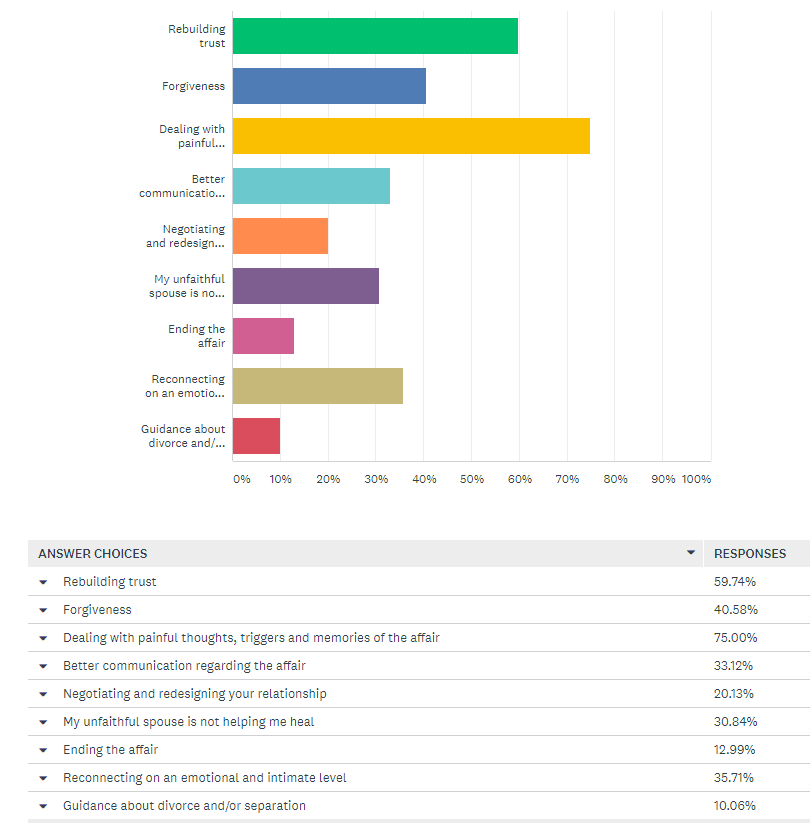 Here are some additional struggles that were mentioned:
What is the biggest fear for you right now when it comes to your relationship?
Again, lots of answers for this question.  In fact, there were pages and pages of responses. By far the fears most often mentioned were: An affair happening again, the inability to rebuild trust and not being able to move past the betrayal. Here is a sampling of other fears that were mentioned:
What has been the most helpful in your healing and recovery process?
Blogs, books and counseling lead the way, though it appears that many of you are trying a multitude of different things.

Some other things that were mentioned:
Favorite type of media
Once again, reading is the overwhelming favorite.  Can someone tell us why hardly anyone's favorite is video??  Just wondering.  When we're researching things online we don't like video that much either. Especially if it's on a delicate topic such as this – and if the video auto-plays.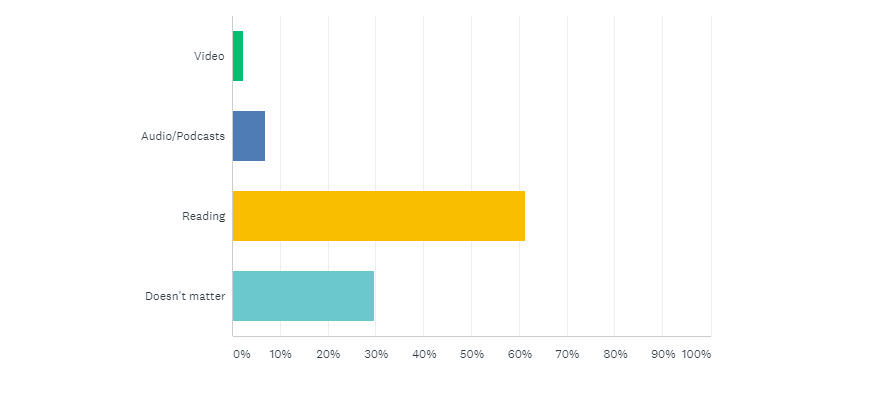 How often do you visit?
The vast majority of you visit our site weekly or a few times a week, though about 15% visit daily and/or more than once per day.  Welcome to all the first timers!

Type of Device
51.59% of you are typically using your smartphone to visit the site.  This percentage just keeps going up!  Last year it was just over 40%.  

Reader Suggestions
We got a ton of topic suggestions – more than we could possibly list here.  And for that, we we thank you! There are certainly some very good suggestions and we will attempt to address as many of them as we can in the coming months.
Many of the suggestions are quite specific to individual circumstances and we've perhaps addressed them in a more general fashion, or from our own experiences. Many of them relate to the fears and struggles that were listed earlier in the survey.
Even still, many of the topics that were suggested have been addressed already, and some several times from various viewpoints and angles.
I realize it's a pain in the rear and can take a lot of time to hunt and peck around trying to find an article on a particular subject. So a suggestion would be that if you have a topic in mind or something that's really eating at your brain and you want to read something about it, you might want to try to perform a site-search by typing in some keywords to see what comes up.
Below is a screenshot of the search box that resides in the upper right portion of the sidebar. You may not always get a precise hit but it might be worth a try if you have something you wish to search for.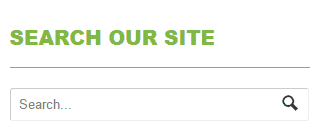 This will be posted article number 1051, so chances are fairly good that if you have something you're searching for that is infidelity related, it's here.
Finally, there were numerous topic suggestions that were mentioned in our surveys so often in the past that in addition to blog articles, we created programs to address them.  These were topics like – rebuilding self-esteem, what the CS can do help in the healing process, how to handle triggers and control the obsessive thoughts of the affair, etc.  
Now granted, these programs aren't free but they do address these topics quite in depth, and we feel they are priced so that they are affordable.   To check these programs out, just go to our programs page and choose the program that best suits your needs.  
Finally, many of you had some very kind words for us and how our site has been of benefit to you during your journey.  Thank you so much for that feedback as it's always nice to hear!
Thanks again for everyone who took the time to complete the survey!
Linda & Doug