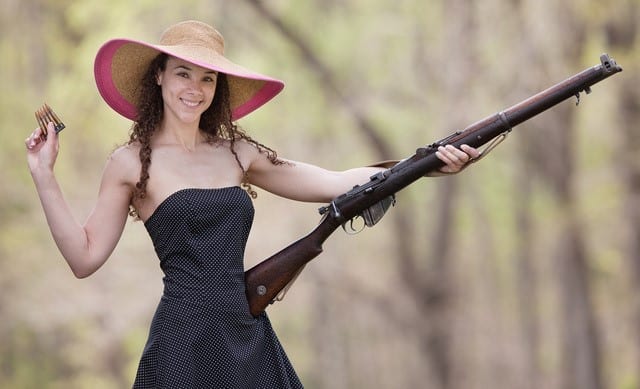 When you are dealing with a spouse poacher, she thinks any season is a good season to poach another woman's husband.
By Sarah P.
You have been through it and you know the drill. Your husband has been unfaithful and you are unsure whether or not he will be unfaithful again. To make matters worse, your spouse encounters flirtatious women from time to time whether he is at work or out with his friends. You know that those flirtatious women provide low-hanging fruit for your spouse.
Thinking of it all is maddening and you wonder what you can do about it, if anything at all.
You want to reestablish trust in your relationship, yet you don't want to trust so much that your husband has an affair under your nose. You want to be the "bigger" spouse and show that you are an adult who knows your spouse can handle himself when it comes to temptation. But, then you remember all of those times he didn't handle himself well at all.
Still, you think you are over it, your spouse has learned his lesson, and you can move forward.
Then, one day you are triggered. Maybe you are out at a restaurant and the waitress is flirting, making eye contact with, and touching the shoulder of your husband while ignoring you. Maybe you have dropped into work to bring your husband a surprise lunch and that younger co-worker of his is sitting on his desk and leaning into him while giggling. Or, maybe you overhear the receptionist at work making sarcastic comments about you to your husband when she thought she had you on hold. Her saccharine voice when she speaks to you cannot even begin to mask her contempt of you.
The affair might be over, but I am here to tell you that you cannot get too comfortable.
If your husband has a good job, is relatively handsome, nice, well-dressed, funny, or any number of other things, women will find him attractive. Finding others attractive is only human and it's not something to worry about if that's all it is. But, we live in a day and age where many women feel that it is "every woman for herself" and so a sizeable number of women behave accordingly.
In a recent survey, around 70% of married women admitted that they would become the affair partner to another man if there was a guarantee it could be done discreetly.
Let that little tidbit sink in.
70% of women admit to the idea that they would have an affair if they would not get caught. (Of course, just as many men admit to the very same thing, but in this post we are discussing the female side of the threat.)
Think of a time when that many people unanimously agreed on a kind of behavior. Seventy percent of people do not have the same opinion on recent politicians. Seventy percent of people don't use the same toothpaste. Seventy percent of people do not drive the same car. Yet, seventy percent of women agree that they would be unfaithful if they wouldn't get caught. Think about it—it really is downright frightening. Add to that the fact that the same amount of men agree with this sentiment.
Debra MacLeod says in a Huffinton Post Article,
"If a woman is unable to find suitable husband material or cannot find a man to marry her – all the guys she dates just want casual sex or cohabitation at best – she might set her sights on a married man. I have had female clients who admitted to pursuing a married man, even the husband of a close friend, because he has already demonstrated his willingness to commit. That's spouse-poaching in action." (1)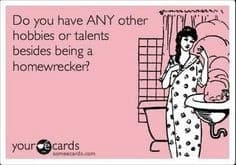 That leaves only 30% of us who agree that our morality is something that is stable and not influenced by whether or not we get caught. I am in the 30% of women who would never have an affair, regardless of whether or not it would remain a secret. We wonder why infidelity is a pandemic; the reason it's a pandemic is because more people than not have infidelity on their minds as a possibility.
But, then there is a final, deadly blow to fidelity and it has to do with the voracity and lack of morals of some single women:
"In a prominent and highly publicized study, researchers divided bachelorettes into two groups and showed them photographs of a hot guy — telling one group he was single and the other he was in a relationship; then, they asked the women how likely they were to pursue him. Only when the woman believed he was committed to someone else did interest in the male subject skyrocket." (2)
Let that one sink in. Interest skyrocketed when only one factor changed; that factor was that a man was married. When seen in that light, the flirty waitress no longer seems so innocent. The snarky receptionist takes on a more sinister tone. The flirty co-worker practically has a sign on her forehead that is flashing: danger, danger!
How often does a spouse poacher win? Well, unfortunately, they win almost half the time. An article on match.com warns:
"Experts confirm the many perils of acting out on this impulse: "Poaching entails risks that would seem to make it a poor decision," says psychologist David P. Schmitt, Ph.D., of Bradley University in Peoria, IL, who has studied poaching extensively, often from an anthropological standpoint. "Men and women have been killed for such behavior." 
Despite its inherent danger, partner poaching remains fairly common. A survey conducted by the International Sexuality Description Project, founded by Schmitt, revealed that up to 20 percent of long-term relationships began when one or both partners were involved with someone else. In the U.S., 62 percent of men and 40 percent of women said they'd tried to mooch someone else's mate; 47 percent of men and 32 percent of women were successfully stolen away." (3)
That's right…. 47% of the men who were poached were successfully stolen away. How bleak. It just makes me want to put on a pair of boxing gloves.
All of this information is not meant to scare you or to make you lose hope. I am blogging about this today because I want you to know that you do not have to take this lying down and there is a way to handle these situations effectively.
Spouse Guarding
There are many heated opinions surrounding the idea of spouse guarding. Opponents of it say that is ruins marriages and can come off as very controlling. But, then again, in an individualistic society, anything that "stifles" one's options is considered to be controlling…
I have observed that spouse guarding can be accomplished in ways that are both positive and negative. The positive side of spouse guarding simply implies strong boundaries within a marriage, being proactive, being aware, and being assertive. The negative side of spouse guarding can border on crazy-making behavior.
Fortunately, there are things you can do that are not crazy or controlling. Still, even if you take these positive and proactive measures, the would-be spouse poacher is bound to call you crazy and to undermine you verbally any chance that she gets.
So, this comes with the territory and it is something that you will need to take with a grain of salt. It is better to have a would-be spouse poacher call you crazy and to keep your marriage than to have the alternative.
If you want to be "the nice girl" when it comes to dealing with the other woman or the would-be other woman, I am here to tell you that the nice girl always loses. These women will perceive you and your husband to be easier targets and she will assume that when it comes time for your husband to divorce you, that you will be understanding and cooperative. (That is, the perfect victim.)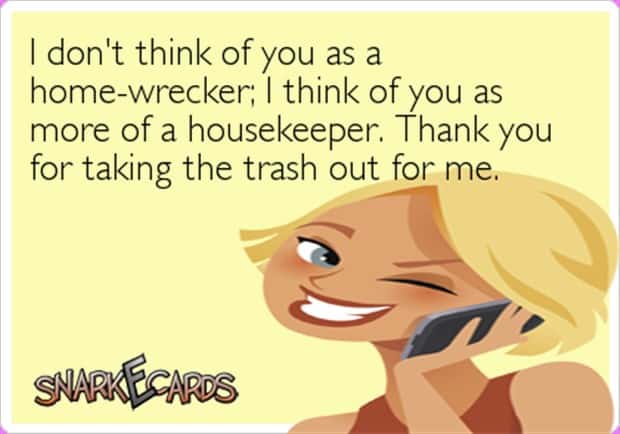 I don't remember who is was, but one of our valued readers mentioned a book called "The Script." I would like to give 'virtual' kudos to whoever recommended the book because it is fantastic. It is a must-read for every woman on this site and every woman who has either been through infidelity or suspects her husband of being unfaithful.
In fact, I was reading the reviews for "The Script" on Amazon and a cheating husband wrote a review of the book. He admitted to doing all of the things in the book just as the female authors mentioned cheating men do. But, the wayward spouse reviewer also admitted that he did not know he was acting out 'the script' at the time because he was too wrapped up in the other woman and his delusions about her and the affair.
The sad part is, this wayward spouse said he lost his marriage in the end and had divorced his wife years ago for the other woman. Apparently, it had not worked out with the other woman either and in his review, he said he lived with deep regret.
The sad part about the men in the book "The Script" and the real-life men who are acting out 'the cheater's script' daily, is that none of these men can see past their own delusion. In their minds, they are honorable husbands who simply met their 'soulmates' and who have to be with their 'soulmates.'
This book has also validated the way that I have always dealt with would-be spouse poachers. Recently, I started to think I was a little too harsh in my boundaries in dealing with other women who target my husband. But, after reading "The Script" I realized that I could tighten my boundaries a little more and have been completely justified in being on high alert.
After reading the book, I also realized I needed to let every other woman know about how to deal with spouse poachers because it could make the difference between life and death for your marriage at least. This is the crux of why I am writing this article.
Do Spouse Poachers Ever Stop?
One of my friends gives classes at a wealthy assisted-living facility and has some very entertaining stories about the residents. It doesn't matter that most of them are over 80 and have various degrees of dementia. Lunch at the facility looks more like lunch at your local high school cafeteria; only dentures and seated-walkers have replaced backpacks.
Of course, the women somewhat outnumber the men at this facility and so there are sometimes quarrels over one of the single, male residents. One 80 pound, 90-year-old woman took to sitting on a male resident's lap at lunch to stake her claim. She was not large enough in frame to compare to the other female residents, but her small frame was a plus for the lap on which she sat. Women have to learn how to 'work' what they have and turn a seeming disadvantage is an advantage. I say more power to her because romance never goes out of style.
However, the real problems started when one of the men in question was a married man. One 89-year-old resident complained to my friend about the 87-year-old "slut" who was constantly baking cookies for the 89-year-old's husband. "I know her trick. She keeps trying to seduce my husband with her chocolate. She is just waiting, hoping that I die first!" the woman blurted out to my friend. Yes, indeed, truth is stranger than fiction.
And as long as people are breathing, romance will live on. So, it doesn't matter if you are 22 or 102, the problem remains: there will always be women who feel powerful by flirting with your husband. There are women who are dangerous because flirting with your husband is not enough—their goal is to take your husband. Sometimes these flirtations are not serious while other times a woman has the goal to spouse poach. Don't take their behavior lightly.

Meet Your Friendly, Neighborhood Spouse Poacher
I have categorized these women and in the next few paragraphs will describe each type as well as what to do with each type. I will also list a threat level between 1-10 with 1 being the least threat and ten being the most.
Ms. Insecure 
Ms. Insecure is never sure of herself. She flits from one man to the next like a confused butterfly. She is looking for validation in the eyes of men and her need for validation is insatiable. 
Ms. Insecure probably did not have a father who was in the picture or she had a father who said she was never good enough. Ms. Insecure has overly flirtatious body language and usually dresses in ways that are meant to attract the male gaze. She won't leave the house unless she is wearing high heels, full make-up, has perfectly styled hair, the latest designer perfume, and form fitting clothing.
Ms. Insecure seeks ego feed above all else and is not necessarily interested in a relationship with the men with whom she flirts – and she flirts with everyone who is male. Ms. Insecure is only dangerous if she is in a bind, doesn't have a boyfriend, and a rich man crosses her path.
There isn't much to do about Ms. Insecure except ignore her. If she is in your husband's workplace, then it's best to stop by the office, from time to time, and bring brownies for the whole floor. Introduce yourself to Ms. Insecure, give her a compliment, and kill her with kindness. Most likely, she will move along to men who don't have such an involved wife.
Ms. Insecure Threat level: 2
Ms. Femme Fatale
Ms. Femme Fatale generally looks just like Ms. Insecure but she has an edge about her that says she is playing for keeps. She is interested in drawing men into her dangerous game, whether or not she has a boyfriend or husband. She gets a kick out of a game of seduction. If a man is taken, the stakes in the game are much higher, and that makes the game more fun for her. She is dangerous.
But, there are still ways to deal with Ms. Femme Fatale. You definitely need to show up at your husband's work and accompany him to all of his work events. Before you go to work events, invest in a good hair-style and color, get makeover tips at the mall cosmetic counter, and figure out how to dress for your frame.
When Ms. Femme Fatale is around, make eye contact, engage her in conversation, and have body language that is confident. If she lightly touches your husband's shoulder or does other things in front of you, she is testing you to see how invested you are in the game.
The way to deal with this one is to catch her off guard and to use shame if needed. If she is married with children, say something like, "I wonder what your kids would think of the way you are behaving. Poor children." Of course, this might inflame her and if it does, level with her. Tell her that you are on to her and that you will make her life very uncomfortable if need be.
Usually, the Femme Fatale likes her game to be a secret. Once someone exposes the game and shines a light onto her actions, all of the fun goes away. If you prove to be a formidable opponent who knows what she is doing, she will look for easier prey.
If your husband is an executive or an extremely high-value man that most women want, you need to make your presence known consistently. You need to travel with him on business trips and be sure to keep up your appearance and wardrobe. You need to drop in with home baked goodies or bring him lunch unannounced. You need to stay on top of it and send consistent warnings to the Femme Fatale that you are not giving up.
Femme Fatale Threat level: 9.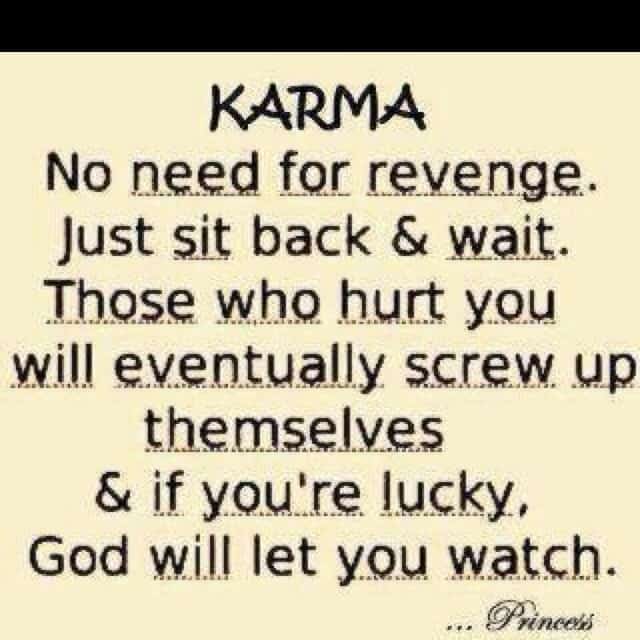 Ms. No Boundaries
She is characterized by spilling every detail of her life to strangers within 5 minutes of meeting. She is the Queen of Verbal Diarrhea and the Princess of Ooze.
Her problems constantly seep out into her environment and everyone at the office knows about her life and her problems. But, when asked if she knows she is the cause of her own problems, she is stuck like a deer in the headlights and it doesn't compute. She is always looking for someone to listen and for a Knight in Shining Armor to sweep her off her feet.
She is the star of her life and she takes the leading role of The Victim. She does not know how cause and effect works or that she is most likely the cause of her own troubles as an adult. She may not have had the greatest home life as a child, but that does not matter because when people grow up they need to take ownership. Ms. No Boundaries doesn't even know what it means to take ownership. Like a jellyfish, she just floats around where the tides carry her, not knowing that she could easily just swim away.
Ms. No Boundaries is definitely looking for someone to rescue her and she casts her net far and wide hoping to find her next pushover.
Generally, she does not target a particular man because she is not contriving enough to do so. But, if your husband has a Knight in Shining Armor complex, then he could easily get caught in her net. Maybe your husband had a mom or sister who always needed to be rescued. He will be a ripe picking for Ms. No Boundaries because other important women have primed him for the role.
As with everything, you need to make yourself known. You need to set limits on your husband and let him know that it is not appropriate to be the confidant to another woman. His job is NOT to save anyone except for you and your children. So tell him that if he wants to save someone, he needs to start by saving you.
Here, the most important person in the dynamic is your husband. He needs to realize that his attention needs to stay on you and your family. You need to take an active role in enforcing it and reminding him that it's not his job to befriend stray women at the office. He is there to work.
Ms. No Boundaries Threat Level: 5
Ms. Rabid Opportunist
The rabid opportunist dreams of living a life of luxury. She dreams of living in a mansion, having a closet full of designer clothes, having servants, and dining in fancy restaurants. Her choice of TV shows revolves around Real Housewives of Beverly Hills. She sees them and wants to be them. She thinks living a full life has to do entirely with status and materialism. She labors under the illusion that material things make people happy. (They don't.)
For whatever reason, she has not been able to meet or perhaps keep a high-status man. Most single men with their head on straight can smell this type of woman a mile away and they avoid her. But, there are always successful, married men who are ripe for the picking. Her ultimate goal is to live a fulfilling life for herself and she believes that if she can steal a man away from his family, that the wife was obviously a loser. In her mind, she thinks that she will be 'saving' a man from a life of drudgery.
She believes that together they will take on the world in private jets and she will dress the part too. She will look like a model and not like a boring housewife. She sees herself as the Hero of this situation. She saves a man from his terrible life and soul-sucking family and gives him the life he deserves. (That is, if he has the money.)
The woman that my ex left me for was this type of person. Once she found out he was engaged and we were ready to be married, she set out on a quest to break us up. The other woman told a woman whom I worked with that she (the other woman) loved a challenge and that there was nothing better than a man who was taken. My colleague tried to warn her away but that made her more interested. Of course, no one told me what was going on until after he kicked me out of our mutually owned home so that she could move in.
This type of woman is ferocious and the only advice I can give is for you to fight like a wildcat to maintain your family intact.
I was watching a clip of a live performance from Dolly Parton. She was describing why she wrote the song called Jolene. Anyhow, this song was about a real woman who tried to break up her marriage. Dolly talks about how she had to "fight like a wildcat" to win. I think that's the only thing to do.
Threat level: 9
httpv://youtu.be/L0eeSoU35wM
That-a girl, Dolly!! You done good!
Ms. Just-A-Friend
This is the woman who has been waiting in the wings and is willing to wait forever because she has convinced herself that your spouse is her soul mate.
Maybe she did not feel that way when she first met your spouse, but somewhere along the way, she became 'best friends' with your spouse and came to believe that they are meant to be together.  This is the most dangerous situation of them all and I think it is also the most frequent situation as well.
Men and women work together in equal numbers these days. When they are at the office they get to see the best versions of one another. She sees him as a take-charge kind of guy who is fast climbing the corporate ladder and will be CEO one day.
He sees her as a smart, well-groomed career woman who has her act together. She never has a hair out of place, she can facilitate the toughest meetings with clients, and she is socking money away in her 401k. They can talk for hours about situations though, they can become each other's work confidant and career coach, and they can understand each other the way that their spouses never could. And gee, it sure feels good to have an ally at the office and a sea of calm when normally you are swimming with co-workers who double as sharks.
This is an all-to-human scenario and even good people fall into this trap. I believe that this type of affair is absolutely the most dangerous because the affair partners have a lot of genuine respect for each other.
What is worse is that there are female co-workers who intentionally target the husbands of other women. I cannot count the number of times women at my husband's work have tried to steal him away from me. It has gotten to the point where I am ready to get some napkins made to hand out to these would-be spouse poachers. The napkins would look like this:
FRONT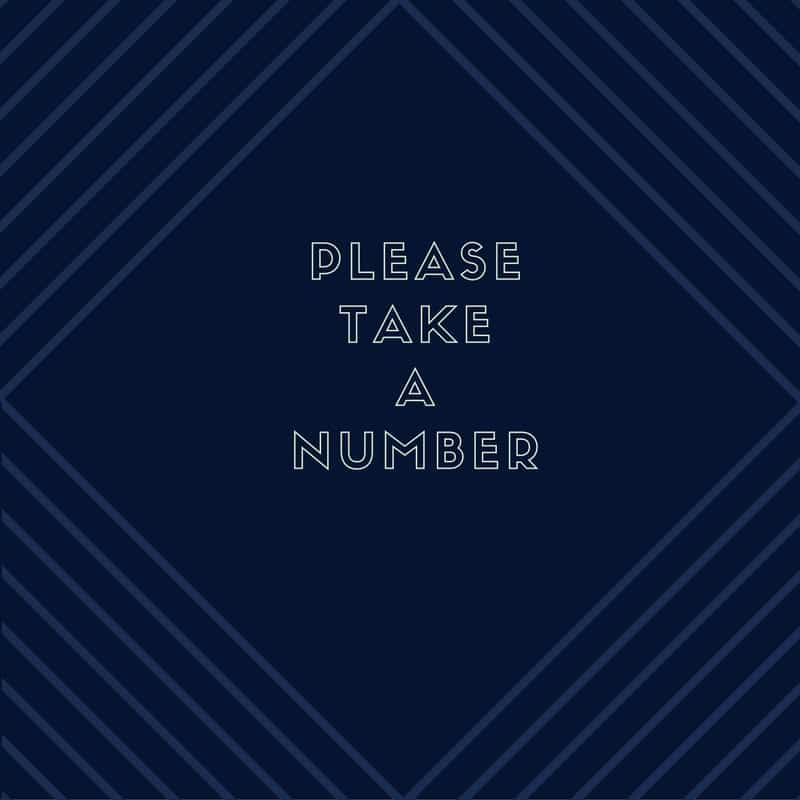 BACK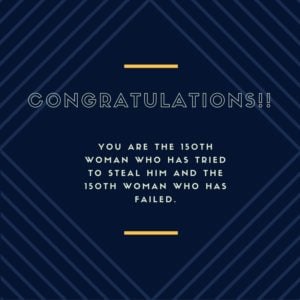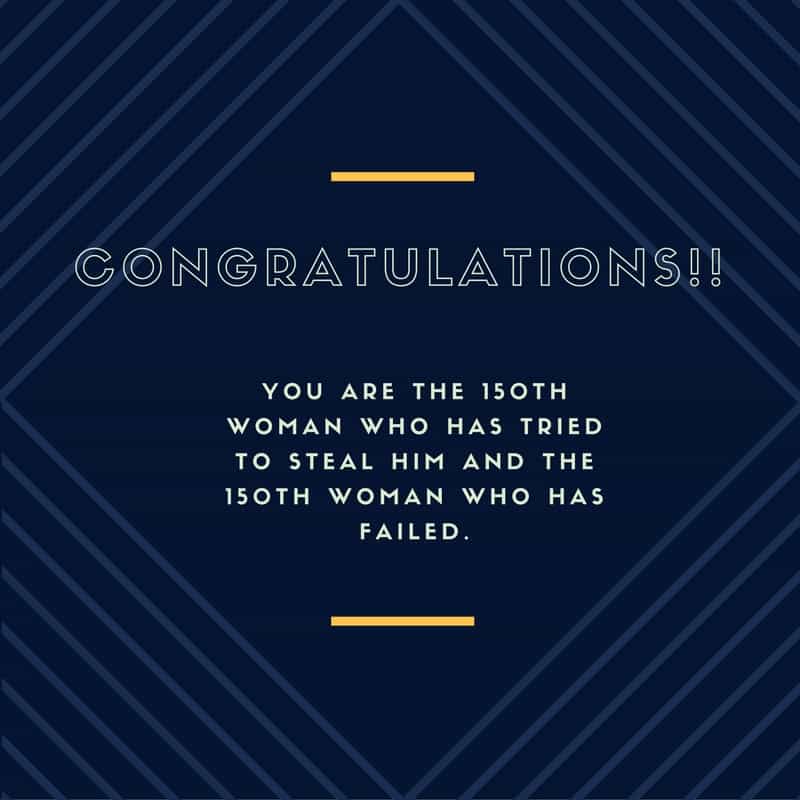 Because sometimes you just have to deal with life by using humor. I have not printed up such a napkin, but I imagine that any would-be spouse poachers would be ashamed to receive such a napkin on her desk at work.
Some have been more aggressive at targeting my husband and some have been more passive. You might wonder why my husband is such a target. Well, I will try to sum it up in a few words: handsome, extremely successful, funny, friendly, and someone many people look up to.
But, I wanted to state one more caveat. There is a difference between a "work friend" and a co-worker who is "just a friend."
Anytime you hear the protesting words with a passionate voice, "But she is just a friend!" you have crossed into dangerous territory. On the other hand, a "work friend" is someone that your spouse has a harmonious working relationship with — someone who isn't out to get your spouse and someone who works well with your spouse, but who has strict boundaries. The opposite of a "work friend" would be a "work enemy."
It is good to have work friends. With a female work friend it's normal to talk about light topics such as movies or how great kids are doing in school. But, it should never cross the line into constant texting, having inside jokes, or the female co-worker being a husband's new confidant where he tells her all of his deepest fears or worries about life.  This is especially dangerous when he shares his inner heart constantly with a woman at work while withholding all those same thoughts from his wife.
I am aware that my husband has several female "work friends" and I know all of them. A couple of them are lesbians and the others are grandmotherly types who are happily married and who have his back. There have been a couple of women who have tried to edge into the "just a friend" category before I very clearly put a stop to it. These women usually give up after they meet me, although a couple of them have had the audacity to try to continue. I always up the ante for them and show them it just is NOT worth their while to take me on. I will become their worst nightmare.
Threat level for "just a friend types": 10
Ms. Sociopath in the Next Cube
This one is also extremely dangerous because she has no morals and no empathy. Sure, she has heard the word empathy before and to her it's as foreign as China. You see, she simply has no ability to empathize and cannot even relate to the concept.
Another disturbing thing about the sociopath is that she prefers power to love. This is no joke—sociopaths are incapable of feeling real love. To them, they would prefer to break up a marriage where the break up itself makes them feel powerful. The man involved is simply a pawn. She is all about winning the game and doesn't even necessarily want the man when she gets him. She has won the game and the fun is over.
To sociopaths, everything is a game of cat and mouse and they are always the cat. The most annoying thing about sociopaths is that they have a radar for people who are genuinely kind and a touch naïve. These are their victims because other sociopaths see through them within minutes.
There is not a lot to do about the sociopath except inform your husband about them and note specific behaviors that would indicate that they are a sociopath. If one is your neighbor, move. If one is a co-worker, ask to get transferred to another team. If one is after your husband, unmask the game that she is playing. You have to show her that you are smarter than she is. If she ups the ante, get a restraining order. Use the law as much as you can.
Sociopaths don't like being found out for who they are. Like other mistress types, the game is only fun if they can play it in secret. Once you show her that you are on to her, the game isn't as fun anymore. Unlike a narcissist, a sociopath has insight into her behavior.
I believe narcissists also fall into the same category as sociopaths since they can cause as much harm. Narcissists are very similar to sociopaths and they have overlapping traits. Both narcissists and sociopaths prefer power to love, both narcissists and sociopaths lack empathy for others, both are usually charming to those around them, both see other humans as pawns to use in a game. They don't care if winning means that you lose your entire family, it is just part of the game to them. The more harm they can cause others, the more fun that they have. They love targeting kind and loving people the most because they see us as weak. They also know that most kind and loving people are naturally trusting, that is until they have been burned by a sociopath.
The other woman that my ex married was no doubt a sociopath. I have been there, done that, I got the t-shirt and I burned the t-shirt. It sucks to be burned by a sociopath and when you are in the thick of it you are usually so blind-sided that it's hard to think straight.
Threat level: 8
Why Spouse Poachers Can Sometimes Have the Upper Hand

A spouse poacher can have the upper-hand because of the myth of the perfect partner. This is a myth that is pervasive throughout our culture. When we are dating, we are looking for 'the one.' In our minds 'the one' = the perfect partner.
Well, I am here to tell you that you are more likely to see a herd of unicorns drinking from a cool stream than 'the perfect partner.'
This is the inherent problem with all marriages—neither partner is perfect and so flaws can get magnified. Sometimes the flaws of both partners clash to such an extent that the relationship becomes explosive. This leaves it vulnerable to a person who comes in and presents herself as 'the perfect partner' to your spouse.
It is human nature to want to persist in believing in the myth of the perfect partner. This myth is very dangerous because it kicks in when the marriage goes sour. It takes a mature person to look outside of themselves and realize no one is perfect and there is no such thing as the perfect partner.
Remember, even Eve, who was literally made by God for Adam, was not the 'perfect partner.' After all, Eve was lured away by a very smooth-tongued snake and ended up bringing an apple into their relationship that led to the downfall of all humanity.
Of course, some partners are more perfect than others, but no one is completely perfect. And you and your husband can be made for each other and still have an imperfect marriage. By the time a man gets married and has kids, he needs to grow up and stick it out with the mother of his children.
Whoa to the man who falls for the myth of the 'perfect partner' and messes up generations to come by leaving his wife for what amounts to the ultimate in fool's gold. Yes, the other woman is like the ultimate pile of fool's gold: completely worthless.
The Big Picture
The important thing about spouse poaching is that you need to learn how to recognize it before it goes too far. The farther along it goes the harder it will be to deal with. But you have to be willing to recognize it and you cannot live under the illusion that everyone in this world is good and has the best intentions in mind. Unfortunately I can tell you unequivocally that many people are neither kindhearted nor good-natured when something they desire is at stake.
Sure, a lot of people might be kindhearted toward the puppy that they have found abandoned on the street. But, the puppy is not standing in the way of something that they want out of life. Many people will show you their true character when you stand between them and something they desire. 
Truly kindhearted or good women will recognize an attractive man when she sees one because that is human nature. But, if that attractive man has a wife standing between her and him, she doesn't take action toward trying to break up a relationship. She might deal with the man in a professional context, but her behavior never crosses the line because she recognizes that crossing the line would break moral boundaries and lead to a lot of harm. Truly kind people walk away instead of harming others.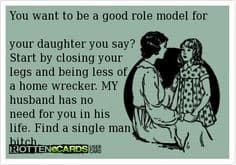 I know some other women like to claim that the wife's husband doggedly pursued her until she caved in. She may say that she was simply responding to his advances. But, harm is harm. Not doing something can be just as harmful as doing something.
For example, some people referenced how many people stood by and watched during the Holocaust. While Nazis actively killed Jews, other Germans just sat passively and let things happen. The people who chose to sit idly by and watch were also guilty for the massacre of Jews. They may not have actively killed them, but they did go along with a situation and watch while Jews got killed. So, harm can be both active and passive.
This all hit home when I was doing genealogy research. I found out that the Jewish branch of my family, the ones who stayed in Europe, were about 95% wiped out during the Holocaust. Hundreds of relatives were murdered within a year and entire family lines wiped out forever. The only survivors of that family line live in America and emigrated during the early 1900's. I am a descendant of those lines that left Eastern Europe in the early 1900's when the Russians and Poles tried to burn down Jewish villages. I will always wonder whether or not things would have been different with my family and our numbers if someone had tried to help.
So, even though people can seem to be kind in many situations such as picking up the abandoned puppy, this does not prove that they are kindhearted at all. Having integrity and being a good person is both an active and passive thing. One must behave in ways that reflect integrity. But, one must not sit by and let bad things happen when they know better.
A not-so-kindhearted co-worker
I remember having a conversation with a coworker with whom I worked in a corporate environment. She gave half of her paycheck to pay for her parent's house each month so that they would not have to stress about a mortgage. That would indicate that she was an incredibly kindhearted person. Only, this could not have been further from the truth.
Even though she was married, she set her sights on a very handsome, charismatic, married man with whom we worked.  One day she confided her attraction and I told her that all married men are off-limits. I also reminded her that she had a very nice husband and nice children waiting for her at home.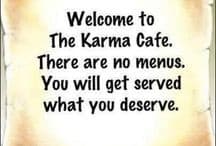 Later that year she and her husband started having marital problems because he took up smoking cigarettes again. She made him sign an agreement that said if he were to light up another cigarette, she would kick HIS mother out of the house that he had bought for his mom prior to getting married to this woman.
While this woman was willing to do almost anything for her own parents, at the moment she did not get her way, she was willing to harm the parents of her husband. Likewise, she was willing to try to step into a marriage of another person where she did not belong.
What it came down to was that she was willing to do things that benefited her or her genetic family. That might have seemed benevolent to somebody looking on. However, the motivation was never due to kindness but rather simply tribalism and wanting to watch out for her own people. As kind as she was to her family, she was equally cutthroat to those who stood in her way.
So, the way to judge character comes at times when you stand between a person and something that the person wants. What will they do? Will they try to break up your marriage because you stand between them and the man they want or will they simply walk away knowing that their own moral character could never allow them to break up a marriage or harm a family?
More women than you might want to believe fall into the first category and they put their needs alone ahead of others and do not care how many other people they hurt in order to get their own needs met. So, you have to stop being naïve and thinking that these people don't exist.
So, it goes like this…
The first step is recognizing that spouse poaching is a possibility.
The second step is figuring out what kind of spouse poacher you're dealing with.
The third step is doing whatever it takes to become a formidable opponent to the spouse poacher.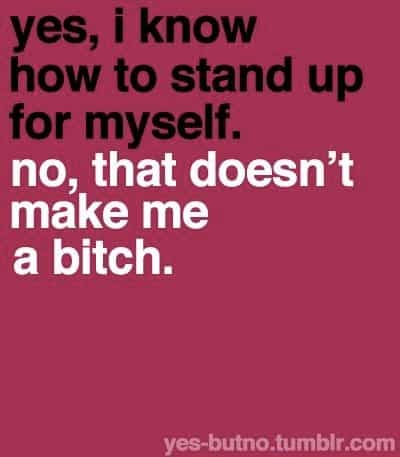 I have many personal examples of times that I have intercepted a spouse poacher trying to meddle in my own marriage. I have a husband who is very charismatic, outgoing, handsome, and who also has a very good job. Naturally, he has a lot of women interested in him and I have never been blind to the fact. I realized that even when we were dating, that this could be a problem if we got married. But, I went into it with my eyes open because he also had and has strong values.
On the other hand, I do feel that I am very much an equal to my husband. When he and I met, I had finished my first Master's degree and worked in a very lucrative corporate profession where I actually made more money than he did. When he brought me to work functions when we dated, all of his male colleagues gave him the wink-wink and nudge-nudge and they said positive things about me. Some of the guys would even verbally tease him in front of me and ask how a guy like him was able to get a girl who was "out of his league." I have never seen myself as some kind of great beauty, but I do take impeccable care of myself and I work with what I have. Quite frankly, I was the ugly duckling in high school and my appearance (and my luck) changed once I hit college.
If you're thinking that a pretty and interesting wife will not prevent a man from cheating, you are right. So why do I look after my appearance so much?
There are two reasons:
1) I look after my appearance because it makes me feel good about me.
2) I look after my appearance because when would-be spouse poachers meet me, they see that I am a very formidable opponent.
I would strongly advise you to do the same thing. As we know, the most beautiful women in the world have husbands who cheat. But, you wouldn't believe how an attractive, well-composed, accomplished, articulate woman is a deterrent to a would-be spouse poacher in real life. It does not deter all of them, but I have seen many of them literally throw their hands up and walk away after they meet me for the first time. Game over.
But, there have been one or two who are also attractive and accomplished and so I have a formidable opponent in them. That is when I have to figure out what kind of poacher I am dealing with and devise a plan. I always take some kind of action.
On the couple of occasions I have encountered these types, I am always shocked when I realize they don't give a crap if my husband is married. They had met me and continued to go over their own strategy on how to get rid of me. That experience always shocked me and will continue to always shock me. It is so foreign to how I think and behave.
I would recommend that no matter how old you are, no matter what you look like, no matter what deficits you feel you have, you still need to hold your head high and own who you are.
You see, no matter what happened in the past had anything to do with your worth as a human being. You were worthy, are worthy, and will always be worthy. Have you ever heard of the acronym FEAR? False Evidence Appearing Real. Anytime you struggle with your worth or self-esteem because of some supposed deficit, remember that the deficit is merely false evidence appearing to be real.
When a Woman Takes You On
I have someone try to take me on every few months. Sometimes it is subtle and other times it isn't. For example, my husband has had a female co-worker for the past ten years who has had a crush on him. How do I know this? One of her friends is an acquaintance and I ran into the acquaintance at the store. She took me aside and said, "You know Susan? Well, she talks non-stop about how she likes your husband. You need to watch your back."
Susan is not very attractive but is married to an attractive husband and has three sons. I never told my husband about the conversation because there was no reason to tell him. Recently, he was a sharing a conversation he had with Susan and a male coworker. Susan took the opportunity to get in a sarcastic jab about me. And so, I knew that she wasn't just kidding or she didn't just happen to say the wrong thing. It was planned.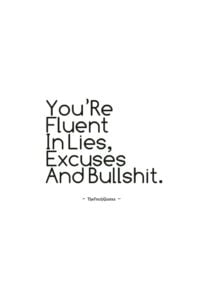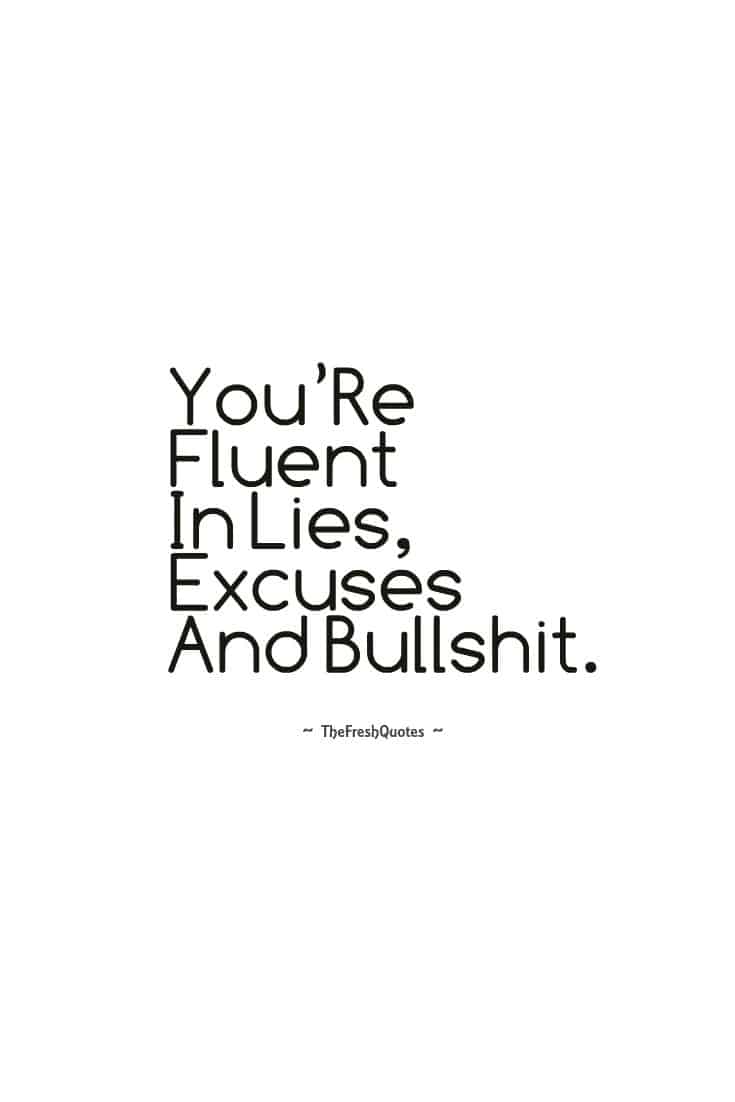 Then there are those who up the ante. There is a Ms. No Boundaries nurse at my husband's work and she suffers from a severe case of verbal diarrhea. She tells everyone within earshot all about the most sordid details of her personal life. She likes to over-share with my husband (and everyone else) and has demonstrated behaviors that would indicate she is a would-be spouse poacher for any successful man who will give her the time of day.
There is a main office desk where different nurses and secretaries sit. The main phone line for the clinic is there, but everyone works in an open space with no walls or dividers. My oldest son had an emergency and so I called that main desk number since cell phones don't often work in that area. No one was answering that main desk line, which was out of the ordinary, and so I called several times. I realized that my name was coming up on the caller ID and soon wondered if one of these resentful women was working at the desk.
Finally, someone answered the phone in a very angry voice and said, "This is Cindy, yeah?"
I was taken aback and made sure to sound cheerful since Cindy was being short. I answered, "Hi Cindy, this is Sarah P… Bradley* P's wife. My son had an emergency and I was hoping to speak with Bradley if he's not busy."
Then, she put me on hold for what seemed like forever.
Finally, my husband picked up the phone and said in a hesitant voice, "This is Bradley P, how can I help you?…"
I said, "Hi sweetheart, I am sorry to bother you at work but there was an emergency with Nicholas*…"
My husband said, "Oh my gosh, I am so sorry. Cindy had me scared for a moment. She told me that my boss was on hold and that I was in trouble with my boss and that it was a big deal… I thought you were the clinic director…."
I said, "Cindy said what…?"
"Well, maybe she was just kidding, but she had me fooled. Cindy just got married and maybe she is acting goofy because they just got back from their honeymoon."
I responded, "Wow, that was really out of place for her to say. When we hang up, I want you to ask her from me how being the boss of her husband is working out for her."
Then, my husband and I talked about our son's emergency. After we hung up, I stewed. I realized that when Cindy was at the desk, she could see my full name come through on the caller ID. She chose not to answer the phone several times until she finally picked up. When she did pick up, she was very huffy and rude.
Cindy knows exactly who I am and she was out of line considering what I was calling about wasn't a joke, but an actual emergency. I rarely call my husband at work because I don't like to bother him. When he came home, I told him that I was really angry about what Cindy did and wanted to know why she did that. He also said she was out of line and didn't know why she was acting that way. I asked if he told her what I said to tell her: how is being the boss of your new husband working out?  Well, he did tell that to Cindy and it had the effect of placing an invisible zipper on her mouth. He said she went as red as a tomato and didn't talk for the rest of the afternoon. For once, she was uncharacteristically quiet and focused on her work.
Do you think I was too forward? I don't. Cindy was testing the waters and wanted to get in a jab. I have never met Cindy formally but she has seen me and heard my husband talk about me. The times I have seen her, she appears to be a very low-class individual and I am happy that I put her in her place so that she could get a taste of whom she was dealing with. Sometime soon, I will ask my husband when she is working and I will bring brownies for the team. Then, I will single her out and "kill her with kindness."
This is how I deal with these women. If she happens to be so low class that this doesn't work, I will talk to her in a way that white trash understands. Hopefully, it doesn't come to that.
Too much Trouble??
You may say that it is too much trouble and that I should let it go. I used to feel that way too. But, I know personally too many women who let these things go and their husbands now have mistresses who are very much involved and in the picture.
The wives of these men didn't bring brownies to the office, but you can bet your bottom dollar the mistress will bring brownies to the office and make herself known. You can bet your life that the mistress will go on business travel with a man, while the wife always stayed home. You can bet your life savings that a mistress will make sure she is a piece of arm candy and will accompany her newly poached husband to work gatherings and dinners, always wearing a smile and the nicest clothing.
Mistresses know that men don't like to go to bed alone at night. They will go to bed alone at night if they have to, but if they are going to bed alone at night such as when they travel for business, they will be susceptible to a lovely, warm body. Mistresses know this and so they are very involved with the men they choose. I am a very involved wife. My husband never travels for business without me and we always vacation together. We have a rule that we don't spend nights apart—ever.  I go to all of the functions and all of the dinners and behave in ways that reflect very well on him. Overkill? No. I am already doing all of the things that mistress's use in their arsenal.
It's a jungle out there
We live in a dog-eat-dog world and this attitude has now spread to marriages. There are plenty of women out there willing to poach a high-status man, especially if the mistress thinks the wife doesn't have anything going for her. Poaching a high-status man may be her meal ticket; she may need a high-status man to fund her retirement, to help her extended family financially, or to do any other myriad of things she thinks she needs.
She poaches because she is desperate and doesn't have the skills necessary to achieve the lifestyle she desires. For whatever reason, she is not able to find a single high-status man or she does not have the skills to get the life she thinks she deserves.  So she resorts to husband stealing and she doesn't even bat an eye when a man leaves his wife and his family for her. In her mind, it is the ultimate victory and she doesn't care how many broken and bloodied people she leaves in her path. She got what she wanted and that was that.
I know these women exist. I have experienced their behavior for years now. I have witnessed them break up the marriages of others. I will not give up the fight.
Will my husband cheat on me one day? If a man wants to cheat, he will cheat. That is his choice and his prerogative. But, I will never give up the fight and I will not lie down and just take it while other women try to swoop in. I will continue to be a formidable opponent. And you know what? When my husband sees me fighting for him, he swells with pride and knows that I love him. Believe it or not, it makes him feel good because he feels special. He sees that after many years of marriage I still show him I am crazy about him.
Sometimes You Have to Journal
Sometimes journaling is a great idea if you want to work through your feelings. When I journal I do stream of consciousness. But, sometimes my journaling actually takes the form of a poem.
Several years ago I was triggered when a Ms. Opportunist who was likely also a Ms. Sociopath had her sights set on my husband. As far as I know, I figured out what was going on before anything happened.  Of course, most women don't know if their husbands have an affair, so there is a distinct possibility something did happen, although evidence would point to the idea that I got wind of it well before she ensnared him.
This particular Ms. Opportunist was in her mid-30's and already had three divorces and no children behind her. But, she tried her best to come off as this sweet, cute, petite, little Mid-western girl. I could tell she did not like to be alone and my husband was intended as her next victim. I could also tell that in the past she got whomever she wanted, but I was not going to let that happen.
She had assumed I was a dumpy housewife—that is until she met me. I stepped in and showed her that I was playing for keeps. She ultimately set her sights on a single veterinarian, got engaged quickly, got married, and moved back to the Midwestern state they both came from. (I always say she crawled back into the hole from whence she came… good riddance.)
During that time though, I was a mess on the inside because there was a time when I was not sure if she would give up. (That was a definite clue that she was a Ms. Sociopath.) All of the pain from my ex and my ex's deep betrayal flooded back to me. All of the fear that someone I loved could be taken from me again flooded me. All of the painful issues with self-esteem due to infidelity flooded back. It felt like I was whisked back into a state of extreme trauma without my consent and for a little while I existed in an extreme state of fear and anxiety.
The reason that everything that I felt with my ex flooded back was because I was afraid my worst fear could come true again. I was afraid that she might have whatever mysterious power the first other woman had to destroy my life and take everything from me. But, I knew I would go down fighting and refused to give up. I also started journaling to relieve stress and to get my feelings straight. I ended up writing a poem that combined all of the pain from both experiences. Here is what I wrote:
He Is Not Yours
He is not yours to take,
The vows have been spoken
The papers signed.
Lives have been lived,
Children born,
And a thousand moments have passed.
He is not yours to take.
With the flip of your hair
A slip of the tongue
Late nights in cars
Clothing undone.
Still, he is not yours to have.
Even when spoken vows
are broken
With the sleight of his hand or
The knowing look in your eyes.
He is not yours to take.
You see, I have spent the quiet times,
The sad times
The empty times
And even times filled with joy.
Still, he is not yours to have.
I have been his lover,
His maid,
The mother,
His redeemer.
I have played all the roles.
And even then, he is not yours to take.
You see, our lives have been
Unraveled together.
The fates spun our story long
Before your arrival.
He is not yours to take.
The thread cannot be returned.
That which is done cannot be undone,
And still,
He is not yours to take.
While you wear the mask of lover
Wear the mask of could-be mother
Try on the role of redeemer,
He is not yours to take.
Soulmates are not already married to others.
Soulmates do not wear the rings eternal of another.
God does not destroy love
Or trust
Or families
Just because you believe you are his fated one.
And when all is said and done
The tears,
The shattering,
The broken.
He is not yours to have.
He will be mine,
We will remain us.
The shattered pieces will
Once again become one.
Because he was never
yours to take.
-Sarah P. 2013
The above poem also equally applies to all of you who have fought hard and who have won (or not). Never forget that he was never hers to take and never hers to have. Don't lose sight of that important truth. You two said the vows, you two made the commitment until death do you part, and he was never hers to have. Stand as the lioness in charge of your household and stand as the momma bear over your marriage and children. Because he was never hers to take and because he was never hers to have.
How have you been this week? What have you done to deter would-be spouse poachers? I want to hear from you!
Sources:
Macleod, Debra. Spouse Poaching: Why Married People Are Sexy Targets.
From http://www.huffingtonpost.ca/debra-macleod/spouse-poaching_b_6739588.html
2.  Elise Nersesian-Solé. Beware the Husband Hunter: Why Some Women Go For Guys Who Are Taken.
From http://glo.com/relationships/beware-the-husband-hunter-1533311.story
3.  Harris, Lynn. Partner Poaching. From http://www.match.com/magazine/article/11785/