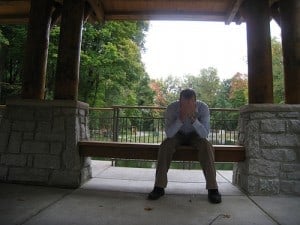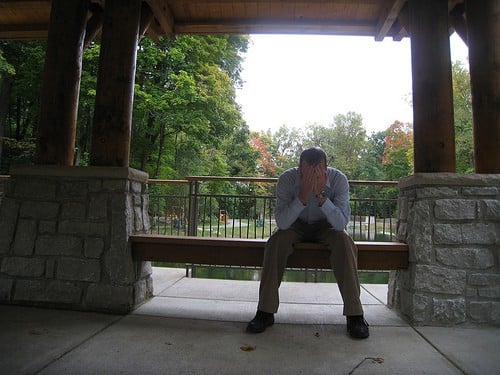 A lot of people refer to the affair discovery day as D-Day or Armageddon or something such as that to describe how your world gets turned upside down, and it's so alien from what it once was.   
During this time- and for a long time afterward – it is so common to feel completely out of control. So what are some of the things that you can do to regain some sort of control in your life after an affair?
Well, we asked that question a while ago and received some wonderful responses and we wanted to share one with you that kind of stood out.  This person was able to take control of her emotions and feelings so that they couldn't have a negative impact on her.
Here is her story of how she got control of her life after an affair…
I initially felt out of control and with my personality (structured, focused, driven etc…) the feeling of being out of control was totally unacceptable. But I had to realize that there are some things I have no control over however, my emotions and my feelings are things that I will not allow anyone else to control.
So I needed to step back and look at things differently. I had no choice in a way as my husband's emotional affair had me looking at things differently – both good and bad. But I did have the choice to decide whether I was going to allow the bad to come in. Yes, my feelings were hurt, yes I was angry and yes I could not believe that my husband would ever do something like that to me.
And as hurt as I was I had to realize that I can and will overcome this and work on improving myself and my relationship/marriage with my husband.
It was hard initially especially when all the feelings of anger, hurt and betrayal came knocking at my door but I had to focus and not allow those feelings to take control. I have seen a side of my husband that I have not seen for quite some time – the attentive, loving, thoughtful, caring and sensitive man I fell in love with. Funny, I didn't realize that I held the keys to those attributes. I brought them out in him.
Not only do I ask myself why I allowed myself ("it") to disappear but why I allowed my husband to disappear. My husband is not a perfect man this I know and I am not the perfect wife (well…maybe…all right… I'm not). I only know that both my husband and I have found each other again.
This past weekend we celebrated our 8th anniversary and spent the past three days at one of my favorite resorts on the coast and we talked, laughed and enjoyed each other immensely. My husband sent me a text this morning and told me he has never felt closer and in love with me as he does now.
He leaves the house before I wake up and leaves me love notes each morning, makes my coffee and has my morning paper on the counter. These are all things he used to do a year ago – why they stopped, but most importantly why I didn't care that they had stopped, I'll never understand. I just know I'll never let that happen again. Correction: We'll never let that happen again.
Just because I sound as if I am in La-La-Land does not mean that I take my husband's emotional affair lightly nor will my husband forget that he almost lost me. It will always be a reminder to me to not lose focus on those things that are important to me–my happiness and my husband (they go hand in hand–sure one can do without the other but I prefer to have them both). I have no doubt that my husband feels the same.
With everything we have a choice and I made a choice that I would not allow my anger or my husband's emotional affair to take my power and or control my happiness. It was not easy. What worked for me may not work for everyone else as their situation is different (EA vs PA, length of time, still involved in EA or PA etc….).
Yes, we all share the anger, hurt, betrayal and disappointment and how we decide to move forward may also differ (should we decide to move forward with or without our spouse).
In my 1st marriage the anger of my husband's physical affair consumed me. I hated the way that I felt. I did not want that to happen to me again. I no longer loved my 1st husband so walking away from an unhappy marriage was easier for me.
When my ex-spouse saw how I became an independent, strong and happy woman he wanted me back. I on the other hand had already moved on to the next chapter of my life and wanted nothing to do with him, but I still had the anger.
One day I decided to let go of the anger and I could not believe the relief my body and mind felt releasing the anger. It felt as if a load had been lifted off of my entire being. I felt much lighter as the chains of anger were no longer holding me back. That was twenty-five years ago.
In my current situation, I love my husband and I want our marriage to work. Again, Mort Fertel's e-mail entitled "How to move from ME to WE" sums up what I was feeling. I am not to blame for my husband's emotional affair but I am also not a fool to deny that our marriage had gone to the wayside.
The anger I felt towards the EA was worse than my 1st husband's infidelity and I could only surmise that it is because I love my husband. But I had to let go of the anger – it was taking over and I didn't like it.
My trip that I took to get away helped me/us. We talked and we listened to each other. I had questions about the OW/EA which my husband answered over a series of conversations. Also important to letting go is destroying all evidence of the EA (e-mails etc..) which I did.
I noticed that every time I went back to re-read their e-mails the anger swelled up again. It was not doing me any good holding on to the e-mails so I deleted everything.
My husband deleted all contact information off of his phone and e-mail account (yes I checked and if he missed anything I went in and deleted it myself). He canceled two trips he had booked in September that would have taken him back to his home state (OW lives there). One was a high school reunion and another was a football game of his Alma mater.
Now what really set everything in motion was reconnecting with my husband on an intimate level. Yes..sex..I know…I know…I initially felt why should I give him the pleasure but I needed it too. It's hard to describe how it made me feel but I felt alive and sexy!!! My self-esteem shot through the roof!!!
I put away the comfortable full coverage undergarments that I had become accustomed to wearing and invested in more (much more) appealing undergarments. My husband had always found me physically attractive but for some reason I (and what woman doesn't) didn't see myself the same way. No more!!!!
The great sex we have been having helped bring us closer. I'm doing things that I hadn't done since we dated and you know what–I'm enjoying myself…and yes my husband is enjoying it as well.
I'm driving him crazy again…and I love it!!!!
I know great sex/lovemaking will not erase the fact that the emotional affair happened but it has made me/us aware of what we needed to do in moving forward and not dwell on the past ( I don't want to go back to that dark hole). Our relationship is our number one priority–family, work etc..take second/third place.
I started my counseling this past week (it went well) and my husband starts his this week. I'm hoping that in a couple of weeks we can start going together.
This blog and the e-mails I get have helped me focus on what is important– "we." Your blog and the contribution from others have helped me tremendously as it has helped me view each day as a new day for "we."
So, what do you think of her story?  Were you able (or do you think you can try) to regain more control of your own life after an affair in similar fashion? 
None of what she says is very easy.  It's darn tough to be able to control how bad things affect us. 
To help bring this stuff more in focus, marriage and family therapist, Jeff Murrah offers the following 5 ways to help regain control of your life after an affair:
1.  Try to make a conscience change in your thinking to go from assuming that the affair is a crisis to looking at it like it's a problem. There's something about the way that we think when we're in crisis.  We feel like we are out of control, we can't deal with it and we're helpless. Yet when we start looking at problems as if they are problems, our mind starts to find solutions to these problems.
2. Focus on what you need to do. Many times what happens — with that sense of being out of control — is that people have lost their sense of focus. They're either looking too far into the future or they're looking into the past and they're not taking care of what they need to do right now.
3. Let go of unrealistic expectations. Many times we still have this magical thinking that we want somebody or something to come along, wave a magic wand and we'll be back in love again like Prince Charming or Sleeping Beauty. This Disney movie mindset is something that gets in the way when it comes to regaining control.
4. It's important to find a good support group.  A good support group is not the people that keep you out of pain. Good support is going to be the people that are going to be by your side going through the pain. They are the people that are willing to tell you the truth.
5.  It's going to be important to focus on overcoming separateness rather than reducing the pain. After the affair there's distance in the relationship between a husband and a wife. It's going to be important to look at what's going to decrease that separateness as opposed to what's going to get you out of that pain.
We would be curious to hear ways in which you have been successful at regaining control of your life after an affair.  Feel free to leave your comments below.
Click this link to download a PDF copy of the email, "How to Move from ME to WE"  from relationship expert Mort Fertel that she refers to above.