If you're an ex-cheating spouse whose goal is to reconcile & help your spouse heal, commit to no more lies & to a life of honesty.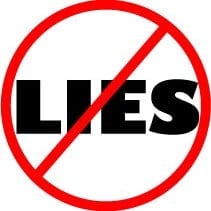 By Doug
I think it's safe to say that we all hear of, or come into contact with liars on a daily basis.  Just watch the evening news sometime.  Politicians are lying, Criminals are lying.  Corporate executives are lying.  Super Bowl quarterbacks are lying.  The list is endless.
I'll admit that I used lie all the time.  I used to be afraid of confrontation so I would justify small, 'harmless' lies to avoid that.   I lied in every facet of my life at some point; work, family life, social. 
But I don't do that anymore. I'd rather live truthfully even if it ruffles some feathers. I can respect myself more that way and knowing that I'm living my life more authentically just feels better than lying about things.
It started at a young age
When I was a child, our family would sit down for dinner promptly at 5:30 most every evening.  Since I had the habit of losing track of time or being out of earshot from my parents, I was given a watch so that I would know precisely when it was time to come home.
In those days, especially during the summer, I was rarely in the house.  I was always outside playing something with friends and I could be just about anywhere in our neighborhood. I hated to come inside for any reason, especially just to eat dinner.  After all, if would take precious time away from playing baseball or from our fort that we had in the woods.
One day I came up with this great idea that would allow me to stay out longer.  I'd simply set the time back on my watch an hour or so.  There's no way I'd get in trouble since I was going by what my watch said.  Brilliant!
Well, needless to say, that didn't work too well.  My parents saw right through that little deception and I was grounded for the rest of the week. 
That is pretty much my earliest recollection of an instance of when I lied as a child.  I was about 8-years old then, but I'm fairly certain that I must have told some fibs earlier than that though, and continued to lie on occasion throughout much of my life…
"I didn't take the last cookie."
"No Mom, there wasn't any beer at the party!"
"Yes sir, my grade point average in college was 3.5."
"Yes that dress looks great on you.  We're late. Let's go!"
"She's just a client"
How often and why do you lie?
In her research, Bella DePaulo, Ph.D. found that people lie in one in five of their daily interactions. Pamela Meyer, author of Liespotting, claims that we're lied to from 10-200 times a day.
In my opinion, there are only two primary reasons people lie (or deceive in some way):  to get something they want or to protect themselves in some way.  It's something we've all done since we were small children.
Infidelity and dishonesty go hand in hand
We all know that affairs are fraught with lies.  There are the maddening denials in the face of damning evidence, the lies by omission, the trickle truths, the exaggerations of facts and the straight up lie-to-your-face stories.
The other day I was talking with a woman who is a little more than a year out from her D-day.  Things were certainly rough for her early on but were steadily improving.  Her husband was finally starting to "get it" and she wasn't dwelling on the affair quite like she used to.  They were definitely moving in the right direction.
Then it happened.  She caught her husband in a lie and she was suddenly catapulted back in time to a very dark place.  The woman knew the affair was over and there was no contact but the lie he told her blew up virtually every ounce of trust that had been rebuilt over these past months.
She was wondering aloud if she could live with a man who she couldn't trust to tell the truth.
Lying of any kind destroys trust
And I hear stories like this on a regular basis, and in many cases the lie that was told had nothing to do with the affair or the relationship.  But the fact that the CS was dishonest makes their spouse's mind race and can often create all sorts of dire scenarios.  It makes them wonder if the CS was ever telling the truth.
The importance of honesty while attempting to reconcile cannot be overemphasized. Honesty gives the best chance at real recovery, while lying of any kind can delay or prevent recovery and reconciliation. As the saying goes, "The truth shall set you free."
And I'm not even going to get into the whole trickle truth stuff where the CS dishes out bits and pieces of truth over time, other than to say that anything that comes out well into the process of recovery sets the entire process back to square one.
If it's something that was sworn as the truth early in recovery that is later revealed as less than fully truthful, it can undo ALL the work that has been done to that point, and even prevent the process from continuing.
We've heard from many a betrayed spouse echo the point that the affair itself was incredibly painful, yet it can be forgiven.  But it is the lying and the purposeful deceit that makes it so difficult to swallow.
Believe me, I get it. 
You may be trying to "protect" your spouse and you don't want to hurt them anymore than you already have.  But ask yourself if your lying is really about protecting your spouse or saving your own rear-end?
Also ask yourself, would you rather continue to live a life full of so many lies you can't even keep them straight? Or would you prefer an authentic life, one that can be taken at face value. Honest and clean? Which one is easier?
So if you're an ex-cheating spouse whose goal is to reconcile while helping your spouse heal, stop the lying and commit to a life of honesty in all that you say and do.
It will be difficult to admit to all the truths and will be hurtful to your spouse and even you.  And in the end after the truth is told, you can then both decide where to go from there. Maybe telling the truth will get you what you want.
When you're a cheater, lying becomes a habit. That doesn't mean that you can't break the habit. As you practice being truthful in everything, honesty can become your new way.
Some quotes on lying
To wrap this up, I thought I'd include some quotes on lying that may hit home for some of you. (I have no idea who these quotes are attributed to)
"You can't constantly lie and expect people to trust you."
"A single lie discovered is enough to create contagious doubt over every other truth expressed."
"He who permits himself to tell a lie once, finds it easier to do it a second time."
"Never lie to the person you love. It's not worth it and they don't deserve it."
"What I don't understand is how a person can tell you so many lies and never feel bad about it."
"The worst part about being lied to is knowing that to that person, you weren't worth the truth."
I would rather be known in life as an honest sinner, than a lying hypocrite."
"Lying is done with words and also with silence."
"Self deception is the most damaging form of dishonesty."
"The truth may hurt for a little while but a lie hurts forever."
Feel free to add your own quotes on lying in the comment section below and also consider these questions…
Whether you are the cheater of the betrayed, how has lying affected your situation since the affair?
What have you done to try and eliminate lying from your life?