It's time to come out of  the affair closet.  We all have to take into consideration that after finding out that our spouses have betrayed us, our story has changed.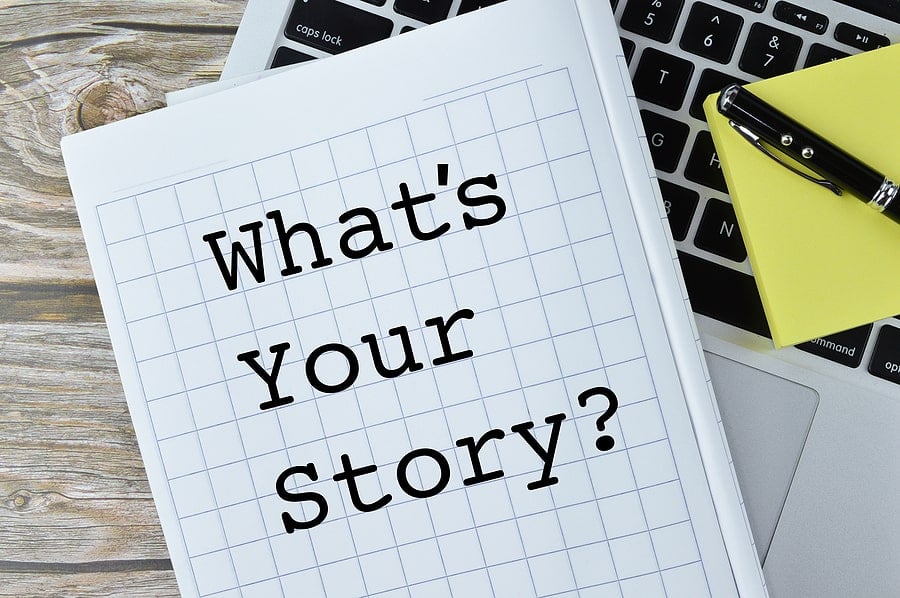 By Linda & Doug
A while back, one of our Affair Recovery Movement members, Peggy, wrote a fabulous post in the Motivation and Inspiration forum, in part suggesting betrayed spouses must come out of the "affair closet" and rewrite their personal story to where they are the heroine or hero – instead of the victim.
We felt we had to share this with everyone else, so we got her permission to do so – which she was more than happy to do. Please read on…
---
Personal Stories – Coming Out of the Affair Closet
By "Peggy"
I listened to Ash Beckham today on Ted Talks.  She is a lesbian.  A human being and a wise one at that.  She talked about being in a closet and that all of us have been in a closet at one time or another in our lives.  Everyone has had to have a hard conversation and there will always be those that will judge you. There are always those that will not be able to accept you, but it is imperative to be authentic.
In January of 2011 my husband came out of his closet and told me he had been in an emotional affair for 4 years and it had been his intention to move it into a physical affair, but she left him for another man. 
What happen in that instant gave me my closet.  Now we both had a closet and the closets were completely separate.  After his initial unveiling of his affair he went back into his closet and crouched in his and hid.  I walked out of mine and was opened to what had just happened to me.  But to my surprise I found that everyone I told my hard story to wanted me to go back inside my closet and crouch there quietly unheard.  They were very uncomfortable with my openness.
I initially was given sympathy, but not understanding.  My  parents were sad, but were not able to be supportive.  My sister was angry, but not patient.  My adult children were sorry, but not willing to allow me to grieve or speak past the initial coming out of my closet.  They all were very comfortable in their own closets and I seemed to them a threat in some way to the orderly appearance of their closets.
Ash said that every hard conversation is just that, HARD.  Hard is hard.  No one's hard conversation is harder than anyone else's  hard conversation.  Whether it's telling your parents that you are gay or telling your spouse that you cheated on him or her.
In the beginning of this journey I didn't have a clear view of what I wanted or needed.  I couldn't get help from people close to me so I began my research.  I needed to know everything about relationships. In the last 3+ years I have compiled and read over 200 books, listened to hundreds of audios and read so many blogs, all on how to handle, recover, and understand why we cause and receive suffering .  What I learned was that both myself and my husband needed to find a space in which we could become a WE and work together to repair the extreme damage to our marriage. We needed to learn each other's needs and desires and work at accommodating them with love and affection for each other.  We needed clear and concise communication with each other. 
I was hopeful and brought all this information to him so that he could join me in this new stage of our life and together work at finding the love we had again for each other.  But what happened was that I learned that he and I had experienced completely different marriages with each other.  His was filled with secrets, deceptions and lies to himself and me.  He had convinced himself that he was not happy in this marriage.  I, on the other hand, experienced the most wonderful, free and honest relationship of my life.  Two completely different stories living in the same space and interacting with each other in harmony for 10 years. 
We each have our own stories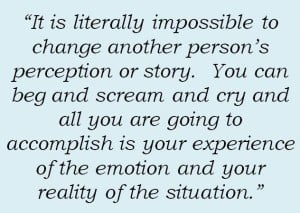 Don Miguel Ruiz, Jr. talks about our personal stories in his book, "The Five Levels of Attachment."  We each have our own stories and we assume that this story is the same for our parents, siblings, and friends, but it isn't.  Each person is the star of their own story.  In our parents, siblings and friend's  stories we are either major or minor characters that play a supporting role.  In our story we are the Star.  All the other significant people in our lives are reduced as we in theirs to supporting roles. 
I had a very good example of this brought to me by my sister at age 30.  We were both pregnant at the time so emotions were high.  We were playing cards with our husbands at the time and she got angry over not winning.  She told me in her anger that I had ruined her childhood.  She resented the fact that I was always hanging around with her and her friends.  Until then I thought we had both shared the same story.  In my story she was my best friend.  I loved being near her and doing everything with her.  I was crushed and devastated to learn that she held such passionate animosity towards me.  It affected our relationship from that day forward.  I was forced to see my childhood in a completely different light.   Not unlike what I had to do when told of my husband's affair.
This earlier experience with my sister opened me up to listening to other's stories about themselves and the role I played in their stories.   But it did not prepare me for my husband's.  Ironically, we had talked at length about our families and their stories of who we were, but he didn't make the connection until much later, after his affair, when he revealed who I was as a supporting character in his story of our life together.
My husband has not been a willing participant in the repairing of our marriage.  He has used many excuses such as depression, being in denial, too busy with work, etc.  He chose to wait until I got over it and remained in his affair closet.  So I went back inside.  I suffered my pain and screamed at my situation and mourned my illusion and slowly but surely died a little more each day.  I found myself further in and lower down in my closet.
I don't like closets.  As a matter of fact I'm very uncomfortable in all small spaces.  It gives me a feeling of being trapped and confined.  I much prefer opened and airy places where I can grow and feel my freedom.  I have decided to stay out and be who I am whether it works for other's stories or not.
What I've learned to be true is this… 
It is literally impossible to change another person's perception or story.  You can beg and scream and cry and all you are going to accomplish is your experience of the emotion and your reality of the situation.  And nowhere in that experience are you going to alter anything more than perhaps your own perception of what it is.  What has to be accomplished is your ability to accept another's story to be their truth until they understand that their story needs to be changed or altered in some way in order to move closer to you, if that's their intention.
We all have to take into consideration that after finding out that our spouses have betrayed us, our story has changed.  Whatever our spouse remembers now that they loved about us is just that, a memory.  It's not the person they are looking at today.  The hair may be the same.  The body may seem similar, but none of us are that same person who trusted and love our spouse prior to their affair. 
Our spouse has changed, too.  Whether he comes to know that his story was a distortion in order to fabricate a reasonable excuse for his need of his affair or not, he has changed.  He has changed in his mind and story and he has changed in our mind and story as well.  Nothing is stationary in this life. 
My illusion wasn't any less or more an illusion than his was.  An illusion because I wasn't given a complete script with all the characters written into my story.  I have been the victim in my story for 3 years and I don't wear that role well.  I plan on rewriting my story.  He may be uncomfortable with my openness now because of his fear that I will affect his supporting role in other people's stories.  Not my problem.  My only problem is creating and keeping it real in my own story. 
I won't deny that I would be more than happy to join him in this experience of change and renewal, but if he needs to stay in his affair closet I have no control or ability to make him get out other than, figuratively or literally, burning the house down. 
When you are in the affair closet it's very hard to get out and risk the other side of that closed door.  Once you do you find that the world has continued to move forward and didn't miss you at all.  Our insignificance is what makes us so grand.
Rewrite your story.  Change the main character into the heroine or hero instead of the victim.  Redesign your set to create a more fluid movement to your stage.  Change your wardrobe to better show off your new and exciting image.  Change up your supporting actors if it will help to enhance your character.  Add more lighting to better illuminate you.  Speak with clarity for all to hear.  Be the best leading man or woman in your own story.  In the end your story is all that will be left for you to rejoice in or regret.
---
Much appreciation to Peggy for posting this and we'd love to hear your comments below about what she wrote. 
*This article was originally posted on 2/28/2014 and updated on 3/22/2022