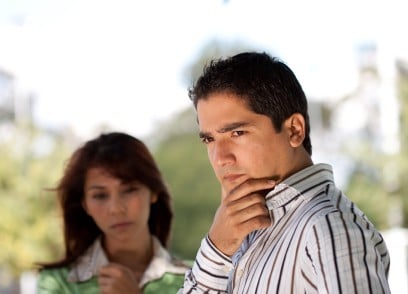 Over the last week or so Linda has been feeling really down and again has been having those feelings where she feels 'stuck' which has become an obstacle in her healing and affair recovery.
Well, the other day, she had a bit of a breakthrough where it appears that perhaps she may have pinpointed the reason that she feels stuck.
That reason relates to the rewriting of the history of our marriage while I was involved in my emotional affair.  In doing so, I said some things that were really not true or accurate with respect to my unhappiness in our marriage up to that point. It was all bullshit and was just a means for me to rationalize what I was doing at the time. What I said deeply hurt Linda and made her feel as though much of our marriage was a lie.
True, we were going through some rough periods at the time but it certainly was no reason for me to discuss our marital history or problems with somebody else.  This rewriting of the history of our marriage had a deep effect on Linda to the point where she feels as though she has been inadequate as a wife, and that if she would have been a better wife, then my emotional affair would never have happened.
In the many months since the affair has ended and I emerged from my stupidity, I've been able to understand and realize that all these things that I said before were nothing short of complete crap. I was rationalizing my actions and the reasons for the affair and it was completely wrong and unfair to Linda for me to do that.  The problem was with me – not her.
Now, in the wake of all of that, Linda has these feelings of inadequacy and questions our entire marriage.  She questions if we did truly love each other.  Did we really have something special and worth fighting for? She has asked me if I feel as if she pressured me into marrying her and having kids.   She wonders if I've been unhappy ever since we got married – or at the very least – since having kids.   She feels like she doesn't know who she is anymore. She feels like perhaps she can't love me as she thinks she needs to love me.
The other day as we were getting up in the morning, the first words out of her mouth were "You know you have to fix this don't you?"  At first I didn't know what she meant, but after a brief discussion she communicated her breakthrough to me.
The History of Our Marriage is What Holds Us Together
She told me that when she found out about my emotional affair the main reason why she stayed and worked on our marriage was because of our past, and the way she perceived our relationship to be.  My rewriting of history  took all of that away from her. 
If our past wasn't worth fighting for why would she want to endure all of this pain from the betrayal to have a future with me?  She commented that she could have our present relationship with anyone and that it's the past that bonds us together and makes it special.
By knowing the root of her feelings, I can now approach things in a variety of ways. Now my purpose has shifted to where I want to help her to remember and to realize that our marriage was not a lie and to basically take back everything I allowed her to believe. I need to reinforce that she was (is) a great wife and mother, that we've had a lot of fun together over the years and that we've had a very good life together.
Sure we've had some troubles and misfortunes over 32 years together but 99% of those 32 years have been wonderful. We have great memories together prior to having children.  We have great memories together since we've had children.  And we will have great memories together once our kids leave the nest and we start a new life chapter.
It's truly unfortunate that I and other cheaters change the history of our marriage altogether in order to justify what we're doing.  Though we don't think about it at the time, we are creating lifelong pain and emotional scars for our spouses. And I know that deep down we all realize that this rewriting of the history that we were doing is nothing but fiction.
Sure, in many cases both partners have contributed to the deficiencies within their marriage, but that is no reason to have an affair and it's certainly no reason to condemn the marriage in it's entirety in order to justify having an affair with another person. I was stupid.  I was selfish.  I was totally wrong in rewriting the history of our marriage in the way that I did.
My job is clear at this point in time. I'm going to do whatever I can to jog Linda's memory and to help her to remember that our life has been a good one, our marriage has been a good one and our future together will be a great one.
She made the comment that she really doesn't want a new marriage, she just wants the good aspects of our old marriage back. I guess if you think about it, she's absolutely right.