So, should you confess your marital affair to your spouse? Here are arguments for – and against.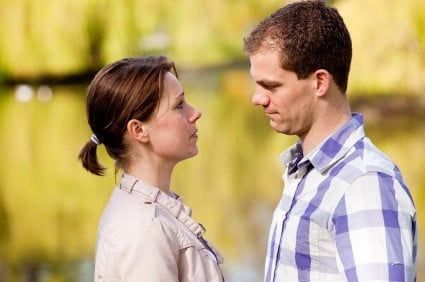 By Doug
There has been a lot of discussion lately about whether a cheating spouse should confess their marital affair to his/her partner.  There are basically two schools of thought on this—Yes or No.  And to be honest, there are valid arguments that exist for both schools of thought. 
We're not going to come right out and tell anyone that they should, or shouldn't tell because every situation and relationship is different.  The decision to tell is one's own, but it is important to evaluate yourself and your relationship and make a decision that you feel is right.
Do Confess Your Marital Affair

Susan Berger, MFT from the San Francisco area says that "If you are having a secret affair and still trying to carry on your primary relationship as though nothing has changed, you are under an illusion, which is; what you are observing about your primary relationship is unaffected by your secret."  In other words, you may think that you can carry on a marital affair without it affecting your marriage, but you are sadly mistaken.
I can speak from experience on this.  I tried to keep things a secret from Linda.  In my mind I justified this because I didn't want to hurt Linda, and I didn't want my marriage to end and lose my family to boot. 
As the relationship went on with Tanya, my actions towards Linda and my family were affected in a major way.  I became more distant and aloof and didn't treat them with the respect that they deserved.  I was in my own little selfish egotistical world.  Linda felt unloved and unappreciated.
Berger, expands upon this very phenomenon when she says that (by not confessing) "… you are altering your experience of your partner. No matter how much you may deny this, the very act of deception leads to their devaluation. That is because you now know this partner as someone who is being duped.  As such, the power dynamic changes, you are in control and your respect for your partner begins to erode."
There are also a myriad of ethical and moral considerations that point towards confession.  There is the whole living with the guilt and the feeling that at some point the truth would eventually come out anyways. Then what?   Are these things that you would be prepared to live with?
I wonder as I'm writing this if things would have been any different at all if I would have confessed before Linda found out on her own.  I believe that indeed they would have been.  I think that though still painful, the situation would have been easier to work out.  There would have been less lies, deception, arguments, and raw emotions and more honest evaluation of our relationship and how to make our marriage better and stronger.
Don't Confess Your Affair
There is a somewhat prominent author, whose name escapes me at the moment, who feels that in no way shape or form, should a cheating spouse tell their partner of a marital affair—except in the instance where not knowing may have an adverse effect on the health, safety and well being of their spouse and/or family.
I suppose that this would entail issues like STDs, gun toting jealous husbands, and "Fatal Attraction" type women.
The main argument against confessing is basically that telling will only make YOU feel better, and your spouse feel worse.  It's the old "ignorance is bliss" mentality.  I can't say that this has no merit, as I once subscribed to this theory completely.
The other argument is that confessing could backfire on you, and though you may have expected forgiveness and the opportunity to work out your marital difficulties, the result could actually be that your spouse kicks your ass out of the house.
There are no "do overs" in love. Once Pandora's Box is open there is no closing it and putting all the dirty secrets back inside. The relationship has changed forever. It will never be the same and will never go back to the way it was before you confessed. Your spouse may never trust you again. Even if there is a "forgive," there will never be a "forget." Your spouse will always have doubts about you in the back of his/her mind.
Whether or not a person ever confesses a marital affair to their partner, there's at least one person they should get real with – themself. Figuring out how and why they ended up in the predicament – or predicaments, if cheating is a recurring theme – would serve well towards creating a life with more integrity and fulfillment.