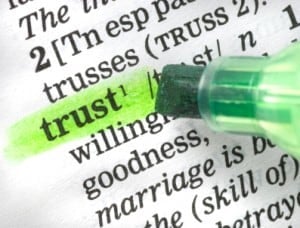 The following is an excerpt from our book "Journey to Trust", which was taken in part from one of our Affair Recovery Group sessions on rebuilding trust after an affair with Marriage and Family Therapist Jeff Murrah.
By Linda
So You Feel That You Will Never Be Able to Trust Again…
I've communicated with a ton of people over the years via email, mentoring and blog comments, and it is not unusual for some of these people to have gone three, four, five years after an affair and they still have not come to a point where they feel they can trust their spouse.  And many feel that they don't think that they can ever trust their spouse again.
What can they possibly do to get over that hurdle after so much time has passed?
When those situations happen, a lot of times it seems the couple has made the decision to continue the relationship and just maintain the peace rather than get honest.
For a lot of couples out there, maintaining peace in the home is a higher priority than honesty. I can understand that a lot of people don't like conflict in the home, but if you're going to have real intimacy that you can count on, you're going to have to have the honesty.  It's got to be a priority.
Many times when you compromise and you go ahead and you have this unspoken agreement, "Let's not bring anything up, let's just put it behind us," it just sits there and smolders. Nothing is ever really settled.
You have to face it…
Eventually you're going to have to come back and face it, whether it's the issues that triggered the affair or your fears that an affair could happen again or the uncertainty of just having some loose ends that were never tied up.
But it goes even further. In many of the cases where people have told us that they will never trust again, we hear such things as, "My spouse is doing all the right things." "We've reconnected." "We get along better than we have ever gotten along before." "She/he's trying as hard as she/he can." And yet they still say, "But I just don't think I can ever trust him/her again."
Many times, part of what is happening is that the couple is just going through the motions and part of it is that they still have a barrier up and they're still programming themselves to hide behind it. They have not let their wall down.
Often they are too afraid to tear down the wall. It's more of a defense mechanism. "If I start trusting completely, then I won't see the signs, I won't let him take advantage of me again." If they tell themselves, "I will never trust her again." They feel that they are always watching, just in case.
This is understandable, but if you fall into this category then you're literally faced with a choice.  You can either keep your spouse at arm's length and play it safe, or you let them in and run the risk of being hurt.
You can do one or the other; you can't do both
When you try to do both, all you do is put up a barrier that you never feel close with your spouse again – just because you want to play it safe.  That is a dangerous thing.
It's one thing if there is a reason to be afraid (unsafe) – guns, choking, abuse, etc. – that's a whole different ball game. But assuming it's just a matter of emotional safety, then you have got to decide, "What's more important, for me to feel safe or for us to have love?"
Yes, when you love someone you are taking a risk and letting them come back into your heart.  Much like inviting somebody into your home. Yeah, they may put their feet on the furniture, but that's one of the risks that you take. The thing is, when they are there in the house, you have somebody to share things with.
The betrayed spouse should make a choice.  That's as simple as it gets.
It's not a pleasant thing for a lot of people, but those kinds of choices do have to be made.
For me this was a difficult concept to overcome
I felt that I was very naive before and I think that's just my personality. It was my nature to trust most people. I wondered if that was a good trait to have.
After the affair, I thought that maybe I shouldn't be so trusting or believe that everyone has good intentions. I basically put a wall up so I wouldn't get hurt again, not just by Doug, but anyone else who tried to take advantage of my good nature and naivety.
To trust someone again is a huge step and the fear of being hurt again is a big obstacle. But sometimes you just need to go through it and decide to do it. You can't hold back. You're either going to jump in with both feet, or you're going to live your life always afraid.
I think it was very hard for me because of the trauma that I endured.  However, I came to the point where I said, "I'm going to do this. I'm going to trust myself again and I'm going to trust Doug."
It's understandable to want the promise that an affair is not going to happen again. I don't think anyone can give you a 100% for sure promise it won't happen.  But you can put everything in place to prevent it from happening again.
Affairs happen to some of the best families. Regardless of your religious beliefs, your amount of money, the position you have in society, coming from a good family – it can happen. Nothing is a sure thing.