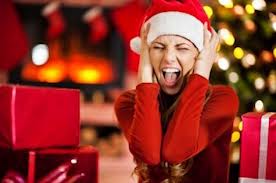 A messed up story of a Christmas made complicated as a result of infidelity. (Somewhat tongue in cheek)

There once was a man who had been married for over 25 years to the same woman.  For most of that time they lived a wonderful life with their three beautiful kids. 
The years went by and the kids grew up and left for college and careers, while the man and woman immersed themselves in their work and in their own hobbies and interests. 
Eventually, the man got a huge promotion and was required to move to another city.  Thinking that this would be a short term assignment in his climb up the corporate ladder, they decided that he would live in the new city alone and commute home on the weekends.
Well, this worked for a while but as the months went on, instead of returning each weekend, it soon became every other weekend and eventually he only returned once a month, if that.
While in the new city, the man worked long hours and traveled quite often.  When not traveling, he had a favorite restaurant that he liked to frequent as he was not a good cook and he was often too tired from work to cook for himself. 
One night, while sitting at the bar in the restaurant, he struck up a conversation with an attractive younger female.  They laughed and flirted and generally had a nice discussion.  He enjoyed himself very much.
Well, long story short, they wound up having an affair.  After several months his wife found out so he made the decision that what he was doing was very wrong.  He broke off the affair and returned home to try to reconcile with his wife and work on his marriage.
They really didn't put 100% effort or commitment into it and not surprisingly, they were not successful.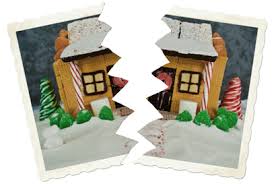 They soon filed for divorce which caused the family much sadness and heartbreak.  The woman was in a tremendous amount of pain and anguish while the kids were mad as hell at their Dad.  He understood and felt that as time went on they would get over it.
While they waited for the divorce to be finalized the man resumed his relationship with his affair partner.  Eventually, his wife and kids found out which caused even more pain, anguish and anger.  The man felt that it was his life and he was going to live it the way he wanted to, so he tuned his family out which caused the rift between them to widen.
Once the divorce was final in the summer of 2012, the man and his "girlfriend" left on a vacation to a tropical island.  Without telling anyone, they got married on a beach at the resort where they were staying.  When his family found out, the kids were enraged even more, while his ex-wife slid into deep depression.
Fast forward to December 2013.  For the last several months the newlyweds have lived in their own little bubble.  They have lost a lot of friends and have distanced themselves from a lot of people who were close to them throughout their lives.   The man only talks with his kids on occasion and it seems as though his ex-wife is now just a distant memory.
One day, the ex-wife calls her ex-mother-in-law (who she is still close to) and informs her that she and her kids will all be coming to visit for Christmas.  This was great news to the ex-mother-in-law as it had been quite a while since the whole family was together for Christmas and she hadn't seen her grandchildren for many months.
For some reason though, when she mentioned this to her son, he was less than thrilled.  It seems that even though he had been married to his new wife for well over a year, his kids still had not met her and there had really been no attempts at doing so.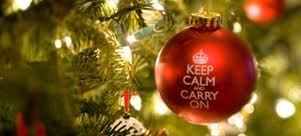 Things all of a sudden got very complicated.  You see, for years the man's sister hosted the annual Christmas family get-together.  Due to the divorce however, the previous year's celebration did not include his kids as they did not want to be in the same house as their Father's new wife.
Now what was the man going to do?  He wanted to see his kids and he wanted everyone to be together for Christmas, but there was no way he was going to have them meet his new wife for the first time at the annual family gathering.  In fact, his sister and her husband would not allow it. 
So the man agreed that it would not be fair for everyone involved for that to happen so he told his sister that if his kids were going to come to her house for Christmas that he and his new wife would not attend and would instead visit on Christmas Eve, or perhaps even the day after Christmas.  
Being the organized planner that she was, his sister wanted to know exactly who was coming and when.  So she got on the phone and contacted her mother (who speaks to her grandchildren on a regular basis) as she thought she might know their plans.  "When were they coming?  Where are they staying? Are they coming to my house on Christmas?" she asked.  "Uh…I have no idea." her Mother replied.  She didn't even know when everyone was going to be arriving in town, much less what they were doing.
She wasn't alone. The man (in an effort to get some brownie points) was arranging and paying for his kids' flights, but for some reason hadn't told anyone yet of the itinerary.  Curious indeed. 
As Christmas got closer there was still not much information being offered by the man – except for one little tidbit…
It turns out that the kids were now going to meet his new wife a day or so before Christmas and then they all were going to be attending the annual Christmas gathering together (except for the ex-wife of course).  In fact, the man was insisting that his kids stay with him and his new wife the entire 3-4 days that they were going to be in town. 
Oh joyful all ye angels!  A solution to his dilemma!
Now, his kids can meet his new trophy wife and discover on their own just how wonderful she really is.  Certainly they will love her instantly and want nothing more than to spend ten hours with her on that blessed day, getting to know her better and generally basking in her greatness.
But wait!  Could there potentially be a lump of coal in the proverbial stocking?  Could it be possible that the kids might NOT like her all that much?  If not, then Christmas day will surely turn into ten hours of hell for all who were in attendance.  It will certainly turn out to be the most stressful Christmas ever.
Needless to say, the man's sister and her husband are less than optimistic that the introductory meeting will go so smoothly.  In fact, they are predicting that it will fail miserably and that the new wife will be so traumatized by the wrath of his kids that she will back out of coming to the Christmas gathering altogether. 
What on earth will the rest of the family do if that were to happen?!! 
Why, spend a nice, quiet, drama-free, tension-free Christmas together with parents, grandparents, nieces and nephews – that's what.
The End (Or is it?)
---
(Note:  I realize this post may not make any sense to the readers who are fairly new to our site.  For a bit of background you might want to read this post.)
LINESPACE