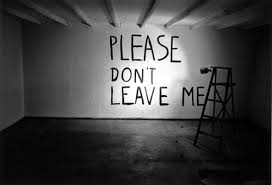 Therapist Mark E. Smith, LCSW has a somewhat unique take on what is required for rebuilding your marriage after an affair.  At least it's a unique perspective for me since I was completely unfamiliar with it until just recently.
Smith's theory all stems from this whole notion of abandonment.  I have to admit, that up until a week or so ago my assumptions about it were very simplistic.  Not until I read a few articles and listened to some audio on the subject did I gain a greater understanding.
So first of all, what exactly is abandonment?
The basic premise of abandonment is that many people have at some point been abandoned in some way, shape or form – usually in their childhood.  These feelings of abandonment then are carried forward into adulthood, and based on many experts views, responsible for seemingly every aspect of our lives.
Smith says that you do not have to remember the abandonment, think it is important or give any credence to it at all for it to continue to dominate your life.
Smith says…
"Since I was never really connected to my father I never dreamed that his distancing and unavailability would affect me so strongly as an adult. Children are extremely needy little creatures but when those needs aren't met during childhood then the core of the adult, years later is basically an irrational infantile abandoned little kid. Obviously that will cause serious problems in an adult relationship. You cannot run from your wounded childhood, my friends. The more that you try to bury your wounds the more you attract significant others who treat you in very much the same way that your parents did."
A person who has abandonment issues will have an oversensitivity and overreaction to loved ones when they back up or seem to back up for whatever reason.
Some examples of abandonment
Psychotherapist Susan Anderson, an abandonment expert and author of The Journey from Abandonment to Healing: Turn the End of a relationship into the Beginning of a New Life,  says that abandonment is…
A feeling
A feeling of isolation within a relationship
An intense feeling of devastation when a relationship ends
An aloneness-not-by-choice
An experience from childhood
A baby left on the doorstep
A woman left by her husband of twenty years for another woman
A man being left by his finance for someone 'more successful'
A child left by his mother
A friend feeling deserted by a friend
A father leaving his marriage, moving out of the house, away from his children
A child whose pet dies
A little girl grieving over the death of her mother
A little boy wanting his mommy to come pick him up from nursery school
A child about to be 'replaced' by the birth of another sibling
A child needing his parents but they are emotionally unavailable
A boy realizing he is gay and anticipating the reaction of his parents and friends
A teenage boy with his heart twanging, but afraid to approach his love
A teenage girl feeling her heart is actually broken
A woman who has raised a family now grown, feeling empty, as if she has been deserted, as if the purpose of her life has abandoned her
A child stricken with a serious illness or injury watching his friends play while he must remain confined to braces, wheel chair, or bed
A woman who has lost her job and with it her professional identity, financial security, and status. Now she is left feeling worthless, not knowing how to occupy her time – – feeling abandoned by her life's mission
A man who has been 'put out to pasture' by his company, as if obsolete
People grieving the death of a loved one report feelings of abandonment
The dying fear being abandoned by their loved ones as much or more as they fear pain and death
Suicide is an excruciating form of abandonment
Abandonment is all of this and more. Its wound is at the heart of the variety of human experiences, and is found in the uniqueness of each person's life.
This made me think…
While writing this, I started to think about this whole abandonment thing and if it had any effect on my own life.  Certainly I have been rejected a time or two by girls in my younger days.  I've lost a job – more than one actually.  I've had a pet die. My father was always around and he was a very honest, hard working, good man and a good father, he and I are different people and were never really that close in the true sense of the word.
So I guess I've been abandoned. 
Haven't we all in some way?
If having an emotional affair is any measure as to the degree of abandonment, then I guess I've been abandoned more than I realized. 
I assume that the degree to which we have all been abandoned has a direct  correlation to the issues we have as adults. If that were the case, a person whose parents left them at the orphanage steps should have more abandonment issues as an adult than someone whose pet hamster was eaten by their cat.
Or perhaps the accumulation of  multiple yet smaller instances of abandonment have some sort of a compounding effect on us over time and cause similar issues that a single, large instance would.
What does abandonment look like?
Smith says that when someone suffers from abandonment issues they can manifest themselves at some point in ways such as these:
The husband whose neediness makes his wife want to throw up
The lawyer who clings on to her clients
The wife who weeps uncontrollably all throughout a therapy session due to her husband's distancing
The girlfriend who has a complete meltdown due to her boyfriend hanging out with his buddies for an evening
The parent who can't let go of their adult children
The husband who freaks out when his wife so much as jokes with another man 
The wife who verbally abuses her stepchildren because she is profoundly jealous of having to share her husband with them
The spouse who shuts down and can't talk unless their mate gives them their 100% undivided attention.
The victim-like and pouty husband who silently sulks around for days because his wife wasn't in the mood for sex when his neediness demanded it
The reactive wife who completely ruins a family get together because her husband was 10 minutes late
The boss who cannot fire an employee who should be fired due to his neurotic inability to let go
The depressed and raging husband who simply cannot forgive his wife for her affair after years of dialogue even though his lack of relationship with her was a major contributing factor in her behavior.
He says that…
"The main problem with abandonment is that when it comes up inside you, it is very much like becoming instantaneously drunk – impaired, reactive, defensive, out of control, non-objective, stubborn and absolutely impossible to speak rationally to. Abandonment issues cloud and distort reality. What you see seems so real, but it is actually a projection from within your own deeply wounded and abandoned soul."
What I found really interesting is that a person with abandonment issues will only be attracted to someone who basically has the very worst (disguised) qualities of the person who abandoned them.
It then becomes a self-fulfilling prophecy…
"At your core you are utterly and completely terrified that your spouse will abandon you, then they eventually do, in some way shape or form because it is their nature to do so; then you spend the rest of the relationship unintentionally but quite obnoxiously chasing them away due to your insecurities. It is a vicious cycle that can easily continue to replay itself until it completely destroys the relationship."
Abandonment and rebuilding your marriage after and affair
In the video below, Smith details his thoughts on rebuilding your marriage after an affair based on the theory that the affair was in some way a result of one or both partner's abandonment issues.
Some of the points he addresses:
1. There are absolutely NO victims in marriages, even if your spouse cheats on you! Affairs do not occur in highly emotionally and sexually intimate marriages. They do occur with startling regularity in marriages that are distant, emotionally cutoff and lacking in intimacy and commitment.
2. Playing the victim role will destroy whatever chance you had left of saving your marriage. Victim-like reactions have caused more divorces than affairs ever caused. You need to own your 50% part of the marriage.
3. It is natural to try to grovel and to cling to the betraying spouse, but it is the exactly the wrong thing to do. The knowledge that your spouse has been with somebody else brings up powerful feelings of abandonment. However, clinging, pursuing and prematurely forgiving are all wrong moves.
4. Therapy is an absolute must.  I'm not surprised to hear him say this since he is a therapist, but it's hard to argue with the notion that you have to fix the underlying problems that caused the affair to begin with. The affair isn't the problem; it is a symptom of a bigger problem.
Resource mentioned in the video: "Love Must Be Tough" by Dr. James Dobson.
Mark Smith's and the Family Tree Counseling website:   Family Tree Counseling
Here's the video…
In closing, Mr. Smith says that recovery from abandonment issues should include intensive work in group therapy that focuses on childhood abandonment memories, the ability to learn to hear your significant other even while "under the influence" of abandonment, and the developing of the ability to observe situations much more objectively rather than having a knee jerk reaction to the misperceptions and distorted realities caused by abandonment wounds.
In essence, a person will have to learn to see the world as it is without the tainted cover of insecurity, jealousy and childhood abandonment.