POST UPDATE:  
So it finally happened.  After more than 6 years, I ran into the OW.  Well sort of. 
Just about every day at some point, me and my faithful dog head out for about a 3-mile hike on some trails at a county park near our home.  It's been hot as hell around here lately so for the past couple of weeks we've been going early in the morning as opposed to our normal time of around 12:30 or so.
Well the other day it was a bit overcast and the temperature was a bit more tolerable, so we set out for our hike just after lunch.  We jumped on one of our favorite loops that is a combination of a couple of different trails and has a stream for our dog to swim in and a nice hill or two to climb.
The trail takes us through mostly woods but about half way through the loop there is a break into a picnic and playground area which we have to walk through as it connects to another trail. As my dog and I rambled through the opening, I spotted a man and a woman sitting at a picnic table under a shelter eating their lunch. 
At this point we're still about 75 yards away so I really couldn't make out much more than that, but as we moved closer (they were now directly to our left) to within about 75 feet, I could clearly recognize the woman to be Tanya. 
Suddenly I felt as though someone just punched me in the gut.  It was like the feeling you get when you narrowly miss getting in a car accident.
Oh yeah…I almost forgot to mention that I was able to tell that the man she was with was NOT her husband.
As we moved past them, they paid no attention to me, but I could see that they were laughing and appeared to be having a grand time
We quickly trotted by and escaped back into the woods and onto the trail where we could not be seen.  Whew!
Now at this point, I was thinking that it looked as though Tanya had managed to get herself involved with another man – not surprisingly, I might add.  Then a very small part of me started to think that maybe I should go back and crash their little party just to see the look on her face.  I ignored that thought and we just continued on our hike feeling relieved that I escaped undetected.
Later that night I told Linda of our little experience and at first there was a look of, shall we say, concern on her face.  One thing she has always feared is the day when I run into Tanya somewhere.  But as the discussion continued, that look of concern became more like a look of disgust, and a look that would say…"See, I told you!"
The fact Tanya was with another man, and assuming this was another affair, only served to cement Linda's opinion that Tanya was/is a serial cheater and manipulator – along with some other choice descriptive terms. (In case you didn't know, Tanya had previous EA a few years prior to me.)
Naturally, Linda started tossing some questions out at me…
How'd she look?  Do you know the man she was with? Did seeing her make any feelings come back? Why didn't you stop and talk to her? Did you feel jealous?
I responded by saying that the truth of the matter is that I wasn't close enough to tell how she looked and I didn't recognize the man she was with.  Certainly no feelings came back and there is no desire to have any further contact in any fashion.  I didn't stop to talk because I don't want to see her, much less talk to her, and I could really care less what she does or doesn't do – so there is no reason to be jealous.  I have no desire to have anything to do with the worst mistake of my life!
After a while Linda's blood pressure returned to normal and we talked a little about how Tanya would appear to have a bit of serial cheating blood running through her veins – and probably always will.
I'm also hiking early in the morning from now on.
Note:  We thought this little experience would naturally fit with this original post from about 7 months ago.  Feel free to add any comments and/or thoughts.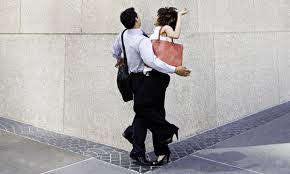 What to Do if You Run Into Your Affair Partner
Many of our readers have communicated that they struggle with how to react should they accidently run into the other person.
It's not just the betrayed spouse who struggles with this issue, but the ex-unfaithful spouse does so as well. For this post, I'm going to address the scenario where the ex-cheater accidently runs into their ex-affair partner.
First of all, full disclosure here… I've had zero contact since the affair ended so I'm not speaking from experience. However, Linda and I have discussed this potential situation and will address this topic based on that discussion and my own opinions.
So with that said, for any of you who have had this situation actually play out (whether you are the cheater or your spouse was), we welcome you to share your experiences, lessons and advice in the comment section below the post.
Let's be clear that we're talking about an accidental scenario here. This is not meant to address a rendezvous or an otherwise premeditated or purposeful encounter. I'm addressing the chance, unavoidable meeting in public at the grocery store, at a party, at your kid's soccer game, etc.
I am also addressing this to the ex-cheater who is committed to reconciliation and rebuilding the marriage that he/she almost destroyed. If you're an ex-cheater and you're hoping to run into your affair partner, this post is not for you.
Prior to a chance meeting…
First of all I think it's important for you to understand that this potential scenario is an event that your BS is more than likely dreading. They realize the importance of no contact and fear that any contact – no matter how little or how accidental – may propel you back into the arms of your affair partner. And in a lot of cases I don't doubt that this happens.
If you have not had any chance meetings with your ex-affair partner since the affair, I feel that it is vitally important that you have a discussion with your partner to address how you should handle this situation.
Most BS will probably want you to either ignore the AP or tell him/her something to the effect that he/she was the worst mistake ever, that you hope you never see them again, that you love your spouse more than anything, and oh yea… why don't you go to hell!
In fact, here are Linda's words on this from almost 3 years ago:
I am sure that I am not alone in my thinking, I wish if he did run into her, he would tell her that being with her was the biggest mistake he ever made in his life. He had completely lost his mind, and he loves his wife and his life with me is everything he ever wanted. Their time together was a lie and the experience of seeing her makes him sick to his stomach because of all the hurt their fantasy relationship caused himself and his family.
Will I say that? Perhaps. But we have also agreed that if I'm at the store and someone taps me on the shoulder and I turn around and it was the OW, I could say something more in the realm of "Hello. I really don't have anything to say to you. Good bye." And then scurry off.
Of course, we agree that my primary strategy is to avoid the running into her to begin with, but that might not be possible unless I see her first. As long as I do then it's…avoid detection and exit the building!
Will these responses be appropriate for all of you and in every situation? Absolutely not. But they work for us. The point is that you need to discuss it and then come to an agreement as to what to say and how to react. You may need to practice it as well.
Have that discussion right away. Don't put it off!
During the chance meeting…
This part is easy. Do and say what you and your spouse agreed that you would do and say!
I say it's easy, but I realize that many of you may be shitting bricks when and if it happens and you may start babbling like an idiot. Others may not have any reservations, nerves or thoughts and the whole event is basically a walk in the park.
The point is, stick to the plan and what you rehearsed and get the hell away.
Disclose the meeting immediately…
Almost as important as handling the chance meeting in the fashion that you agreed to, is doing the right thing immediately after it happens. And that would be to tell your wife or husband that you ran into the OP.
Tell him/her what happened, where it happened, how it happened, what you said, what the AP said and perhaps more importantly, how you feel about the meeting. Did it upset you? Did it make you anxious? Did it bring back any feelings or thoughts of your affair? Etc. Be honest and disclose completely. Answer any questions your spouse might have with patience and empathy.
In the coming days and weeks you are also going to want to be understanding of the emotions of your spouse. He or she is going to be anxious and fearful that old feelings may have been triggered and that the affair will start up again. This whole event may even trigger your spouse back to a dark time that seems as bad as another D-day. Know this, anticipate it and be patient with it.
Since you are an ex-unfaithful person and you are working your ass off to help your spouse recover and heal, then you will know to continue your life of transparency in a way that invokes honesty and trust worthiness.
You should hold your spouse tight and tell him/her that you love them and reassure them that the chance meeting meant nothing to you other than to confirm the fact that the affair was the dumbest thing you ever did, and the OP was the worst thing to ever cross your path.
Once again, if any of you have had this situation actually play out (whether you are the cheater or your spouse was), please share your experiences, lessons and advice in the comment section below.