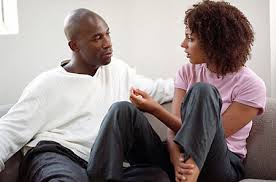 In our recent book, Healing from an Affair – A cheater's guide to helping your spouse heal from your affair, we establish 27 tasks that a cheater must be willing to do in order to heal.  One of the top tasks was to talk about the affair, your feelings and your relationship issues.  Unfortunately, most cheaters hate (and may refuse) to do it.
Of course, when you're talking there should always be honesty.  However, sometimes it's not always the best thing to be 100% completely honest if it hurts or in some way further traumatizes your partner.
Most marriage counselors are fairly strict in their insistence that each partner in a marriage be completely honest with each other at all times. But common sense and basic decency often make this a very difficult proposition.
For instance, if I'm out with Linda celebrating our anniversary or whatever, and I notice a beautiful woman, it would be pretty stupid for me to casually mention to Linda how stunning the woman was. 
By sharing this truth with her in this situation I would have left her with a very bad feeling about herself, about me and about the evening in general. Such honesty would do nothing to improve our situation or our evening, but I'm sure I would have learned a fairly decent lesson about marriage – it's not a good idea to share every thought or every observation that enters my mind.
Dr. Scott Haltzman in his new book The Secrets of Surviving Infidelity, says that for any one situation there are many truths and when it comes to having an honest discussion about your affair, you have to choose which truth you share with him or her. 
That doesn't mean that you should lie.  Rather, you must be thoughtful about the impact of your statements.
4 Principles for Truthful Communication After Your Affair
If you are the one who committed infidelity, Dr. Haltzman says there are some principles that you need to keep in mind when you try to talk truthfully with your partner about the affair, your feelings and your marriage.
Take a good self inventory.
Consider your spouse's feelings before you talk.
Don't couch things in criticism, overt or hidden, of your mate.
Don't use a confession as a means for you to feel better if it means hurting your spouse.
Take a good self inventory. Before you can talk with your spouse about what caused the affair and how you felt about it before, during and after, you must stand up to the mirror and do a considerable amount of self-exploration. Haltzman says that when you try to answer the questions about why you do things you do, you must distinguish between reason and rationalization. You must figure out your reasons and not your rationalizations for why you had the affair.
Some of the reasons for infidelity that were mentioned but Dr. Haltzman were sexual enjoyment, curiosity, excitement, intellectual sharing, understanding, companionship, ego-bolstering, career advancement and getting even with your spouse.
Obviously there are more than just these but as you look at this short list deducing the clues about what may have contributed to your infidelity, are there additional reasons that don't appear on this list? In some cases it may just not be possible to make sense out of why you did what you did. But don't pass the affair off as just a one-time mistake. If necessary, find professional help through a therapist or counselor who can help you figure out what propelled you in the direction of an affair.
Consider your spouse's feelings before you talk.  Your partner didn't ask you to have this affair and now that he or she is asking for serious discussions about it, you should consider how he or she best receives information before you decide how to address things.
It's good to know your partner's communication style and this involves not only understanding what she or he says but also what goes unspoken. Reading your partner involves long periods of observation occasional questioning and even testing out your various hypotheses. You may have to check that what you're doing is along the right path and say things like "Am I reading you right when you raise your voice after I said that, that you are angry?"
When you have a discussion with your partner consider how he or she would like to be addressed and what kinds of words work best.  If he or she doesn't respond the way you expect then maybe it has to do with your presentation and not necessarily your partner's attitude.
Don't couch things in the criticism, overt or hidden, of your mate.  If you try to make sense of your transgressions during the time you're having an affair, it's easy to point the finger of blame in the direction of your partner. While your spouse may bear some responsibility in the deterioration of your marriage, that really isn't the issue.
Everyone's relationship could use a little work over time and all partners could and should work harder to forge stronger bonds with their spouses. That is no reason to have an affair. When someone whose life is turned upside down is told that he or she is responsible for the affair, that's just not right.
"Even if you feel your relationship problems contributed to your unhappiness (and in many cases they have), you should still be very clear that the decision to have an affair was yours to make. You cannot blame your partner. When it comes to discussing your feelings and thoughts with your mate the word "I" should be front and center, and the word "You" barely spoken."
Don't make yourself feel better if it means hurting your spouse.  Affairs are pretty terrible things and if you had an affair you probably feel remorse for what you've done. Talking about the affair will give you an opportunity to discuss its emotional impact on you: the confusion, the ambivalence, the shame and, perhaps your passion to make amends.
Sometimes baring your soul may feel like redemption for you, but it may be torture for your partner. Be considerate of how your words are affecting your mate. If early on in the process of disclosure, you pour your heart out looking for sympathy or forgiveness, your partner may start feeling pretty annoyed. In the context of the pain that he or she is experiencing, the idea that your torment must be given full attention just doesn't seem fair.
You may feel tormented. You've done a bad thing. But restrain yourself from trying to draw the attention away from your mate's experience. Instead pace your own disclosure of emotional pain so it doesn't exceed your partners.
Note:  We purchased and read The Secrets of Surviving Infidelity and feel that it is a good book – especially for those who may have recently discovered infidelity.  After reading so many books over the years we can't really say that this book contains anything Earth-shattering, but Dr. Haltzman is certainly pro-marriage and provides a practical guide for surviving infidelity and healing your relationship.