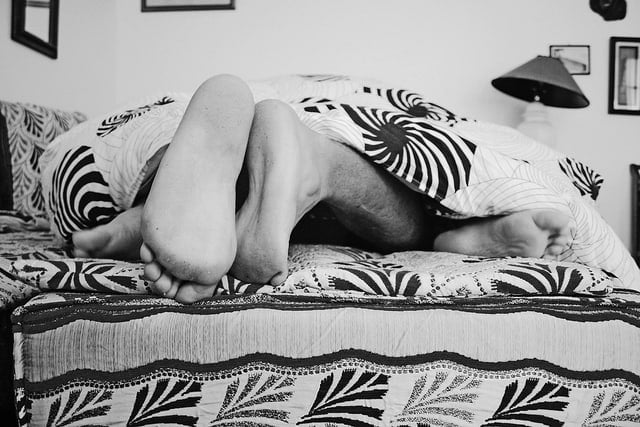 This article will take an unflinching look at why extramarital sex is so harmful.
By Sarah P.
My articles generally favor reconciliation and center around reconciliation topics. This article is different because the topic I will address has nothing to do with reconciliation or divorce.
This is not a happy article, but it is an essential article. This article will take an unflinching look at why extramarital sex is so harmful. Even though the scope of this article centers around extramarital sex, it is an article about sex itself and the implications of having sex (or not having sex) whether a person is in a monogamous relationship or not.
I hope that anyone who reads this article realizes that every sexual partner matters and that even if the "other person" goes away, the other person will leave a lasting biological mark on both you and your partner.
This is a very alarming article and I would not recommend it to those who get triggered by thinking about affair sex. If you get triggered by affair sex, skip this article. I have warned you. I do not want to hurt anyone by this very serious material and its implications.
Still this topic is too hard to ignore.
For those of you still here, I hope that all of you will make your wayward spouses read this article. I hope you will make your sexually-active adult children (or teens) read this article. Anyone who has been sexually active, is sexually active, or intends to be sexually active in the future should read this article.
I also wanted to state that the purpose of this article is NOT to shame anyone based on personal choices. It is also not the intent of the article to sway betrayed spouses in one way or another. It is to educate betrayed spouses and wayward spouses; it is my hope that wayward spouses will understand the implications of extramarital sex. This article in not about religion or morality, it is about very real biological consequences that are a fact of life even if they are inconvenient to anyone's world view.
Sexuality is truly a paradox because the act can cause profound harm to another or a profound state of bliss, closeness, and bonding. Sex leads to the creation of our beautiful and adored children. On the other hand, sexuality used to harm another, such as in the case of rape, only gives birth to trauma.
Affair sex is the deepest blow that a marriage or monogamous couple can experience. Even if from the perspective of a wayward spouse, the other person was "no big deal," from the perspective of the betrayed spouse, the other person can be the "deal breaker."
Even if the other person was no more than a "blip on the radar" to a wayward spouse, the other person has the ability to invalidate an entire marriage in the mind and heart of the betrayed spouse. It leaves a betrayed spouse shattered and feeling as if he or she wasted the best years of his or her life living a lie. What a terrible revelation for anyone to face.
Why is sex so important?
After all, sex is just two people rubbing their bodies together for several minutes. What's the big deal?
If the betrayed spouse does not find out, there is no harm done. In fact, as long as the betrayed spouse does not find out, no harm has been done at all. Right?
In fact, if a spouse cheats and uses condoms all the time and the betrayed spouse never finds out, poof, it is like extramartial sex did not happen at all. Right?
That was the old narrative and many wayward spouses and even some psychologists still believe it. 
What I have come to find is that a betrayed spouse is affected by sex outside of marriage, even if condoms were used and even if they do not find out. This article will destroy the notion that ignorance is bliss.
This post is an exploration of how sex affects our betrayed spouse even if he or she does not find out. It is an exploration of how sex affects us and has effected us from a biological perspective.
Why?
One of the main reasons is that pesky human papilloma virus. This virus does not care if you have used condoms during intercourse or used a dental dam during oral sex. It is still passed along to your betrayed spouse (if you are sexually active with your betrayed spouse and the other person). In women, certain strains of HPV have the ability to cause vaginal cancer, cervical cancer, cancer of the tongue, mouth, and throat. In men, certain strains of HPV can cause anal, penile, mouth, throat or tongue cancer. How fun is that?
Here is the kicker: some of the fastest growing and most cancerous forms of HPV may not announce themselves as a physical genital wart. So, people can coast along through life having many partners, using condoms with each, and as long as no warts show up, they assume themselves to be in the clear.
Once again, HPV does not care about condoms. It infects skin areas both in and around the genitals. Condoms do not provide the coverage needed to protect the condom user or the partner from HPV.
So, let's imagine that a husband goes on frequent business trips and "hooks-up" but always uses condoms. He has a burner phone in order to arrange his hook ups. He has fake names and fake email accounts. Unless the wife pays money to send a private detective after her husband on an entire business trip, she will not catch him. The husband feels very proud of himself because he is able to have sex with many women—and since he religiously uses condoms—he believes his wife will never be harmed. It seems like the perfect scenario.
What that man does not understand is that most people who are sexually active and have more than one partner will most likely carry HPV.
Imagine this: one day that man's wife goes in for a pap smear and expects it to be normal. She gets a concerned call from her gynecologist because the pap smear indicates cancer. The wife has stage two cervical cancer. Depending on which type of stage 2 cancer she has, the doctor will recommend immediate surgery with a "radical hysterectomy" and removal of lymph nodes in and around that area. Radiation and chemotherapy also might be recommended. Can you imagine how her life would be turned upside down?
The wife will be dumbfounded and asks her gynecologist how this happened. The gynecologist will ask her about her sexual partners in the past several years. The wife will report she has been monogamous to her husband for twenty years. Then the gynecologist will ask about the husband's monogamy and let the wife know that what has happened to her generally comes from fast growing HPV. The wife will claim her husband has been monogamous, but the doctor will tell her that HPV doesn't show up after 20 years of normal pap exams. Someone has been fooling around.
Imagine what will happen when this (betrayed) wife announces to her (cheating) husband that she has stage 2 cervical cancer and has been scheduled for surgery within the week.
If that wayward spouse does research, he will soon find out that all of the business trip sex he has been having actually caused his wife's cancer.
That whole theory about affair sex being harmless, as long as condoms are used, goes out the window. If the husband has an ounce of a conscience, this will bother him deeply and haunt him for the rest of his life. If his wife dies, he will be responsible for her "murder."
Even though the 'old boys club' used to say: what she does not know will not hurt her, they are completely wrong. Even if she does not know, her body will and she could actually die because of her husband's dalliances.
But gee, you might think I am picking on men again. I am not. Business travel is a common occurrence for many people in white-collar jobs and it is very common for men to travel for business. I am simply using a common scenario.
Of course, a woman could travel for business as well and hook up. If she cheats, she could easily get fast-growing cancerous HPV from her lover. She could also transmit it to her husband. Any way you slice it, there is NO SUCH THING as "safe affair sex." Unless you are willing to wear a hazmat suit during intercourse, you will get HPV.
Of course, other previously fashionable diseases are now making a comeback. A favorite of ye olden days, "The French Letter" has now been seen out and about wreaking havoc amongst the sexually active at Fashion Week. Yep, you can always count on good, old syphilis for a boatload of fun. After all, it's a classic that never truly goes out of style.
Have I made it abundantly clear that there is no such thing as "safe" affair sex?
It does not exist and the earlier you realize this and get out of denial land, the least likely you are to give your innocent partner the terrible gift of an STD. This gift cannot be returned.
Is the worst of this article over?
No.
There is more.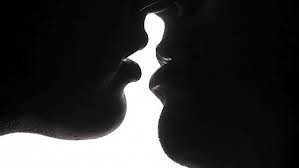 The Time I Momentarily Feared Sex
I was still a virgin when I (momentarily) began to fear sex.  In fact, it was a television public service announcement (PSA) that made me fear sex.
There was a PSA from the late 80's early 90's that has been seared into my brain. The commercial was so disturbing, that the images never left my mind.
What was so disturbing?
Had someone been beaten? No.
Had someone been killed? No.
Had someone been raped? No.
Were two people having an affair while a betrayed spouse cried? No.
Were there dead bodies? No.
Mutilations? No.
Were people sad? No.
Were people angry? No.
Was someone kicking animals? No!
Were people in the PSA happy and content? YES.
It was a beautiful commercial at first. A couple, who were very much in love, were laying naked in bed together, barely covered by tousled sheets, gazing into each other's eyes.
This couple had that "post-coital" glow and looked as if they were the only two people in the world. Indeed, the Adam and Eve for a generation.
They were separated from life's cares—in an emotional Garden of Eden their own—laying in bed and having a profound, bonding moment.
They were young, gorgeous and in love. Nothing is better than that and I am sure we can all look back fondly at being young and in love.
So, why on earth would I be so traumatized by watching two heterosexual actors looking blissful while snuggling in bed?
Does not everyone want that at one point or another, whether heterosexual or LGBTQ?
YES. WE all do—it is a universal human need.
The fact that I watched this PSA actually shaped the course of my life and caused me to be extremely conservative in terms of relationships. This PSA glued my legs shut.
So here is what was disturbing about the PSA that showed the blissful couple in bed. The camera gave you several seconds to look at the couple and take in their love. It was a real "awwwww" moment.
Then, the camera very slowly started to zoom out.
What's that I see? More people?
All of a sudden, more people appeared on each side of this couple, laying in bed next to them and spooning towards the primary couple. The camera kept panning and showing even more people in bed. By the time the PSA ended, we saw what turned out to be thousands of people laying naked in the very same bed as the primary couple, even though the primary couple was unaware that they were there.
The announcer said something to the effect of: anytime you have sex, you are having sex with all the people in your partner's past, and then you are also having sex with all the people your partner's ex had sex with, and on and on. If you follow the thread, two people who are not virgins could have in theory slept with 2 million or more people, even if they had only a couple of sexual encounters.
I was already a prude and a late bloomer. People made fun of me because I was the only one not interested in boys. Sure, boys were cute, but I was NOT interested in sex. The idea of teen pregnancy scared me to death.
So, I chose not to date.  I was also the lone teen who had so many hobbies and activities that were more important than a mere, human male. That's why the public service announcement sealed my legs closed.
Sex Degrees of Separation
I was looking online for that PSA commercial and I could not find it.  However, I found something that made the point even better than the public service announcement. Marie Claire magazine announced that a British company developed a very accurate calculator that showed how many people you have had as secondary sexual partners.
They call it Sex Degrees of Separation and it makes the very same point as that PSA I saw so long ago.
But, the calculator is better because it calculates how many people you have "actually" slept with and that brings the point home. All of a sudden it becomes personal.
All those ghosts of date-night's past have suddenly come back to haunt you. But, it is so much worse than that when you get to see how many secondary sexual partners you have. There are so many ghosts of date-night's past!
So, how do we go about choosing numbers to plug into the sexual calculator. I am taking numbers from a site that lists love and sex statistics. This site lists number of sexual partners according to country. The United States came in at 10.7 partners on average. (1)
I am going to round that figure up to 11, especially since many people provide a lower reported number of sexual partners due to shame. Let's see what the sex degrees of separation calculator says for women who have had 11 male partners: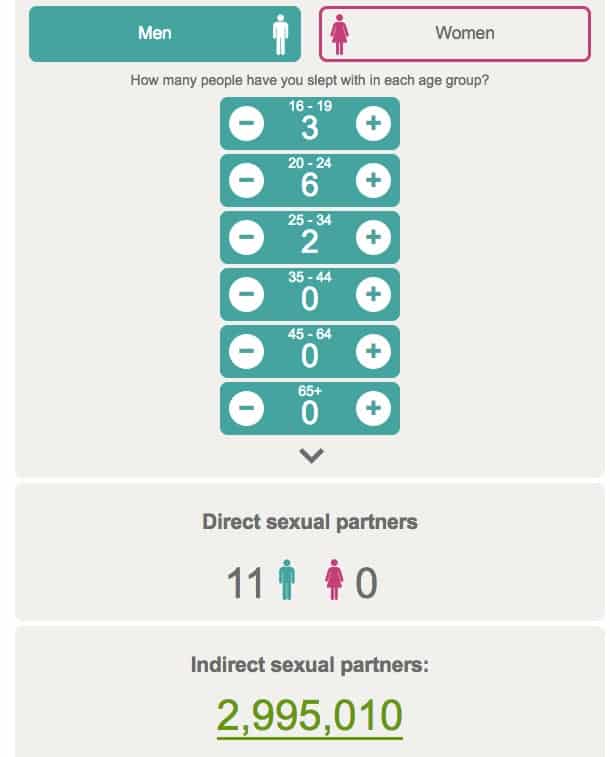 So, a woman who has had sex with 11 men has almost three million other indirect partners. I don't know how you feel about that, but I feel terribly disturbed.
Now let's look at how many indirect sexual partners men have had if they had sex with 11 women.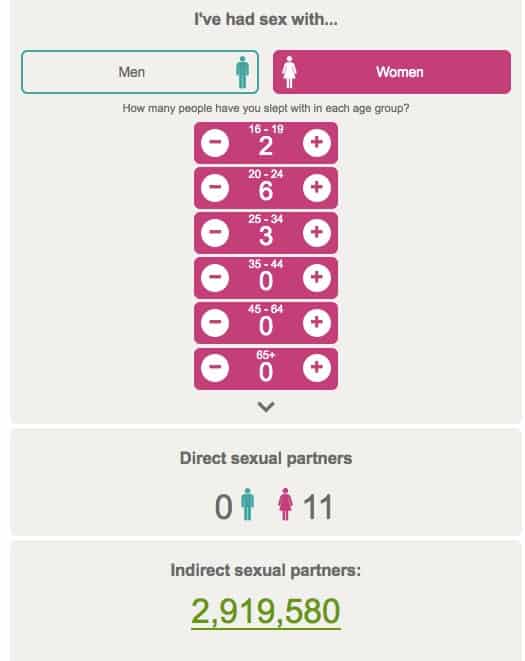 Men did not fare much better, also coming in around having three million sexual partners. Of course, this is only one data set of millions. Each person's number will be different. I am choosing one scenario for the sake of consistency.
Let that sink in. If someone had 11 sexual partners, which really is not that many, they also have almost three million indirect sexual partners. Personally, I am completely freaked out by this.
Guess what?
I have not even made my main point yet, which is much more gruesome. So, hold onto your seats. Even though the sex degrees of separation calculator is meant to calculate a single person's indirect sexual partners, I am going to extrapolate.
How fun!
Here is what I am going to do next. Let us say John had fourteen sexual partners before marrying Mary. Mary had only six sexual partners. During their marriage, John had an affair with Jodi, Jenni, and Kelli. This will definitely cause the number of John's indirect partners to skyrocket.
But, this is not about John and his number.
This is about Mary and her number. It's well-known that many men who have affairs also have sexual intercourse with their wives. Sometimes this causes men to have a lot of sexual intercourse with their wives. There are going to be times when John has sex with Jenni and then comes home and has sex with Mary before he showers. From a biological perspective, Mary has unknowingly received Jenni's sexual secretions. When that happens, it is just as if Mary has sex with Jenni directly.
The human body will not know the difference because Mary's body is coming into contact with Jenni's secretions and whatever else Jenni might have such as herpes, HPV, and so on.
Let's imagine that John also had sex with Mary before washing Kelli and Jodi's bodily secretions off. Biologically, Mary may as well have been having sex directly with these two women since her private parts have made contact with the private secretions from Jodi and Kelli.
Are you grossed out yet?
I am terribly grossed out. Trash can, please? I need to vomit.
But, let's back up a bit and first find Mary's direct and indirect numbers. Here they are: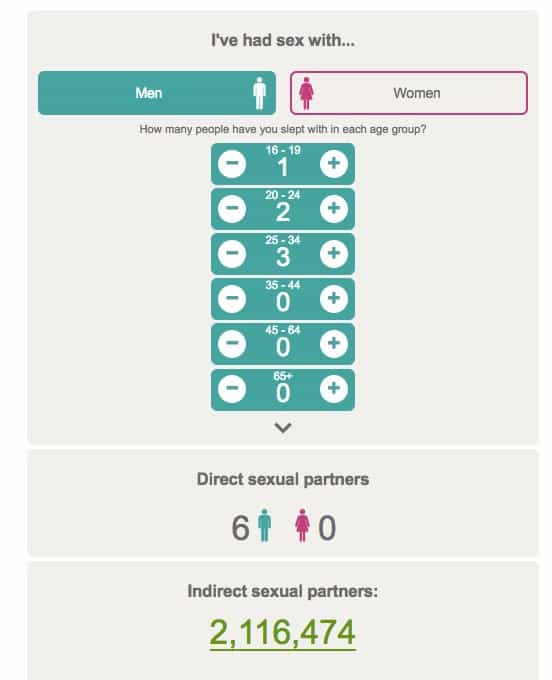 Mary slept with six men and had just over two million indirect sexual partners.
But, guess what… there is even more!
I am now going to use the sex degrees of separation calculator and add Jenni, Jodi, and Kelli as Mary's DIRECT partners since Mary shared direct bodily secretions with these women. Let's see how many indirect partners this causes Mary to have. Is this going to add another million? Two million? Well, here are the results: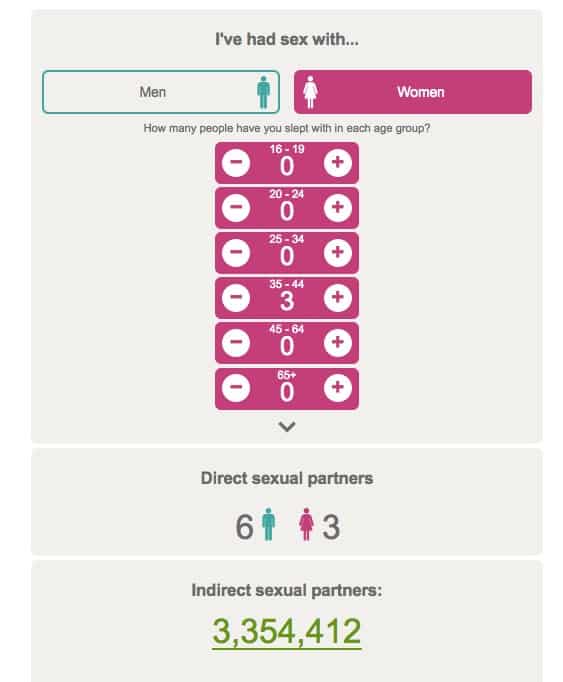 Wow, Mary has now had sex with nine people and indirect sex with almost three and a half million people.
How do you suppose that would make Mary feel if she knew the truth?
Well, I can't say how Mary would feel, but knowing what my ex did to me and knowing that he added tons of unwanted indirect sexual partners into my life just makes me angry.
But, the worst part was, even though I had been monogamous for many years, I did get one of those fast-growing forms of HPV that turned into cervical cancer.
After the doctor reviewed my sexual history and what I knew about my ex's affair, he said he could guarantee I got that terrible strain of cancer-causing HPV because of the other woman. As many of you know, I had physical procedures to remove cervical cancer that endangered my ability to have children and it is a miracle I even have them.
I have suffered tremendously due to the "sins of another."
If you want to run your own numbers for sexual partners, here is the URL. I would be interested to know in the comments if what you found surprised you. (I don't need a number—that is too personal. I am just wondering if you were surprised or not.)
Here is the URL:  https://onlinedoctor.lloydspharmacy.com/blog/sex-degrees/
Wilt Chamberlain
Well, look at that old-school, retro, blast from the past. What a guy!
If you thought I was done with the sex degrees of separation calculator, there is no such luck. Now I am going to take it further.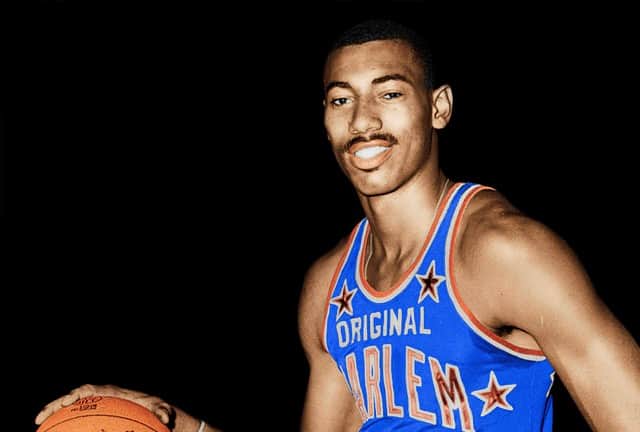 In a 1991 book tell-all book, Wilt said that he had sex with a total of 20,000 women. There was a media firestorm that ensued afterwards since we (as a country) were still reaping the terror of the AIDS crisis. Some of his friends vouched for this number as they said Wilt liked to have multiple women in the same bed at the same time. Wilt also had insomnia and I bet you can guess what his favorite hobby was when he was awake all night: knitting. Yes, his nighttime hobby was knitting.
No, that was a bad joke.
His nighttime hobby was adding more notches in his bedpost in the form of more new conquests.
Here is the Holy Grail of all sexual conquest, Wilt's indirect sexual partners according to the sex degrees of separation calculator. However, I could not input 20,000. For each person I had to manually click on my keyboard. Both of my arms were having muscle spasms by the time I reached 1,000. So, let's pretend Wilt only had 1,000 partners. Here are his numbers: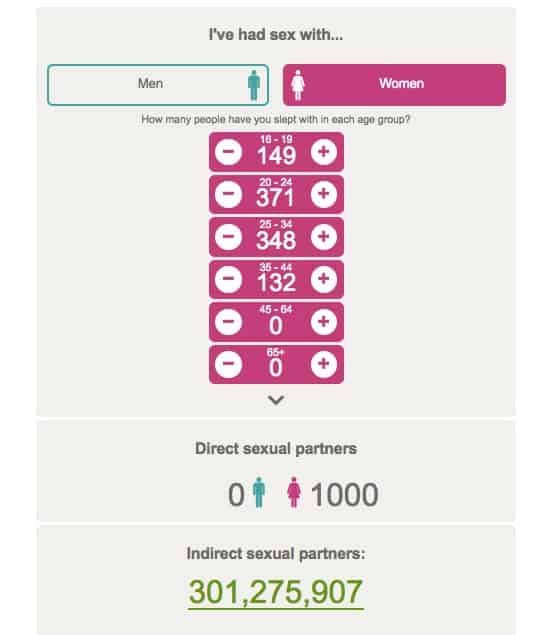 Wilt Chamberlin had around 300 million indirect sexual partners if he only had sex with 1,000 women.
Still, I went further by multiplying 300 million by 20. When you do that, you literally get the entire world population.
Congratulations! That means, all of us who are sexually active have had Wilt Chamberlin as an indirect sexual partner. Who would have thunk?
Now, I do not know how the calculator was designed or how they followed the trail of indirect partners and how they came up with the math. I would imagine it was a lot of educated guessing. Some pseudo-science was involved, but the facts of the indirect partner phenomenon is factual.
Even if their specific numbers may be bogus, the idea that we have indirect sexual partners is not bogus.
I believe the sex degrees of separation calculator is a wake-up call to show that every sexual partner carries some kind of consequence. When we are single and having sexual relationships with other single people, there is a choice involved for both people.
But, when one spouse is having sexual relationships outside of the marriage and the other spouse is both unaware and unwilling to have such an arrangement, affair sex causes real problems for the betrayed spouse.
Affair sex causes both emotional and biological issues for the betrayed spouse; issues that they did not agree to under any circumstance.
So, I do not care if condoms are involved, I do not care if it was only oral sex or sex using hands, there are repercussions. HPV will be there in all those cases. Let's also not forget about the herpes virus. Herpes of the mouth can be transmitted to the genital area via oral sex. Herpes of the genital area can be transferred to the mouth during oral sex. People can have both types of herpes on their genitals and their mouths if they are not careful. Who said cooties aren't real?
Let's get back to Wilt Chamberlain
At the end of it all, do you suppose he was happy with that revolving door of nameless and faceless women in his life? Do you suppose he was fulfilled?
Let the man speak for himself. Wilt said:
Having a thousand different ladies is pretty cool, I've learned in my life. I've (also) found out that having one woman a thousand different times is more satisfying." (2)
I could agree wholeheartedly; monogamy wins every time. Monogamy is the right thing to do and monogamy being the right thing to do has nothing to do with religious beliefs. Take religion out of the picture and monogamy is the right thing to do because the consequences on non-monogamy are terrible from both emotional and biological standpoints.
When your spouse cheats on you sexually, even if there is reconciliation, the fact is that the other person left a mark and added many indirect sexual partners the betrayed spouse did not agree to have. The other person will always be there from a biological perspective.
Now why am I saying all of these tremendously hurtful things?
Is it to hurt or shame all the betrayed spouses here? ABSOLUTELY NOT.
I am generally pro-reconciliation in my beliefs and divorcing a wayward spouse will not make all those secondary sexual partners disappear. Remember, I am in the same boat. Even though I refused to ever go back to my ex, the hard truth was that, according to the accounts of others, he was having sex with both her and me for several months. All those secondary sexual partners I gained because of her will not go away even if he is long gone. The fact that she transmitted to me a cancerous and fast-growing form of HPV will not go away. The fact that I had to have procedures to get rid of that cancer that endangered my ability to have children does not go away. He has been long gone, but what he did will always be there.
I am writing this from the bottom of my heart because I have experienced it. I am not writing this merely from an academic perspective to warn everyone out there about the dangers of affair sex.
I have experienced first hand the fall-out of affair sex and that selfish bit of affair sex my fiancé was having behind my back could have killed me because of cervical cancer. If I had not been on top of my healthcare and had regular check-ups, I could be dead.
Was the other woman worth so much that I could have died due to my fiancé's actions?
That is why I am writing this article.
It is VERY personal to me and it is literally DEAD serious to me. Yes, these thoughts remain with me years later. Because the other woman and my ex and the physical and psychological damage incurred because of those two will never go away.
Every time I go in for a female check-up (pap exam), I am on edge, literally biting my nails, until I get the letter telling me my results were "normal." No one knows quite what I went through, except for my parents and husband to get that "normal" result instead of being another statistic for cervical cancer deaths.
I have never cheated on anyone, even during the downtimes in my relationships, whether they were past boyfriends or my husband. To me cheating is truly the most disrespectful and mind-bogglingly cruel thing to do to another person—especially a person you love. (And if you do not love them? Leave them before hopping into someone else's bed.)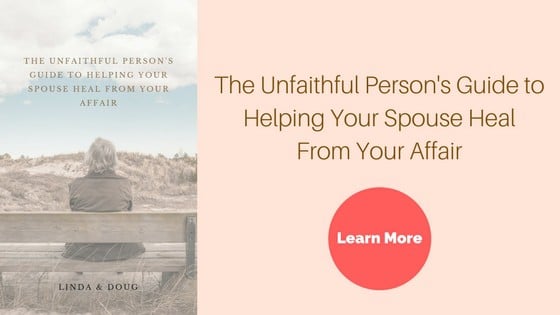 Cheating is a Choice
I am always talking about how cheating is a choice and as everyone knows, I have never cheated. I am sure there are some wayward spouses out there who might think to themselves that I say cheating is a choice because I have never been tempted. If you have never been tempted, then it is easy to sit on your high horse and say, "I would never do that."
So I will tell you a story that I have wanted to tell for years, but I have always hesitated. I think it is now time to tell it.
I had been looking for my future husband since my early twenties. I was a teacher for a couple of years when right out of my first Master's degree. I had a quiet Japanese colleague and I would spill out my woes regarding trying to find the right guy.
She was married with teens and she told me not to be so hasty. She told me that there comes a point in every married person's life where they will meet someone (aside from their spouse) and realize that person also could have been a spouse. In some cases that person will feel the same way. She said it is a very bitter-sweet experience and also difficult because you come to a fork in the road.
She told me all about such an experience that had happened to her 20 years prior and she still could not forget the guy. She was in Japan and she and her girlfriend both married Western men. As they hung out together this woman said she had feelings for her friend's husband and her friend's husband had also approached her to tell her the feelings were mutual and asked for an affair.
She said it was the struggle of her life, but she said "no" and cut contact with the couple. She never told her husband why.
But, she loved that man to whom she felt a connection even 20 years later. Since they never had an affair, I find that odd. She is probably in love with who she thought he was and how she thought her life would be, rather than the person himself. She was a very sweet lady and I really liked her.
But, she warned me there would come a time when I would find my soulmate and marry and that was good. At the same time she told me I must prepare myself for the day when someone who also seemed like a soulmate would come along. I did not believe her because I had a hard time finding even one soulmate, let alone two.
Then that day came.
Years ago, there was a two year period in my marriage where I cried myself to sleep almost every night. I had seen three marriage counselors with my husband and each time we would come a point when my husband would refuse to go back. During the counseling, I would sit there and listen to my husband complained about me and all my flaws. I wanted to know what I was doing wrong so I could change. I was fully invested in making whatever changes I needed to make to have our marriage work.
Soon, the therapist would probe and ask him about his family of origin. Each time, I would tell factual stories of the lengths his mother had gone to break us up. I also talked about the time she pushed me and said she would kill me while I held my infant son in my arms. I have so many stories like this. I could write a book about how to be a mother-in-law that alienates everyone.
I would also mention that his mom successfully turned him against his first wife and that is why their marriage ended.
Then the counselors would ask about my family of origin. No one has the perfect family, but I never experienced emotional, physical, or sexual abuse at the hands of my family. We moved a lot due to my dad's job. I had health problems due to a "mystery disease" that was not diagnosed until about 7 years ago. (That disease is acute intermittent porphyria.)
As the new kid in a rural Mid-western town, I was bullied mercilessly in high school for a two-year period.
Girls would steal things from my purse and then punch my shoulder or back.
People called me ugly and worthless.
People threatened me and said it would be funny if I killed myself.
The girls told random boys to come up behind me and grab me on certain private areas of the body. (That all counted as abuse, but not by my family.)
Finally, my dad found a program where I could start college my junior year of high school through a different high school. That is when the bullying ended. So, I talked about my past and my family or origin and did not withhold details.
After all was said and done, all of the three counselors said the same thing: that my husband must go no contact with his mom (preferably both parents) forever and then get individual counseling. Each time counselors would say that, my husband would storm out and refuse to return.
It also turned out my husband sought counseling in college and during his twenties and even those counselors said the same thing. He had to cut contact with his parents and then recover.
During that time of turmoil in my marriage, I was a consultant and had several admirers at the office. It was so obvious that the other women would say, "don't you see how so and so looks at you and acts around you?" There were three of them; two were single and one was married.
My Japanese friend's words all those years before came back to me. This was the challenge of which she spoke. I chose to ignore it.
Besides, I had many female friends. One of them I had met while working there. On the day she and I met (even though she and I had never met) there was an instant recognition and we became fast friends—as if we had known each other for thirty years. Only we had not; it is one of those things you cannot explain. I finished her thoughts, she finished mine. The way we thought, everything we had read, and even opinions on the most minute topic and nuances were the same. She has been a terrific friend, "older sister," and wise confidant ever since. We know more about each other than most people know about either of us. We have that strong bond to this very day. She gets me on a profound level and I get her on that same level. Those relationships are rare.
Still, there was the elephant in the room that I chose to ignore.  There was a male version of her at the office and he was one of the admirers.
What did I do?
Nothing.
Then one day, this "male version" of my female friend talked about the elephant in the room. He made his feelings very clear.
What did I tell admirer?
Did I spill out my heart and tell him I cried myself to sleep each night and that I was dying for a genuine connection?
No.
But, that's what a lot of people in my position would have done. One of my best friends knows the whole story and she cannot wrap her head around what I told the admirer and what I actually did about this situation.
I said, "I am married" and politely walked away.
Then I called several headhunters and had an interview with an even better company by the next day. I was hired at a new job that was actually closer to home and paid more.
Then, I started a new job.
That's all that happened. Literally.
One might ask if I led him on or if there was an emotional affair. Here are the facts: we worked together. We did not talk about our personal lives. I treated him like I treated everyone else. There were no phone calls. No texts. No hanging out in cars. No touching. No inappropriate emails.
 So why was he so bold? Surely I must have done something.
No, I had not.
He was known for having had affairs in the past. He was very flirtatious and came on strong, regardless of what a woman was doing. He had gone through counseling and boasted to the office about how he had affair-proofed his marriage. Obviously, he had not.
Many people would have been so weak under the same circumstances. They would have caved in. After they caved in, they could have truthfully told others that their marriage was in shambles, marriage counseling had failed three times, and that they met someone with whom they got along with. All of that would have been true too.
But, here is the thing, there is no justifying an affair.
I made the choice NOT to take the steps toward an affair.
I have always realized that almost all bad things first occur in thinking. Knowing this, I did not allow my thinking to start leading me down the road of justification. I did not fantasize what life would be like. I did not push boundaries to see what would happen. I simply refused to go there in my thinking. That was the primary reason.
But, there was also another reason. We were both married. I thought of what his wife must have felt like when he had strayed in the past. I pictured her balled up on the floor crying and broken just like I had been after my ex cheated.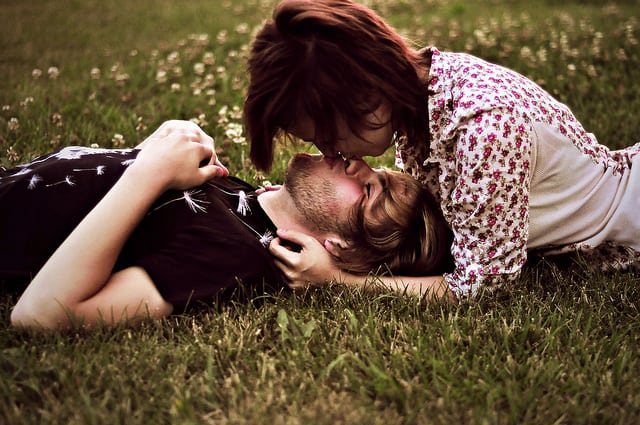 But, there were still other reasons…
Long before I married, I dated many people trying to find the right person. When I say "date," I am referring to a non-sexual relationship. I am referring to a dinner where I got to know someone, but where I realized he was not the one.
I had many rules before I accepted a date. If a guy was dating someone else, I would not date him. If a guy was on the rebound from a long term relationship and going back and forth to his ex, I would not date him. If a guy was separated, I would not date him. In fact, one guy had to show me the divorce papers before I agreed to dinner. If the guy was playing the field, I would not give him the time of day. If (in the past) a guy had dated a woman I knew, I would not date him. If a guy was in a long-distance relationship where he saw the person once a year, I would not date him.
One time I met an extremely handsome Canadian man at the gym. He said he was single, so I went on a few dinner dates. On the fourth date, he told me he had an on-and-off girlfriend in Arizona and another on-and-off girlfriend in Toronto. He was getting his PhD in psychology and explained that both of these women had been sexually abused in the past and he could not break it off with them. He said it would crush them and then in the same breath he asked me to be his girlfriend. I got up and left the restaurant.
He called the next day because he did not understand why I did not understand his point of view. I told him that since he was soon to be a practicing psychologist, he should be ashamed of himself. He still did not get it. I told him never to call again.
Recently, I looked him up and noted he currently teaches psychology at a prominent Canadian university. Here is the best part: he was once a handsome man who had women falling at his feet. Now his in an obese and bald middle-aged man.
(Note: there is nothing wrong with being bald and obese. I do not shame people for their appearances. That is wrong. My point is that this man very much relied on his physical appearance as a way to "collect" women from different states.)
He was so handsome that many women were willing to ignore that they were one of many. His "weapon," that was his appearance, has been taken from him and he can no longer collect multiple women.
He can no longer treat multiple women as mere bric-a-bracs eternally waiting along with all the other women in his collection to be "picked." He used his appearance and superficial charm to engage as many women as possible in his sick "pick me dance" and I said no.
For being a psychologist, he was very stupid. He should have been able to spot the women with high self-esteem who would have no part of his antics. Or, perhaps women with high self-esteem were a challenge. Either way, this woman did not fall for it.
It is amazing I found anyone considering all the rules I had in place. But, all I knew is that if there was another woman in the picture and a man wanted to date both of us or ease out of the relationship with the person before me, he would do the exact thing to me later. I did not want a cheater or a man who had to have different women lined-up before he could leave a relationship.
But, most of all, I DID NOT want to destroy the life of another woman. I have always deeply empathized even with women I have never met and I just could not be the cause of a woman's pain. It was too much to endure psychologically. I wish all women were like me because infidelity would not exist.
I have hesitated telling the story about the time my marriage was failing and there were admirers at the office. It is such a deeply personal story for me and more than I normally disclose.
However, I felt now was the time since I have been discussing how harmful extra-martial sex is to the betrayed spouse and to the marriage. I am known for repeating, "cheating is a choice."
I can intuit that some might think it is easy for me to say that because I have never had to face temptation during a failing marriage.
In fact, the reason I know cheating is a choice is because of what I went through. I know from personal experience, it is a choice.
It can be easily avoided.
I have been the betrayed almost-spouse with my ex.  I have been the spouse in a failing marriage with temptation knocking on the door. I chose NOT to take even the first steps that would make me a wayward spouse.
I know the conscious choices I have made and I know what it is like to be emotionally weak and still say, "no."
In a way, cheating on your spouse is the "journey of a thousand steps."
The first steps take place in the thinking. Since I chose not to take the beginning steps of the journey, I was never put in a position where things could get carried away. I chose NOT to begin that journey in the first place. I made a conscious choice and I kept making it.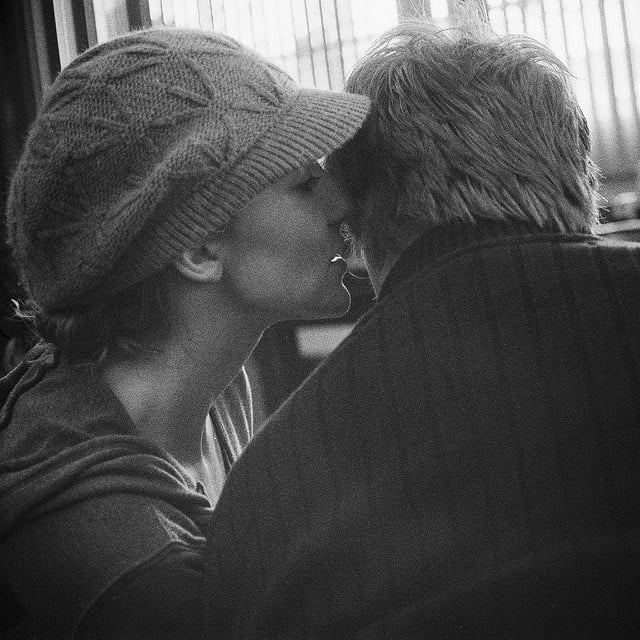 For those of you who are tempted:
Do you have a genuine connection with someone besides your spouse? That is, if you were single, is this a person you truly would have connected with on all levels in a different time and place? Could they have been someone you could have married in that different time and place?
 If so, run away, far away.
Leave the premises and get a new job.
If you cannot leave your job, do not talk to that person.
If you have to talk to that person, keep it professional.
Most of all; do not start the journey in your mind. Do not push the boundaries by beginning to fantasize about what a life or what sex might be like with that person.
Such thoughts open a small crack in the door that leads to the path of infidelity. If you open that door in your mind, casual touches may not seem so bad. After the casual touches, sexual comments toward each other can be written off as having innocent fun. Pretty soon, sexual comments turn into an emotional or physical affair. You are the frog in the pot. When you take these small steps, you have knowingly chosen to jump in the pot and let the chef turn up the heat.
I knew instinctively not to get into the warm water of the pot in the first place. That jacuzzi was off limits, my friends.
This is why I know cheating is a choice.
It is something I cannot do. I would not be able to carry it off because it is just not me. The bond of marriage is sacred and my body is sacred. My heart and my body belongs to the man who married me and promised forever, even if that man and I had hard times.
Also, in the past, the issues I discussed before in my marriage did come to a head. At one point and I took drastic measures (that did not involve immoral activities). I did the ultimate in boundary setting. After that boundary setting, which almost broke my husband in half, my husband "woke up." He had to almost lose me to wake up.
During the time he almost lost me, he almost became non-functional. Still, I gave him time away from me, time he did not want, so he could really feel like what life would be like without me and the kids.
During that time away, he had a lot of time to think. He also had a lot of contact with his parents. His mom jumped on the bandwagon and talked to many attorneys on his behalf. (Note: I had not filed for a separation or a divorce and I made it clear that was not my intention to separate or divorce.) Each day, his mom begged him to file for divorce and even said she would move in with him and live with him fulltime (instead of her own husband  – his father – who she would have left all alone 3,000 miles away.) She has a very sick view of my husband and has always tried to make him and his brother by-proxy spouses. It's really sick. She is not motherly. She perceives me as the other woman just as she perceived his first wife as the other woman.
My husband came to the painful conclusion that all the marriage therapists were right. He needed to cut contact and/or redefine the relationship with his parents. (That is, set boundaries). I came back, we had some heavy-duty conversations, and some bumps on the road, and even talk of divorce.
After much work, our relationship completely changed. That was almost 10 years ago and our relationship has never gone back to the bad place it was in. I will not allow that to happen.
So, you see, I also know all about marital problems and working through them. I am not just someone who had been betrayed by my ex-fiancé and then went on have an idyllic marriage.
I have been on the brink of my marriage being destroyed and I figured out how to make it work. I figured out how to have a stronger and more authentic marriage.
I felt I needed to say all this because I cannot stress enough that I have had experiences similar to people who read this blog. My marriage and my integrity has been tried in the fire, only to become stronger. The experience also clarified who I am: someone who will never have an affair, even when my marriage is deeply in trouble. I will fight for a good marriage and for my family to stay together.
Other Opinions
I have been reading other psychologists opinions on STD's and infidelity. There are two things that Dr. Scott Haltzman says that I wanted to discuss. The first is about STD's:
When a husband cheats, he already brings "disease" into the marriage; and whether STDs are present or not, it still takes a lot of work to get a marriage back on track. STDs reflect an even higher degree of disrespect toward the marriage and the spouse. So many factors play to into whether marriages stay together or fall apart, though. That and STD isn't a de facto death sentence to the marriage." (3)
That's basically what I believe—even if an STD is not present (at that point in time) there is still disease: diseased thinking, diseased actions, diseased morality etc. Plus, there is the idea that the other person never goes away since a wayward spouse automatically adds another direct partner to the betrayed spouse and their secondary indirect partner count without the betrayed spouses consent. 
It is not a death sentence because there are so many variables that effect a decision to get a divorce. But, it is not a recipe to thrive either. The wayward spouse has a lot to make up for in his or her behavioral choices.
Here is what Dr. Scott Haltzman says about the so-called evolutionary theory that men must spread their DNA. Westward, Ho, they say! (And find as many ho's West of the Mississippi as possible.) I do not believe in that theory, but before we get to why, here is what Dr. Scott says:
"Evolutionary biologists make a strong argument for a man to have multiple female sex partners as the best way of propagating DNA. A woman has to wait nine months between being able to produce one offspring with her genes, and at a cost to her biological well-being. A man can be involved in having hundreds of offspring in that time (if he can find that many women). But there's a biological reason for men to stay with women too. After all, if he jumps from woman to woman, when his progeny is born, he won't be able to protect it from some other man who might kill off the baby in order to eliminate the first guy's DNA from the gene pool. The bottom line here is "human nature" is not an excuse to have an affair. We have instincts to do all kinds of things, from punching out bosses, to pushing people out of lines at airports, to taking the really cool Ferrari in the neighbor's driveway out for a spin. Part of being human and living in society is the capacity to control instincts, and not have them control us." (3)
Okay, let's pretend that all men are fighting against a biological instinct to run Westward and consummate the sexual act with as many Ho's as possible. That way they can spread their DNA and make sure more copies of them are carried into the next generation. Hmmm… that is rather narcissistic, is it not?
I had planned when and under what conditions I would have children for several years. For a long time, I even thought of not having children.
Why? Because I did not find any meaning in popping out another half-version of myself in order to spread my DNA. That sounded completely vain and self-centered, especially since we live on a planet short on resources and overpopulated.
In the end, I had children because they brought incredible meaning to my life—the most meaning I could ever imagine. I suppose that is selfish as well, but in more of a philosophical way.
It has nothing to do with being a mindless, mating monkey running ragged in the rat race of time, competing against all the other mindless, mating monkeys to spread 98% monkey DNA. Please know that the last sentence is absurd and meant to make you laugh. But, it has a ring of truth to it.
Regardless, Dr. Scott and I agree again. Whatever urge it is we might have, we live in a society. In order for a society to function effectively, it is our job to suppress all of those anti-social leanings that we have as we go about our day. No punching the Starbucks barista who gets your drink wrong, M-kay?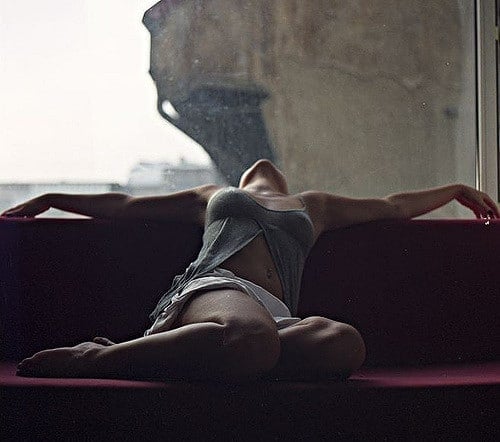 The female equivalent
Let's turn this evolutionary mindless, male, mating monkey theory on its head and see if there is a female equivalent: a furtive, funky, female fox. Does such a thing exist?
Well, there is an equally absurd theory about women and it has to do with the female orgasm. As many know, when a woman has an orgasm, she sucks sperm into her uterus. It is called the "upsuck theory." It is like a sperm elevator that ensures sperm get in there more quickly to do their job.
It is also well-known that some women fake orgasms all the time. I have observed couples where a man might announce that he really knows how to pleasure his wife in bed and is always capable of providing her with an orgasm. Meanwhile, his female partner sits next to him with her arms crossed, scowling, and rolling her eyes.
A long time ago, a woman talked about her long-term partner, Jason,* who was playing mind games. She was tired of having an on again off again relationship and so she bought a "toy." She told all the women about the fantastic and magical toy she had found. One day, I asked how she was getting along with her fickle male friend and she said, "Jason, who? Because of this toy, I could care less about men." There is the female orgasm for you.
We have established that the female orgasm more effectively deposits sperm. It turns out that the female orgasm is fickle for a reason (when there are no toys around). The female body knows how to distinguish between the high-status men who can provide for them and in turn gifts wealthy men with the illusive female orgasm. Consider this:
"They say a wealthy mate equals a more desirable mate and women demonstrate this by being more responsive in bed. Lead researcher Dr Thomas Pollet, a Newcastle University psychologist, said: "We found that women report more frequent orgasms the higher their partner's income is. "It appears consistent with the view that female orgasm has an evolved adaptive function. "It serves to discriminate between males on the basis of their quality. "If so, then it should be more frequent in females paired with high-quality males.
"More desirable mates cause women to experience more orgasms." Dr Pollet said that several factors were at play but that money was one of the main ones. "Previous research in Germany and America has looked at attributes such as body symmetry and attractiveness, finding that these are also linked with orgasm frequency. "Money, however, seems even more important," he said." (4)
Turns out the only size that matters to women is the size of a man's wallet. Perhaps this explains why female spouse poachers seek out high-status men.
But, to be quite serious, I don't like the theory that men have an uncontrollable urge to spread sperm and women only dole out orgasms if a man's wallet is large enough. It reinforces very negative stereotypes about both genders and does nothing to bring men and women closer together.
These studies create very adversarial relationships between men and women. Women think all men are philanderers and men think all women are gold-diggers. It breeds resentment and hate between the genders.
I don't believe in either theory—both are ludicrous. They imply that we humans are shallow, unthinking, biological machines programmed to do certain tasks even if such tasks are deeply injurious to marriages and society as a whole. I just do not buy any of it. People love excuses and pseudo-science loves to develop theories to explain away people who choose to be jerks.
Let's develop a theory that shows they are driven to be jerks and cannot help themselves! Poor, jerks. We must have more tolerance for them!
Each of us has a mind of our own, and each of us is responsible for our thoughts and for our behaviors. Each of us must cut the excuses and consider how every action and every decision we make affects those around us. We are on the hook for the decisions we make, whether good or bad.
In Summary
There is no such thing as harmless affair sex. What she does not know WILL hurt her. What she does not know can KILL her.
Wayward men: Is that really who you want to be? Remember your wedding day? Her eyes were so full of hope, full of trust, full of love, and she was certain you would love, honor, forsake all others, and protect her.
Do you know what it takes for a woman to gift her heart and entrust her heart to a man? It is a very difficult act because us women have hearts that are wounded so easily. You men are supposed to be our knights in shining armor. Not someone else's. We trusted that you would stay in the castle with us and that we would be your Queen forever. But, you chose to betray our trust, to stomp on our hearts, and to spit on your marriage vows. You chose to dilly-dally with chambermaids whose only job was to clean chamber pots. You chose that over your Queen?
Really?
You know your Queen deserves better. Now be that better man. Don't sweep your actions under the rug. Don't blame your Queen because you wanted to wallow in the sewer with chambermaids. You have a lot to make up for. Now do it.
Female wayward spouses: You are not off the hook either. Remember how your husband was your King on your wedding day? Is cheating on your King with a joker the right thing to do?  Is blaming your King the right thing to do? 
I don't care what happened to you as a child and created your insecurity. You made vows to your King on your wedding day. Don't feel sorry for yourself or pout when the King of the Castle asks questions. Don't make it all about you, because being all about you caused you to stray in the first place. You too have a lot to make up for. Now do it.
Betrayed spouses: Don't lose hope. It will get better with time. It will get better when you set boundaries and you enforce how you expect to be treated. If you are not treated respectfully, enforce consequences and carry them through.
Parents: Tell your children all about how sexuality can cause profound harm if it does not occur within the right context, which is a monogamous relationship. Tell your children not to waste time on people who are "players," whether they are male or female. Tell your daughters to guard their hearts and your sons to guard their wallets. If a man sees your daughter as an object for his collection, he is out. If a woman sees your son as a gravy train she can use for her own gain while giving nothing in return, she is out.
Readers: Has this article changed your view of sexuality? Did anything surprise you? Did anything make you angry?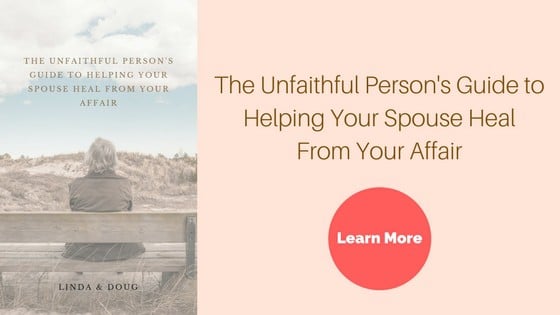 Sources:
From https://www.statista.com/statistics/248856/average-number-of-sexual-partners-in-selected-countries-worldwide/
Eddie Deezen. Did Wilt Chamberlain Really Sleep with 20,000 Women? From http://mentalfloss.com/article/12310/did-wilt-chamberlain-really-sleep-20000-women
Infidelity and How it Affects Marriage, Children, and Families.  From https://dianerehm.org/shows/2013-06-10/infidelity-and-how-it-affects-marriage-children-and-families
Women Get More Pleasure in Bed from Wealthy Men. From https://www.telegraph.co.uk/technology/4285142/Women-get-more-pleasure-in-bed-from-wealthy-men.html
Photos: