There is a destructive little bitch that is messing with our lives.  Her name is … Menopause.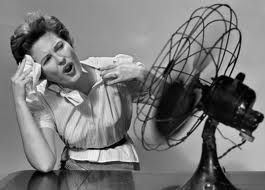 By Doug
There's something that has been going on in our household that has created some distressing turn of events. We're going through a rough patch where there is a noticeable lack of intimacy, there's increased tension at times, sex is very infrequent and Linda is questioning herself in a variety of ways.
Before you get all concerned, it's not that we're having marital troubles. No, quite the contrary. However, there is another destructive little bitch that is messing with our lives. And her name is…Menopause.
To be precise, it is actually perimenopause, which, in case you didn't know, is the period during which a woman's body makes its natural transition toward permanent infertility (menopause). Perimenopause is also called the menopausal transition. I think that most women and many men who experience it simply call it hell.
Over the last several months Linda has been experiencing the following symptoms:
Menstrual irregularity. Her periods over the last two years are about as regular and predictable as the stock market. She never knows when her period is going to start, though she is in a constant state of feeling like it's about ready to.
We do know this though…Whenever we go away for a weekend, on a camping trip or vacation – she has her period. So, I suppose we could try to trick her body into being more regular by going on a weekend getaway every month.
Hot flashes and sleep problems. Linda goes from normal to sweating like a whore in church several times daily. It continues at night and is certainly affecting her sleep. She used to be a champion sleeper. She could fall asleep in 30 seconds and not move all night. Those days are gone.
These nasty night sweats also have put a serious damper on our spooning activities as now she is so hot that touching anyone is uncomfortable for her and only causes us to stick together in a not-so-pleasant way.
Mood changes. Now you didn't hear this from me and if you say anything, I'll deny it, but she is just a wee-bit moody these days. Actually, it's not been too bad. She's even managed to keep a good sense of humor about the whole thing.
I think she is making a conscious effort not to demonstrate her moodiness, but at times I can tell that it's there. The icy stare and the snarling upper lip is my first clue. She also doesn't take my good-natured ribbing anymore and is much more likely to speak her mind than in the past (that is, she's giving me shit right back).
Other than that, there has been no depression, anger or crying fits or anything like that. But as a precaution, I have hidden all the sharp objects in the home and I sleep with hockey equipment on, just in case.
Weight gain. It seems that no matter how healthy Linda eats or how much she exercises, she either doesn't lose any weight or she adds a pound or two. She is nowhere near over weight, but try telling her that. I know it's frustrating for her and yet it makes her determined even more. So she's become a diet and exercise freak of late.
I think I've seen a half-dozen different menopause related diet books fly through our house in the last week and she is constantly on her IPad searching for health related information. This is either really bothering her or it's an elaborate scheme for her to go on a shopping spree for a new wardrobe. I do want to help her out more, so I think I'm going to adjust our scale backwards a little bit each day.
Vaginal and bladder problems. Let's just say that Linda's days of bouncing on a trampoline are over – unless she's wearing Depends, that is. She also has to get up in the middle of the night frequently to use the bathroom. For some reason, I thought that was just a man-prostate-thing. Also, during those now too infrequent times when we do have sex, we need a jug of Mazola just to make it somewhat comfortable for her.
Now, all kidding aside, Linda's struggles with this whole change of life thing concerns me and I want to try to do what I can to help her out. So one day I did a little Googling and let's just say that some of what I read as far as other couple's experiences quite frankly scared the shit out of me. There are some real horror stories out there!

34 Symptoms of Menopause
My searching led me to a site (among others) called 34 Menopause Symptoms that says women can also expect to possibly experience the following:
Hot Flashes
Night Sweats
Irregular Periods
Loss of Libido
Vaginal Dryness
Mood Swings
Fatigue
Hair Loss
Sleep Disorders
Difficult Concentrating
Memory Lapses
Dizziness
Weight Gain
Incontinence
Bloating
Allergies
Brittle Nails
Changes in Odor
Irregular Heartbeat
Depression
Anxiety
Irritability
Panic Disorder
Breast Pain
Headaches
Joint Pain
Burning Tongue
Electric Shocks
Digestive Problems
Gum Problems
Muscle Tension
Itchy Skin
Tingling Extremities
Osteoporosis
Why women have to go through this is beyond my comprehension.  It seems we men have a few aches and pains, lose a little hair and can't 'get it up' like we used to and that's about it.
What's a Guy to Do?
I think from my perspective, all I can do is to be understanding of her situation and help as much as possible. I figured that there are a few things I can do along these lines. If you all have any other suggestions I'm all ears!
Be sensitive to what Linda is going through and be sympathetic to how she's feeling. Find ways to minimize her discomfort, like plopping a fan in front of her at times, or doing something to lift her spirits if she's feeling down, for instance. Telling her, "It can't be that bad" will only add to her frustrations. I also need to encourage her to talk about how she's feeling so that I can assist in some way to comfort her.
Don't take things personally. I know that most of the time, she really doesn't want to scratch my eyeballs out because of anything I've said or done. Her low libido has nothing to do with me either. I know she still loves me and any angst directed my way has nothing to do with our relationship or the state of our marriage.
Increase my knowledge of menopause and its effect on a woman. Like anything, the more I know about a subject the better equipped I am to deal with it in a positive, effective manner.
Most importantly, show her that I love her and that I'm here for her. Enough said.
What Men Want Women to Know
I found an article that I really liked and part of it dealt with what many husbands really want their wives to know during this whole menopause thing. So here is an excerpt from that article:
When it comes to menopause, or rather, his wife's menopause, Dick Roth wrote the book on it-literally. In his 1999 survival guide, 'No, It's Not Hot in Here: A Husband's Guide to Understanding Menopause' (Ant Hill Press, 1999), Roth shares his own observations from a uniquely male perspective.
"I wish the advice had been there for me in the beginning. I could have used a handbook to learn the basics," he says. Prevention put this question to Roth: What do husbands really want their wife to know as they make their way through menopause together? Here's what he had to say:
Be patient with me-I'm still learning how to communicate. "We're all going to be somewhat poor at communicating at first," says Roth. "I learned a lot through trial and error. I started out expressing my feelings very vehemently. That didn't work. Then I didn't say anything. That didn't work either. Finally, I learned how to communicate in a way that works for my relationship."
Let's talk later, after tempers have cooled. Sometimes we try to talk things over when one or both partners are on the verge of losing their temper. "Wait until emotions die down and rationality returns," he advises. The best time? Whatever works for you and your partner, says Roth, who prefers to talk things over in the morning when he's fresh and free of distractions.
Tell me what you really want. "Many of us would be more than willing to help if we knew what our partner wanted," says Roth. "Do they want help around the house? Do they need a back rub? The problem with guys is that we're not good at asking. So instead of waiting for the guy to volunteer and getting mad when he doesn't, the woman needs to be direct and ask for what she wants."
Let me know what kind of mood you're in before I say or do something stupid. "Reading someone else's feelings is an acquired talent," says Roth. "If you're not good at it, it really helps to be told. It comes back to communicating with each other."
Don't forget that I have feelings too. "We [men] are going through some changes of our own and coming to grips with the fact that we're getting older," says Roth. "I want my wife to take the time to understand me and the changes that I'm going through. And to understand that this passage is not just about her. It's about us."
Read the full article here: http://www.encognitive.com/node/5794
---
If you haven't noticed, I've tried to inject a little humor into this post when describing Linda's situation. That does not mean that I don't take it seriously. It is a serious matter and I discovered from some of the sites I visited just how serious it can be. It not only can wreak havoc on a woman's body and psyche but can also wreak havoc on relationships.
I read of one account where this man's wife suddenly packed her things and left him and their three kids and he hasn't heard a word from her in over 18 months. She wasn't having an affair or anything – she just left.
What did appear obvious to me is that both sides need to open up the lines of communication, be patient with one another and work through it as a loving team.
Please feel free to share your experiences and/or advice in the comment section below. Thanks!