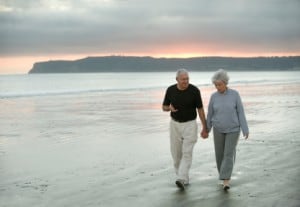 Technically I suppose that summer is not really over just yet, but when you're married to a teacher and have three kids in school, once school starts back up again, it might as well be.  Unfortunately, Linda went back to school Monday, while the kids went back a week ago.
Seemingly overnight our bustling home, where I typically had to retreat to my basement office in order to concentrate, has turned into a lonely house of silence.  The silence only interrupted now by the blowing sound of my laptop's fan and the occasional snoring from our 12-year-old dog.
This post isn't going to be about anything related to infidelity.  In fact, it may bore you to death, but today I just felt like rambling a bit about some life changes we're making and how we're preparing for the future.  I hope you don't mind.
Our Summer Test Drive
We had a great summer this year.  Since our girls decided not to play high school soccer this season, this is the first summer in years that we haven't had to stick around town for some sort of sports training, practice or game.  As a result we were able to get away for a week or so as a family as well as take off here and there for some quick getaways.
Our kids are of the age now where they pretty much come and go as they please.  Our son stays up at college during the summer and when he's not doing what college guys do, he's rock climbing, kayaking or 'chillin' with friends.  And since both of our daughters have steady boyfriends, hanging out with us isn't exactly high on their list of priorities.
As a result, I think Linda and I had one of the best summers ever.  I can't remember any summer since having kids when we've spent as much time together.   Sure, there have been ups and downs and an argument here and there, but all in all it was a wonderful summer.
I think this summer is kind of a trial run, so to speak, from the sense that next year at this time we will have three kids away at college and Linda and I will be on our own as temporary empty nesters.  (I say temporary because what college kid doesn't eventually come back home to roost after graduation, right?)  This summer has given us a little taste of how things will be when it's just the two of us.
As we transition to 'empty nesthood,' it causes us to ponder just what in the hell we're going to do with our time since so much of it has always been spent centered around our kids and their activities.
Even though we're nowhere near ready for retirement, we do notice some of our retired neighbors, friends and relatives who seemingly lead incredibly boring existences.  Though perhaps not boring to them, regardless, we tell each other that we will never just sit around and do nothing and are intent on preparing for an active lifestyle.
So how are we preparing for the future?
We're making some lifestyle changes that are way overdue:
Exercising.  We have always been fairly active, but have recently stepped it up to another level.  Six days a week we either hike, bike, kayak and/or workout with certain achievement goals to reach.  We won't be able to live the type of life we envision if we're over weight, out of shape – or dead.
We're working as a team to motivate and push each other.  Believe it or not, there are times when one or both of us are too sore or tired and don't want to exercise.  It would be very easy to just crash on the couch.  Instead, we push each other to get out the door and get moving.  Every time we have been thankful that we did and felt so much better once we got going.  Most of the time just starting is the hardest thing to do.
Eating right.  Though we're not extreme enough to become vegans, we are trying to eliminate processed foods from our diet and are eating more veggies and fruits, along with monitoring our caloric intake.
Since we both love a good plate of nachos and a few beers every now and then, we do our best to eat nutritionally sound meals at least six days a week and reward ourselves by eating like crap on the seventh.
Getting our financial house in order.  It's no mystery that raising kids and getting them through college can put a dent in the old wallet.  Add to that the economic nightmare that has taken hold of this country (and the industry I used to work in) and our finances took a major hit over the last few years.
As a result, we've started to take more austere measures when it comes to spending and budgeting. Our goal is to be completely debt free by the time our kids are out of college.  That means no mortgage, no student loans, nothing.
So now it's only cheap beer for me and clothes from Walmart for Linda. (I haven't mentioned this part to her yet!)
Getting our mental house in order.  Any time that a person makes changes there has to be some sort of mental shift that needs to take place.  From making a conscious effort to not over eat to pushing yourself to ride hard that last mile, our brains control our outcome.
One thing we both have re-learned over the last three years is how our thoughts and our reactions to those thoughts control everything we do.  Being able to increase our awareness to our thoughts and how we react is key.
Meditation, reading self-help books and taking workshops on self-development has become more of an emphasis.  I'm currently working through Optimal Living 101 and reading "The 4-Hour Work Week" and Linda is working on 'rocking' her Goddess Life while reading her normal 3-4 books at a time.
Charting our course.  If you want to feel closer to your spouse, start working on goals and planning your future together.  This has certainly been one thing that has brought us closer this summer.  Discovering what it is we want to do the rest of our lives has inspired honest heartfelt conversation and has provided us with the desire to do what is necessary to make our plans come true.
For many years we were more or less just flying by the seats of our pants when it came to living life with a purpose.  What's silly about that is that we both know better.  Eventually, life has a way of forcing you to make decisions and to act upon those decisions in order to live a life of happiness and contentment.  I guess we finally realized it was time to make our decisions.
[wlsp_signup]
LINESPACE