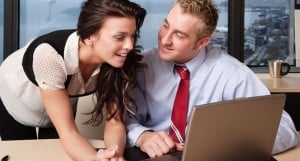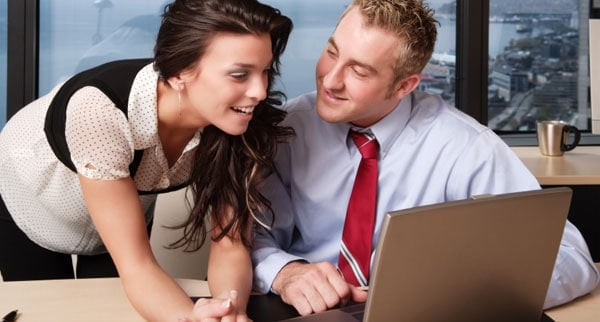 As long as we have been married, or for that matter ever since I have known Doug, he has always been outgoing and charming with the ladies.  It was just something that I accepted – or believed that I couldn't change.  Little did I know (and has honestly taken me years to finally realize) the negative impact that his flirting and lack of boundaries had on our marriage.
I remember a couple of years ago when a discussion began on our blog about flirting and I read Doug's comment concerning the subject.  I was shocked when he said that back when he was a flirt he was able to dismiss it as "harmless fun."
I believe he wrote something to the effect of:  "What man doesn't enjoy the ego boosting rise they get from flirting?" I believe he thought that it was fun and had little impact on our marriage.
Well if anyone was around at the time of that comment you may recall that I later wrote a post about the effects that Doug's flirting had on me. 
Without going into much detail about the post, it was at that time I was finally able to understand and express how deeply I had been affected by his flirting throughout our entire marriage.  I know that declaration finally sunk in and Doug was able to understand just how harmful his flirting and lack of boundaries actually were.
When you are the spouse of a "flirt" it's easy to understand how your spouse's flirting hurts you on the surface. 
In the past if Doug would ignore me at a social function or wander off to talk to someone else instead of me, it killed my self esteem.  I couldn't understand what was wrong with me and I tried everything to get him to notice and spend more time with me. 
Nothing ever seemed to work because as I subsequently learned, deep down it was his problem and not mine.
Flirting and Lack of Boundaries at Work Can be Dangerous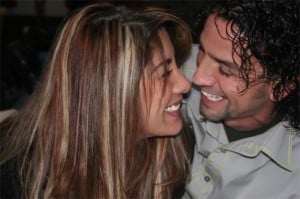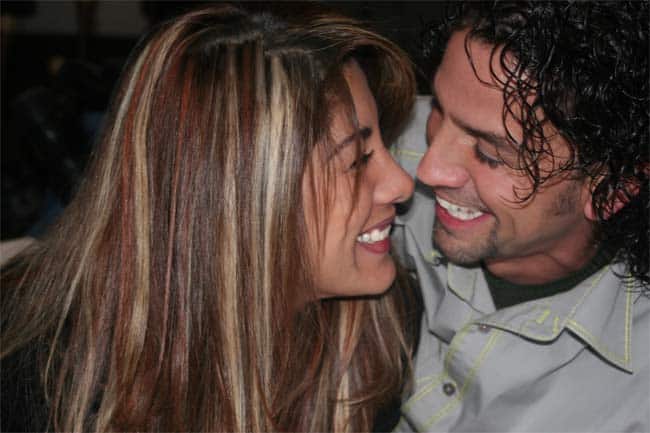 Even though I was aware of how his subtle flirting affected our marriage while I was present, I never really understood the repercussions it had when I was not there – like when Doug was at work. 
I didn't realize how prevalent office affairs were and how easy it was for a person to become involved with someone at work.
I guess I lived in a bubble or was too busy to think about it.
I work in a school full of women, and we don't have time to go to the restroom, let alone flirt with anyone – or have an affair. 
You definitely don't see me at my best everyday or find me very desirable as I scurry around a classroom with kid's snot wiped on my skirt and marker all over my face.  It's just not a conducive environment for human sexuality or romance.
Doug's working world was a lot different than mine.  He also worked with a lot of women but most of these women were involved in sales, so their personalities and appearances were much different than mine.
I'm not trying to step on anyone's toes but some of these women were very good at pretending to be someone they weren't. 
His work environment was also different from the standpoint that his day was unstructured.  He had time to shoot the bull, joke around or get personal.  In fact, that was primarily how he got business.  He would get people to like him and then move that friendship towards a business relationship.  He also had time to take long lunches and converse in a relaxing way with someone other than his spouse.
I'm not sure if I lived in denial or just didn't want to face the facts, but I really never thought about what was happening when Doug was at work. 
I knew that Doug would frequently go out to lunch with female coworkers (not until his post did I know they were sometimes "attractive" female coworkers) or he would sit around and shoot the bull.  I trusted him and believed it when he said it was a way to drum up business.  
I know that was accurate to some extent but looking back I believe it was also a way for him to justify what he was doing, rather than how it helped his business. 
Not until later did I realize how damaging this all was to our marriage and how it led to his emotional affair.
Flirting Isn't Necessarily Innocent or Harmless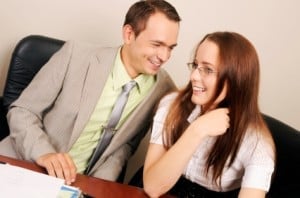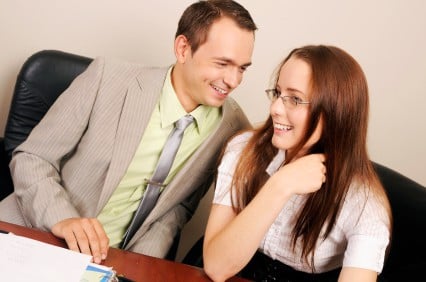 When a spouse flirts or crosses boundaries in a relationship by doing something as seemingly innocent as having lunch with a coworker of the opposite sex, they can put their marriage in serious jeopardy. 
When a husband makes it a habit to engage himself with a member of the opposite sex he is creating a polarization between that woman and his wife. (Rest assured that I am only using a man as an example, as all of this can certainly pertain to a woman as well.)
They may be completely unaware that this is happening.  However, when he is having a relaxing lunch with another woman and that woman is on her best behavior, she is dressed nicely and she tells interesting stories, he begins to believe that this woman has it all.
Later, the husband goes home to his wife who is wearing those same old sweats, complaining about the kids and has nothing interesting to talk about except the broken dryer.  The husband begins to believe that the grass may be greener on the other side. 
Even though they may have no interest in these other women, they still begin to highlight the flaws of their wives and begin to believe that there is something out there that is more desirable. 
They begin to lose sight of all the qualities that they loved about their wives and the importance of their marriages. 
If this behavior becomes a habit, they begin to wonder why they got married in the first place when there are so many other possibilities out there in the world.
Another negative impact is that the husband is presenting his best side as well – with someone else.  He is being charming, patient and charismatic.  He shares great stories and funny jokes with these other women.  Unfortunately, he has little need or desire to share all this with his wife when he gets home.
The more it becomes enjoyable and fulfilling to engage in this behavior at work, the less of an effort he will make to communicate with his wife at home.
It is also possible that the husband begins to blame his wife for pulling away or showing little interest in him, when in reality he is being "filled up" at work and does not need to engage with his wife as much.
Finally, the most damaging implication of flirting and lack of boundaries is where it all can lead. 
As a woman I understand how intoxicating it can be to have a man show interest in you.  You feel giddy and like a teenager again.  However for most committed women, they respect themselves and their marriages enough to know when and how to stop it from escalating into something that could be destructive. 
Honestly, it is fairly easy to stop.  You mention your husband a hundred times in a conversation, you keep a good physical distance and you don't allow it to become a habit. 
I am pretty sure that most of the women that Doug was around kept to those boundaries.  They knew that he was married and respected boundaries.
The problem is when both participants have issues within themselves, their marriages or lives and they really don't care or think about the implications of their flirting. 
It's fun, it feels good and they believe they deserve it. Both participants become completely selfish and self absorbed.
They allow their flirting to get way out of hand and they allow it to become something they justify as being meaningful and special. 
Little do they realize that it fulfills the same ego boost as their flirting did to begin with and that it is the only thing that can sustain it. 
Doug has said that his affair partner could have been anyone and that it was all about the timing.  I believe this to be true.  It could have been anyone.  Anyone who was vulnerable, lacked boundaries and was selfish at the time. 
I also believe that it could have been prevented if we would have communicated better about the implications and risks of engaging in this type behavior at work.  We should have had an honest discussion on how his flirting was not innocent and that it was harmful to everyone involved. 
I am not sure if Doug would have listened to my concerns because it was the way things were back then.  Unfortunately, it often takes some kind of wake up call to be aware of the effects of any behavior.