Anytime there is an affair, trauma is not far around the corner. This is the first in a 3-part series on PTSD and Affairs.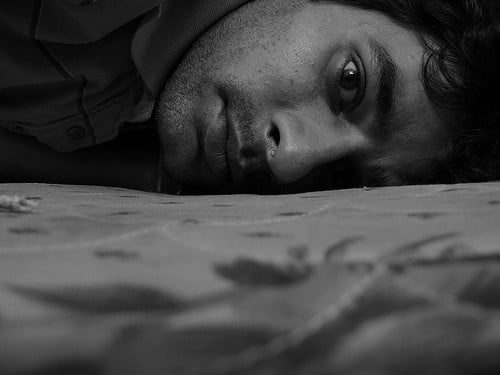 By Sarah P.
Anytime there is an affair, trauma is not far around the corner.
In fact, I have never spoken to a betrayed spouse who says something to the extent of: "Yeah, my spouse's affair was no big deal. It's just one of those things—no more hurtful than getting home late for dinner."
If someone can find me that person—if that person exists—such a person is in deep denial OR such a person fell out of love with their spouse a long time ago and has become indifferent.  Nevertheless, I believe neither denial nor indifference can be this powerful.  Everyone is hurt by affairs.
I have written about PTSD and affairs before; however, trauma is a subject that still warrants more exploration and examination. Individual trauma overlaps with many different areas since people can develop PTSD after a variety of events.
Finally, the Gottman's have developed a new, intensive class that offers innovative treatments for trauma related to affairs. I will be attending this class presented by the Drs. John and Julie Gottman next week.
My examination of trauma will be presented as a series that contains three different posts. This first post will discuss why some people can more easily develop PTSD than others and my post will explore the diagnostic criteria for PTSD.  My second post will examine practical methods of overcoming PTSD. My third and final post in this series will be a recap of what I learned at the Gottman seminar and how this knowledge specifically can be applied to your ongoing recovery from infidelity.
It Could Happen to Anyone
Fortunately, in the past 10 years, neuroscience has shed light on the topic of trauma.  Researchers have demonstrated the fact that trauma is all in someone's head and it is very real—so real that is leaves behind changes in the brain.
One of the unfortunate aspects of trauma is that it overcomes some people while it does not overcome others. Some people seem to be more resilient than others, but this response to trauma does not make resilient people better.
I am simply stating that the development of trauma is complex. Trauma also exists on a continuum and some people recover earlier from a trauma while others recover later. I hope to provide some insight into why this happens and perhaps provide examples on how to speed along recovery.
One of the things that can cause someone to have more severe trauma than another has to do with Adverse Childhood Experiences (ACEs). This point was driven home to me when I interviewed Dr. Robert T. Muller, who is an expert on trauma and dissociation. (Stay tuned because Linda & Doug will be releasing a recording of this coaching session later this week.)
When people experience several Adverse Childhood Experiences, as adults, they are more likely to respond to traumatic situations by developing more marked trauma responses.
Adverse Childhood Experiences also directly correlate to increased chance of experiencing serious chronic diseases as well as increased probability that an adult will abuse substances such as alcohol, cigarettes, and/or prescription or street drugs.
However, it is not all bad news. The impact of Adverse Childhood Experiences is softened by resiliency experiences during childhood. Resiliency experiences include both outside intervention and/or the intervention of a loving family member.
What is an Adverse Childhood Experience?
"Adverse Childhood Experiences (ACEs) are stressful or traumatic events, including abuse and neglect. They may also include household dysfunction such as witnessing domestic violence or growing up with family members who have substance use disorders. ACEs are strongly related to the development and prevalence of a wide range of health problems throughout a person's lifespan, including those associated with substance misuse.
ACEs include:
Physical abuse
Sexual abuse
Emotional abuse
Physical neglect
Emotional neglect
Mother treated violently
Substance misuse within household
Household mental illness
Parental separation or divorce
Incarcerated household member." (1)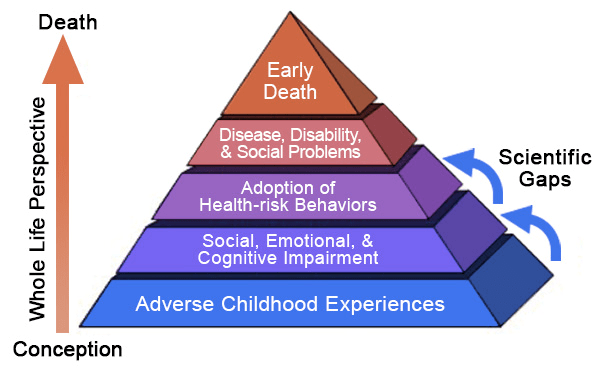 The good news is that Adverse Childhood Experiences can be mitigated by several factors:
Positive self-image
Self-control
Social competence
Biological/genetic resiliency
Positive experiences with community role models such as teachers, neighbors, youth group leaders
Loving and involved family members (aunt's, uncle's, older siblings etc.)
"All people have biological and psychological characteristics that make them vulnerable to, or resilient in the face of, potential behavioral health issues. Because people have relationships within their communities and larger society, each person's biological and psychological characteristics exist in multiple contexts. A variety of risk and protective factors operate within each of these contexts. These factors also influence one another.
Targeting only one context when addressing a person's risk or protective factors is unlikely to be successful, because people don't exist in isolation. For example:
In relationships, risk factors include parents who use drugs and alcohol or who suffer from mental illness, child abuse and maltreatment, and inadequate supervision. In this context, parental involvement is an example of a protective factor.
In communities, risk factors include neighborhood poverty and violence. Here, protective factors could include the availability of faith-based resources and after-school activities.
In society, risk factors can include norms and laws favorable to substance use, as well as racism and a lack of economic opportunity. Protective factors in this context would include hate crime laws or policies limiting the availability of alcohol." (2)
As you can see, the affect of childhood trauma is complex since so many different experiences and biological traits come into play. Still, this research was too important to overlook since it seems that some can have the "deck stacked against them" because of early life experiences. This knowledge should cause us to have more compassion for both ourselves and others since no one can control what happened to them during childhood.
Several years ago, I worked with a woman who felt she could not shed a sense of negativity. I remember us talking about her childhood and everything she went through while growing up in an abusive and isolated family in Alaska. Remarkably, she had fought tooth and nail to get out of the situation, go to school, become a biologist, and do all kinds of interesting things. But, she said that every time she got up in the morning, she had the distinct sense that life was a game of pool and that she existed behind the eight-ball. She spoke of having to fight against this feeling so that bitterness did not swallow her whole.
This descriptive image of being behind the eight-ball so perfectly connects to what it feels like after D-Day and on the road to recovery.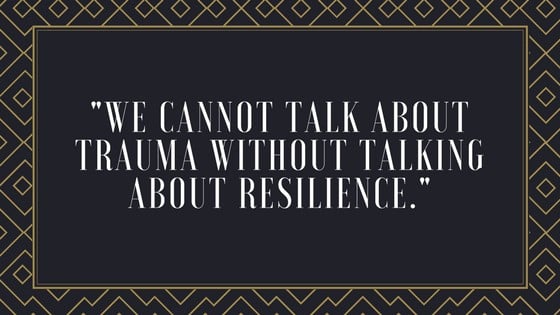 The Nature of Trauma
The trauma of infidelity has a way of stealing one's very sense of self; trauma pilfers the best of a person. I believe this is why trauma is so painful; it temporarily removes one's sense of stability, security, and surety in life. It removes trust and replaces it with feelings of assault, bitterness, fear and a gnawing anxiety. Trauma cuts the line that anchors us and leaves us adrift in a sea of uncertainty.
It is no wonder that betrayed spouses develop full-blown PTSD or PTSD-like symptoms after finding out about their spouse's affair.
Unfortunately, anyone who has experienced the infidelity of a spouse understands exactly what it is like to have his or her spouse 'coldly unknown to them.'  It is no wonder that betrayed spouses feel traumatized after they find out about their spouse's affair.
Shirley Glass, author of "Not Just Friends" adds, "Traumatic events such as natural disasters and criminal attacks shatter our assumptions about our sense of safety in the world. In a similar way, the discovery of infidelity is devastating because it shatters basic assumptions about the security we expect in committed relationships. Most people feel safe from the betrayal of infidelity if they are in a loving relationship where both people have been disapproving of extramarital involvements. In intimate relationships, there is a truth bias, so people tend to take their partner's word as truth unless there is a prior history of lying and deception. After the betrayal, the traumatized spouse questions everything they trusted and depended on. They say that they no longer know who they are married to or what their marriage stands for. The most severely traumatized are generally the ones who had the greatest trust and were the most unsuspecting. However, even someone who is suspicious and is initially relieved to learn that they weren't paranoid, has difficulty accepting the reality of a partner's deception." (2)
It's no wonder that it is difficult to accept a partner's deception. It causes a betrayed spouse to live an anchorless aftermath, drifting with unfettered anxiety and shock. There is nothing to hold onto since one can no longer separate truth from fiction in the nature of the past, present, or future of his or her marriage.
Infidelity changes one's entire worldview and forever colors the world. It changes one's assumptions about the nature of life, the nature of people, and the nature of marriage. A world that was once bright and fun becomes cold and menacing.
If you feel traumatized after a spouse's affair, you are not alone. It is a very normal reaction to a devastating experience.
"In fact, researchers have found the "emotional responses to infidelity to mirror those of other traumatic events, including shock, repression, denial, intense mood fluctuation, depression, anxiety, and lowered self-esteem," all of which are symptoms of PTSD (Post Traumatic Stress Disorder). But what's most shocking, and seldom talked about, is 70% of women with unfaithful partners met most criteria for a diagnosis of post-traumatic stress disorder and 71% demonstrated a severe level of functional impairment in major areas of their lives…
Dr. Kevin Skinner, Clinical Director of Addo Recovery, a clinic specializing in helping relationships overcome infidelity and trauma, said "I have sat with thousands of betrayed spouses and have found that the trauma resulting from their discovery of infidelity holds almost identical symptoms to those who are diagnosed with Post-Traumatic-Stress-Disorder. And like PTSD, unless treated, recurring triggers will not only sustain their trauma but can feed and exacerbate it, regardless if the relationship remains intact or not." (4)
For those of us who have lived through a partner's affair, we know from experience that the above information is true. However, it is important that studies have validated our feelings and experiences.
Many people who have not experienced life as a betrayed spouse might contend that spouses should not or cannot be traumatized by the other's affair. I believe others who invalidate the traumatized victim of an affair have one of several motives:
They do not know what to do with a person who has been traumatized by an affair.
Or, in the case of a wayward spouse, they cannot handle the guilt they feel knowing that they caused an innocent spouse to experience PTSD. These thoughts are too inconvenient since some wayward spouses just want their betrayed spouses to "get over it" or to "move on."
They have never experienced traumatic feelings or infidelity and do not understand how someone could develop PTSD outside of a war zone.
They are frightened that they may one day be in a similar position and so they cause themselves to believe it is not as bad as it looks.
They are ignorant in general.

Lovemaking After the Affair
Before I continue to the diagnostic criteria of PTSD, I would like to discuss how trauma can affect a couple's lovemaking. But, I also wanted to mention something that is not well known and would like to add a word of caution since lovemaking could impact future divorce proceedings and the settling of assets.
The trauma after an affair can impact sexuality in a couple of ways and both are extreme: one spouse might be so traumatized that they do not have intercourse for a long period of time, while another spouse might find himself or herself engaging in hysterical bonding.
I believe both reactions are caused by trauma, even though they seem to be complete opposites.
When a betrayed spouse is not comfortable having intercourse for a long period of time, it is because she (or he) is traumatized by the idea that his or her spouse could break the sacred bond of marital sexuality. When a betrayed spouse withholds intercourse it is because she knows the relationship has changed and she can no longer give herself in that way. Another reason she might withhold intercourse is due to fear or broken trust. This is a normal reaction to the trauma caused by betrayal.
Then, there is the complete opposite reaction: hysterical bonding. What is interesting is that betrayed spouses who participate in hysterical bonding are also very likely traumatized by an affair. Hysterical bonding can provide reassurance that her/his spouse still finds her/him attractive. It is also a way to reclaim the bond that always belonged to the betrayed spouse.
Neither response to trauma is better than the other. Betrayed spouses must do what feels right. Some betrayed spouses feel empowered and safe while withholding intercourse while others feel empowered and safe through hysterical bonding.
However, there is one very important point to consider in regards to marital intercourse after infidelity. While many states have no-fault divorce laws, other states do not. Seven states still allow betrayed spouses to sue for alienation of affection, while states without no-fault divorce often permit infidelity to affect divorce proceedings and perhaps asset distribution.
Now, I am not an attorney and laws change from state to state and this is not a substitute for a legal opinion. However, this topic is important enough to mention so that you can be aware of how your behavior toward a wayward spouse affects a future divorce.
In some states without no-fault divorce, infidelity can be cause for divorce and can also affect asset distribution, with distribution favoring a betrayed spouse. However, there is a BIG CATCH or a loophole in the law where infidelity can become a moot point and no longer be used as cause for divorce.
In such states, a betrayed spouse must NOT have intercourse with her/his spouse after she/he finds out about the affair. If she/he does have intercourse, she/he can no longer seek a divorce based on infidelity.
This is because some states consider intercourse to be reconciliation. If a betrayed spouse has intercourse after she/he knows about the affair, the laws considers her/his act both reconciliation and implied acceptance of the affair.
Thus, this would preclude her/him from being able to use infidelity as just cause in a future divorce case. This also could substantially affect the assets that she/he receives and she/he could end up looking at a very insecure financial future.
A Sad Story…
This topic was brought to my attention recently when I was reading a divorce blog. One woman talked about how her spouse raped her after administering a date-rape drug and how this would affect divorce proceedings. This is a very unhappy topic, but it is something that must be acknowledged. Here is an except of the story told in the woman's own words:
This story is an excerpt from an article written by this woman. My heart truly goes out to her. This story serves as a warning to all betrayed spouses because her husband obviously had been researching the law and was well ahead of her. He knew that if she had intercourse with him, she could not file for divorce and cite infidelity as the cause.
The Guy Is a Sociopath
Like many serial cheaters, he only cared about himself and his own comfort. Since his wife was not participating in intercourse, he gave her a date rape drug so that she would not have superior legal standing. He knew full well that if she couldn't cite infidelity, she would have to settle for a 50/50 asset split. I cannot tell you how angry her story makes me because it is a story of the ultimate victimization on many levels. Still, take her story seriously and never forget that serial cheaters will do anything to meet their own needs. If your needs are in conflict with theirs, they will destroy you if it means getting their needs met.
Of course, there is something else I would like to mention about her story. Her husband would appear to meet the criteria for antisocial personality disorder. For those unfamiliar with the disorder, they would assume that sociopaths are all behind bars (less than 15% of people in prison meet the criteria for antisocial personality disorder); that they are common thieves (wrong again); or that they do not live nearby (read the Sociopath Next Door).
These false impressions have kept people in the dark and allowed psychopaths to flourish. Most often, a psychopath is charming, handsome, extremely intelligent, is competent in his career, and flies under the radar. (Unfortunately, this also describes many talented and good people too.)
A excellent example of a psychopath was Ted Bundy. I live in one of the several states he passed through. Even though I do not live anywhere near where Ted lived, I know two different people who knew Ted personally. One of the gentlemen knew Ted when they worked in the state legislature together.
About Ted this gentleman has said, "Even though Ted confessed, I will never believe he did any of those things." Then this gentleman nostalgically continued, "Good old, Ted. He was everyone's friend; would give the shirt off his back if you needed it." This fellow was no dummy either. He is a retired attorney and has worked in different government positions.
Then there is the fellow whose mom worked with Ted at a rape-crisis hotline. (Ted is better known for his work on suicide hotlines, but he also did a short stint on a rape crisis hotline.) This fellow has said, "Ted walked my mom and all the other female volunteers out to their cars each night because he did not want them to be attacked." Indeed, Ted never laid a finger on any of the women he escorted to their cars.
Ladies and Gentleman, Ted Bundy was a great example of a psychopath. Most psychopaths are adept at modeling the behavior of good people; this is precisely how they are able to fly under the radar. Still, it is essential to know who they are and Martha Stout's book "The Sociopath Next Door" is excellent.
But, I have digressed.
In summary, intercourse or lack of intercourse immediately after D-Day is most often a response to trauma. If you live in a state where infidelity can have weight during divorce proceedings, please be aware that intercourse can mean that you exonerate your spouse. Thus, it causes infidelity to become a moot point in divorce proceedings.

Diagnosing PTSD
While no one would question whether or not a war veteran has PTSD, some will question betrayed spouses who believe they have PTSD. I believe that PTSD caused by an affair is one of those "inconvenient truths" like global warming. No one knows how to address it in a way that is easy for all involved. So, they choose to invalidate people who have developed PTSD as the result of an affair.
Personally, I believe that many betrayed spouses develop PTSD after an affair. I am one of them who developed PTSD after my almost-husband had an affair.
A couple of months ago, I started having a recurring dream that brought me back to the moment my fiancé was breaking off our soon to be marriage. I had the same dream every night and I woke up crying each morning and running to the bathroom to vomit. The dream brought me back to the same emotional space I was in years ago and the dream was merciless.
After I found out about my fiancé's affair and his supposed "engagement" to the other woman (only about two weeks after he violently forced me to move out), I was flooded with feelings that I had never experienced before. I started having the first panic attacks in my life; I had to take a small leave of absence from work because my panic attacks were uncontrollable and frequently triggered. It did not help that my ex-fiancé worked on the same floor in the same office building as myself and that I often had to interface with his team.
I had never seen a therapist in my life, but that situation brought me into therapy. The therapist told me that I was an emotionally healthy person who had developed PTSD as the result of a trauma. What confounded me was that I had not experienced any Adverse Childhood Experiences (according to the criteria) and yet I still developed PTSD.
Honestly, at the time, I simply did not believe her because I felt such a diagnosis did not fit me but most of all I felt it trivialized what war veterans experienced. I felt it was an insult to them to believe I had PTSD. After all, I reasoned, people only develop trauma after being shot at by enemy fire.
But, this was not true; I had developed PTSD and I was using sheer willpower so that I wouldn't break down at work. I suppressed the trauma by constantly distracting myself with a million different activities and by dating. But, I never dealt with it and it came back to bite me after I got married.
So how is it that betrayed spouses can be diagnosed with PTSD? Therapist Donna Bellafiore explains:
"People can be considered to have PTSD when they have been exposed to an extreme trauma, the symptoms last at least a month in duration, and the symptoms cause excessive distress so that social functioning and job performance are impaired. One sign of PTSD is that the traumatic event is relived repeatedly in the person's mind and this appears in the form of flashbacks, recurrent images, thoughts or dreams about the event…and even nightmares. Reminders of the event can cause distress so many people go out of their way to avoid places and events that remind them of the catastrophic occurrence.
There are three main clusters of PTSD symptoms, and all three of these groupings must be present for a diagnosis of PTSD.
Intrusive Symptoms: Intrusive and repetitive memories which stir up negative feelings experienced during the trauma can overwhelm a person. These memories can appear in the form of:
flashbacks (a feeling of reliving the trauma)
frequent, distressing memories of the trauma
nightmares
emotional and physical distress when traumatic memories are triggered.
Arousal Symptoms: PTSD sufferers experience physiological reactions, which indicate that they don t feel safe and they are physically on the alert to deal with danger. These can include:
being easily startled or feeling jumpy
hypervigilance (feeling on guard even when the situation is safe)
concentration difficulties
outbursts of anger and irritability
problems in falling asleep or staying asleep.
Avoidance Symptoms: People suffering from PTSD go out of their way to escape the overpowering memories and arousal symptoms. This pattern of behavior can include:
avoiding places, people or situations that serve as reminders of the trauma
avoiding thoughts or feelings associated with the trauma
memory loss about some aspects of the traumatic event
feeling emotionally numb
feeling estranged or detached from other people
feelings of hopelessness and helplessness about the future
decreased interest in pleasurable activities." (6)

Do you fit these criteria?
If so, it is important to continually validate yourself and realize this is a normal reaction to an abnormal situation. Most of all, it is not your fault and your wayward spouse needs to understand the trauma they have caused. A wayward spouse must be extremely patient and never invalidate your experience. It is your life, your experience, and you will heal on your timeline.
Do not allow your wayward spouse to tell you that you should just get over it. The burden is on the wayward spouse for traumatizing you. He (or she) caused the situation and caused the trauma you feel. So, do not allow him (or her) to invalidate your feelings, criticize the length of the healing process, or tell you that you are the problem. Many wayward spouses like to make the betrayed spouse the problem so that they do not have to look at themselves.
In my next post, I will discuss things your wayward spouse can do to help you with your healing journey.  I will also discuss ways to deal with the negative emotions that occur as a result of infidelity caused PTSD. Finally, I will discuss some practical steps you can take to reduce the constant fight or flight feeling that is present with trauma.
Finally, I will leave you will this poignant poem about trauma by Andrea Gibson:
"The nutritionist said I should eat root vegetables.
Said if I could get down thirteen turnips a day
I would be grounded, rooted.
Said my head would not keep flying away
to where the darkness lives.
The psychic told me my heart carries too much weight.
Said for twenty dollars she'd tell me what to do.
I handed her the twenty. She said, "Stop worrying, darling.
You will find a good man soon."
The first psycho therapist told me to spend
three hours each day sitting in a dark closet
with my eyes closed and ears plugged.
I tried it once but couldn't stop thinking
about how gay it was to be sitting in the closet.
The yogi told me to stretch everything but the truth.
Said to focus on the out breath. Said everyone finds happiness
when they care more about what they give
than what they get.
The pharmacist said, "Lexapro, Lamicatl, Lithium, Xanax."
The doctor said an anti-psychotic might help me
forget what the trauma said.
The trauma said, "Don't write these poems.
Nobody wants to hear you cry
about the grief inside your bones."
But my bones said, "Tyler Clementi jumped
from the George Washington Bridge
into the Hudson River convinced
he was entirely alone."
My bones said, "Write the poems." 
-Andrea Gibson
If you have been traumatized by infidelity, please tell me about how it manifests and any coping mechanisms you have developed.
Sources
SAMHSA.  From https://www.samhsa.gov/child-trauma/recognizing-and-treating-child-traumatic-stress
Writix – Adverse Childhood Experiences:  https://writix.co.uk/blog/adverse-childhood-experiences
Weiss, Robert, LCSW. Understanding Relationship, Sexual, and Intimate Betrayal as Trauma (PTSD).  From https://blogs.psychcentral.com/sex/2012/09/understanding-relationship-sexual-and-intimate-betrayal-as-trauma-ptsd/
Red, Walter E. The Side of Infidelity No One Is Talking About. From https://familyshare.com/22245/sponsored/bloom/bloom-the-side-of-infidelity-no-one-is-talking-about
Mary, I Knew it Was Time to Leave When My Husband Drugged Me. From: http://divorcedmoms.com/articles/i-knew-it-was-time-to-leave-when-my-husband-drugged-me
Bellafoire, Donna. The Aftermath of Post-Traumatic Stress Disorder. From http://www.drbalternatives.com/articles/gc5.html