As part of my affair recovery, I finally decided it might help to seek some counseling.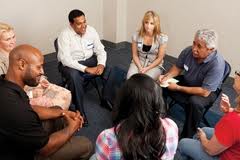 By Linda
Recovering from an affair is a long and painful experience with many ups and downs.  Most betrayed spouses want the pain and memories to go away and often we put a time limit on how long our affair recovery should take.
I know that in my situation, it has been two years since our D-day and I had hoped by now that I would be completely over the pain and the memories of Doug's emotional affair.
I believed that since our marriage was on the right track and our relationship is better than it has been in a long time, all the baggage I have carried due to the betrayal of the affair should be gone.  I have learned that this is a difficult expectation and that I have a long way to go before I am completely healed.
Throughout the past year I have experienced many days when I am happy and the affair is but a distant memory, and then I have days when I feel like it happened yesterday, when the sadness spirals out of control and I begin to feel insecure and afraid.
I have days when I desperately want to feel desired and loved by Doug, and days when my self esteem is at an all time low. When I have these days I seriously begin to think about what I need to do to move on.
I feel I have done everything I can possibly do.  I have read more books than I can count. I exercise and take care of myself. I communicate my feelings well. I try to be the perfect wife. Unfortunately, at times it still does not seem to be enough to get me out of this dark place.
These days are usually followed by the same thoughts.  I think about running away and trying to escape the pain.   I know that wouldn't accomplish anything as I would still be taking my pain with me.  Another thought is to call the doctor and ask for medicine to mask the pain.  My last thought is to consider talking to a good therapist.
After my last episode, which was a little too intense and lasted longer than it should have, I decided it might help to seek counseling.  I felt that by doing this it may take some of the pressure off of Doug and it may be helpful to get a different perceptive of how I am doing.
Monday night was my first session and because this is all so new to me I was very nervous. Thankfully my therapist made me feel very comfortable and secure.  He wanted to know what brought me there and what I wanted to accomplish from our sessions.
I told him our history and why I was there, and after about 30 minutes into our session he told me how amazed he was at how well I am actually doing following such a betrayal. He told me that it takes a very long time to recover from an affair and that I am well beyond what takes many people years to accomplish.
Those words made me feel wonderful because I really wasn't sure how I was doing. I know in Doug's eyes he would have liked for me to forget everything two years ago, so I really didn't know how to gauge my emotions and feelings.
4 Reasons Why Couples Counseling is Not a Good Idea if the Affair Has Not Ended
My therapist also asked me to think about if I went to sleep at night and one miracle occurred, what would I want that miracle to be. I told him I wanted to wake up every morning and not think about the emotional affair and the pain it caused. I want to forget about the affair.  So we decided that our goal would be to help me forget about the pain of the affair.
We discussed that when I fight those thoughts, I actually make them stronger and my feelings begin to spiral out of control.  So we discussed how to accept those feelings and the affair, and when I have those thoughts I need to take a few minutes and begin a mind exercise that he demonstrated for me.
He told me to begin breathing in and out and to focus on my breathing and my surroundings, and to tell myself that the affair happened and that I accept that I cannot change it. He recommended I spend a few minutes doing this exercise, and then I need to let it go and try not to think about it.  If the thought reappears, then I do the exercise again. I imagine that eventually I will learn to control my thoughts and stop allowing the affair to consume my head.  I am curious to see if this works.
My therapist also was amazed that I was not employed in the mental health field, or have been through years of therapy.  He said I must be an awesome teacher because I am so aware of my feelings and have the ability to express them so clearly.  I also seem in tune to the feelings of others and have a great knowledge about relationships.
He commented on how well Doug and I have progressed in our relationship and how we have overcome the devastation caused by our faltering marriage and the emotional affair.
He really couldn't recommend any other advice in addition to what we were already doing.  That made me feel really good and confident that our marriage was on the right track.
I asked him if it is really possible to save a marriage after infidelity and he said positively yes.  He went on to say that so many couples give up too early because it is so difficult to do. It takes so much work and determination that even though many couples still have love in their hearts, the task is so overwhelming that they give up.
He commended me on how hard we have worked to save our marriage and said that Doug is one lucky man to have a wife that decided to stay in the marriage and has worked so hard to make it what it is today.
I decided to continue my sessions.  Honestly I imagine that the therapist and I can learn from each other.  I know that I have as much to offer him as he can offer me!
I believe that even though I know all the things I need to be doing, that it will be beneficial to hear them from someone else — a person who can guide me through the process and help me when I fail.  I plan to keep you posted on my progress here on the blog, and more so in the Affair Recovery Group, in the hopes that relaying my experience will be helpful to all of you as well.