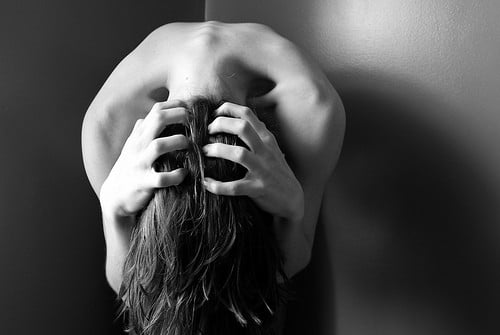 Approximately a month ago I was speaking to a woman (let's call her Kate), who shared her story to me during a mentoring session.  It was a familiar story in that her husband (John) had an affair over 10 years ago with a co-worker.  His affair lasted for several months. 
Since their D-day, they had their ups and downs, of course, but for the most part her husband did all that he could do within his power to help in the recovery process – as did Kate. 
Their recovery process wasn't' perfect or smooth, but they did their best and they came out the other side.
In their minds, the result is a better marriage than what they had experienced pre-affair. 
So, what's the deal?  Why, if things were so great, did she need to talk about her situation to me after all these years?
Well, a massive triggering event happened for her and she felt the need to talk it out.
Here's the short version of what happened…
Kate and John share a Facebook account.  One evening she was thumbing through their timeline on her I-Pad.  Suddenly her heart skipped a beat and she started to break out into a cold sweat.
The cause of this?  A picture of John's affair partner, along with a comment she made on a mutual friend's Facebook page.  (To be clear, John and his ex-affair partner were not Facebook friends, but had several mutual friends with co-workers and the like.)
Kate's racing heart and cold sweat were just the beginning.  What happened next can only be described as a full-on panic attack.
She said that she immediately told John what she saw on their Facebook page – and that her heart dropped, and then she excused herself to go up to bed.  John followed closely behind and climbed into bed with her.  At that point, Kate said she started to shake uncontrollably as if she was freezing cold.  She curled up into the fetal position, cried and trembled, while John held her and tried to comfort her as best that he could. After about an hour, her panic attack was over and they both drifted off to sleep.
She told me that this was the same sort of thing that happened to her the day she discovered John's affair and on occasion after particularly emotional or detail-oriented conversations.
She thought she was well past this sort of thing.  After all it has been 10 years!
Kate's experience goes to show you just how traumatic an affair can be and that the effects of affair trauma can potentially rear their ugly heads at any time. 
I certainly don't mean for this short post to alarm you, discourage you, scare you or sap the hope out of your recovery and healing efforts.  But I do think it's important to be aware that something like this can indeed happen.  Hopefully it won't.  But one never knows.
In Kate's case, she said the following day she was feeling much better (though a bit shaken) and was able to have a good conversation with John about her experience. 
She says that one thing that came out of this whole thing is that John has been reminded of just how traumatic his affair was to Kate – which has caused feelings of guilt and shame to come back for him.  Kate said that the guilt he feels now is profound.
She feels compelled to be empathetic and sympathetic to his feelings and is comforting him and helping him through this.  That's a very gracious thing for her to do, as many in the same boat would dismiss those types of feelings.
I Wish I Would Have Known That! – 7 Crucial Things Wayward Spouses Need to Know
As for the trauma…
Linda wrote an email not long ago that I wanted to share:
Back in 2011, myself, therapist Jeff Murrah and Doug engaged in a discussion every week via telephone for about 6 months as part of the Affair Recovery Group.  During each telephone call, we'd talk about a particular issue concerning affair recovery. 
Each session was very helpful and informative, and I gained so much insight to the point that it helped my recovery tremendously. However, as enlightening as it was, it was equally painful at times.
After the hour-long sessions I often felt drained, upset, and at times angry.  Doug sometimes felt that by then (it had been more than a year since D-day) I should have been somewhat immune to all the discussions.  
But at times it felt like I was reliving his emotional affair as if it happened yesterday.
I found that when Doug and I talked about the emotional affair, not only did I become emotionally upset, but I also displayed physical signs of my distress.  When we discussed aspects of the affair that were particularly painful for me, I would begin shaking uncontrollably.
I came to realize though that this was part of the trauma that was induced from the affair – which was the most difficult for me to let go of.  It was like a reminder of how bad it affected me and how far I had gone to conquer it.
I remember one of our sessions was about rebuilding trust, and Jeff asked me how I felt when the trust was broken in our marriage.  I guess it was something I had thought a lot about, but never really verbally expressed before.  
To adequately convey the pain and turmoil that I felt due to the broken trust in our marriage was very difficult. It temporarily took me back to a place that I know many of you are in at the moment.
I have felt the same hurt as many of you, and know that the physical and mental pain is so severe that you wonder if you can make it through another day feeling this way.
You wonder how long it will last.  You wonder how much more you can take and if there is light at the end of the tunnel. 
When I was going through this I would wake up every day and think I just couldn't do it anymore.
I want you to know that it will not last forever. The intensity of the pain will subside and you will begin to break free from it.
In my situation, I began to focus on things other than the emotional affair.  I learned to trust myself again and make decisions that would be beneficial for my own well-being. 
Take care of yourself first and foremost, and know that you can overcome this.
PTSD and Infidelity Information Guide
Finally, I wanted to make sure you read the wonderful 3-article series that Joyce Smith MA, MFT put together for us a few years ago on affair trauma.  If you haven't read them, you should do so when you get a chance.
Not too long ago we combined the articles into one report and included an hour-long interview with Joyce where we address a bunch of different recovery and healing issues.
You can get both (along with a transcript of the interview) by going to this page:  https://www.emotionalaffair.org/ptsd-information-guide/
In the meantime, please feel free to share your experiences with affair trauma and how you managed to cope – in the comment section below.