What is Stonewalling? In essence, stonewalling is when one person shuts down and closes himself/herself off from the other during interaction…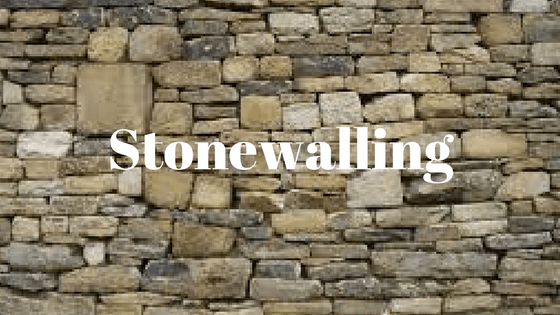 By Sarah P.
Not all negative communication patterns are alike. Sorting through the most harmful of these patterns has been one of the main areas of research for Drs. John and Julie Gottman. They have narrowed the four most harmful communication patterns down and refer to these patterns as The Four Horsemen: Criticism, Contempt, Defensiveness, and Stonewalling.
In this blog post, I will address the fourth harmful communication pattern: stonewalling. I will admit that before doing in depth research on stonewalling, I had only partial knowledge of this phenomenon.
Featured Download: We've created "A Survival Guide for the Unfaithful" which is meant to help the unfaithful gain a better understanding of the betrayal and lead them towards better decision making and providing greater assistance in the healing process. You can download this guide by clicking here.
Here's why: I pictured stonewalling as a husband or wife pouting alone in the corner and giving the silent treatment. I had assumed that stonewalling was only about the silent treatment. But, after reading more about it, I also learned something surprising that is a lesser-known side of stonewalling. Though the proverbial silent treatment is the most common form of stonewalling, stonewalling can also be a very active process where the person who is stonewalling can use verbal bullying to accomplish the same task.
However, the most commonly understood definition of stonewalling has to do with the emotional closing down against another. For the purposes of clarity, I will be exploring the understanding the Gottman's have of stonewalling. But, in the later part of the article, I will also explore the lesser known form of stonewalling: the common filibuster.
What is Stonewalling?
In essence, stonewalling is most commonly defined this way:
Stonewalling occurs when the listener withdraws from the interaction. In other words, stonewalling is when one person shuts down and closes himself/herself off from the other. It is a lack of responsiveness to your partner and the interaction between the two of you.  Rather than confronting the issues (which tend to accumulate!) with our partner, we make evasive maneuvers such as tuning out, turning away, acting busy, or engaging in obsessive behaviors." (1)
Stonewalling is a type of turning away from your partner by withdrawing and/or not addressing the issue at hand.
The Difference Between Stonewalling and Time to Think
Sometimes stonewalling can look like someone is taking time to think. But, taking time to think and stonewalling are different. The motive and timing behind each one is there differentiator.
One aspect of stonewalling is that it can be used as part of defensive behavior; defensiveness feeds it. Stonewalling is withdrawal from communication while at the same time putting up psychological defenses and refusing to look at one's part. On the other hand, stonewalling can be an unhealthy protective measure that some use when they are feeling flooded. They shut down and withdraw into themselves.
Here is another take on stonewalling:
"Stonewalling is defined as a. To engage in delaying tactics; stall: b. To refuse to answer or cooperate. The best description I've read of stonewalling comes from, Jeffrey J. Pipe, PsyD."In relationships, stonewalling is the emotional equivalent to cutting off someone's oxygen. The emotional detachment inherent to stonewalling is a form of abandonment and the effect that it has on a spouse is dramatic.  The initial feelings of terror which are usually below the water line of awareness are typically followed by secondary feelings of anger and, then, aggressive efforts to get some emotional reaction any emotional reaction even a negative one.  And when these efforts fail, the internal response for your spouse is predictable. He doesn't care.  He doesn't love me.  He's left me."  What exactly does stonewalling look like in a marriage? From the description above, emotional detachment and feelings of abandonment leave the victim spouse reeling with doubt, anger, and doubt of an emotional connection with their spouse." (2)
Thus, the essence of stonewalling is that it leaves the recipient feeling abandoned and unsure of their spouse's love. Stonewalling also often leaves the recipient feeling misunderstood, disregarded, and invisible.
Still, there are many people who need to take time to think during the heat of the argument, especially if they feel flooded.
So how is taking time to think different?
To differentiate the two, there is both intention and the process. When someone wants time to think, it because they need to consider the message and take time to reflect on their part of it. The intent is to grow personally and also to improve communication.
Then, there is the process. When someone is flooded or when a couple has reached a stalemate, they need to calmly acknowledge it and then ask for a short "time out" to gather their thoughts separately. These time out sessions should not last more than 30 minutes and both people need to use this time to reflect and regroup.
Taking time to think is not about avoiding difficult topics– taking time to think is not about stopping a conversation in the hopes that the other partner will drop the subject.
Taking time to think = self-reflection and subsequent personal growth
Ironically, taking time to think can be a hallmark of excellent communication, whereas stonewalling assures broken communication. Even though both involve time apart and a break from discussing an issue, the two are different and create dissimilar outcomes.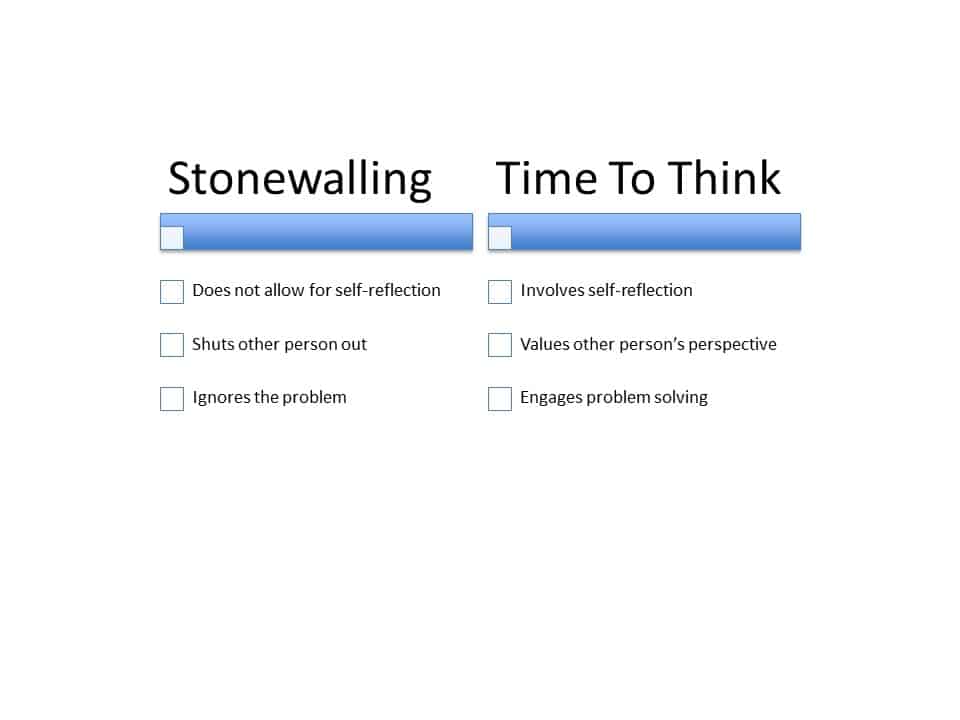 Two Types of Stonewalling
Up until now, we have examined the most common aspect of stonewalling: giving someone the silent treatment. But, if we look at the intent behind stonewalling, we soon find that stonewalling does not necessarily have to involve the silent treatment. The foundational problem with stonewalling is that it severs communication and thus the relationship. Consider this:
"While one party is stonewalling, there is no relationship—thus causing marriage problems. A tendency to stonewall can arise from something as simple as parental modeling—that's the way dad was. Sometimes it is a means of control. Sometimes people resort to stonewalling out of a fear of conflict; they must keep the peace at all costs… It is a tool of the bully, the international terrorist or…the marital terrorist. If it is the more-verbal partner who 'knows she is right,' her attempts at discussion are thinly veiled attempts to convince her partner of something. He withdraws emotionally and refuses to talk, because he believes she will go on and on until he concedes. In this case, both parties are stonewalling. He is stonewalling because it helps him maintain a sense of self while being bullied; she is stonewalling because she believes hers is the only right way and it is her right and duty to bring him around to the truth. Let me be clear about something. Stonewalling through emotional withdrawal or verbal bullying is not the exclusive domain of either men or women. Both are vulnerable to slipping into the mode of refusing to relate. We have all been there at some time or other. The important thing is to recognize stonewalling puts your marriage at risk. So break out of it as soon as you become aware of it." (3)
When I first came across this thought, a major light bulb went on. I had never thought of verbal bullying as a type of stonewalling. But, verbal bullying accomplishes the same thing as giving a partner the silent treatment. Both acts sever the relationship in that moment and both acts cause communication breakdown, which leaves the other partner feeling misunderstood and abandoned.
If you have ever watched debates in the US Senate on C-SPAN, you will have witnessed different politicians using filibuster tactics to delay or to block a vote. The politician's intent is an aggressive verbal attempt to prevent the point (or vote) from being addressed.  Verbal stonewalling is similar to this tactic because it shuts down any real dialogue, problem solving, and refuses to acknowledge any validity in the issue at hand.
When seen in this light, stonewalling can be both an aggressive and passive-aggressive act. Aggressive stonewalling can be seen in verbal bullying behaviors while passive-aggressive stonewalling can be seen when one partner gives the other the silent treatment.
Is it Abuse?
Stonewalling can very much feel like emotional abuse to the recipient. In fact, the stonewaller often uses stonewalling to control a situation or to punish the other partner.
On the other hand, stonewalling may not have a nefarious intent. It could have been a pattern modeled in childhood by parents. The stonewaller could simply be modeling his or her own parent's behavior. Since the stonewaller never saw an alternative to stonewalling, it became a standard pattern of relating, albeit a strongly dysfunctional pattern. Thus, stonewalling must be examined both in context and in intent.
"Stonewalling is a widely-used strategy in most unsatisfying relationships. Stonewalling alone without any other more coercive tactics probably does not limit the partner so much that a relationship can be termed abusive. That is because someone on the receiving side of stonewalling still has options to end the relationship, or get needs met elsewhere. In a business relationship, stonewalling makes no sense because the other party would just take their business elsewhere.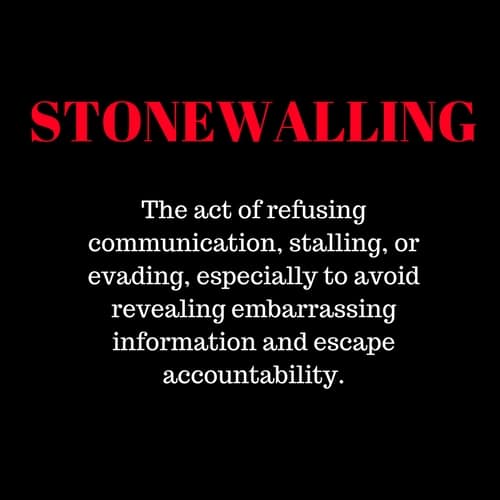 A clear and definite "no" may be part of non-cooperation but it is not stonewalling. Part of the deliberate intention of stonewalling is to keep the survivor 'on the hook' and not really able to pursue alternatives because the issue is still 'open' in some technical sense. However, in an abusive relationship, isolation and threats are usually present, and the survivor has no safe options to pursue needs except through the primary aggressor." (4)
Thus, stonewalling is one of the many tactics abusive people use to meet an agenda of power and control over a victim. However, stonewalling as a tactic outside of an emotionally abusive atmosphere is better described as one of the Four Horsemen. I will provide a couple of scenarios to illustrate in a more concrete way the two types of stonewalling.
Abusive Stonewalling
The first thing that differentiates abusive stonewalling from standard stonewalling has to do with the recipient's options and whether or not the recipient is completely isolated. Abusers always first isolate their victims and often ensure that their victims have limited to no contact with friends and/or family. An abuser uses stonewalling as one of many tactics that controls the victim. Stonewalling (either the verbal or silent kind) is meant to overtly control the victim through punishing the victim with stonewalling behaviors. Still, stonewalling on its own does not mean that someone is in an abusive relationship since stonewalling must be only one tactic of many abuse tactics used to control. 
Here is a fictional scenario that involves abusive stonewalling:
Adam and Rose have been married for 10 years. Over the course of their marriage, Adam has ensured that Rose lose contact with the outside world. She is punished if she wants to start a new volunteer activity, have lunch with her sister, or call her mother. Adam often tells Rose she is not good enough and complains about everything she does and says.
One day, Rose asked Adam if she could take up tennis lessons to get in shape. Adam walked away and locked himself in the bedroom. Rose had to sleep on the couch. The next morning, Adam pretended Rose was not there as he got ready for work. Finally, he left for work without even acknowledging her. When Rose tried to call him, all of her calls went to voicemail. This continued for several days until Rose apologized to Adam for wanting to take tennis lessons.
In this example, Adam is using the silent kind of stonewalling to punish Rose. But, the relationship itself is also abusive and stonewalling is one of the many tactics used to accomplish emotional abuse. This is abusive stonewalling.
Stonewalling as One of the Four Horsemen
Stonewalling can also appear in non-abusive contexts. Stonewalling in non-abusive contexts is one of the Four Horsemen since stonewalling is used to shut down uncomfortable communication. It is a favorite tactic of those who wish to sweep their bad actions under the rug. It can also be used as a way to force the recipient to stop talking about a topic that the stonewaller wishes to ignore.
Stonewalling is a favorite tactic of wayward spouses and is often used to shut down any talk about the affair. For example, a betrayed spouse could be triggered by something that makes him or her think about the affair. After being triggered, a betrayed spouse will often ask a wayward spouse about a detail of the affair. If the wayward spouse "just wants it to go away" and carry on life as before, he or she will often use a stonewalling behavior to ensure that the betrayed spouse drops it.
Here is a scenario that involves stonewalling as one of the Four Horsemen:
Harry and Mary are recovering from Mary's physical affair with a coworker. Ever since the affair was discovered, Mary has done everything possible to hide the details from Harry. Mary believes that because she broke it off with the coworker, the details are not important. Plus, Mary does not want to feel ashamed of her behavior so she suppresses any uncomfortable reminders of her affair.
One day, Harry is triggered when he picks up Mary for lunch. As Harry waits for Mary, he sees Mary's coworker walking alone through the parking lot. Harry becomes anxious and all kinds of scenarios flood into his mind. When Mary gets into the car, Harry is in a cold sweat. Harry immediately says, "I just need to know if you two did anything at our house. Since you won't tell me anything, my imagination is getting the best of me and it is driving me nuts! Please tell me something…"
Mary stares coldly at Harry and then says in an icy voice, "I told you it is over and you cannot bring this up again." Mary stays silent on the way to the restaurant and plays with her phone during lunch. She treats Harry like a non-entity until Harry apologizes for bringing it up.
In this scenario, Mary is a rug sweeper and is using stonewalling to shut down any communication about the affair. Stonewalling is definitely a manipulation tactic, but it is not necessarily emotional abuse.
Still there is a very fine line. Stonewalling can easily become abusive if the wayward spouse decides to use it for power and control (and not merely for rug sweeping.)

How Stonewalling Makes Betrayed Spouses Feel
Living with someone who engages in stonewalling behaviors can make a betrayed spouse feel as if they are sometimes coming unhinged. After all, a betrayed spouse needs answers.
Betrayed spouses need to understand what happened, why it happened, and they need to be reassured that it will never happen again. Most of all, betrayed spouses need wayward spouses to take ownership for their actions.
The main way a wayward spouse takes ownership is by talking with a wayward spouse about the affair and giving up the need to hide details, to change the subject, or to give the silent treatment. (In my mind, changing the subject is a subtle form of stonewalling. I do not know if others will agree.)
Yet, wayward spouses love to use stonewalling as a way to avoid talking about the affair and in so doing avoid taking responsibility.
Stonewalling is never okay. In affair situations, stonewalling becomes even more corrosive.
Antidote to Stonewalling 
As we know, the only person we can change is ourselves. Still, it is necessary to communicate to the stonewaller that a communication breakdown is occurring. It is likely that the person stonewalling is flooded. Ellie Lisitsa recommends: 
The antidote is to practice physiological self-soothing. The first step of physiological self-soothing is to stop the conflict discussion…The only reasonable strategy, therefore, is to let your partner know that you're feeling flooded and need to take a break. That break should last at least twenty minutes, since it will be that long before your body physiologically calms down. It's crucial that during this time you avoid thoughts of righteous indignation ("I don't have to take this anymore") and innocent victimhood ("Why is he always picking on me?"). Spend your time doing something soothing and distracting, like listening to music or exercising." (5) 
In other words, the antidote to stonewalling is taking a planned break with the intention that both parties self-soothe and reflect. It is best not to name the stonewaller as the bad guy.
Personally, I like to speak about things in behavioral terms. When my husband and I are at an impasse and he is flooding and then stonewalling, I generally say something to the effect of: "I know both of us want to have a good marriage and be happy in our marriage. I would like for us to communicate in ways that allow both of us to be happy and be heard. Shutting down interrupts that, so let's find a way to address this topic in a way where neither of us feel attacked. What can I do to make this conversation more comfortable?"
At that point, I ask my husband what I can do and I follow it up with specific behaviors that he does that make me feel shut out. I make it clear that our marriage is not the conflict and that we love each other and have the same goals. Then I bring it back to the topic at hand.
There is no one size fits all, so this won't work for everyone. Still, when dealing with someone who is stonewalling, it is best to verbalize that you understand where they are at (flooded) and reiterate that a happy marriage is the goal. 
Obviously, this only works if your spouse wants to have an even playing field. If your spouse is set on using stonewalling to cover up something he will never discuss, then you have a much larger problem. In this case, your spouse is withholding important information and refusing to give you what you need. This is like putting an herbicide on the garden of a relationship—it kills the love that would have kept blooming. The heart of successful relationships is good communication.
But, good relationships are also about taking ownership. The person who refuses to talk about something at all costs is shutting down communication and in so doing refusing to take ownership. This behavior is costly to marriages because it is impossible to have a good marriage while serious transgressions are blatantly ignored.
In Summary
Stonewalling is the last of the Four Horsemen. Although some might use the proverbial silent treatment as a way to prevent bringing up painful topics, this type of censorship is highly corrosive to marriages.
Stonewalling in marriage becomes even more serious in situations where there has been an affair. Betrayed spouses need answers and they need a wayward spouse to take ownership. Stonewalling prevents these two things from happening. Worst of all, it leaves a betrayed spouse feeling anxious, undermined, unloved, and abandoned.
Sources
Lisitsa, Ellie. The Four Horsemen: Criticism, Contempt, Defensiveness, and Stonewalling. From https://www.gottman.com/blog/the-four-horsemen-recognizing-criticism-contempt-defensiveness-and-stonewalling/
Meyer, Cathy. Stonewalling in Marital Relationships. From http://divorcesupport.about.com/od/isdivorcethesolution/a/Stonewalling-In-Marriage-Relationships.htm
Neill, Neil, PhD. Is Stonewalling Causing Problems in Your Marriage? From http://www.neillneill.com/stonewalling-in-your-marriage
Abuse and Relationships. Stonewalling. From https://www.abuseandrelationships.org/Content/Behaviors/stonewalling.html
Lisitsa, Ellie. The Four Horsemen Antidotes. From https://www.gottman.com/blog/the-four-horsemen-the-antidotes/