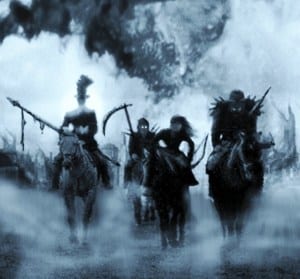 What are the dreaded "Four Horsemen of the Apocalypse" and how can they destroy your marriage if you don't act quickly?
John Gottman, Ph.D., is a well respected psychologist, marriage researcher and author of many books including, Why Marriages Succeed or Fail: And How You Can Make Yours Last . 
He says that an unhappy marriage can increase your chances of becoming ill by 35% and take four years off your life.  He also believes that "working on your marriage every day will do more for your health and longevity than working out at a health club".
Through his research of married couples he can predict the end of a marriage relationship with a stunning 93 percent accuracy!
Although many of us believe that anger is the root cause of unhappiness in relationships, Gottman notes that it is not conflict itself that is the problem, but how we handle it.
Venting anger constructively can actually do wonders to clear the air and get a relationship back in balance. However, conflict does become a problem when it is characterized by the presence of what Gottman calls the "Four Horsemen of the Apocalypse":  Criticism, Contempt, Defensiveness, and Stonewalling.  (The Four Horsemen of the Apocalypse are referenced in the Bible as well and are seen as symbolizing Conquest, War, Famine, and Death.)
If you want to know how to instill love and respect back into your marriage, start by eliminating the four horsemen.
The Four Horsemen of the Apocalypse
The first of the horsemen is Criticism.  It's important to understand the difference between criticizing and complaining, because criticism can soon lead to contempt. 
Criticism involves attacking your partner's personality or character, rather than focusing on the specific behavior that bothers you. Complaints are objective statements of unmet needs.
Gottman feels that it is healthy to air disagreements, but not to attack your spouse's personality or character in the process. This is the difference between saying, "I'm upset that you didn't do the laundry" and saying, "I can't believe you didn't do the laundry. You're so lazy." In general, women are more likely to utilize this horseman.
The second horseman is Contempt. Contempt is intentionally abusing your spouse verbally, emotionally, and/or psychologically.  Contempt is an open sign of disrespect. Contempt is probably the most dangerous of the four horsemen, as it can wither affection and destroy hope.
Contempt expresses the complete absence of any admiration or respect and is delivered with insults, name-calling, hostile humor, mockery, sneering, eye-rolling and other negative body language.
Contempt is toxic and its presence is an indication of a disintegrating marriage. It must be eliminated.
If criticism and contempt are a regular part of your relationship then you may want to consider counseling to help you to eliminate it.  Both of these horsemen can be tough to get rid of though because they tend to be born out of negative childhood experiences such as parental criticism, shaming or belittling.
The third horseman is Defensiveness. Defensiveness is a natural reaction to being criticized or treated condescendingly. It's also a way of denying responsibility and does not help the relationship.
If you fail to address complaints and don't contribute any solutions of your own, those complaints are likely to become criticisms you naturally want to defend against.  It's a vicious cycle.
When a person is defensive, he or she often experiences a great deal of tension and has difficulty tuning into what is being said. Making excuses or meeting one complaint with another are two additional examples of defensiveness.
The fourth horseman is Stonewalling. People who stonewall simply refuse to respond. It may because you're unaware of your own feelings or you are afraid of conflict. Rather than dealing directly with the issues at hand, you pull yourself out of the marriage without solving your problems. Basically you're tuning things out.
Occasional stonewalling can be healthy, but as a typical way of interacting, stonewalling during conflict can be destructive to the marriage. This is also a behavior that men tend to engage in much more often than women do.
All couples will engage in these types of behaviors at some point in their marriage, but when the four horsemen become a permanent fixture then the relationship has a high likelihood of failing.
However, Gottman has also made it clear that with work and an investment in overcoming these challenges, marriages can improve and become successful.
It's how conflict is handled that makes all the difference. 
Take an inventory of where you both are in your marriage and then use the resources that are at your disposal – books, counselors, mentors, blogs, support groups, etc. and work to become better.
So…Are the Four Horsemen of the Apocalypse present in your marriage or relationship?  If so, in the comment section below, tell us how they have affected your relationship and what you're doing to eliminate them.