Have events  in your marriage and/or affair recovery process left you thinking that you may be in an emotionally abusive relationship?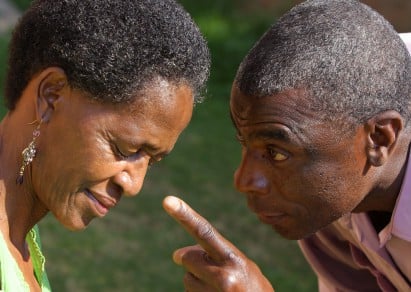 By Linda
We've blogged n the past about emotional unavailability, but have events  in your marriage and/or affair recovery process left you thinking that you may be in an emotionally abusive relationship?
Do you ever feel that you are walking on eggshells when you are with your partner? 
Are you afraid to voice your needs, opinions or display your emotions because of possible repercussions? 
Do you feel that your partner lingers between being resentful, angry, critical, disapproving, or gives you the cold shoulder when you try to talk to them about delicate subjects? 
Do you second guess your own judgments and ideas and question what you think is right and wrong?
In essence, do you feel like you have lost yourself and in turn have become an angry and resentful person?
You may be in an emotionally abusive relationship
When most of us think about emotional abuse we think of a spouse who yells at us, puts us down and calls us terrible names.  They verbally belittle us in front of our families and friends.  While this kind of behavior is indeed considered abuse, there are many kinds of behaviors that also pound stakes in our hearts.
These behaviors may include sarcasm or little jokes about you that aren't very funny.  There may be times when you try to voice your needs and your spouse twists things around by replying "You are crazy. Here you go again, you're trying to ruin…., you're imagining things…etc.  Basically, you get some sort of response that begins with YOU.
Other signs of an emotionally abusive relationship include your spouse's failure to show any compassion when you are upset, constant stonewalling, being overly critical or trying to control some aspect of your life.
These kind of daily interactions often manipulate our thinking, make us feel that we are lacking in some way and that our needs are not important. Emotional abuse sets up the dynamic where the victim believes that they are to blame for everything that is wrong in the relationship and they must work harder to fix the problems.
Victims of an emotionally abusive relationship feel dejected, incompetent, inadequate, unlovable and afraid.  They believe that if they could only be a better spouse, person, parent etc., their spouses will love them and care for them.  Eventually they lose themselves and their core values and will do anything to avoid the pain.
Minimizing the Impact of the Emotionally Abusive Relationship
The Center for Relationship Abuse Awareness says that people often minimize the impact that emotional abuse has on a person's overall well being and happiness. A person who is experiencing verbal and emotional abuse might feel the following emotions:
A distrust of her spontaneity
A loss of enthusiasm
An uncertainty about how she is coming across
A concern that something is wrong with her
An inclination to reviewing incidents with the hopes of determining what went wrong
A loss of self-confidence
A growing self doubt
An internalized "critical voice"
A concern that she isn't happier and ought to be
An anxiety or fear of being crazy
A sense that time is passing and she's missing something
A desire not to be the way she is- "too sensitive," etc
A hesitancy to accept her perceptions
A reluctance to come to conclusions
A desire to escape or run away
A tendency to live in the future, e.g. "everything will be great when/after…"
A distrust of future relationships
Walking on Eggshells
Consider the following passage from the book "You Don't Have To Take It Anymore"  by Steven Stosny, Ph.D.
"Anyone can fall into walking on eggshells in a relationship.  It is actually very easy for any kind of love relationship to go wrong.  Most of us enter love relationships without an inkling of how to make them work. When it comes to love we are inadequate.  But if you do not allow yourself to feel inadequate for even a moment, your emotional energy will go to avoiding that which makes you feel inadequate, namely relationship skills. The abuser's inability to tolerate occasional feelings of inadequacy is why they become resentful, distant, angry or abusive when you express some desire or emotional need or say anything that may be construed as criticism.  These people fail to tolerate feelings of inadequacy long enough to motivate behavior that will allow them to reconnect and reattach to love ones.  Instead, they blame their feelings of inadequacy on their loved ones."
The Need to be Safe
Anyone who has been in an emotionally abusive relationship will agree that the greatest need in their relationship is to be safe.  They need to be reassured that they are safe to express their needs and emotions to their partner and to be loved and accepted for who they are.
Trust me, I have only touched the tip of the iceberg on the subject of the emotionally abusive relationship in this post.  If you feel that you are in a relationship that contains some type of these behaviors mentioned above, you could also be in an abusive relationship.
To find out more, there are many websites that have quizzes and additional information about emotional abuse.  Two such websites with quizzes are CompassionPower.com (One of Stosny's sites) and PsychCentral.com.  When doing a search in Google for emotionally abusive relationships you will find many sites that may be helpful. Click here for the search results.
There are also many books on this subject.  In addition to "You Don't Have To Take It Anymore," Stosny has also authored "Love Without Hurt: Turn Your Resentful, Angry, or Emotionally Abusive Relationship into a Compassionate, Loving One" that may be of interest as well.  You can find many more on Amazon as well.