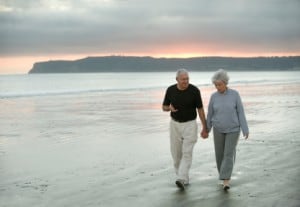 There comes a point in time in the affair recovery process when the partners must decide whether they are going to be married and redefine their relationship, making it the best marriage possible (commit) – or they are just merely going to survive infidelity.
When we get married we make a vow to our spouse to be faithful to them. We made a commitment.  Infidelity shatters this commitment and leaves both parties unsure of what the future might hold.
In the context of a relationship, the word commitment can be defined differently by each of us.  When defining commitment I think that often times we tend to confuse the word promise with commitment.
David Steele, MA, LMFT says that a promise is a verbally stated future intention to perform a specific act.  For example, "I promise to call you if I'm going to be late this time."  "I promise to be true to you."
Steele says a commitment is both a fact demonstrated by behavior, and an attitude consisting of thoughts and beliefs.  For instance, "I am committed to keeping my promises."  I am committed to our relationship."
"In short, a promise is something you say, and a commitment is something you do. A promise is situation-specific. A commitment is contextual."
Richard Nicastro, Ph.D. states that when a couple is committed to one another, the union remains more important than the needs of the individual. Without mutual commitment, deep trust will never take root and intimacy will soon fade away.  Nicastro says:
"A lack of commitment reduces the buffer that holds relationships together during times of conflict and stress. Imagine living with the fear that periodic slumps in your relationship can cause your partner to bail."
Commitment thus has a dual role in a relationship. You can consider commitment as a way to help deepen and strengthen your love and you can also see it as a safety net of sorts.  Commitment helps to protect your marriage or relationship during the difficult periods that each and every relationship experiences.
Affair Recovery – The Decision to Recommit
As stated earlier, there will come a time when we have to decide whether or not to recommit to each other and work to build something new and better within our relationship.  The betrayed spouse will need to decide whether he/she can fully give himself/herself to the other and risk the chance of being hurt again.  Many of you might not be to this point in time yet, as it typically will take you several months of recovery before you can even think of recommitting.
In the early stages of recovery both parties are still feeling too much confusion, pain and emotions.  They have to work through a variety of other issues like trust and forgiveness and don't really even consider recommitment at this point.
That being said, as recovery proceeds, failing to take the final step of recommitting can leave couples feeling as though they are stuck.  This feeling can last a long time and can cause them to remain emotionally divorced though still legally married. They settle for a relationship that neither one really wants.
If you are further along in your affair recovery process and have worked through the majority of post-affair issues, you may feel as though you are stuck.  Perhaps it's because your relationship has never been redefined.  Do you want a marriage that is better, or do you just want to survive the affair?  You may want to ask yourself just exactly where your relationship is headed and if you both are ready to recommit to one another as you move forward together.