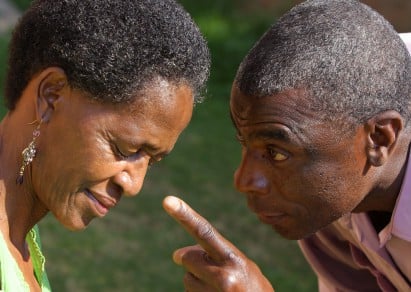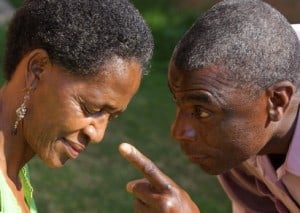 For years, when faced with conflict or anger in our relationship, Doug and I would perform a "dance of anger."  I've come to learn that this "dance" is toxic to a relationship.
When I found out about Doug's emotional affair I did not become angry – even after he continued his affair and said and did some horrible things.  At the time I am not sure I understood what anger felt like.  I know I was very emotional and I took responsibility for the way Doug felt and repressed most of what he was doing to me. I now understand that this was my way of expressing anger.
Consider the following passage from the book "The Dance of Anger" by Harriet Lerner:
"Anger is a signal, one worth listening to. Our anger may be a message that we are being hurt, that our rights are being violated, that our needs or wants are not being adequately met, or simply that something is not right.  Our anger may tell us that we are not addressing an important emotional issue in our lives, or that too much of our self – our beliefs, values, desires, or ambitions – is being compromised in a relationship.  Our anger may be a signal that we are doing more and giving more than we can comfortably do or give.  Or our anger may warn us that others are doing too much for us, at the expense of our own competence and growth.  Just as physical pain tells us to take our hand off the hot stove, the pain of our anger preserves the very integrity of our self.  Our anger can motivate us to say "no" to the ways in which we are defined by others and "yes" to the dictates of our inner self."
The "dance" is the pattern that all relationships seem to follow with respect to anger and getting angry where one individual acts a certain way and the other responds in their own particular way.  The pattern is repeated over and over with the same results.  Nothing gets resolved.  Yet it's comfortable.  It takes at least one of the individuals to change the "dance" in order to achieve a different result.
"The Dance of Anger" discusses how as women we need to be aware of our anger and the ways we deal with it.   We have to look at anger as a signal that something is going wrong. Lerner explains that only when we address the "something wrong" in a useful way will the anger go away.(I can only presume that  men need to address their anger in much the same way.)
Most women are taught at a very young age that it is not attractive to show our anger.  It is our job to please, protect and placate the world.  We also learned from experience that women who openly express their anger may be labeled as "bitches," "nags" or "man-haters."  And when a woman shows her anger she is likely to be dismissed as irrational or it must be the wrong time of the month.
Lerner states that we learn to fear our own anger, not only because it brings about the disapproval of others, but because it signals the necessity for change.  Anger is something we feel.  It exists for a reason and always deserves our respect and attention.
Lerner mentions two styles of managing anger that both serve equally well to protect others, to blur our clarity of self, and to ensure that change does not occur.  The first is the "Nice Lady" syndrome.  In situations that may evoke anger we stay silent or become tearful, self-critical or hurt. If we do feel angry we keep it to ourselves in order to avoid the possibility of open conflict.  Not only do we keep our anger to ourselves, we also avoid making clear statements about what we think or feel.
When we behave in this way, our primary energy is directed toward protecting the other person and preserving the harmony of the relationship, at the expense of defining a clear self.  The "Nice Lady" often represses their anger and feels guilty instead.  As a result, the guilt will blot out the awareness of the anger.  I think that for many women, they believe  it is nobler to feel guilty rather than angry.
The second style of managing anger is the "Bitchy" woman.  "Bitchy" women are not shy about getting angry and stating their differences.  However the words like "bitchy" and "complaining" are words of helplessness and powerlessness, which do not imply even the possibility of changes.  When we vent our anger ineffectively, we illicit other people's disapproval instead of sympathy.
"The Dance of Anger" provides a tool for change in relationships by focusing on four areas:
Learning to tune into the true sources of our anger and clarify where we stand.
Learn communications skills that will maximize the chances we will be heard and that conflict and differences will be negotiated.
Learn to observe and interrupt nonproductive patterns of interaction.
Learn to anticipate and deal with counter moves or reactions from others.
I found this book very insightful and helpful.  For one, I was able to identify how I deal with my anger.  I am definitely the "Nice Lady" and am now aware of the patterns that I use to dismiss my anger and how unproductive they are to promoting change.  I also learned much about the dynamics of our relationship and how we do the same "dance" when confronted with conflict.  We have been doing this dance for years – always with the same results.  I have realized how important it is to change my behavior so I can clearly state my ideals without doing the same old "dance" with Doug.
LINESPACE