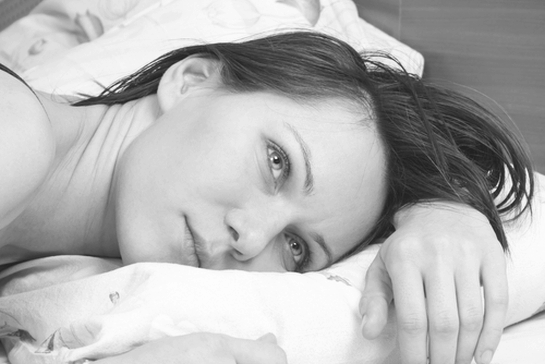 By Sarah P.
Abandonment causes deep shame. Abandonment by betrayal is worse than mindless neglect. Betrayal is purposeful and self-serving. If severe enough, it is traumatic." Patrick J. Carnes, PhD (1)
The other day when I was looking for studies in psychology databases, I saw an abstract that caught my eye. The abstract basically said that the author's of a paper had found that extreme frustration in romantic relationships is an essential part of falling in love.
While I did not read their paper, it got me to thinking. Suddenly a light-bulb went on and I realized that this is why the plots of the most successful romantic comedies always include scenarios of frustration as key plot points. I also realized that this is why some men seem to love the girl that plays hard-to-get or who is the proverbial; one that got away. (Some women seem to equally love hard-to-get men).
This led to thoughts of the role frustration plays in situations where there is infidelity. There is no doubt that the element of frustration fuels the passion of the affair. But, what about the frustration the husband or wife feels when going through the recovery process? What about the frustration he/she feels when his/her spouse bounces back and forth between the spouse and the affair partner?
Add to that, if true frustration is an essential element in falling in love, then it gets interesting. If it is an essential element of falling in love, wouldn't it also cause people to become more deeply attached and perhaps fall deeper in love when there is frustration in marriage? I would say yes.
If that is true, then negative frustration, especially the kind caused by the husband or wife during an affair, has the potential to inspire deeper feelings of love in his/her spouse and suddenly love takes on a sinister tone.
The phrase that popped into my head was trauma bonding. Those bonds are the most sinister of all because they are based solely on harm.
You have probably heard of Stockholm Syndrome, which is a phenomenon where hostages can actually bond to and have empathy for the individuals who have taken them hostage. Stockholm Syndrome is a type of trauma bond that can develop when an individual's life depends on another individual who is in a more powerful position within the relationship. Hostages can develop irrational feelings of positivity toward their captors, even though their lives are in danger.
Trauma bonds are commonly defined as strong emotional attachments, which because of the cycle of abuse, cause an individual to develop profound psychological attachments to his or her abuser.
Generally, the idea of a trauma bond is used specifically in cases where someone is subjected to some kind of emotional, physical, or sexual abuse. In addition to that, sometimes this concept has been used to describe how the partners of sex addicts feel and why it is difficult for them to leave a relationship.
However, I would like to branch out and explore the possible connection between trauma bonding and extramarital affairs. Granted, this could be a reach in the opinion of some, but I do believe this idea has validity and I will use this article as an avenue to better explore the concept of the trauma bond and why it's probable that is plays a role in extramarital affairs, specifically why it is so hard to let go when someone has caused you profound emotional pain.
I will theorize that the inability to easily let go after a person's spouse has had an affair is the direct result of a trauma bond.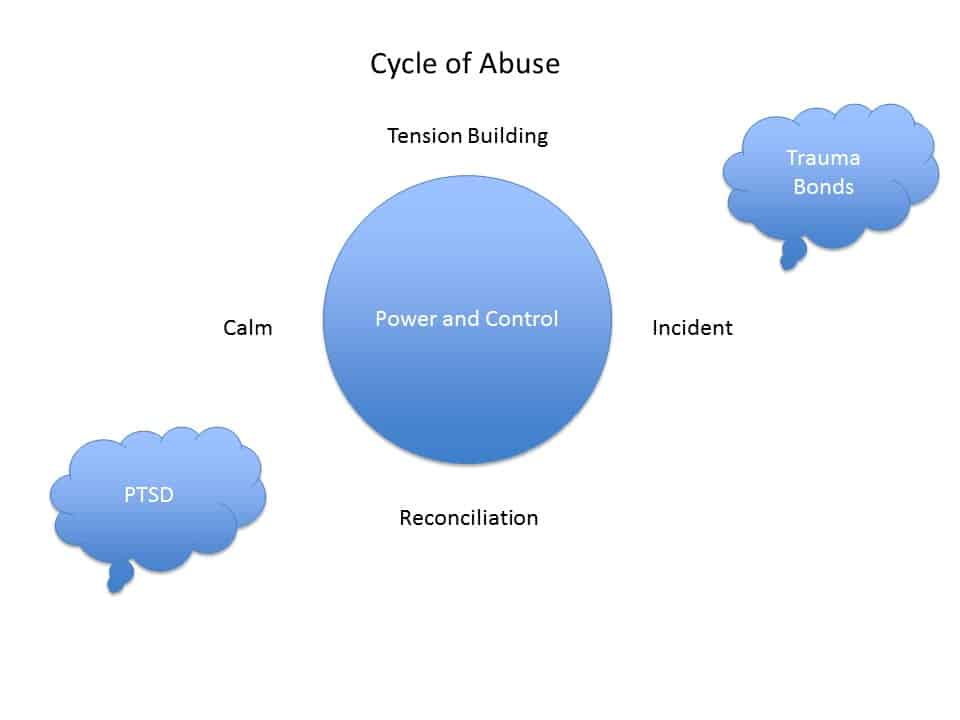 The Cycle of Abuse
But, before I dive into the trauma bond, we need to first look the cycle of abuse.
My argument will rest on the idea that the dynamic established during the cycle of abuse and in its aftermath will be the bridge toward trauma bonds after an affair.
The graphic above illustrates the cycle of abuse in its most basic form.
The little rain cloud shapes represent the free-floating PTSD and trauma bonds that are always around. The graphic above generally applies to physical abuse, but it can also apply to emotional abuse. At the center of it all, the motive is power and control.
People who behave abusively are usually so out of control in their own minds that they want to have power and control over their domain as well as the people in 'their' domain. In cases of physical abuse and emotional abuse, people are no longer people and become the object of control.
Now, that very same cycle plays out during an extramarital affair. But, while the motive may not be power and control, the same harmful dynamic exists and this harmful dynamic is cyclical.
Women and men who go through affairs can develop PTSD just as those who have been physically or emotionally abused can develop PTSD. So, the link here is the cyclical negative dynamic that is caused during an affair and in its aftermath as well as the frustration that occurs on the part of the hurt spouse.
Often we find that betrayed spouses have a difficult time leaving their husbands or wives after the affair. Why? Because if you put it all together, you have all the necessary ingredients that are needed for a very profound trauma bond to take shape. Here is a graphic that illustrates the dynamic an affair can create between the husband and wife.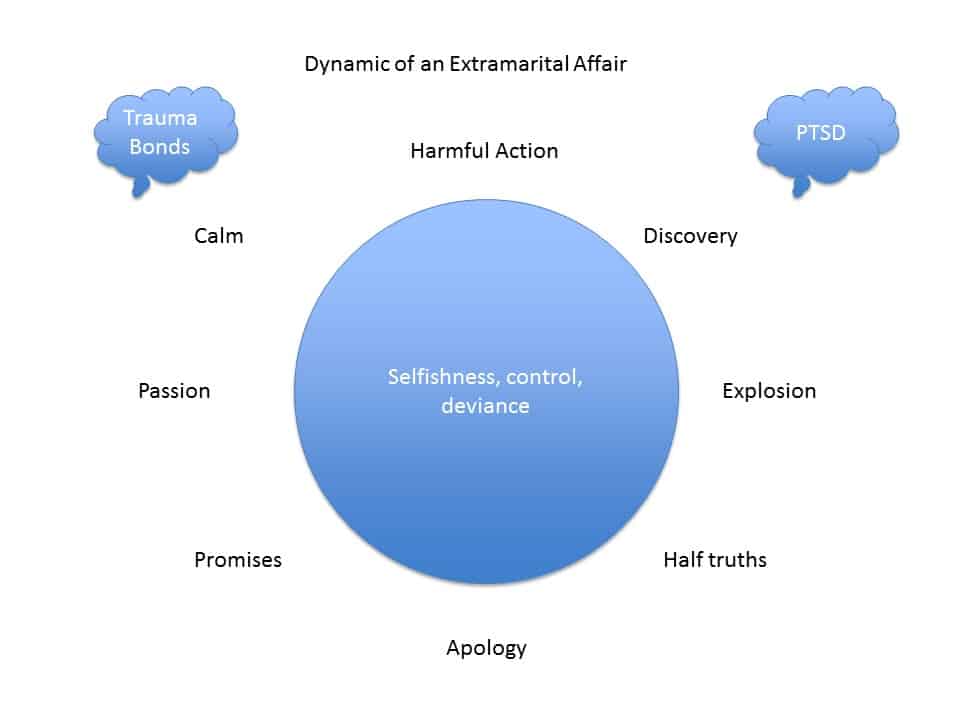 Note that even though, at least on the surface, it appears to be different than the cycle of abuse graphic, the recipe is the same. There is a negative motive inside the circle and the same cycle of pain that is kicked off again and again.
Affairs are the gifts that keep on giving.
I believe that this affair cycle can cause free-floating PTSD that results in trauma bonding. After all, our nervous system and brains cannot tell the difference between emotional pain caused by emotional/physical abuse or emotional pain caused by the cyclical and harmful nature of infidelity.
As in both affairs and physical abuse, there are promises, seeming resolutions, and the calm before the storm. Just when you least expect it, you are thrown for another loop. Those loops in the aftermath of an affair can be caused by either finding out the truth about a lie you were told, or discovering a new fact, or by a partner when he/she is indecisive about whether to stay or go.
In fact, I would classify infidelity as a type of emotional abuse. So that you can see a parallel, here is a common definition of emotional abuse:
Any act including confinement, isolation, verbal assault, humiliation, intimidation, infantilization, or any other treatment which may diminish the sense of identity, dignity, and self-worth." (2)
Note that the definition of emotional abuse doesn't say that all of those actions/traits need to be present in order for it to qualify as emotional abuse.
Generally, when psychologists write definitions they clearly state when all of the criteria must be met in order for a label to qualify. So, let's look at the elements of emotional abuse that parallel with an affair specifically directed toward the victim (innocent spouse) of the affair:
humiliation
verbal assault
isolation
intimidation
There are other negative things that are also directed at the victim such as:
lying.
manipulating
invalidating
fear
All of these things work together to "diminish the sense of identity, dignity, and self-worth" of the victim just as the definition of emotional abuse states.
Thus, it doesn't take a rocket scientist to figure out that infidelity could qualify as a type of emotional abuse. Emotional abuse causes strong trauma bonds as well as PTSD in some cases. Now do you see why I am putting forth the idea that trauma bonds make it really hard to leave a situation after an affair?
What Does Trauma Bonding Look Like?
So what does a trauma bond look like? Let's start with a definition of a trauma bond before we dive in:
Bonding is a biological and emotional process that makes people more important to each other over time. Unlike love, trust, or attraction, bonding is not something that can be lost. It is cumulative and only gets greater, never smaller. Bonding grows with spending time together, living together, eating together, making love together, having children together, and being together during stress or difficulty. Bad times bond people as strongly as good times, perhaps more so. Moreover, experiencing together extreme situations and extreme feelings tends to bond people in a special way. Trauma bonding, a term developed by Patrick Carnes, is the misuse of fear, excitement, sexual feelings, and sexual physiology to entangle another person." (3)
Though this definition that describes the anatomy of a trauma bond does not exactly look like the anatomy of an affair, there are commonalities. Thus, my argument rests of the premise that commonalities and outcomes are enough of a bridge to join the idea of trauma bonds and affairs.
As the definition says, bonding is not something that is lost and it grows with experience. It also says that bad times can bond people together more than good times.
I remember reading studies that demonstrated that a couple facing a fear arousing or emotionally intense situation can cause much deeper bonds between that couple. This is often why affairs can begin at work. One man is fearful of his job and so a female coworker helps him through the fear and acts as an office advocate for him.
Or perhaps a male and female coworker spends late nights working on high-stress and high-intensity projects together. This type of situation will cause them to bond. 
But a bigger problem begins when it has been shown (on average) that a spouse will spend more time per week talking to coworkers than their spouse. When those coworkers are of the opposite sex, it's like carrying a torch around the vicinity of a keg of dynamite. People will likely get hurt. But, that is beside the point.
So, knowing that intense situations create strong bonds and knowing that the aftermath of an affair creates explosive emotions and intensity, I believe it is fair to say that people have the potential to bond because of that trauma.
I believe that the spouse who is betrayed will develop the trauma bond since her/his dignity, sense of identity, emotional safety, and self-worth has been greatly diminished. The individual has been made ripe for a trauma bond and the greater the intensity of the aftermath, the potential for a greater trauma bond.
These bonds make it notoriously difficult to leave and I believe that a trauma bond makes it 100 times more difficult to leave a spouse than a regular bond based on healthy dynamics and fair treatment.
Here is my assumption in a visual chart: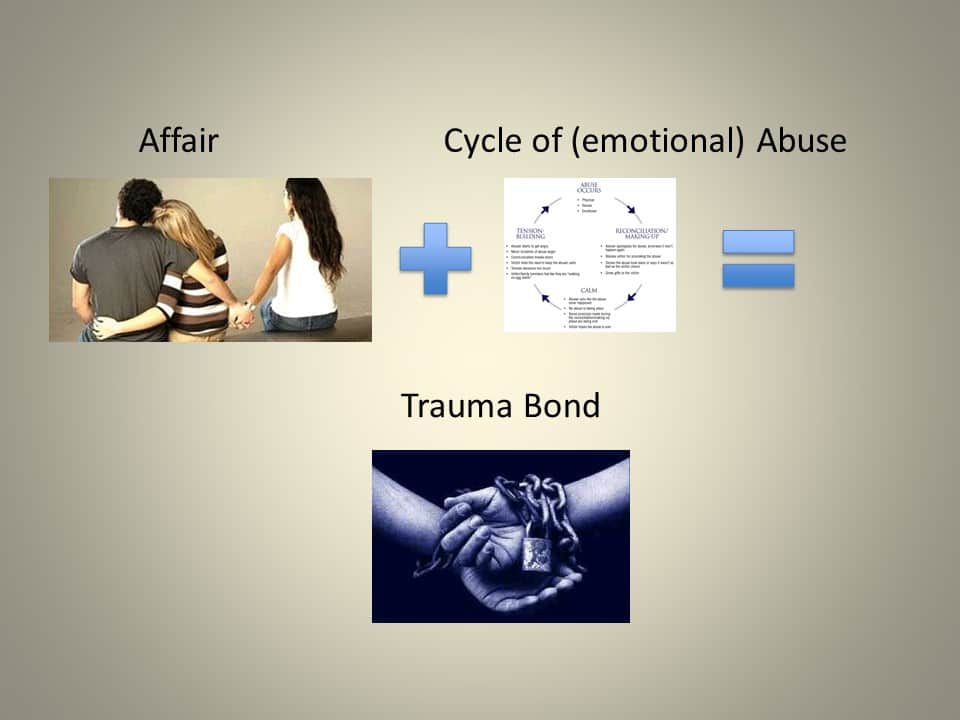 Note that the cycle of emotional abuse must occur in order for trauma bonding to occur. While not every single affair contains the cycle of emotional abuse, I believe that the vast majority do. Even if a husband or wife is not actively emotionally abusive, even if he or she is passive, the result is the same: a wife or husband loses her/his entire sense of self.
Thus, it is my belief that affairs (by nature) are emotionally abusive.
The Bible agrees with me in terms of the seriousness of infidelity. In Biblical times, it was the only sin that was regularly punished by death.  Do I believe people should be executed for having an affair? NO. But I do believe that more stiff penalties should be in place.
I believe that infidelity has lost seriousness in our culture and that is a very grave thing for both marriages and society as a whole. I think that we should have a nationwide return to the laws regarding alienation of affection. In my opinion, most people don't like to be hit where it hurts: the bank account.
Here is the low-down on alienation of affection:
In a small minority of states, a spouse may sue a third party for willfully and maliciously interfering with the marital relationship. This interference results in winning away the love of a husband or wife from his/her spouse. This suit is usually brought against the adulterous spouse's lover. Although, the statutes also allow for these claims to be filed against an in-law, relative, counselor, therapist, or clergy member who has talked the spouse into leaving the marriage. This type of claim is part of tort law, and is known as alienation of affection. Criminal conversation is a claim closely related to Alienation of Affection. It is basically a civil claim for adultery, formally known as "seduction". Unlike Alienation of Affection, it is not necessary to prove that the offending party acted with malice or that the adultery had any effect on the marriage. Adultery must be proven in a criminal conversation claim, though; whereas that is not required in an Alienation of Affection claim." (4)
Unfortunately, only six states have alienation of affection statutes, which would allow a betrayed spouse to sue. These states are Hawaii, Utah, North Carolina, Mississippi, New Mexico, and South Dakota. Unfortunately, Illinois was the most recent state to abolish alienation of affection statutes; otherwise there would have been seven states.
Save moving to one of those six states, this leaves everyone else without any recourse, which I don't find fair at all. (And by the way, alienation of affection laws apply to both women and men who have been betrayed!)
So where is the other woman's legal culpability in all of this? Lindsey O'Neill, Esq, says this:
Well, why shouldn't she bear some responsibility?  She's equally at fault!  SO WHAT if she didn't make any commitments to the wife or girlfriend.  Does that make it right for her to go after someone else's husband or boyfriend? Here's the thing – we've decided as a society that certain behaviors are not OK.  As a result, we've decided that there are certain standards by which people are obligated to act.  We expect people to act according to "that degree of care that an ordinarily prudent person can be reasonably expected to exercise under similar circumstance."  If someone acts "unreasonably" in those situations, then they can be sued for the harm caused to a third person as a result… it just seems right to me that people should be held accountable for the harm they cause to others – especially harm to the things most of us consider to be the most valuable, fundamental relationships in our lives." (5)
I second that opinion! Sometimes society as a whole forgets that the other woman is a grown adult (although this is disputable due to her behavior) who repeatedly made the choice to have a relationship with someone else's husband.
While she has full knowledge that what she is doing is immoral and destructive to others, she knowingly continues this same destructive behavior. But, back to the point: the other woman's  (and man's) behavior helps create the very trauma to the wife or husband that lays the foundation for the trauma bond as well as PTSD.
What Does the Relationship Look Like When the Hurt Spouse has PTSD or a Trauma Bond?
So, psychologically speaking, what does a relationship look like when a hurt spouse has a PTSD or a trauma bond due to an affair? Let's first look at the attributes and reasons for PTSD due specifically due to emotional harm, such as abandonment:
The intense emotional crisis of abandonment can create a trauma severe enough to leave an emotional imprint on individuals' psychobiological functioning. Following an abandonment experience in childhood or adulthood, some people develop a sequel of post traumatic symptoms which share sufficient features with post traumatic stress disorder to be a subtype of this diagnostic criteria. As with other types of post trauma, the symptoms of post traumatic stress disorder of abandonment range from mild to severe. Post Traumatic Stress Disorder is a disease of the amygdala- the emotional center of the brain responsible for initiating the Fight Flee Freeze response. In PTSD the amygdala is set on overdrive to keep us in a perpetual state of hyper-vigilance, action-ready to declare a state of emergency should it perceive any threat even vaguely reminiscent of the original trauma." (6)
The connection that I am making here is through the feelings of abandonment that the betrayed spouse can feel, which can occur over and over again during an affair. The brain does not know the difference between abandonment in childhood by a parent or the abandonment of adulthood due to an affair (even if the cheater chooses to stay).
Affairs in and of themselves can cause feelings of abandonment even if the cheater chooses to stay. But, the most important part about PTSD is that it can be short-term or longterm.
Here are some attributes of PTSD from the NIHM website (7):
Flashbacks—reliving the trauma over and over, including physical symptoms like a racing heart or sweating
Bad dreams
Frightening thoughts
Feeling emotionally numb
Feeling strong depression, guilt, or worry
Does everyone who goes through an affair develop PTSD. Probably not. But, a lot of people can develop it due to the trauma of an affair, and this is something of which we should all be aware.
Don't ever allow anyone to invalidate your feelings or try to play down what you went through. If you have developed PTSD, your relationship will be affected by it. But that is not something to be ashamed of or to downplay either. You did not initiate the harm, you did not choose to harm, but you can be affected by it.
Don't allow anyone to tell you to get over it or to lighten up. We all have to process what we feel and each person is very individual in terms of how and when they process things.

Attributes of Trauma Bonding
Let's look at the attributes of trauma bonds, which are also called betrayal bonds.
When a connection or attachment to a person defies logic, when the victim is kept off-center by the actions of another, and the victim experiences intermittent reinforcement of good and bad, a trauma bond is not far off.
"Trauma impels people both to withdraw from close relationships and to seek them desperately. The profound disruption in basic trust, the common feelings of shame, guilt, and inferiority, and the need to avoid reminders of the trauma that might be found in social life, all foster withdrawal from close relationships. But the terror of the traumatic event intensifies the need for protective attachments. The traumatized person therefore frequently alternates between isolation and anxious clinging to others." (8)
When an affair occurs, it is often found that a woman (or man) will have two very extreme feelings co-existing: the hate and revulsion toward the betrayer, which causes her/him to want to distance herself/himself from the betrayer, and then the opposing need — the compulsive need to simultaneously draw close to the betrayer.
In the case of a female betrayed spouse, she wants to escape the pain of the affair and leave her husband who has caused her that searing pain, but she also wants her husband to hold her in his arms, wipe her tears away, and to tell her that he has always loved her, is dedicated to her, and that it is going to be okay.
Such is the paradox of the affair—the person who causes you the most harm is also seemingly the very person who can take the pain away.
Betrayal (trauma) bonds are extremely illogical and there is no reconciliation between the two opposing feelings.
As the betrayed, you may want to leave your spouse, but the bond caused specifically by the betrayer keeps you locked in. You live in an invisible cage that dictates whether or not you leave and that invisible cage has no key for the lock. This type of feeling is tantamount to a betrayal/trauma bond.
It is my personal opinion that all marriages (and engagements) where an affair has occurred, and that affair is known, is a relationship where there is a betrayal bond.
That bond may be extremely mild or severe, but I still believe it is there. Of course, this is all my opinion and I am not sure how many in the psychology community would agree with me. On the other hand, I do think that psychologists who have been the victim of marital infidelity will understand the logic and connections that I am making.
I have not seen much of anyone talk about making the connection between betrayal bonds and affairs, but that does not mean it is an invalid argument. I believe that making this association would be an enormous can of worms for the community to open because of its implications.
After all, some of the most influential people in the mental health community can be the most hypocritical. I cannot tell you how many times if has come out that a married so-and-so was a marriage therapist while having affairs with other people.
People don't like having the finger pointed at them and when the argument is particularly resonant, people scream loudly to diminish its validity. Thus, as far as I know, I am one of the few connecting trauma bonds and PTSD to affairs.
Does this article ring true for you? Tell us about it in the comment section below.
If you like this article, please share it with others as well!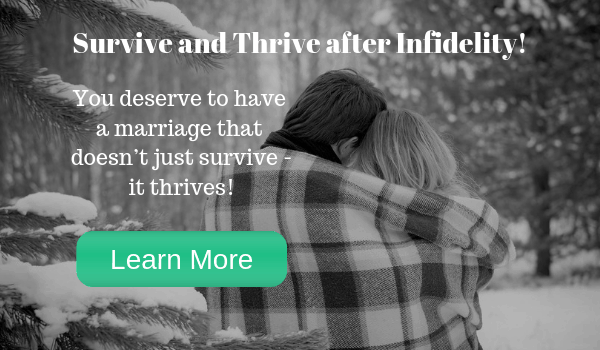 Sources:
Patrick J. Carnes, PhD. From, http://www.markmeans.com/clientimages/36010/sexaddictionfiles/csattraumabondscourse.pdf
Natasha Tracy.  From, http://www.healthyplace.com/abuse/emotional-psychological-abuse/emotional-abuse-definitions-signs-symptoms-examples/
Michael Samsel.  From,  http://www.abuseandrelationships.org/Content/Survivors/trauma_bonding.html
HG.org.  From, https://www.hg.org/article.asp?id=19936
Lindsey O'Neil, Esq.  From, http://blog.lawinfo.com/2008/02/28/infidelity-should-you-be-able-to-sue-the-person-who-had-an-affair-with-your-significant-other/
Abandonment.net.  From, http://www.abandonment.net/articles/post-traumatic-stress-disorder-of-abandonment-part-i-an-overview-and-list-of-30-characteristics
National Institute of Mental Health.  From, http://www.nimh.nih.gov/health/topics/post-traumatic-stress-disorder-ptsd/index.shtml
Svali.  From, http://fromtheinsideout.tripod.com/articles/mc/trauma-bonding.htm