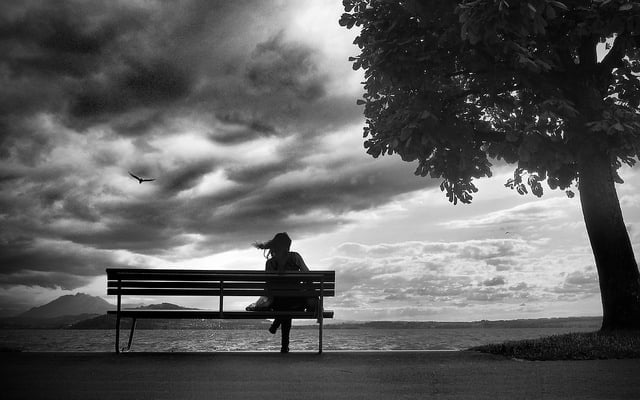 By Linda
A couple of years ago when Doug and I really started to experience problems in our marriage, not only did we become distant but we also began treating each other with disrespect.  I know that I was not too supportive or encouraging and neither was Doug.  
Additionally, there were times when I would want to discuss things with Doug and he would shoot me down or dismiss my point of view.  This was a huge hit to my self-esteem. As a result, rebuilding self esteem has been a major struggle for me. 
As a result, I really started feeling bad about myself.  I began to doubt my abilities as a wife, mother, teacher and woman.  Even though I had a master's degree I questioned my intelligence, and even though I looked good for my age I questioned my desirability. 
I realize that Doug did not intentionally try to make me feel this way.  Rather, I believe that he too was suffering from some low self esteem and uneasiness and just took his frustrations out on me.  My low self esteem was affecting every aspect of my life.
When I found out about Doug's emotional affair with Tanya, it reaffirmed everything I had been thinking about myself.  I truly believed that I was not good enough for him.  If I had been a better wife, mom etc. he never would have found someone else. 
So what did I do?  In essence I gave up on myself and my true identity by setting out to be just like her.  If he fell in love with her then she must have these wonderful qualities that I don't have.  I had to know what those qualities were. 
Unfortunately I have never met the women, so I acted based on my interpretation of the "facts" that Doug was telling me.  Of course he painted the picture of the perfect woman – yet another blow to my fragile self concept.
Do as I say, not as I did
If you are now in the same position as I was, you probably feel or have felt the way I did, and you may be wondering how this information is beneficial to your recovering from an affair.  This is a prime example of what not to do, so please learn from my mistakes and make better choices.
The most important lesson I learned is when your spouse is involved in an emotional affair (or sexual affair) the only thing you can control is you.  You cannot change your spouse's mind nor can you control his/her behavior. You can only control your actions and your thoughts. 
The most important thing you can do is to focus on you.  You need to figure out right away just how and what you need to do to make yourself feel better and to boost your shattered self esteem.  You want to find activities that will occupy your mind and that are going to have a positive effect on you.
In the beginning I was so focused on us and how to save our marriage that I was afraid to stop.  Consequently, I did nothing that I knew would be right for me.  My self worth took such a blow that at times I really didn't think I deserved to focus on me, nor did I have the confidence to try something new.  It was a very difficult time.
For months I continued on this downward path, then slowly I began to realize that Doug's affair wasn't really my fault, and that I had many positive, desirable qualities.  I decided that I needed to stop feeling sorry for myself and to move on.  I needed to act as if my marriage had ended and I was beginning a new life.
I continued to show Doug that I cared for him and that I didn't want our marriage to end, but I just stopped focusing on trying so much and starting focusing on what would make me happy instead. 
Often I would think about what I would do if my marriage ended.  I even made plans for things I was going to do.  I wanted to train for a type of marathon race that involved kayaking, biking and running.  I would join a local rock climbing club. I would learn to be a really good cook.
Today I still am upset with myself for not pursuing these things when I first found out about the affair.  For one thing, it would have been a good distraction, and also would have allowed Doug to see me in a different light and not as the predictable wife and mother that he believed was a constant in his life.
Rebuilding Self Esteem – It's been a long road to recovery
Recovering my self esteem has been a struggle for me.  I wish that I wouldn't have given up on myself so easily.  I stopped being the person that I was before this all happened.  I stopped being the excellent teacher because in some ways I blamed my dedication to the downfall of my marriage. However, that was a big part of who I am as I am a great teacher and have received many personal rewards for my accomplishments.
I stopped being a great mom for the same reasons because I felt it had taken away from my marriage. By doing these things I felt it would allow me to be the person Doug wanted, but in reality it took away every part of my identity and resulted in me becoming someone I really didn't know or want to be.  Instead of rebuilding self esteem – it lowered it even more.
So you need to take a good look at yourself.  Be honest with who you are.  Do not allow a situation or another person to take who you are away from you. 
Make a list of all your wonderful qualities, focus on the things that you are really proud of and that you enjoy, and make an effort to do them everyday. Do things for others and don't compromise who you are because of the situation. 
I believe that if I would have stood tall, believed in myself and let Doug know that indeed there were some behaviors that I needed to change, he would have realized sooner that I was indeed everything he needed in a woman, that he was making a great mistake, and in no way was I not good enough to be loved by him.