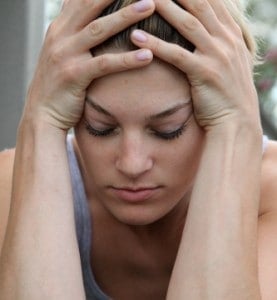 Much has been written about how the betrayed spouse should handle the aftermath of an emotional affair, but little has been said of how the person having an affair should heal and move on.
By Linda
Whether you want to believe it or not, the persons having the affair go through a grieving stage once the affair is over.  Often it can be quite traumatic.
In one of the books that I've read (I can't remember which one), it said that the reason why affairs are addictive and are so difficult for the affair partners to let go of, is because in many cases the affair relationship ends very abruptly.
Most often that is because the spouse finds out about the affair and gives the ultimatum that the relationship must end immediately.
Unfortunately when this happens, it often backfires in that it produces resentment towards the person giving the ultimatum and injects even more romanticized feelings into the relationship.
What happens is that the person ending an affair believes that he is effectively a martyr since he has to give up someone he is in love with, and that he is only doing so for the sake of his wife and family.
Another reason the affair is hard to let go of is that most emotional affair relationships don't follow the typical progression through the various stages of love like other relationships do.  That is to say, when a typical relationship flows from infatuation to the next stage, the couple has more experiences together and they start to see the flaws, bad habits and weaknesses in each other.
At this point, the relationship will either end or it will blossom further.  If the result is that the relationship ends, both parties have probably come to the realization that maybe they were not meant for each other after all, and therefore they are able to separate more easily and move on with their lives.
Contrary to this, in most emotional affairs this scenario is not possible because the affair partners do not have the opportunity to see each other's faults, and if they did, these faults are normally simply dismissed. They are in their affair "bubble" so to speak.
The parties involved in the affair have a difficult time giving up the relationship because in their eyes it is perfect in just about every way.
Affairs appear to be the "perfect" relationship.
On several occasions I told Doug that he had to stop putting Tanya and their relationship on some special pedestal, and to stop thinking that he was experiencing something that was so great that he would never again experience anything like it in any relationship.
This was hard to get through to him since his relationship, like most affairs, was built on fantasies and the illusion of love.  They only saw the perfect side of each other and met a few of each other's important needs, which was enough for them to think that they were meant to be together.
In a marriage, it would be wonderful to have this type of relationship, but in all actuality I don't feel that it is realistic that it can be sustained. When you live with someone day after day, you're going to see their faults, bad habits, and other little quirks that can drive you nuts.
Affairs, on the other hand, have the illusion of being so appealing because each partner is showing the perfect image of themselves which in turn makes for a "perfect" relationship.
I believe for a long time that Doug was unable to let go of the fantasy. He was unable to let go of the fact that she was not perfect and neither was their relationship.  I think he was still comparing her to me based on seeing only her positive traits.
He compared her as being fun, her newness and her free spirit to me, yet he and I shared a totally different situation – that of a married couple that has been together for three decades – not just a few months.
I believe he had a hard time letting go of the "perfect" relationship knowing that ours could never really be like that.  Not because the love wasn't there, but because we didn't have the "sizzle" that a new relationship typically has.
When you've been married for a while it's tough to act like newlyweds or like you just began dating, so the "sizzle" is difficult, if not downright impossible to maintain.
I also think it was difficult for him to stop the affair because not only did he think she was perfect, but she felt that he was perfect as well.  He got a significant ego boost simply from the way she treated him when they were together.
While Doug and Tanya were mirroring the perfect person in each other, at the same time I was going through a time when I felt as though I could do nothing right, and was an emotional wreck.  Certainly Doug must have felt that being in the affair was definitely a better place for him to be.
If you are in an emotional affair, or know someone who is, in order to move on you have to let go of the fantasy. As hard as it may seem, you need to start looking at the faults of the person who you're having the affair with and the inadequacies of the relationship.
It's not really the best experience of your life like you might think it is.  Rather, you need to look at it for what it really is, and that is something that was hurtful to your spouse and is ruining everything you love and have worked so hard for over the years.
If the emotional affair ended abruptly you may not have had the opportunity to figure this out or to sort through your feelings, so you need to do that now and try hard to let the affair go.