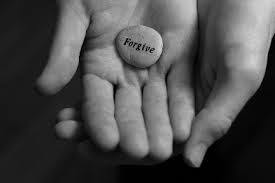 I understood that forgiveness was for ME, not him, and that forgiving infidelity would set me free so I could be happy again.
By Linda
Someone asked me yesterday if I have forgiven the other person (Tanya), and whether or not I have forgiven Doug.
Being asked about forgiving infidelity, specifically about forgiving Tanya, made me sit back and think for a little bit.  I began to wonder if that was something I should do as part of my recovery process.
Honestly, I never thought about forgiving Tanya, because for me it is hard to forgive someone who only exists in my mind. What I mean by that is I really know little about her.  I only know what Doug has revealed, which in turn has fueled my assumptions about her.
I really feel that I don't owe her my forgiveness and that forgiving her is not worth my time and effort. 
This may sound really mean, but the only effort I should focus on is eliminating her from my head and separating the reality from the illusions. So the answer is NO.   I have not forgiven Tanya, nor do I plan to in the future. My emotional affair recovery can continue just fine without forgiving her.
As for Doug…I believe I have finally put the emotional affair behind us and have forgiven him.  Like I wrote about yesterday, it has been a process. It was something that I tried to rush, but ended up frustrated because I wasn't there yet.
I knew that forgiving him would set us both free and enable our relationship to grow, but for a long time it just wasn't possible. I wasn't there emotionally to the level that Doug was.
For me I had to totally feel all the emotions caused by the betrayal: grief, anger, guilt and denial.  Because of the roller coaster ride associated with these emotions and experiences, I wasn't able to experience each emotion fully.
I also had a lot of work to do on myself.  I really needed to figure out how I fit into all this mess. I really needed to sort out my behaviors and how they contributed to the demise of our marriage.  I had to figure out how to be a better wife and a better person.
I believe that in order to fully forgive Doug that he had to take responsibility for the affair.  He had to truly understand the pain that the affair caused and show remorse for his actions. This has also been a process for him, and I believe he had to peel away a lot of layers to arrive there; anger, resentment, entitlement, selfishness, etc.
Doug also had to look deep within himself to figure out how he ended up in the affair in the first place.  It is hard to comprehend, but I believe the way we dealt with the aftermath of the affair really set the time table for forgiveness.
I can confirm that we made many mistakes along the way, however every situation is different and there isn't really a set way to deal with an affair. There is no systematic instruction manual for affair recovery. We dealt with the situation the best way we knew how.
I finally came to the point when I understood that forgiveness was for ME, not him, and that forgiving infidelity would set me free so I could be happy again.
I am not sure when this forgiveness actually took place, but I imagine Doug could probably pinpoint the time because he did see a change in me.  I was happier, I looked at him differently, and I stopped talking about my pain and the emotional affair itself.
They say that forgiving infidelity does not necessarily mean forgetting.  I can attest to that.  I still have triggers and fears, but I don't allow them to consume my life and take away my happiness.
Honestly, I just got tired of living with this in my head and I had to make a decision to let it stay there, play the victim and be sad and tired, or move on and enjoy the love and life that we have created together.