Having Trouble With Forgiveness?
Let us show you how to get rid of lingering feelings in such a way that allows forgiveness to become a healing force in your life
The hardest part of the entire recovery and healing experience for me was trying to forgive Doug.
How does one get past all of that pain, all of that bitterness, and the destruction of trust? How does one forgive the loss of a marriage that had not yet been tainted by the intrusion of someone else?
Sometimes, it seemed like his acts were beyond forgiveness. I am sure that you can relate to these feelings as well.
FACT

: Over 40% of Betrayed Spouses Feel that Forgiveness is the Toughest Struggle they are Currently Facing.
And this 40% figure isn't something we just made up…It is based on our most recent reader survey we conducted just this past April.
So it's quite obvious by this figure that many of you are still deeply affected by the struggle or inability to forgive your partner for their betrayal, and perhaps even forgive yourself, for whatever reasons.
In my situation, I got to the point where I had to make a choice that was for me.
I had been emotionally brought to my knees and I decided that I could no longer continue down a path that was actually destroying me. Therefore, I chose my own wellbeing above all else and in so doing, chose forgiveness.
Perhaps you currently find yourself wanting to forgive, but the ability to do so is beyond your grasp
There's nothing wrong with that!
It's completely normal!
We are here to tell you that forgiveness is possible - and ultimately necessary - for YOU.
So how do you get past the anger and despair and on the path to forgiveness?
Is there a system or "hack" that can guide you?
There is, and that's exactly what this page is all about…
Introducing...The Real Journey to Forgiveness: It's for You, Not for Your Spouse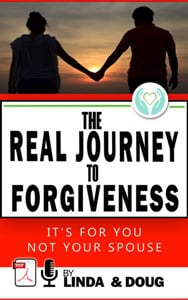 We started our blog about 5 years ago to share our own experiences recovering and healing from infidelity and since then we've publsihed over 920 blog posts, authored numerous books and programs and have mentored dozens of individuals and couples in their affair recovery efforts.
And through all of this we've noticed that even though every person and situation is different, they are also surprisingly quite similar.
In addition to our own experiences, we've consulted with many of our past clients and blog readers, infidelity experts and therapists and all agree that healing from an affair will touch every aspect of yourself—your mind, your body, and your spirit.
So we've taken this awareness and created a program that provides you with the tools and insight for you to do the work required to forgive …Ultimately healing, recovery and inner peace comes when you work with these tools.
Here's a sampling of what's covered in
The Real Journey to Forgiveness: It's for You, Not for Your Spouse...
Linda shares her own story, struggles, and personal history with forgiveness so that you can put your own feelings into perspective.
Learn the misconceptions about forgiveness that cause many misunderstandings and also serve as roadblocks to the healing process.
How trust fits into the whole idea of forgiveness.
The benefits of forgiveness.
The effects of holding a grudge.
Identifying and overcoming the barriers to forgiveness.
Making the choice to forgive and how to actually do it.
And much more...
The great news is that forgiveness is possible!
In fact, after you come out the other side; you will thrive. But, I have sat where you sit today and I know that it is hard to believe— I know that you might be thinking, "that's easy for her to say."
But, you are right— it is easy for me to say— but, only because I have lived it and have managed to come out the other side successfully. However, in the thick of it, it wasn't easy. Each day, I felt like I was fumbling through darkness trying to find a way.
The good news is, I found a way to forgive — to live a better life and to have a better, stronger, more connected, and sensual marriage than ever before.
Now, I am here to share my knowledge with you so that you can take a short-cut through the guesswork, avoid some of the fumbling and pitfalls, and hopefully discover how very important and realistic forgiveness can be.
Trust me, we did all the hard work, made all the mistakes (too many in fact) and spun our wheels.
But in doing so we managed to figure out what works and what doesn't and discovered different thought processes that were key to forgiveness while creating a thriving marriage.
This is why we're so careful to put together a program that is real life - no fluff - and really represents what forgiveness after infidelity is all about.
So now you don't have to go it alone!
Here's what you can expect with The Real Journey to Forgiveness: It's for You, Not for Your Spouse:
Obviously, we can't just wave a magic wand and say that you will be able and willing to forgive if you get this program.  Nope, you have to put in a great deal of effort.
That said, if you take the knowledge that you gain from this program and apply it with maximum effort, you can expect to experience substantial positive progress in your forgiveness process.
Here's what to expect...
You will come to understand the common misconceptions about forgiveness and how they hinder your ability to forgive.
You will be better able to pinpoint your own barriers to forgiveness.
It will provide you with unique insights and perspectives into what it takes to forgive after infidelity.
You will consider things that you probably hadn't previously which will give you a sense of empowerment that you didn't have before.
To be led towards a choice to give up the role of being a victim and decide to move forward.
As you are going through the forgiveness process and working hard at it, you are going to come out the other side a better person.
And much more...
"Ultimately, what is most beneficial about this program is the opportunity to broaden your perspective so that you can see more clearly and make better decisions.  It's really hard to do alone.  Thanks for helping!"

- Dale
"Thank you for what you have done with this program. I have learned so much and I am nearing the stages of forgiveness.. what a wonderful feeling when I can honestly give myself that gift and my husband."

- Susan
Why wait another day to start your
Journey to Forgiveness?
OK, by now you're probably wondering how much this is going to cost…and that's understandable.
Normally, most experts out there would easily charge in the neighborhood of $47 for this program. But today, we want to give this gift to your marriage for a special, no-brainer price. You're getting access to The Real Journey to Forgiveness: It's for You, Not for Your Spouse for just $19.95.
Yes, just $19.95
Here's exactly what you're getting with
The Real Journey to Forgiveness: It's for You, Not for Your Spouse
The Real Journey to Forgiveness - Audio Version

1 hour and 38-minute professionally recorded audio version in MP3 format.  Download to your computer or mobile device for listening whenever you want.

The Real Journey to Forgiveness Manual

76-page manual/transcript of audio in PDF format.  Download it.  Read it from your computer or print it out.  Take notes and/or journal while reading it.

Multiple Exercises for Forgiveness

You can't just wake up one day and expect to be able to forgive.  These exercises will help lead you and your partner down the right path. (PDF format)

Satisfaction Guarantee
We understand that it's not easy sometimes to make an investment, even one that only costs as much as a cheap meal out. So, you can try The Real Journey to Forgiveness: It's for You, Not for Your Spouse absolutely risk free.
If for any reason you are not satisfied with this program, just shoot us an email and we will refund every penny of your $19.95 purchase.  No time limits. No questions asked. Pretty simple!

Please feel free to contact us by email at: support @ emotionalaffair.org if you have any questions about the program.
We look forward to sharing The Real Journey to Forgiveness: It's for You, Not for Your Spouse with you and eventually hearing your forgiveness related success story!
Best wishes!
Linda & Doug
NOTE: "The Real Journey to Forgiveness" is delivered in digital format via an Instantly Downloadable PDF file. No physical products will be shipped. After you order, you will get INSTANT ACCESS to the book and all the bonuses onto your computer. ** You will need to have Adobe Acrobat Reader to view materials in PDF format, and a video and/or audio program (such as Windows Media Player) to listen to recordings. Please also note that every effort has been made to accurately represent this product and its potential. As with any book or program, there is no certain guarantee that you will achieve specific results.